---
Stop Internet Blacklist Legislation | Take Action | Electronic Frontier Foundation.
The Internet Blacklist Legislation – known as PROTECT IP Act in the Senate and Stop Online Piracy Act (SOPA) in the House – is a threatening sequel to last year's COICA Internet censorship bill.  Like its predecessor, this legislation invites Internet security risks, threatens online speech, and hampers Internet innovation. Urge your members of Congress to reject this Internet blacklist campaign in both its forms!

As drafted, the legislation would grant the government and private parties unprecedented power to interfere with the Internet's domain name system (DNS). The government would be able to force ISPs and search engines to redirect or dump users' attempts to reach certain websites' URLs. In response, third parties will woo average users to alternative servers that offer access to the entire Internet (not just the newly censored U.S. version), which will create new computer security vulnerabilities as the reliability and universality of the DNS evaporates.

It gets worse: Under SOPA's provisions, service providers (including hosting services) would be under new pressure to monitor and police their users' activities.  While PROTECT-IP targeted sites "dedicated to infringing activities," SOPA targets websites that simply don't do enough to track and police infringement (and it is not at all clear what would be enough).  And it creates new powers to shut down folks who provide tools to help users get access to the Internet the rest of the world sees (not just the "U.S. authorized version"). 
Senator Ron Wyden (D-OR) has placed a hold on the Senate version of the bill, taking a principled stand against a very dangerous bill. But every Senator and Representative should be opposing the PROTECT IP Act and SOPA. Contact your members of Congress today to speak out!
We (MAKE) rarely post anything political here and we try to keep the comments non-polarizing when these topics come up – everyone is here to learn, make, share and have fun. However, I personally felt the need to get the word out about SOPA. Please feel free to discuss this the comments, the smart community here has a lot to add to this we're sure! I'll be in the comments to keep us all on topic, let's be cool and productive about solutions :)

If you're of the "Goonies generation" like me, then hunting for buried treasure is definitely a desired pastime. And when hunting for precious metals, or even a few dropped coins, you need the assistance of science! The Treasure Finder, our latest installment of Weekend Projects, is a multi-day endeavor with potentially lucrative rewards. A true weekend project, this homemade metal detector will have you doing some light carpentry, etching your own PCB, and hooking up all the electronics necessary to detect nearby metals. Using the principle of heterodyning, two frequencies are mixed together (one from a reference coil, the other from the detector coil) to produce a new frequency, which has been calibrated to produce an audible beat (see video below). Changes in that beat produced by fluctuations in the detector coil's magnetic field suggests a stash of buried loot. Whether you're searching for currency (known as coin shooting) after a public event or simply combing the beach as a hobby, hunting for treasure can also become serious business. A recent success story is that of the Staffordshire Hoard in England which resulted in over 3,500 pieces from the Anglo-Saxon era being unearthed. Or you can put this project to the test by burying some loot in your yard and challenging your friends to find it!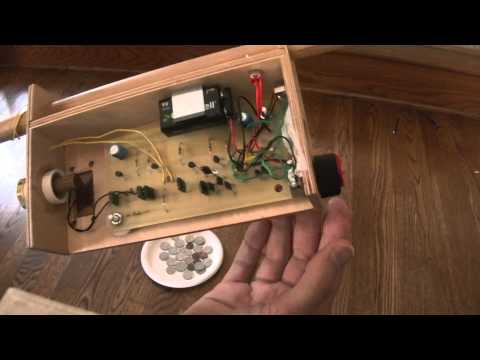 Sign up below for the Weekend Projects Newsletter to access the projects before anybody else does, get tips, see other makers' builds, and more.
Sign Up for the "Weekend Projects" Newsletter
Please enter all required fields

Correct invalid entries

More:
See all of the RadioShack Weekend Projects posts (to date)

Thingiverse user eried created printable hook-and-loop:
This is the first iteration (third internal) of my attempt to make printable Velcro. It is pretty nice to hang things, probably this small piece will resist much more than a kilogram of weight (hanging weight) and it is very easy to remove.

Step 1: Crash Ferrari.
Step 2: Put in coffee table.
Brilliant! Looking forward to making one for myself, this weekend.  [via Recyclart]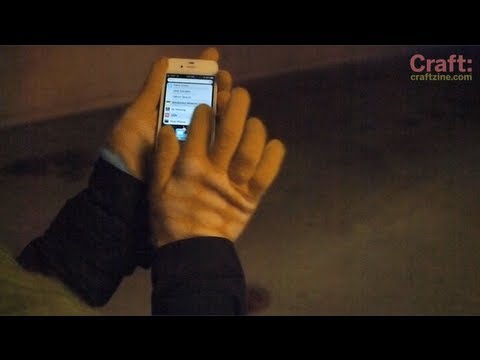 It can be frustrating to have to take off your gloves to use your touch screen phone. Capacitive touch screens sense how conductive your fingers are, and gloves are, well, insulators. Learn to mod your gloves with conductive thread in this episode of Becky's Workshop. See the complete how-to on Make: Projects.
Subscribe to the CRAFT Podcast in iTunes, download the m4v video directly, or watch it on YouTube or Vimeo.
More:


Wouldn't it be amazing if you could make a machine that would make 3D models of phenomena otherwise invisible to you? It's fun to do, and it's is an amazing creative process to create a machine that produces something that you can hold in your hand from the invisible – and it's surprisingly easy. In this video I'll show you how to use simple materials to create some unexpected results.
Subscribe to the The Latest in Hobby Robotics Podcast in iTunes, download the m4v video directly, or watch it on YouTube or Vimeo.
More:



I drew Adam Flaherty for my MAKE Secret Santa. Here he is pictured toasting with Marc de Vinck at FOO camp. He's a gadget enthusiast, and when I ran into him in the O'Reilly parking lot in Sebastopol, CA last week, he was holding a 2-liter bottle solar lantern – it looked like a bottle of light, and I'm excited to see him document his build based on this previous post.

Here are a few of Adam's finer projects:

After reading Adam's blog posts on MAKE, it's clear he's dedicated to cell phone photography. He posts cell phone tripod adapters, and even made a DIY version of the Manfrotto Variable Friction Magic Arm. I noticed he's got a harsh fluorescent light on his desk, which simply will not do. With this light fixture and softbox, his project documentation photos will turn out great, even when he insists shooting on his phone. Happy xmas, Adam!

Ohio IT professional Rick Pollack founded MakerGear, LLC in 2009 to "develop products and services for the rapidly expanding maker community with a focus on advancing digital fabrication." Working with wife Karen, Rick has already brought two fully-developed desktop 3D printers to market—a well-regarded Prusa Mendel kit and their premium design, the Mosaic—as well as a line of accessories and upgrades for each.
I recently got my hands on a Mosaic kit, and as of this writing, I'm about halfway done with it. So far, I'm impressed with how easily it's all going together. I'll be documenting the build, in stages, over the next few weeks, and introduce the series with Part I: The Frame. If you're considering a Mosaic, I hope the series will help you understand how it goes together, and, if you've already bought one, I hope it will be a useful reference during assembly.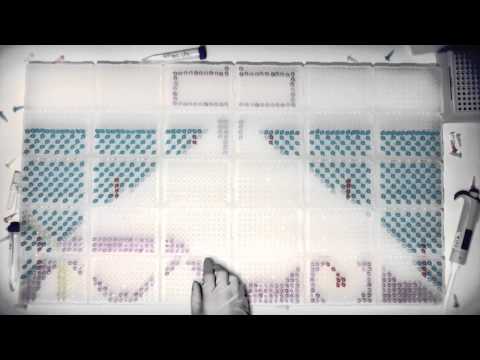 This commercial plugs the Veriti Thermal Cycler, and used over 6,000 PCR tube and 30 plates in the filming, which took an entire month. [Via @cenmag]

Ever look at a project and think to yourself "that would freak out the TSA?" This new bomb Defusable Alarm Clock Kit now available in the Maker Shed definitely fits in that category. It's just a regular clock with regular clock functions; it tells time, has a beeping alarm with snooze, has a big red DET button and a bunch of wires coming out of it…well, maybe it's not that regular. Pressing the big red DET button starts a scary 10 second countdown sequence just like the bombs props in Hollywood movies. To "defuse" the clock there are four randomly chosen wires to cut; one wire saves the day, one "detonates" the clock, and two have no effect. The wires are randomly chosen every time the button is pressed for a new challenge every time. (The wires are held in with screw terminals for easy replacement, or just leave them a little loose so you can just pull out the wire.) The kit includes the electronics only, use your imagination to build the device you want.
Features

Full featured alarm clock w/snooze.
Two alarm modes (normal and countdown)
Time stored in EEPROM (keeps time after brief power interruptions)
Big, scary DET button starts countdown sequence.
Screw terminals allow easy wire replacement (or leave loose to just pull the wires out)
ATmega 328 with Arduino bootloader for easy hacking
Requires 9V (200ma min) power adapter.
Note: This kit is just a clock with some wires. Please do not display it / use it such a way that would cause people to "freak out." It is intended strictly for novelty. Use at your own discretion!
[Thanks for the tip John B!]