---
While I would like to think of myself as some badass maker who needs a gunslinger's leather holster bristling with impressive tools for forging (or destroying) worlds, in reality, I'm a desk jockey. I spend the majority of my days (and nights) in my aging Aeron chair, eyeballs glued to a glowing monitor. I'm a writer and an editor. I make words. I make words about other people making things. So, my tools are principally a notebook, a computer, and a decent pen. For years, I did carry my beloved Leatherman Wave on my belt, but I didn't use it all that often and it spent more time getting hooked on the arm of my chair than anything else.
But one thing I wrestle with in my day-to-day, sometimes literally, are shipping boxes — lots of shipping boxes: boxes of MAKE books and magazines, review books and hardware, and boxes of other cool stuff that show up on my doorstep. And because I don't drive and live alone, most of my shopping is on the internet. More boxes. So, my most frequent around-the-office tools are scissors and a box cutter. So, I was very interested when Fiskars offered to send me one of their new ShopBoss snips-based multi-tools.
The heart of the ShopBoss is a pair of titanium nitride-coated snippers/shears. The bottom blade is serrated and the snips are made to cut through light metals, carpet, cardboard, plastic stock, etc. They made easy work of most everything I chewed into with them, even some fairly thick acrylic. They cut CD media very easily and cleanly and would be a good tool to grab when CoasterBot building. It was a joy to process a giant pile of boxes, plastic banding, and cardboard destined for the recycling center.
Surrounding the snips are a number of other useful widgets: a wire-cutting jaw, a twine/binding strap cutter, bottle opener, and a pegboard hanging loop. The ShopBoss also comes with a plastic holster that clips onto your belt. It includes a pencil holder, a tape-cutting hook, and a metal deburring file (basically a piece of plastic rod).
After using this tool for awhile, I have to say, like it. But there are things that bother me, too. I like having one tool that can handle all of my shipping work, cardboard recycling, and some benchtop tasks. It serves all of these functions well. I like the holster idea, but the holster you get feels a little… off. Too cheap. The angle of the tool on your belt makes it a little awkward to draw, especially if you're holding something else and are looking for a smooth grab, draw, unlock, and cut. And speaking of the lock button, it's really hard to engage with your thumb, but I assume that will get earlier with use. The ShopBoss costs $30 retail. For that kind of money, I wish they'd invested a little more in a better holster. The ShopBoss is not available on Amazon yet, but if you can get the price down closer to $20, I'd say it's a good buy.
If the functions that I've described above sound more like what you encounter in your day-to-day office/shop duties (than knife-pliers-driver), you might want to strap this baby on instead of a knife-based multi-tool. Or better yet, add both of them to your belt, sling that leather low, and get down with your geeky John Wayne bad-self.
More:
See all of our "Toolsday" tool reviews here.

David Lang, something of a reluctant maker, is on a journey, intensively immersing himself in maker culture and learning as many DIY skills as he can, through a generous arrangement with our pals at TechShop. He's regularly chronicling his efforts in this column — what he's learning, who he's meeting, and what hurdles he's clearing (um… or not). –Gareth
Making is as much about exploring as it is about building. Exploring new ways of problem-solving, understanding how things are made, how machine components fit together. And this week, for me, about exploring new tools.
I wanted to keep the ball rolling on my side project, which had evolved into trying to create a series of wall planters. I'd experimented with a number of strategies and materials, but the current barrier to success was the fact that I didn't have a mold. I was verbally describing my idea and making rough sketches of my imagined design to folks at TechShop, both staff and other members. Every strategy or material that someone suggested hinged on the fact that I didn't have a working model to build from.
Thanks to the outpouring of suggestions at TechShop, there were a number of ways I could have gone about creating the mold: using a CNC milling machine to make it out of wood, using molding or modeling clay to make it by hand, making it out of aluminum, etc. All good ideas, but each of them would either a) take a significant amount of time or b) take a significant amount of money for materials. Because I had no idea if this would even work, I didn't want to make such investments. I needed something cheaper, easier, and quicker.
Then I remembered something I had seen recently on Makezine: a post on the release Autodesk's 123D Make program. I thought back to a conversation with Jesse Harrington, Autodesk's Maker Advocate, about the stacked-cardboard models I saw around TechShop, and how they were made. It seemed easy enough, and if it didn't work, at least I could play around with the cool new software!
In order to use 123D Make for my project, I needed to create a CAD (computer-aided design) file of my design. Although I had taken a few introductory classes in Autodesk Inventor, I was still a little hesitant to actually use it. Knowing that new makers, like me, often underestimate the design process, I was sure this would end up taking a long time, but that wasn't the case. I was pleasantly surprised how easy it was to get exactly the design I envisioned. So easy, in fact, that I felt compelled to try another product – TinkerCad, a browser-based CAD program – to see if I could reproduce it there. And I did. Again, in little to no time.
The next step was to import the file into 123D Make. I selected the file, chose the stacked formatting option, entered the dimensions of material I was cutting it on (24″ x 18″, 1/4″ thick) then, well… then I was done. Seriously. The program figured out the optimal slices and exported it as a PDF, which could then be sent right to the laser cutter. The biggest decision I had to make was whether to use acrylic plastic or cardboard for my model. Sticking with my low-cost theme, I chose cardboard. After I laser-cut the parts, I glued the pieces together using the directions from the program. Again, very easy.
After I had the cardboard together, I applied a thin layer of paper clay, a room-temperature setting material for molds and sculptures, around the outside of the stacked cardboard. Although I initially thought this would be just a model, I rather liked the look of it. Because it was so easy to develop (and replicate), I'm now experimenting with trying to grow the plants directly from the clay-covered, cardboard model! Based on some internet research, I'm hoping that adding potting soil will cause the cardboard to decompose into nutrient-rich compost within the clay mold. We'll see what happens.
Regardless of whether it works or not, it's been a pretty amazing process. In just the two weeks I'd been working on this project, new technology became available that allowed me, a relatively new maker, to easily and cheaply prototype my idea. If I'd tried to do this even a month ago, I never would have gotten this far. To me, this personal experience is symbolic of the larger maker movement – the tools (and their accessibility) are evolving so fast that the barriers to active creation (vs. passive consumption) are being eliminated faster than they can be discovered. All signs point to just one final barrier to making: getting started. The distance from zero to maker seems to literally get shorter by the day.
More:
Follow David's Zero to Maker journey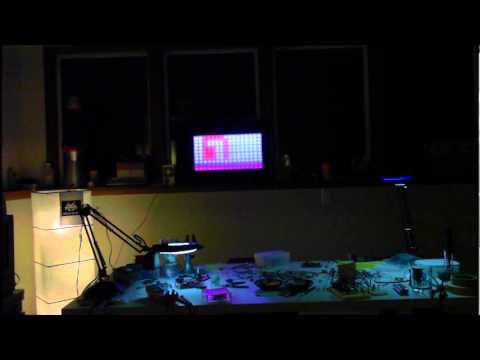 Fabien Royer and Bertrand Le Roy wrote in to let us know about their latest creation, an RGB video wall made with a Netduino Mini and an Adafruit LED strip:
What's not to like about RGB LEDs? With their bright, mesmerizing glow, often capable of displaying millions of colors, they're a great to way to catch the attention of the viewer. Now, what if you had a 5 meter long RGB LED strip, loaded with 160 RGB LEDs to play with? Oh, the possibilities… It so happens that Adafruit, in their infinite wisdom, carries a very nice RGB LED strip, powered by a LPD8806 driver and encased in a waterproof sleeve.

What about turning it into a mini video wall for instance? Think 'Times Square', just smaller :)
PIX-6T4: Building a mini RGB LED video wall using a Netduino and an Adafruit LPD8806 LED strip
In the Maker Shed:
Software, meet hardware. The Netduino Mini is an open source electronics platform using the .NET Micro Framework. The board features a 32-bit microcontroller and a rich development environment, making it a perfect solution for engineers and hobbyists alike.

…if you happen to have a vehicle with about 300,000 units on the odometer.  From Alan Parekh's always-delightful Hacked Gadgets.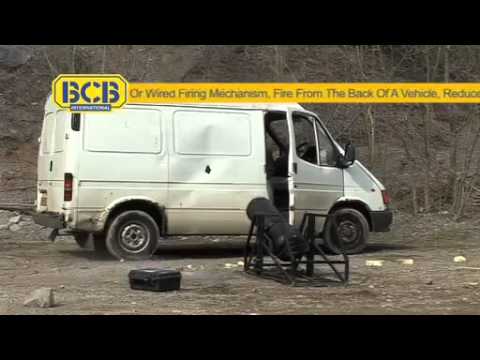 Welsh company BCB has developed what is essentially a potato cannon on steroids. Called the Wall Breaker, this pneumatically charged cannon launches water cooler bottles at 984 feet per second.
Need to break through concrete in a hostage situation? No problem. Want to rip a giant hole through a cargo van? They have you covered.
This was developed for the British military, so I'm not sure we'll be seeing a consumer version available anytime soon. Impressive all the same.
More:

Steam. Fire. High RPM flywheel. Steel wire treads. This is not your kid brother's vibrabot. For my Gift Singularity project, I decided to build a bristlebot like no other. I wanted to make one on a larger, more dangerous scale. And so, I present to you the Steam-Powered BoilerBot!
The basic principle here is the same as the bristlebots, vibrabots, and brushbots we've featured in MAKE and on the Make: television show. A motor with an offset weight connected to the shaft causes vibrations, and the bristles have a forward slant that causes them to move forward.
Instead of an electric motor, however, this project uses a steam engine, which is a much more fitting power source for the steampunk on your holiday gift list! I chose the Jensen #85 because it is small (for a steam boiler) and self-contained; meaning the fire box, boiler, piston-engine, and flywheel are all connected to a single unit.
To support and propel this stout little engine, I selected a pair of steel-wire brushes at the hardware store. I hacked off the excess handle wood with a hand saw. Using needlenose pliers to bend each clump gives them the tendency to move forward when they are tapped up and down.
Next, I drilled out four holes on the engine's base for mounting onto the brush "treads."
The final modification was to add an offset weight to the flywheel. This is what amps up the engine's vibrations. You can experiment with different shapes and weights to adjust the BoilerBot's speed.
Time for the maiden voyage of the BoilerBot. Follow the engine's instructions to fill the tank, and fire up the dry fuel hexamine tabs. Set the bot down on a hard surface (preferably not your polished wood floors), give the flywheel a spin, and watch 'er go! If yours has the tendency to go in circles like mine, you can adjust the bristles and add a counterweight to one side for fine tuning.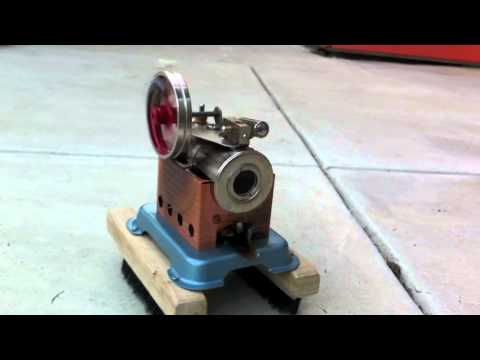 Once you're done admiring your handiwork, clean the BoilerBot up, put a bow on it, and make that retro-tech friend on your holiday list a very happy steam pilot!
Here is the complete Steam-Powered BoilerBot Make: Project you may follow for step-by-step build instructions.

Are you a hackerspace member with an event you'd like to publicize? Send it to johnb@makezine.com or tweet me at @johnbaichtal and I'll post it. Also feel free to subscribe to my hackerspaces Twitter list. Hackerspace Happenings runs weekly(ish) Tuesday(i)s(h).
---
Adafruit Visits Tokyo Hackerspace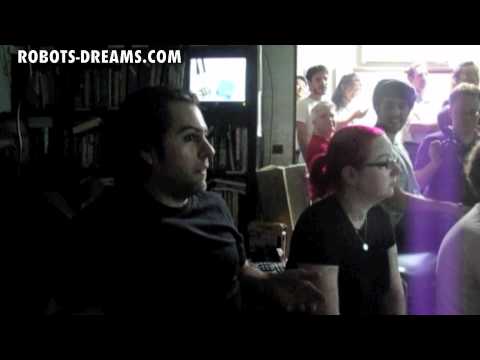 A few weeks ago, Adafruit swung by Tokyo for a much needed vacation. We ended up meeting up with them and taking them around Akihabara and Tokyo. It was interesting because Bunnie Huang from Chumby was also in town so it was like a mini OSHW summit. We brought LadyAda and Phil Torrone to Tokyo Hackerspace where they also gave an improvised talk on open source hardware.
---
Holiday Make-a-Thon at Milwaukee's Bucketworks
We'd love it if you joined us at the 2011 Holiday Make-A-Thon happening Friday, November 25th, 2011 at Bucketworks.

This is a family-friendly event where the focus is on making things for the holidays. It can be gifts for others, of gifts for yourself! Members of Milwaukee Makerspace will be on-hand teaching people how to solder, so if you're expecting an electronics kit this year, you'll be ready!

We're also working on a variety of ornaments that you'll be able to paint or otherwise decorate. Keep them yourself or give them as a gift.

If you're into knitting, care to try your hand a painting at gourd, or just want to wrap the gifts you already bought… join us and celebrate the spirit of making!
More information on Facebook.
---
Board Game Development Night at Vancouver Hack Space
We are going to be developing our own card and board-games. These are going to be quick and dirty prototypes that we can use to test game mechanics and see what works and what doesn't. We can do it in groups or as individuals. I will see if I can find some prizes for the best game, most complete game, most enjoyable, etc.
The session will be held on December 6th at 7:30 p.m.
---
Game Console Repair Session at Cincinnati's Hive13
Hive13 recently grabbed a PS3 YLOD (Yellow Light of Death) Repair kit from ifixit.com and went to work on 3 broken PS3s. The teardown was a lot of fun and we were greatly excited when we were able to recover all three PlayStations! After some G+ postings we realized the need to do this kind of event for Xbox users and any PlayStation 3 owners out there that have YLOD. So we will be hosting a FREE event on December 11th from Noon – 3pm.
If you want to participate, fill out this form.
---
Hacker Con Calendar
Curbob from CarolinaCon has set up a calendar at HackerCons.org to keep track of all the hacker conventions:
As many of you know, but for those who don't, I'm one of the people that put on CarolinaCon (a hacker convention). Each year we run into the problem of not knowing what other conventions maybe going on around the same time as ours, only to find out after signing a contract with a hotel. This happened to us again for this coming year and has happened to many others in the past, So Deviant Ollam and myself have started HackerCons.org, While we can't stop all scheduling conflicts, I think this can help. it's nothing pretty to look at but it's got what we need, a basic calendar to keep track of hackercons, maker faires and other computer/security conventions around the world. Check out the site and if you know of any conventions/events that should be posted on the site, please contact us or have the event owners send us the needed information.
You can also follow their Twitter feed at @hackercons.
---
Maker Space Opening in Burlington, NC
Ben Harris wrote in with details of a new hackerspace he's helping found:
After exhibiting at Maker Faire CA this year I came back to my home town (Burlington NC, half way between Raleigh/Chapel Hill and Greensboro NC) with a desire to open a maker space in this area. To that end I've formed a maker club and we are working together with the short term goals of making more people in the area aware of what we are doing, determining if there is a critical mass of makers here to make a physical space worthwhile, and working together to exhibit our projects (both individually and as a group) at next year's Maker Faire NC (I'm also a planner for Maker Faire NC). We have a temporary adoptive home for meetings at a new local coop "The Company Shops Market" a community owned grocery store that only provides locally raised food. We've also started to have regular monthly meetings that include lightning talks and planning for Maker Faire. (our meetings fall on the second Thursday of each month.)
Follow them on Facebook or Twitter.
---
And Another New Hackerspace Opening in Kalamazoo, MI
Xipherspace (zy-fer-space) is a physical location for collaborative learning located in Kalamazoo, Michigan. We understand that many artists, makers and hackers lack the space, equipment or knowledge to tinker and play as they would like to. Xipherspace seeks to change that.

Our goals are to provide a unique social and educational atmosphere for individuals of all interests to come together and play with science, art and technology safely, and to learn by actual hands on experiences alongside people that are willing to share their knowledge freely.
---
Hackerspaces in IEEE Spectrum
Hackerspaces have attracted the attention of IEEE Spectrum, the magazine of the Institute of Electrical and Electronic Engineers:
It's a Tuesday night in Philadelphia—hacker time. A small group of do-it-yourself engineers and hipster geeks gather in a cluttered space downtown. One holds a Kinect, the motion-sensing controller for Microsoft's Xbox 360 system. But he's not playing a video game. He's about to take the Kinect apart to see if he can get it to work with a shoot-'em-up space game for which it wasn't intended.

It's a typical challenge at the Hacktory, a freewheeling engineering clubhouse and just one of the many self-described "hackerspaces" popping up in cities around the world.
Read more in the article, Sultans of Solder. [Via Adafruit]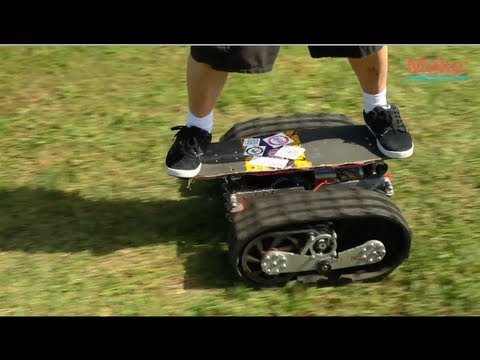 Today MAKE editor-in-chief Mark Frauenfelder would like to introduce you to some of his favorite makers, and the projects they've brought to Maker Faire, through a special YouTube playlist. If you don't know about Maker Faire, it's a festive two-day exhibition of DIY invention and creativity held annually in several locations around the United States. Mark selected these videos from our Maker Faire channel to give you an idea of the amazing energy and enthusiasm you'll experience at Maker Faire. Enjoy the playlist, and don't forget to subscribe to the Maker Faire Channel on YouTube.
The playlist includes:
Subscribe to the Maker Faire Podcast in iTunes, download the m4v
video directly, or watch it on YouTube and Vimeo.
Check out more videos from Maker Faire in the Bay Area, Detroit, and New York.


If you subscribe to MAKE and you've received MAKE Volume 28 in the mail, you've likely noticed a little something extra that came with it. It's the first-ever Maker Shed print catalog! We spent many hours putting our great products into a browsable print format for your viewing pleasure. The Maker Shed Catalog is packed with 45 pages of microcontrollers, kits, and gift ideas, as well as a soldering tutorial, maker profiles, and more! It's perfect for finding holiday gifts for yourself and others (or do what I do and circle items and leave it for others to find).
If you are not a subscriber and a copy, we don't want you to feel left out, so we've made an easily downloadable PDF version. You can also get it by subscribing to the MAKE Magazine Extras Podcast in iTunes.

Chicago's American Machine Tools Corporation buys, sells, ships, and repairs heavy machine tools all over the world. They also maintain a curriculum of free, online, non-brand-specific operator education materials, including the best general How to Use a Milling Machine page I've seen. There are no videos, but personally I prefer old-fashioned text and diagrams for this purpose. If you are interested in movies, however, MIT's Introduction to the Mill has some good stuff.
More: