---
As I've mentioned here before, one of my favorite book publishers is Princeton Architectural Press. Their books are not only interesting and though-provoking in subject-matter, but they're gorgeous examples of the publisher's art.
My recent favorite PAP title is Visual Complexity: Mapping Patterns of Information (Manuel Lima). I can't get enough of this book and immediately thought of Becky when I drew her name from the Secret Santa hat. I've been wanting to turn everybody onto this title. While this book is wonderful and a worthy gift all by itself, I thought I'd sweeten the pot by including another cool, more hands-on PAP title, Pinhole Cameras: DIY Guide (Chris Keeny).
Becky Stern is an amazing person. Her mind races at a thousand miles an hour, her energy and creativity are boundless, and she is Samurai-sword smart. I figured there was no better way to "feed her head" than Visual Complexity: Mapping Patterns of Information. When I got the book, I spent an hour or so browsing through it and I swear I entered some sort of altered states of consciousness. Basically, the book is a bound exhibition of beautiful examples of visualized datasets. It's network data as art. You turn to a page, say the spread on the activity of the Protein Folding Network or a map of the student discussion threads at ITP. You wrap your head around this one dataset and the gorgeous, ingenious way in which it is rendered. Because of the "success" of the presentation, you really "get it;" you get a deep, dare I say, brain bi-hemispheric appreciation of the data presented. Then you turn the page. Suddenly, you're looking at an entirely different dataset (e.g. key words used in the world's holy books or the linking structure of Wikipedia), and again, you're taken in by both the beauty and the comprehension of the information. And then you turn the page again. There are many "ah-ha" moments as a you go. Do this for an extended period time and your brain turns to happy jello. So I thought this book would be a perfect candidate for entraining Ms. Stern's neurons.

Visualizing Lisbon's traffic

Grand Taxonomy of Rap Names
Becky is also a consummate maker. So I didn't want her gift to be entirely cerebral. She's a photographer, so I figured she might appreciate the pinhole camera book. Designed as a spiral bound workbook, it delves into the history of pinhole, has a number of pinhole camera projects, and a gallery of photos done with these most basic of cameras. Even if she doesn't make one of the projects, I think she'll appreciate the book as an educational tool and as a lovely book artifact.
Happy Holidays, Becky. And thanks for all of your inspiring work on MAKE and CRAFT!
BTW: You can visit the Visual Complexity: Mapping Patterns of Information website here.
More:
See all of our Secret Santa exchanges to date

Getting Started with Parallax. This is a really impressive wiki filled with examples, code and more. Parallax is hands down one of the best "documenters" of learning electronics – they're also including Arduino code examples too…
Welcome to the Parallax KickStart wiki! Here you'll find dozens of programming examples to help you jump start your use of Parallax sensors and accessories sold through retail stores such as RadioShack, Microcenter, and Fry's Electronics.

These KickStarts give you hands-on help for connecting R/C servos, GPS modules, accelerometers, digital compasses, ultrasonic distance sensors, XBee wireless radios, and more to three of the world's most popular microcontrollers: the BASIC Stamp 2, Parallax Propeller, and Arduino.

KickStarts are basic, no-frills coding samples, made so you can get started, fast. Each example takes no more than a few minutes to set up and try.

Many of the Parallax sensors and accessories offer enhanced features and functionality not covered in the example code. So when you're ready to move on and explore more, follow the links at the bottom of each KickStart example page for additional info.

KickStarts provide working code and connection diagrams for the Parallax Propeller QuickStart, BASIC Stamp 2 HomeWork Board, and Arduino Uno. 

In most cases, the programming code will also work for variations of these microcontroller development boards, such as the BASIC Stamp Board of Education. Adapt the wiring connections as needed.

Instructables user bfgreen makes small, lightweight, waterproof containers like this by sawing off plastic soda bottle necks right below the lip, flattening the cut edges on a file, applying cyanoacrylate glue, and clamping. Since these bottles are usually PET, they could also probably be solvent-welded with acetone and other common solvent cements.
Commenters on bfgreen's post have responded with their own versions of the same idea. This small case for holding airgun pellets, above, is by Instructables user CaseyCase. Below, a micro spud-gun ignition chamber from bloke2022.
More:
PET bottles reused with style

FIRST® LEGO League @Google This is cool to see, imagine if every "tech company" hosted a LEGO league in some way? The kids at these events today, are the engineers of tomorrow…
This was Google's 6th year hosting the tournament, which took place in Charlie's Cafe on main campus. Googler Glenn Trewitt, a software engineer, is the tournament director and recruits fellow Googlers (about 25-30 of them) to volunteer as judges, referees, and tournament volunteers. This year, we had 16 teams made up of 9-14 year olds from the Bay Area and Peninsula competing.

During the competition portion, we had two ping pong-sized table laid out side by side, on which these homegrown robots raced against the clock to complete various physical tasks, all having to do with this year's theme, food safety. This year, it was each robot's job to put some common foods through just a few of the paths they usually follow to get to your belly. So, for example, the robots had to pick up, carry, and then empty dispensers of "bacteria" into a "sink." For detailed descriptions of the challenges, please see the attached PDF. An MC gave "play-by-plays" of the action, while parents and coaches crowded around, cheering and taking photographs. The action was broadcast on a jumbo screen for all to see. Referees in black-and-white striped shirts started and stopped the clock and kept their eyes out for penalties.

Upstairs, the teams visited with three different sets of judges. One panel of judges asked students about their robot (how they designed it, how it worked), while another set asked about core values (how they worked together as a team, how they learned, their spirit, camaraderie, etc.). In front of the third set of judges, the teams presented their research projects (on this year's theme of food safety) and answered questions.

At the end of the day, awards were announced. Nibbles & Bytes took home the Core Values award, Decon Droids won the award for best Research Project, the Xtreme Creators won for Robot Design, and the Flying Cougar Cyborgs won for Robot Performance. The overall champions were the LegoNauts.

Seven teams advanced to the regional competition, which will take place in January (not at Google). Those teams are:

Nibbles & Bytes
Legonauts
Xtreme Creators
It's Not My Fault
SAP4BOYS
Joack
Flying Cougar Cyborgs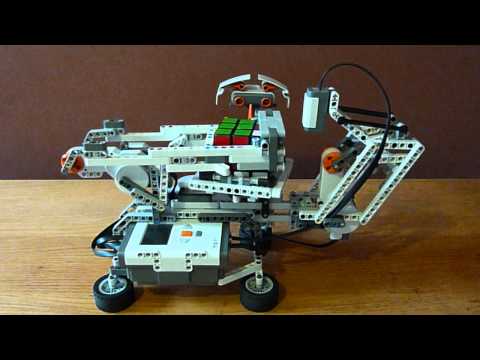 As Lego-based cube solvers proliferate, they tend to use PCs or cell phones to do the actual solving of the puzzle, with Lego motors and sensors for the rest. David Gilday's MindCuber uses only those elements found in a Mindstorms set, and with a sub-2-minute average solve time, still packs impressive results. [Via the NXT Step]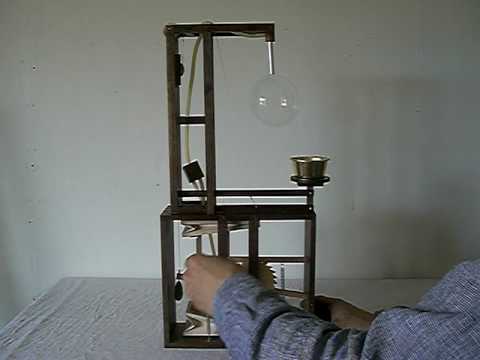 Others have remarked about the serene beauty of a complex mechanism precisely engineered to perform a single task, that would be simple for a person, just for the purpose of delighting its operator and/or audience. Witness Air Sculpture, by Japanese automatist Kazu Harada, case in point. [via The Automata / Automaton Blog]
More: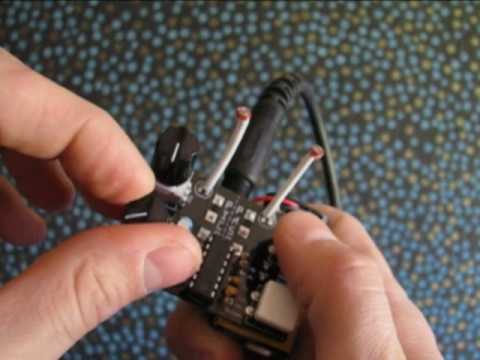 These two new kits from the Maker Shed were designed by Bleep Labs for Handmade Music Austin. Both are featured in our upcoming Ultimate Kit Guide and kits website.  The Pico Paso (above) is a perfect beginner soldering / electronic music project. Its simple, high quality components will have you making electronic music quickly and easily. It's very similar to Forest Mims' stepped tone generator but it uses two triangle wave oscillators that can be used independently or together. Wave shaping and square wave LFO knobs are used to change the sound and light sensitive resistors increase aural ridiculousness! This kit is just as fun to play as it is to put together.
Features

2 triangle wave oscillators
High quality components
Light sensitive sound manipulation
Mod and shape knobs
Great sound!
NOTE: Requires 1/4″ mono plug and an amplifier (computer speakers work well)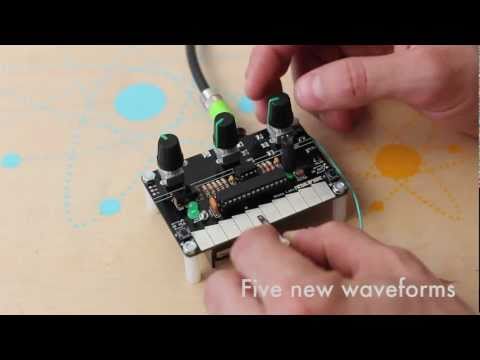 Who says Arduinos can't make music? The Nebulophone (above) is an Arduino based synthesizer with a stylus keyboard that can be played through 6 octaves using the shift button. The programmable sequencer function lets you record, play back, and manipulate custom arpeggios for musical awesomeness. 5 waveforms and tons of options including the "hidden" HYPERNOISE 30xx mode will have you making your own unique electronic music almost soon as you put it together. Perfect for beginners, advanced builders, and electronic music lovers that grow out of an Atari punk console.
Features

- Light controlled analog low-pass filter with five adjustable LFO LED modes.
- Six arpeggio modes with adjustable rate.
- Portamento with three speed settings.
- Infrared control of arp rate with other Andromeda Space Rocker and some Gieske devices.
- Open-source Arduino code and hardware
- Improved sound generation.
- Five new waveforms including two with dual, detuned oscillators.
- Programmable sequencer to easily make your own arpeggios right on the Nebulophone.
- Perfect tuning across six octaves.
- Improved white noise mode.
- Adjustable temperment and key.
- HYPERNOISE 30XX mode.
NOTE: Requires 1/4″ mono plug and an amplifier (computer speakers work well)
And don't forget, the MakerShed is offering $5 shipping on any order over $50!

"Left to his own devices he couldn't build a toaster. He could just about make a sandwich and that was it." Mostly Harmless, Douglas Adams, 1992
That was the thought in Thomas Thwaites' mind as he undertook a 9-month, £1187.54 project to recreate his own toaster as part of his Master's degree at the Royal College of Art.
How hard would it be for a modern person today create something as inconsequential as a toaster? When I heard about the book, my mind immediately went to thoughts of Arduinos and nichrome wire, but Thwaites was thinking bigger — he wanted to recreate the toaster from scratch, manufacturing his own plastic case, steel frame, copper wires, and nickel-chromium heating elements. Even trickier, he wanted to source all of these materials from Great Britain.
The book starts off with a bang as Thwaites tracks down the last iron mine in England, which is no longer in operation but does have a museum with lumps of ore on display. Thwaites isn't allowed into the mine but does score some ore. After fruitlessly trying to figure out how to smelt the ore by reading modern metallurgy textbooks, Thwaites finds historical treatises that tell him how, and he is finally able to purify the metal and mold the pieces he wants. He devotes 40 of the book's 191 pages to iron and it really sucks you in; a great chapter.

Having constructed his iron parts, he moves on to the next ingredient, mica, which he needed for its insulating and heat resisting qualities. It's a relatively unexciting chapter because Thwaites finds some usable mica rather quickly, after traveling to a mica mine in Scotland.
At times in the narrative the reader gets the idea that Thwaites has painted himself into a corner with his goals. For instance, when he realizes that there is no nickel mine in Britain, he is forced to buy some commemorative 100% nickel coins from a Canadian seller. When he attempts to create plastic from oil, he is convinced by chemists that it is too hard for a noob to attempt so he salvages plastic garbage from a landfill and melts it down to form the toaster's case. Thwaites' "cheating" doesn't bother me, but it is something of a letdown after some excellent chapters like the iron one, where he sources the ore, smelts it, and molds the parts he needs in a fairly successful manner.
Ultimately Thwaites ends up with his toaster, a vastly overpriced but indubitably cool trinket. The author didn't actually plug the toaster into house current — he was too scared. Instead, he connected the taster to a desktop power supply and verified that the elements felt hot — not hot enough to toast a slice of bread, but enough to verify that it works.
The Toaster Project raises fascinating questions about our ability to recreate the technology that we take for granted. Expert makers may find themselves squirming at some of the decisions Thwaites made, but ultimately his eagerness to learn and his determination to see the project through — not to mention the author's engaging writing and the novelty of the project — makes this book a winner.

A full-size turret mill is, of necessity, a heavy, expensive piece of equipment, impractical for most individual owners due to space and/or monetary constraints. For hobby work, however, a so-called "mini mill" can perform very well. The chief limitation of a mini-mill is not so much the quality of the work it can produce, but the size of the work it can handle.
Most mini-mills on the U.S. market today are manufactured by SIEG Industrial Group in Shanghai. Their X2 model is typical, and versions of the tool are sold under various brands in the U.S. including Grizzly, Central Machinery (Harbor Freight), and Microlux (Micro-Mark). This chart from LittleMachineShop.com (who sell their own high-end version of the X2, pictured at the top of this post), compares the features of the various brands, and seems like a pretty good place to start planning a purchase. Frank Hoose's pages, as usual, are another good source of information.

Kyle Lawson and James Peyer discuss their innovative strategy to get biotechnology into schools and hackerspaces. Their company otyp was formed with the purpose of making equipment and information accessible to anyone who wants to get started with genetic research and experiments.
Subscribe to the Meet the Makers Podcast in iTunes, download the m4v video directly, or watch it on YouTube and Vimeo.
Check out more episodes of Meet the Makers.
More: