---
OK, so, they only have five leaves each, and the actual stuff on the pages is not made of Lego elements, but c'mon: Among challenging subjects to model in Lego, surely a functional book is near the top of the list. But then, we've pretty much come to to expect that sort of thing from artist Guy Himber, whose masterful MOCs we've featured here many times before. [Thanks, Billy Baque!]

Shortly after we launched Weekend Projects, we took our first stab at circuit bending with Add Volume, Jack, a project which modified any battery-powered audio toy to have line-out capabilities. Since then, we've looked at various types of diodes and resistors (Light Theremin), integrated circuits (the LM324 Op-amp and 555 Timer, for example), and fabricated circuits on breadboards, manufactured PC boards, and even etched our own.
So whether you're a circuit bending specialist looking for your next noise fix, or a Weekend Projects enthusiast looking to add yet another skill to your above-mentioned armory of maker know-how, the Luna Mod Looper is both easy to build and fun to play! Our first use of stripboard, a type of circuit board with parallel strips of copper on one side, this is also our first software-driven project. Everything including the box enclosure is thoroughly documented, and in the end, you'll be left with just two knobs and a button. One knob controls the sound while the other controls the tempo, and the button writes the current sound to memory. And there you have it, an extremely portable, self-synthesizing electronic noise looper!
Sign up below for the Weekend Projects Newsletter to access the projects before anybody else does, get tips, see other makers' builds, and more.
Sign Up for the "Weekend Projects" Newsletter
Please enter all required fields

Correct invalid entries

More:
See all of the RadioShack Weekend Projects posts (to date)

Short on info, but long on inspiration. Four more pictures here. [via Boing Boing]
More:

Sterling Johnson has childhood memories of being fascinated by blowing bubbles, even learning how to make them using only soap and his own hands. At Maker Faire Bay Area 2011 he uses a variety of simple devices to create both massive bubbles and swarms of smaller bubbles.
Subscribe to the Maker Faire Podcast in iTunes, download the m4v
video directly, or watch it on YouTube and Vimeo.
Check out more videos from Maker Faire Bay Area 2011.
More: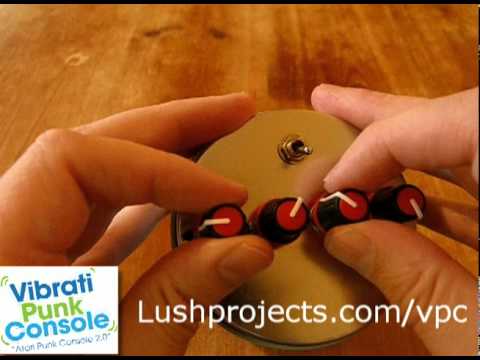 Iain Sharp's Vibrati Punk Console (VPC) is my choice for the Gift Singularity. The VPC (£20) is a spinoff of Forrest Mims' legendary Atari Punk Console, an elegantly simple 555-based synth that has caught on as one of the legendary DIY projects of yore. The VPC mixes it up by adding a Low Frequency Oscillator (hence the 'Vibrati') to the mix creating a much more diverse set of sounds than Mims' synth.
I like how the VPC is enclosure independent. You could keep it as-is, with the speaker and battery sitting next to the PCB, or you could build it into whatever enclosure you have lying around, leveraging its acoustic properties to create an even more unique sound. In the video above, Iain installed the VPC into a food tin, while another guy used a plastic tub in his build.
My idea for the Gift Singularity is to add the VPC to some sort of drum and then add a Tactile Metronome to the drumhead for an awesome combo noisemaker!

Engin Ayaz, Tak Cheung, and Doug Kanter created HeartWave, a tabletop device which uses water ripples to visualize the heartbeat of two people at once. The sides of the tank are equipped with Polar heart beat sensors, which actuate electromagnets to pulse a fin, generating each wave. According to Doug, "variations in liquid and lighting allow for a range of unique HeartWave experiences." The box is constructed from a plexiglass frame with blue foam, black plastic, and is coated with Magic-Smooth polymer finish. Not only did the group create the great video above, but they also painstakingly documented the process of designing and building HeartWave. It's definitely a slick project, but they're not quite satisfied yet. On their wish list is enhanced lighting effects, coding refinements, and better interactivity cues for the user. No matter what, it's a nice piece!
More:

I have a lot of scissors. The less precious pairs come and go, but any textile crafter will tell you that fabric scissors have a special spot in the collection. They need to be sharp, heavy, and easy to handle. So when GarrettWade sent me a pair of their 7″ dressmaker's scissors, I was excited to dig in for a review.
These scissors are forged from hard steel in France. They're just as sturdy as my Gingher shears, but with smaller finger holes. Since I can only fit one finger in the lower hand-hold, the remaining free part of my hand can move around a bit more, providing more maneuverability. The finger holes are ergonomically shaped, sloping towards the direction your fingers will face while holding them. The upper blade is heaver than other scissors I've used, and it makes easy descending cuts on thick or multi-layered pattern pieces.
I spend a lot of time on the computer, and suffer hand and wrist problems as a result. Since the 7″ dressmaker's scissors have less weight in the handles, the center of gravity leans towards the blades. I found it easiest to use these scissors for cuts that occur flat on a table, like cutting out patterns for garments. When going to trim up garments on a dress form or snip threads near the sewing machine, I prefer either a smaller pair or my spring-loaded Fiskars, since gravity can play a big role in how much my hand and wrist hurts at the end of the day.
When I compared these scissors to the rest of the collection (they appear above, second from the upper right), they easily ranked in my top three for strength, sharpness, and longevity. They're made from high-quality steel, so even when they're dull I can keep getting them sharpened year after year and they'll be as good as new. If you're looking for your first "fabric only" pair, the 7″ dressmaker's scissors might be just the ticket.
More:
See all of our "Toolsday" tool reviews here.

We're giving away amazing kits from our new Make: Ultimate Kit Guide EVERY DAY — thousands of dollars worth of merchandise, including MakerBots!
To celebrate the release of our latest publication, the Make: Ultimate Kit Guide 2012 (and its companion website), we're giving away at least one of the cool kits reviewed in the issue each day during the holiday season.
Today's giveaway item is for not one but two Drawdio Fun Packs (a $49.98 value.) We're giving them away as a pair so you can enjoy them with a friend or with your kids. Here's a snippet of the review from the issue:
Drawdio is an electronic pencil that lets you make music while you draw. It's a great project for beginners: an easy kit with instant gratification. Invented by Jay Silver, it's a very simple musical synthesizer that uses the conductive properties of pencil graphite to create sounds. The result is a fun toy that lets you draw "musical instruments" on any piece of paper.
To be eligible for today's giveaway, all you have to do is leave a comment below in this post. The entry period for today's prize will be until 11:59pm PST tonight. We'll choose one person at random, you'll be notified by email, and you'll have 48 hours to respond. The Winners List is kept on the Giveaway landing page. That's it! No purchase necessary or anything else to do. Please leave only one comment per post. You can enter as many giveaways as you like until you win. This giveaway is for US residents only. You also must be 18 years old to enter (Kids: Ask your parents to enter). See the Kit-A-Day Giveaway landing page for full sweepstakes details and Official Rules.
Day 3 and 4 Giveaways: The Day 3 winner has been notified. They have 24 hours left to respond.  The winner of Day 4 has been notified. They have 48 hours left to respond.

This sturdy, translucent project enclosure, available in the Maker Shed, is specially made for your Arduino projects. It perfectly fits an Arduino with an attached shield (most fit), a 16 x 2 LCD, and 4 AAA batteries. Use it for home automation, a sous vide control enclosure, or for containing nearly any mad project. The enclosure can be easily drilled for wires, antennas, or anything else you need. Since the enclosure is clear it's instantly good looking (but could be painted if you're into that kind of thing.)

Dimensions: 3.6″ x 5″ x 1.35″
Weight: 75g / 2.64oz
Injection molded clear plastic
Enclosure is easy to machine, drill, cut and shape to what you need
Brass screw inserts (can be used and reused many times, very durable!)
Fits standard Arduinos and 16 x 2 LCDs
Fits Arduino with protoshield on top
Pop out plates for GPS, buttons, sensors, switches, knobs, etc.
Holds up to 4 AAA batteries internally using 2xAAA holders.
Comes with screws for the LCD, Arduino and case
Made in Canada
Note: Does not include an Arduino, protoshield, or any other electronic bits.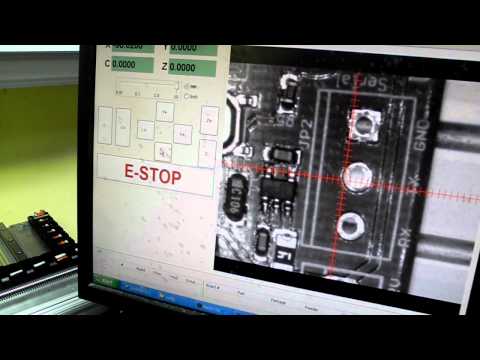 OpenPnP is a project to create the plans, prototype and software for a completely Open Source SMT pick and place machine that anyone can afford. I believe that with the ubiquity of cheap, precise motion control hardware, some ingenuity and plenty of Open Source software it should be possible to build and own a fully functional SMT pick and place machine for under $1000.
[Via Dangerous Prototypes]