---
I've been seeing this "zig-zag" living hinge technique all over the web since we covered snijlab's apparent invention of the method six weeks ago.  "Snijlab-style living hinges" is kind of a mouthful, and since it looks like the idea is here to stay, I humbly offer "sninges" as the obvious, handy portmanteau.
Anyway, we've covered designs using sninges a couple times, already, but so far I haven't seen much detailed discussion.  Enter Make: Projects user Kevin Gunn, who's just published this handy guide describing his own experience, to date, with designing laser-cut sninges in 1/4″ acrylic.  [Thanks, Kevin!]

Our latest Weekend Project is a great lesson in turning a cheap consumer product into a magical maker device. Mystery Electronic Switches converts an electronic holiday greeting card with LEDs (along with the aide of a couple magnetic reed switches and various other components) into a portable gadget and magic trick that will both astound and confuse whomever you challenge to turn this device on. The secret (Spoiler Alert!) lies in the use of a magnetic ring, which in combination with the reed switches, allows you, and only you, to complete the circuit. The physical Single Pole Double Throw (or "SPDT) switches mounted to the exterior of the chassis must also align to allow voltage to pass through correctly. Just to confuse your audience, we've installed a dummy switch in the middle – feel free to use this to further confuse any challengers who think they might have figured out the sequence.
The exact card you hack will vary, but the premise remains the same. The circuit is turned on when the card is opened, so this function is replaced by toggle switches. Once you've located the trigger on the greeting card's circuit board (pictured above), you will know where to connect all of the additional circuitry (see schematic below). Then you package it all up in your own chassis – in our demo we used a clear plastic deodorant container. This looks cool and will awe your audience when you perform your "magic." They won't be looking at your hands. Instead they'll be looking for something to be happening inside. Meanwhile only YOU know the secret!
Sign up below for the Weekend Projects Newsletter to access the projects before anybody else does, get tips, see other makers' builds, and more.
Sign Up for the "Weekend Projects" Newsletter
Please enter all required fields

Correct invalid entries

More:
See all of the RadioShack Weekend Projects posts (to date)

Our favorite "mathemusician" Vi Hart has a wonderful new video out today exploring my favorite polygon, the triangle. I loved the comment on her Facebook posting of the video: "This just made my day infinitely better. Thank you for being you." I couldn't agree more.
Doodling in Math Class: Triangle Party
More:
See George Hart's (Vi's dad) weekly Math Monday column

Meet Zvika Markfeld. In MAKE Volume 28 Zvika wrote a how-to on making an Arduino-controlled Bubblebot that blows enormous, undulating soap bubbles.. To get to know Zvika a bit more, I asked him a few questions.
Tell us a bit about yourself
I live in Tel Aviv, Israel. Over the past 10+ years, I've been working as a software engineer/consultant. Recently, I decided to shift focus and this year I am starting to study industrial design at Israel's Holon Institute of Technology. I am interested in gardening, guitar playing, yoga, cooking, cycling, programming, and of course, making.
Why do you like making things?
Because it frees me from manufacturers' restrictions and considerations that are not suitable to my needs. But more than that, I see making as a way of exercising my personal freedom, to make things that I later use in a way that exactly fits my needs and purposes. Making also brings back the true value of things — I no longer have to buy overpriced merchandise just because it's the only option. Making allows me to be creative in unique ways, and in today's world, collaborating and brainstorming with others have never been easier, so it even allows me to create relationships with real people based on our ideas. I could go on… Making is a life philosophy just as much as it's fun and a way of improving the world surrounding me.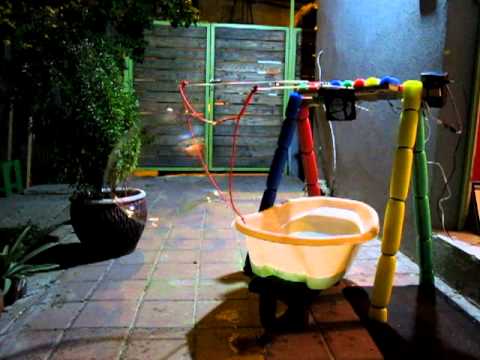 Can you tell us something about the Gigantic Bubblebot project that you made for MAKE?
The Bubblebot, my first project published with MAKE, is really what started a big change in my life. I started it without knowing whether and how exactly it would come out and it has so far taken me to wonderful places, allowed me to meet great people, and motivated me to leave my day job as a software engineer and find my way in the new, exciting world of industrial design.
What kind of things do you dream of making?
(I try not to dream, instead, I plan…) I have many ideas, perhaps the one that currently excites me most is a "moon-gravitation" harness, which I intend to build and use for a range of urban/outdoor activities, such as climbing, assisted walking for disabled people, enhanced cycling in hard-to-cross terrains and more.
Can you tell us about one of your favorite tools?
Currently my favorite is an electric wire stripper that used to belong to my dad, may he rest in peace wherever he is. I like that tool in particular because of its precision and the clean work it does, but also because it reminds me of my dad, who was a great handyman and gave me the initial knowledge and attitude for tinkering. I am sorry he's not with me today to see the things I've made over the past few years. I am sure he would have liked it.
See videos of Zvika's other creations:
Rechargeable Hula Hoop with LEDs
Simon game
EMF detector
Preparing Stuffed Zucchinis with an Electric Drill
Audible Memory Chest
---
MAKE Volume 28, Toys & Games!
MAKE Volume 28 hits makers' passion for play head-on with a 28-page special section devoted to Toys and Games, including a toy "pop-pop" steamboat made from a mint tin, an R/C helicopter eye-in-the-sky, and a classic video game console. You'll also build a gravity-powered catapult, a plush toy that interacts with objects around it, and a machine that blows giant soap bubbles. Play time is a hallmark of more intelligent species– so go have some fun!
On newsstands now! Buy or Subscribe

When you get right down to it, "transilluminator" is just a fancy name for "light box."  The device used in molecular biology typically has a UV source inside, but fundamentally, it's just a box, with a lamp in it, with a translucent top.
However, for viewing gels in molecular biology, the higher energy, shorter wavelength UV bands are more useful, and these do carry some exposure risk.  Which is why laboratory "transilluminators" are a bit more specialized, with safety features designed to prevent operators from getting a face full of UV-B or UV-C every time they look at a gel.  Like a lot of laboratory-grade scientific equipment, however, new transilluminators from "major brand" manufacturers are often shockingly expensive, considering what's actually under the hood.
DIY designs offer a low-cost alternative, but it's nice to find one, like this offering from Instructables user jorodeo, that does not force you to compromise much on either utility or safety.  The bottom and sides of the case are made from 1/4″ laser-cut black acrylic.  It houses a combined ballast and lamp holder with a 312nm (UV-B) fluorescent bulb and a piece of Hoya U325-C filter glass to block visible light.  The top is made from a 1/8″ piece of special UV-transmitting acrylic called Solacryl, and is fitted with a hinged UV-blocking safety filter made from conventional, clear, cast acrylic. You can see the visible light from the fluorescent compounds in the gel just fine, but the harmful UV does not reach your eyes or skin.
More:
Make: Projects — Home Molecular Genetics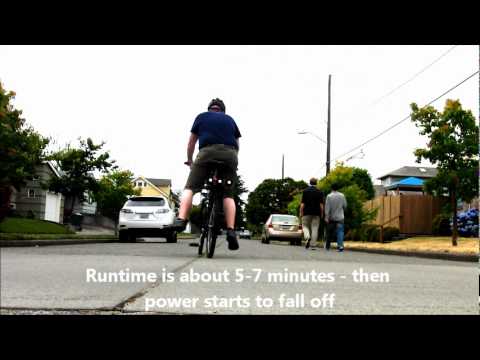 Rich Olson built this ducted fan bike using model airplane motors and an Arduino:
Normally the motor controllers are connected to a receiver – but I wanted something a little less cumbersome. So – I rigged up an Arduino to generate a PWM signal – and tossed together a little control panel.

The battery is a big sealed lead acid (SLA) 12v. It's good for 18 amp hours – but that's assuming the energy is consumed over a 20 hour period. When SLA's are drained quickly – they only provide a fraction of their total capacity. I'll make up a number – and say I'm getting maybe 5 amp hours.
[Via Hacked Gadgets]

We're giving away amazing kits from our new Make: Ultimate Kit Guide EVERY DAY — thousands of dollars worth of merchandise, including MakerBots!
To celebrate the release of our latest publication, the Make: Ultimate Kit Guide 2012 (and its companion website), we're giving away at least one of the cool kits reviewed in the issue each day during the holiday season.
Today's giveaway is for a ProtoSnap Pro Mini Arduino development board. Here is MAKE Engineering Intern Tyler Moskowite's review from the issue:
The ProtoSnap Pro Mini is one of the more interesting Arduino kits. Manufactured on a single PCB, it includes a preassembled Arduino Pro Mini (0.7″×1.3″) and snap-off accessory boards like an FTDI Basic Breakout board, buzzer, RGB LED, light sensor, pushbutton, and a general-purpose
protoboard for wiring up your own custom components. Snap off each piece, and you'll see there are holes to solder pins, wires, or however it needs to connect. Then you can load your project's sketch onto the Pro Mini immediately to start testing. Finally, the documentation is concise, for those just getting started with Arduino, and even enjoyable to read. This is a great kit for Arduino lovers of all experience levels.
To be eligible for today's giveaway, all you have to do is leave a comment below in this post. The entry period for today's prize will be until 11:59pm PST tonight. We'll choose one person at random, you'll be notified by email, and you'll have 48 hours to respond. The Winners List is kept on the Giveaway landing page. That's it! No purchase necessary or anything else to do. Please leave only one comment per post. You can enter as many giveaways as you like until you win. This giveaway is for US residents only. You also must be 18 years old to enter (Kids: Ask your parents to enter). See the Kit-A-Day Giveaway landing page for full sweepstakes details and Official Rules.
Important Note: If you enter this drawing, when it's over, please check the place where you registered to comment (eg. Facebook, Yahoo, Twitter). Some people are winning these kits and then not responding when we send them a message using the available means of contacting them. We want to make sure you get your giveaway!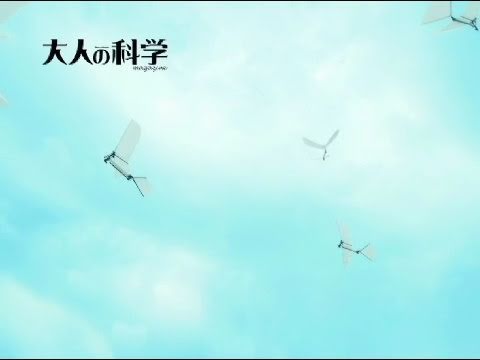 For ages, mankind has looked to birds for inspiration for flight. The Gakken Ornithopter Kit from the Maker Shed lets you discover flight powered by flapping wings, just like a bird or insect. The detailed kit includes over 40 parts that you assemble into an ornithopter (Greek for ornithos "bird" and pteron "wing") and an entomopter (Greek for entomo "insect" and "pteron" again). Learn about flight just as you've seen it in nature. Booklet is in Japanese with highly detailed, step by step, assembly images.
Features

Over 40 parts
Legendary Gakken Documentation
Parts to make an Ornithopter and an Entomopter
Includes launcher

I've been enjoying the blog posts by Ian Lesnet of Dangerous Prototypes as he visits Japan, including gotta-do-it stops at Tokyo Hackerspace and Akihabara Electric Town. He also attended Make: Tokyo Meeting 07, the Japanese equivalent of Maker Faire. Lots of cool stuff going on over there! (The project pictured is a DIY cotton candy maker!)