Increasingly, we as makers are needing to become industrial designers. I used to teach a basic design course years ago and I made the point to my students that we really don't become active participants in our world, moving from passive consumers to active creators, until we fully understand and engage in the designed world. Ultimately, we are all designers. And, of course, that's what making is all about (understanding and engaging with the built world). Except many makers pay little thought to how things are designed, how they interface with their users, and how they integrate with the other artifacts in our world. At a staff meeting recently, somebody was commenting on how many projects we see that have no enclosure, no knobs, no thought to longevity and usability. Some of this is obviously because many of these projects are basically proof of "can-do" and they'll likely end up in a box of other such projects — experiments — not part of one's daily life. But hopefully, as the DIY/maker movement matures, this will be less the case. As we start thinking about using more projects in everyday life, and bringing projects to market as products, industrial and user-interface design becomes another skill set makers need to acquire.
So that got me thinking about sharing some of my favorite design resources and picking your brains for more. What are some of your favorites? Please share in the comments below.
MAKE – OK, this is tremendously self-serving, but I think a big part of design literacy comes from regular exposure to inspired ideas and designs. And we try and provide a steady diet of that here on Makezine. The first step to understanding design is understanding how things go together; how they were designed and built. We offer a lot of such inspiration and instruction here. There are, of course, many other sites about making things and ones far more dedicated to exemplary design. One of my favorites is…
Core77 – This is probably my favorite design site and I visit it on a regular basis. They cover all aspects of design, have great articles, designer profiles, design news, product reviews, you name it. If you're trying to feed your head with design literacy, this site goes great with a morning bagel and coffee.
Here's a great
three-part Core77 interview
with MAKE contributors Jeffrey McGrew and Jillian Northrup, talking about their design-build firm
Because We Can
.

The Design of Everyday Things, Donald Norman – Understanding good design is as much about understanding human psychology and human culture as understanding materials and how to manipulate them. Donald Normal is a cognitive psychologist who specializes in (and writes about) design and usability. Through his work, he's been a big advocate of user-centered design (designing things for the actual user — radical concept). Norman now talks about how the academic design community has had little impact on product innovation and most of that innovation comes from technologists. This is Norman's seminal book where he looks at good and bad design through a series of case studies and derives design principles from that exploration.

Design for the Real World, Victor Papanek – When I read this book as a teen, it had a huge, lasting impact on me. It makes me realize how fundamental design is to our human-built world and how design is so much a product (or should be) of context. The book is full of the most amazing examples of products that were build for one culture ending up far, far from home — some with inspired re-use results, some disastrous. Like his contemporary, Bucky Fuller, Papanek understood the power of design to change the world — or to destroy it. The first line of the book starts: "There are professions more harmful than industrial design, but only a few…"
Biomimicry: Innovation Inspired by Nature, Janine M. Benyus – One of my interests, especially in robot design, is in looking to nature for inspiration. In this book, science writer Janine M. Benyus does an excellent job of explaining what biomimicry is, what some of the successful designs are that nature has inspired, and where the future of this discipline may be headed. Another related book I highly recommend is The Gecko's Foot: Bio-Inspiration: Engineering New Materials from Nature by Peter Forbes.
Design for Hackers: Reverse Engineering Beauty
, David Kadavy – I haven't actually read this book, but I'm intrigued by it. It uses the hacker ethos to look at the designed world, with a focus on graphic/web design and user-interface. But really, it's designed to get the reader to start seeing the world through designer's eyes, which was the basic approach of my old design classes. If anyone has read this, I'd love to hear your thoughts.
I asked our online team for some of their faves and here are a few:

Our Web Producer Jake Spurlock highly recommends Smashing Magazine, a web design and user experience e-mag.

MAKE contributing writer John Baichtal swears by Kuler, Adobe's color selection tool that uses crowd-sources color combinations.
Castle designed in SketchUp for Linux
And Sean Ragan adds: Google SketchUp and Google SketchUp's online 3D warehouse free model sharing repository. You can get to it from the drop-down "file" menu in the application itself, and there's a "import into your current model" option. The database is full of great 3D models you can use for free. And if you model a common part or component you can upload and share it so others don't have to repeat the work.
"Design" is obviously a very broad topic with many facets. These are just some of our favorite design resources, both theoretical and practical. What are some of yours?
---
This post is sponsored by Chevy Volt.

We're giving away amazing kits from our new Make: Ultimate Kit Guide EVERY DAY — thousands of dollars worth of merchandise, including MakerBots!
To celebrate the release of our latest publication, the Make: Ultimate Kit Guide 2012 (and its companion website), we're giving away at least one of the cool kits reviewed in the issue each day during the holiday season.
Today's giveaway is for a Gakken Edo-Syle Clock Kit (a $50 value.) Here is Marc de Vinck's review from the issue:
I had a great time building the Edo-Style clock kit from Gakken, and was amazed at its accuracy over several months of use. The kit is well designed, durable, and fun. The included picture-based directions are easy to follow, even if you don't know Japanese, but if you plan to make one, you can also refer to my step-by-step tutorial for tips and tricks I learned during my build.
To be eligible for today's giveaway, all you have to do is leave a comment below in this post. The entry period for today's prize will be until 11:59pm PST tonight. We'll choose one person at random, you'll be notified by email, and you'll have 48 hours to respond. The Winners List is kept on the Giveaway landing page. That's it! No purchase necessary or anything else to do. Please leave only one comment per post. You can enter as many giveaways as you like until you win. This giveaway is for US residents only. You also must be 18 years old to enter (Kids: Ask your parents to enter). See the Kit-A-Day Giveaway landing page for full sweepstakes details and Official Rules.
Important Note: If you enter this drawing, when it's over, please check the place where you registered to comment (eg. Facebook, Yahoo, Twitter) and make sure your profile is visible. Some people are winning these kits and then not responding when we send them a message using the available means of contacting them. We want to make sure you get your giveaway!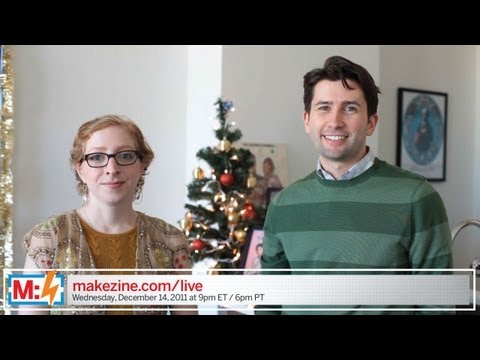 It's tonight! Our holiday episode features some fun project ideas for this festive time of year, and we'll give away some seriously cheerful electronics prizes to live viewers in the chat from Digi-Key:
Make: Live 22: Holiday Giveaway
Wednesday December 14, 9pm ET/6pm PT
Watch at makezine.com/live or on UStream
Please join us in the UStream chat or mark tweets with #makelive to interact live with the show.
More guest info after the jump.

---
Episode 22 features the lovely and talented:

Ben Light – Paper Star Lanterns
Learn to cut and fold your own paper star lantern from a simple paper office folder. These mini paper stars fit onto your Christmas lights to create a strand of festive glowing stars.

Bona Kim – Dance Party Twinkle Skirt
This LED-enhanced skirt uses an accelerometer to light up brighter the more vigorously you dance– perfect for holiday parties.

Hack Pittsburgh – Cheer Lights
Learn about a global network of Christmas lights controlled via Twitter.

Johngineer – Brass Rocking Horse
John M. De Cristofaro checks in to show and tell with his brass rocking horse ornament, made last year for his mom from brass hobby stock in his garage.

Matt Richardson – Lonely Christmas Tree
Matt debuts his latest tutorial video– it's an internet-connected Christmas tree that lights up when you send it holiday emails. The tree will even be listening for cheer live in the chat, so stop by and watch it light up with your holiday greetings.

Michael Colombo – Magnetotron
Our own Make: Live intern shows off the Magnetotron, a rotating instrument made from hacked tape players.
Want to show us your project for an upcoming episode? Upload a video or photos and send a link to live@makezine.com.