---
Maybe we finally DO live in the future. I had to call my mother-in-law a few days ago to deliver the bad news tell her that we wouldn't be able to make it up to New York/New Jersey for our annual post-Christmas dinner. My son Blake moved to the Bay area this year (to work as a game designer) and is only going to be on the East Coast for a precious few days. "Hey, maybe you could send 3D print-outs of your heads," she responded, after digesting the bad news. Alright, grandma up on the bleeding edge technology! I thought it was a brilliant idea and we even seriously explored the possibility of doing it. The head of MAKE's own Nick Normal (above) has been known to make the scene when carbon-based Nick can't. But there just wasn't enough time to have our heads scanned, printed, and mailed.
So, we decided to take a slightly lower-tech route to teleporting dinner avatars. Blake made and emailed papercraft versions of us to the family. Papercraft Gar is below. The family will have a little craft project cutting and assembling us before they sit down for dinner (where we will also have places).
Somebody also suggested we could use iPhones and Facetime and set up the phones on our plates. But I don't think I want to sit through a meal that I don't actually get to eat.
Click on image for full-size version
If you want to make your own paper versions of yourself to send around for the holidays, you can get the template that we used here. If you want to print out Paper Gar and have him at your table, feel free (just take pictures!). He likes white meat, hold the gray.
More:
Secret Santa: Nick Normal – 3D Scanner

This is second-to-last installment of my ongoing series on building the MakerGear Mosaic 3D printer. This part covers assembly of the heated build platform, including installation and adjustment of the leveling plate, mounting the heating element and build surface, and making the associated electrical connections. Next week, I'll be wrapping up the build by installing the electronics. And then, hopefully not too long thereafter, I'll be printing a shot glass and celebrating my first 3D printer in the traditional fashion!
More:

Artist Adel Abdessemed's Music Box was featured in his 2009 Rio exhibition at New York's David Zwimer gallery. You can see it moving, and hear it playing in the background, of the embedded video interview with Abdessemed. Clicking above should take you right to the relevant section.
More:

Robot gives clues on evolution of flight @ TG Daily.
A tiny robot insect has given support to the idea that the first flying creatures were tree-dwellers.

A six-legged, one-ounce robot has shown that while flapping wings help a creature run faster, it's unlikely that they could have given it enough speed to take off from the ground.

The flapping wings increased the speed of the running robot by 90 percent, going from 0.68 m/s to 1.29 m/s, and also enabled it to climb steeper gradients, increasing from a 5.6° ascent to a 16.9° ascent.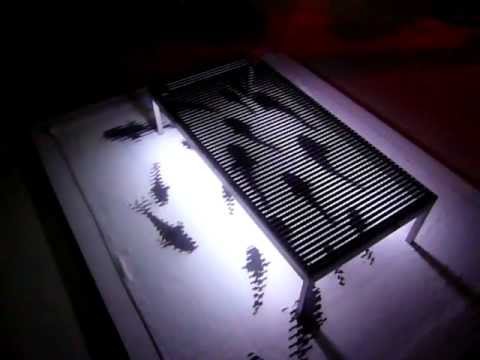 Extremely clever trick from designer John Leung, who's put a coffee table with an optical grill on top of a rug patterned with a few "hashed" frames of a simple, looping animation. The net result? As you move around the room, the patterns on the rug, viewed through the table, appear to move. Dude Craft has a great "scanimation" tutorial that demonstrates how to make images of this type. [Thanks, Matt Mets!]
More: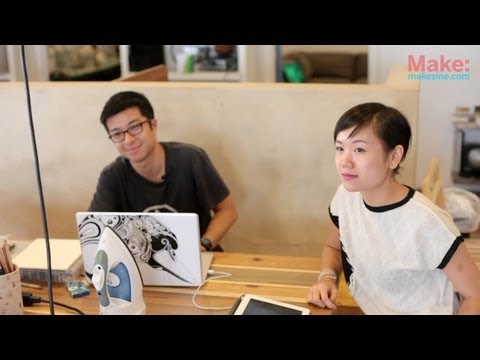 Sue Ngo and Nien Lam share their pollution shirt, created for a project during their studies at ITP. The merits of co-working and collaboration are also explored, as Nien talks about his positive experience with working at Collab.
Subscribe to the Meet the Makers Podcast in iTunes, download the m4v video directly, or watch it on YouTube and Vimeo.
Check out more episodes of Meet the Makers.
More:


Today is the last day of our month-long giveaway of kits from Maker Shed and the Make: Ultimate Kit Guide 2012. As with the launch, we're celebrating the end with ANOTHER MakerBot giveaway. Thanks for participating and we hope you and yours have a fabulous holiday.
To celebrate the release of our latest publication, the Make: Ultimate Kit Guide 2012 (and its companion website), we're giving away at least one of the cool kits reviewed in the issue each day during the holiday season. Today, we're giving away our fifth and final MakerBot Thing-O-Matic (a $1,300 value!), featured on the cover of the Ultimate Kit Guide. Here's Make: Labs intern Eric Chu's review of Thing-O-Matic from the issue:
If you want to get into 3D printing but don't know where to start, the MakerBot Thing-O-Matic Kit is the way to go. It's a complete kit, so you need no additional parts, and a large user community can back you up if problems pop up (not to mention Thingiverse, where you can find awesome open source designs). It took me about 20 hours to build the Thing-O-Matic and start printing, and I improved its accuracy with more tuning, calibrating, and tinkering with settings in the ReplicatorG software. If you have any trouble, read the discussion at the bottom of every build step. I've since 3D-printed many fun and handy things (everyone loves a 3D-printed gift!) and the MakerBot is now by far the most-used machine at Make: Labs.
To be eligible for today's giveaway, all you have to do is leave a comment below in this post. Writing a haiku will not help your chances (but it may give us a laugh.) The entry period for today's prize will be until 11:59pm PST tonight. We'll choose one person at random, you'll be notified by email, and you'll have 48 hours to respond. The Winners List is kept on the Giveaway landing page. That's it! No purchase necessary or anything else to do. Please leave only one comment per post. You can enter as many giveaways as you like until you win. This giveaway is for US residents only. You also must be 18 years old to enter (Kids: Ask your parents to enter). See the Kit-A-Day Giveaway landing page for full sweepstakes details and Official Rules.
Important Note: If you enter this drawing, when it's over, please check the place where you registered to comment (eg. Facebook, Yahoo, Twitter). Some people are winning these kits and then not responding when we send them a message using the available means of contacting them. We want to make sure you get your giveaway!

By now you've probably heard of the Make: Ultimate Kit Guide. If you haven't, it's a special publication where we, the staff of MAKE, researched over 175 of the top kits of all kinds and rated them on quality, instructions, community, and more. The guide contains ratings and reviews for kits involving robots, rockets, food, electronics, home, tools, Arduino, toys, crafts, R/C, outdoors, siege weapons, and some you never knew existed! If you still don't have a copy be sure to pick one up in either PDF or print format from the Maker Shed or on newsstands. Also, be sure to check out our holiday Deal of the Day for a special deal on the PDF version of the Ultimate Kit Guide!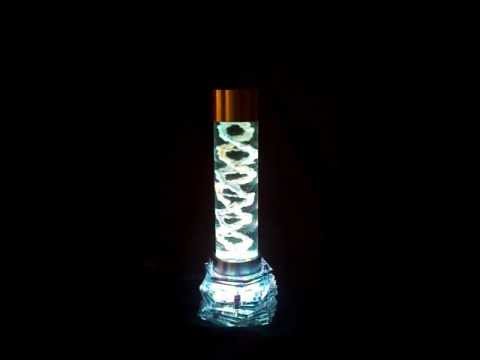 Instructables user LucidMovement built this great lamp out of electro-luminescent wire covered in crystals.
So, of course, all of you reading this have thought to yourself at one time or another "I would absolutely love to grow some crystals on el-wire and then encase it in silicone and acrylic." No? Oh, well maybe it was just me then. Regardless of whether you have had that thought before or not, I'll show you how I did it. Compared to many things you could spend weeks doing, it is quite a simple matter. It is, however, dirty, messy, prone to failure–don't be surprised if you end up growing the crystals on the structure several times over until you settle for one that isn't what you wanted but "oh hell, it'll do".
[Via HaD]

You know those really cool timelapse videos of project builds you always thought you could do, but never really got around to making because your camera didn't have a timelapse setting or installing custom firmware was too much of a hassle? Well, if you're sporting an iPhone and have the means to mount it over your work area for the duration of the build, you might want to check out Honey Build app from Replicator, Inc.. Create timelapse videos from just a few seconds or minutes, to sequences that span hours or days. Just set it and get to working on your project. When you're done, it will automatically build a video for you to share.