Going back through my Weekend Projects notes, I realized I never got around to properly thanking Mike and his daughter Jessica who brought their patriotic tri-color mod of the Floating Glow Display to World Maker Faire in September. Some simple mods really do go a long way – with all those LEDs it was even possible to see Mike and Jessica's mod in the daylight (see picture below). Using a Dremel Trio to etch a spare piece of polycarbonate they had laying around, Mike writes:
Wired up 3 LEDs to a 9V battery, with some resistors in the loop to keep from blowing it out (tested the circuit on a breadboard first). Not the neatest wiring job, but some heat shrink tubing hides some of my sloppy soldering. A bit of Shapelock for a stand and we're done.
Sign up below for the Weekend Projects Newsletter to receive the projects before anybody else does, get tips, see other makers' builds, and more.
Sign Up for the "Weekend Projects" Newsletter
Please enter all required fields

Correct invalid entries

More:
See all of the RadioShack Weekend Projects posts

At what point did you know you were a "maker?" Making springs from an insatiable need to learn about, dissect, and modify. For some this impulse came early, for others, it didn't arise until later. Maybe you were the kid who could always fix a broken bike, or you dug into your family's first PC at a young age and didn't stop until, years later, you had graduated to making complex gadgets using physical computing.
Or maybe you that kid who always took apart his or her toys. It wasn't your intention to break them, but rather, a need to put them back together. You wanted Egon to commingle with He-Man. You wanted them to have adventures in both Castle Grayskull and the Ghostbusters' firehouse. Off would come all of the appendages, a desperate attempt at integration/improvement that only sometimes worked, though how awesome it was when you discovered that certain parts did cross their plastic respective universes, when the bargain brand figurine's arms fit perfectly on another torso.
For some, it was always natural to know this about yourself, your maker's heart. For others, it hit you later on. The desire to make lay dormant, only to manifest itself at a certain time, peeking through as pure creation from the skill sets that school or society had kindled within you. When you played in a band, you figured out how to make the amp work, or solder the busted input on a guitar right before the gig. From those moments of necessity, you discovered the joy of making, the satisfactions of DIY, and you decided you wanted to enjoy that feeling more often.
The great thing about the maker movement is that it facilitates that awakening in people, brings out the nascent maker in us all. In the past few years, many of us have been experiencing a sort of rebirth – a sharpening of those faded lines that trace our early roots as a maker. And now you're not chastised for it, but rather praised! Content creation and modification brought itself to light on the internet, but the popularization of creation and modification in and of itself was a necessary element of that. Once you were given platforms with which to share your ideas, those ideas burst into even better and larger shapes, a refined sense of tinkering and play.
And now, hardware hacking is the adult equivalent of taking apart your toys, and programming an Arduino is akin to that childhood desire for systematization – only now, instead of making your very own text adventurer on a PC, the adventure has come to controlling the real world. Virtually any type of technology can easily be integrated with another type, whether electronic or physical.
How lucky we are to live in the time that we do. We all either broke into making, or went from breaking into making. Which was it for you, and how did it happen?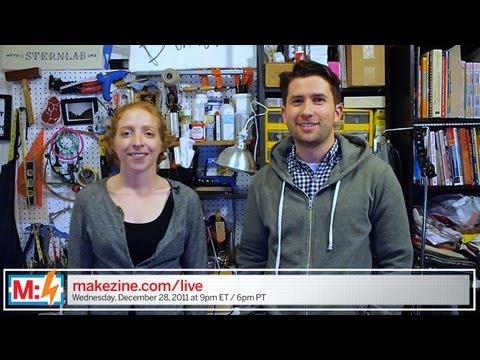 Join us Wednesday evening for the next episode of Make: Live, our streaming show and tell! It's time for Make: Live's Best of 2011 show! We'll be looking back at our favorite episodes from the very first season of Make: Live. Go behind the scenes with us for some of our most memorable moments– from goofs and gaffes to last minute surprises and change ups. And don't miss the best of robots, blinky LEDs, fires & explosions, electronics and giant mobile contraptions.
We also give away a fabulous prize from Digi-Key to one chat member who can solve our photo challenge. This week you could win:
Make: Live 23: Best of Make: Live 2011
Wednesday December 28th, 9pm ET/6pm PT
Watch at makezine.com/live or on UStream
Please join us in the UStream chat or mark tweets with #makelive to interact live with the show.
Want to show us your project? Upload a video or photos and send a link to live@makezine.com.
Subscribe to the Make: Live Podcast in iTunes, download the preview video m4v, or watch clips from the show on YouTube.