---
Here's a tutorial from Open Music Labs on piezo transducers. It's concise, easy to read, and chock-full of the kind of information you always wanted to know but were afraid to ask about one of the most ubiquitous and easy to use sensors available.

Alabama-based maker J.D. Warren used to hate mowing his lawn, so he put his resourcefulness to work and came up with a solution, which he calls the Lawnbot400:
I started thinking, what if I could mow the grass from the back deck, or even the computer? To handle my 1-acre backyard's hills, dips, and rocks, an R/C lawn mower would have to be very sturdy, be controllable from a good distance, and have enough battery power to last several hours. I built the Lawnbot400 to meet these criteria.

Basically, if you took the wheels and handlebar off any old gas-powered push mower, bolted it into a sturdy metal frame with 2 electric wheelchair motors, and added the electronics needed to make it move, you'd have the Lawnbot400. I control mine with a standard hobby R/C transmitter and receiver, but with just a few modifications it could be made autonomous.
J.D. shared his build instructions with us on the pages of MAKE Volume 22, the Remote Control issue. We recently shared his project on Make: Projects, where you can see the full how-to, materials list, full-sized images, and collaborate. Check it out. Even if you're in deep freeze this time of year where you live, this is a fun project to get started in your garage while you're waiting for your lawn to thaw.

Tomorrow, at 10am to 3pm EST, you can watch the Meeting of the President's Council of Advisors on Science and Technology (PCAST) webcast live from DC — more information here and webcast page here.
The posted "Tentative Agenda" (PDF) has nothing very specific listed, mainly activity overviews and reports, plus a period for public comment.  But if you've got a lazy Friday, it could be something interesting to check out– especially since the Office of Science and Technology policy is maker-friendly.

New media artist Taeyoon Choi visited Europe's largest IKEA store near Malmø, Sweden, in December, 2011, along with a bag full of motors, microcontrollers, and hardware. Less a critique of consumption and mass-produced objects, Taeyoon's sculptures make subtle sound hacks that interact with shoppers and the surrounding environment; the "critique" is there, but it's more about what Taeyoon calls the "harmless tiny noise." While I typically buy my dishware based on aesthetics and design, I admit I'm intrigued by some objects for their acoustic properties, although I never thought to bring them to life with a breadboard, Arduino, and a motor… until now!
[via The Creators Project]


Congrats to Maker Shed Product Development Sensei Marc de Vinck (and his adorable cat) for the great coverage of his Kitty Twitty twittering cat toy in the UK's Daily Mail. The project also showed up on Canadian Living's pet blog.
I was actually surprised that Kitty Twitty didn't get more ink and electrons when it was first published in MAKE (Volume 22). Seems like perfect media fodder. Marc's cat may have done a poor job of self-promotion. Maybe a press release should be emailed every x-number of toy triggers. Maybe now is its moment. Go, kitty, go!
The Daily Mail piece mentioned the project being online, but didn't link to it. Here it is on Make: Projects:

We have covered these spherical ice molds before. I have used one, myself, and they work pretty well. A chunk of ice is sandwiched between two halves of a metal mold, and fast conduction of heat away from the ice, through the metal, causes it to melt wherever the mold makes contact. The mold halves slide on rods to maintain their alignment, and gravity does the rest. With a mold that starts at room temperature, it only takes a few minutes to make a nice shiny ice sphere.
This one is the work of University of Wisconsin law student Brendan O'Connor, made with tooling, technical advice, and materials from Madison hackerspace Sector67. The rods are guide rails from scrap printers. [via Hack a Day]


Nashua's hackerspace MakeIt Labs opened last July but found its doors closed months later when city inspectors shut it down for code and permit violations like wiring issues, the failure to provide a handicapped-accessible toilet, and so on. Board member Adam Shrey described the situation in a blog post:
[T]he city of Nashua paid us a visit and is forcing us to stop operations until we have worked out several occupancy related issues. We're working with the city and hope to resolve things soon and reopen. The city has said they like the idea of what we do. They're just doing their job and we're anxious to bring our facility up to a level of their satisfaction.

Several dedicated members have already pitched in to help and we're making good progress. As things arise that we need help with we'll let you know. In the meantime, we won't be charging anyone dues since they can't use the space.
It sounds like MakeIt Labs has a plan for addressing all of the city's concerns, but money is a concern due to the lack of dues. If you want to help them in their time of trouble, you can donate via PayPal (link at the bottom of the post). Also, they are Space Federation members and you can make tax-deductible donations to the hackerspace through the federation, but at the time of this posting I don't have a link to do so. I'll update when I do!
Finally, kudos to reporter Dave Brooks of the Nashua Telegraph for extensively covering MakeIt Labs and sharing the maker/hackerspace scene with his readers, and for cluing us in about what's going over there.

Here's yet another delightful mechanical curiosity from among Nikola Tesla's 278 known patents.  This one is #1,329,559 US, "Valvular Conduit,"  issued 1920.  You may have to stare at the upper section, for a moment, to figure out what's going on:  Flow from left to right, as illustrated, is against the valve's bias—the stream is broken up and diverted in circular paths that return to interfere with each other.  Flow from right to left, however, is not so impeded.
These are images of a laser-sintered nylon Tesla valve by Shapeways user imperator, who is also, I believe, the narrator in this video from YouTuber LimitlessInd.
It includes a brief demonstration of the conduit's operation in both directions (using a stream of air from the narrator's mouth), but I for one would love to see a demo using a visible fluid.   YouTuber vitglow has posted some animations based on simulated flow in a Tesla valve in both easy and hard directions, but I haven't found any other moving pictures.
Boston Thingiverse user Brendan Chenelle has posted a 3D model.
The design is amenable to "nano" manufacturing techniques, and has attracted interest among researchers in microfluidics.  I am left wondering about fully 3D implementations of the same idea, where the "hard" pathways branch outside the plane and/or are multiply divergent.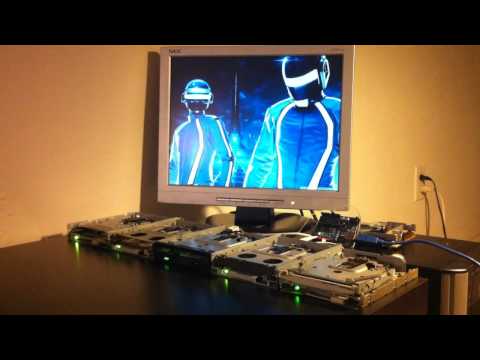 I love this floppy-drive rendition of Daft Punk's "Derezzed" track from the Tron soundtrack, created by YouTube user MrSolidSnake745. [via Frankie]

An interesting experiment from students in a course at Humboldt State University called Appropriate Technology Engineering 305. The parabolic form is essentially a large, shallow basket woven with fibers of locally-gathered Himalaya blackberry, which the students identify as an invasive species. In good weather, their dish could boil a jar of water in about two hours. I always like to see the clever thinking that can result from radical design constraints. [via No Tech Magazine]
More: