---
Jigsaw Renaissance is a learning and making community based out of Seattle, WA. It was founded in 2009 out of a Transhumanist Discussion Group.

Tiny Victory! Jigsaw 3.1 is complete. Its third location in 2.5 years of existence, each one better than the last. Jigsaw started out in the upper floor of a Quonset Hut Burner workshop in a super-shady part of Seattle beneath an in-process off-ramp. The next move was into a storefront on First Hill – high foot traffic and higher rents. On one side was a convenience shop with .99 beer, on the other was a money-advancement place.
Jigsaw's new home is Inscape, the rennovated Immigrant Detention Center of Seattle, now full of artist lofts and robots. Jigsaw was in a temporary space for several months while they removed the questionable chemicals and did a custom build-out for the permanent home. And here it is – all sealed concrete floors and freshly painted walls. There is a huge classroom, a seperate space for the loud and dirty activities, and a shared workspace. There are still some improvements to make, but it's ours and it's home. You can come check it out February 11th for our house warming if you find yourself in Sunny Seattle.
Moving your Hacker/Maker Space is a Big Undertaking
Here are some things you should think about:
Do you need to move?
We sometimes think changing location will solve some issues which are actually cultural. Too much clutter? While the fresh start of changing location is a nice time to purge, why not just throw a party to do the same thing? Way less hassle. Good reasons to move are finding a better location, with more reasonable cost. It takes a fair amount of money to move – you have a gap between regaining your deposits and placing ones on new rent. The paperwork involved with swapping locations on electric, internet, insurance, and the like, is also a fair amount of overhead. Do you really want/need to move?

Choosing where to move
Landlord. The landlord is sometimes the most important component of this. Do they understand what you are up to, or are they at least amicably ignorant? Either is fine, but having someone you are beholden to who doesn't understand means a lot of hassle later.
Location and zoning. Consider how much you want to get away with (Explosions? Fire? Or a MakerBot and some movie nights?) and what sorts of transportation access you want. Close to a public transit line? Easy walking distance? Accessible parking? It's a rare find for something that is easy to get to and allows Things On Fire. While amazing, don't stall out or put yourself under too much stress waiting for something that won't come. A holding pattern can be more exhausting than moving ahead on something that isn't quite perfect so you can get going.
Affording rent – how many members do you have? How much can they throw in a month? How many new members per month do you think you can gain? Don't care! Go with what you've got, move in six months if you fill up. Don't count your eggs before they're laid, as they told me back in the midwest.
The moving process
Purge. No really. This is the best time to throw everything out. Yes, we know it might be useful at some point. Some tips: if it's not slated for a specific project, toss it. Is the object of high value? Calculate your cost/sqft of space, including utilities. Is it worth the space it takes up?
Layout. Have an idea of where things go – this will help you with your purging process.
Insurance. Just like your landlord, find an insurance agent who "gets it" or at least gives you a confused smile. Talk to them about why you do what you do. Use terms like "community workshop" and "clubhouse for geeks." Words like "hacker," "fire," "high voltage" might set them running. And yes, you do need insurance.
Permits. At the very least you need an occupancy permit. Is this covered by the building itself (check your lease)? Is it your responsibility? I've found calling up the fire marshall (or local Burning Man friend) to walk you through and let you know what you might need before inspection is powerful, and it makes a good impression for when they come by.
Throw a party. The more the merrier, and the easier the process! Have pizza! Music! Hold dolly races!
What have your experiences been? Add them in the comments!
Thanks to Michael Park, Jigsaw blogger extraordinaire, for the lovely images.


Salt and vinegar etching of copper conductive fabric, from Hannah Perner-Wilson's Kit-of-No-Parts project
Last year we launched our Skill Builder series on the site, a monthly educational program exploring core maker skills (electronics, woodworking, metalworking, etc.). We think we got off to a good start and want to continue building on that content. But this year, we're approaching the skill sets from a different angle: The materials that go into what you build. So, over the coming year, each month, we'll be featuring a different material (or category of material) and how it is used in various projects and areas of making.
To start things off, we'll be covering Advanced Materials. For the rest of January, we'll be looking at things like new conductive materials, soft circuits, shape-memory alloys (SMA), ferrofluids, and more.
We're also going to have Maker Profiles each week celebrating the work of someone who's doing amazing things with the materials that we're featuring. And we'll have articles explaining the materials, where/how to source them, how to use them, etc. And we'll have new content in Make: Projects.
We're excited about this series and are looking forward to delving deeper into the tools, techniques, and materials used in making. Stay tuned…

Recently, I visited Switch Vehicles, which is near the MAKE office in Sebastopol. They have produce a three-wheel electric car, which will be sold as a kit later this year. I met the founders, Peter Oliver, Jim McGreen, and Mark Perlmutter in what was formerly a Ford dealership and now is occupied by a variety of makers, mechanics, and entrepreneurs. Their goal is to connect with makers and carve out a new DIY niche in the electric car market.
Peter, who is an engineer and programmer, began teaching a class in electric car conversions at the Santa Rosa Junior College. "It's going to take a person 450-500 hours to do a car or truck conversion," he explained, adding that his course was based on modifying a Chevy S-10 truck. "It's just not practical for most people to spend that much time on a conversion," he said. That led him to think about developing a kit, which might take 30-40 hours to build. He connected with Jim McGreen, who was the founder of ZAP, which produced electric scooters and trikes, but had the original goal of building electric cars.
Peter said that this electric car comes in under 1300 pounds and qualifies as street legal as a motorcycle. The target price for the kit is somewhere between $10-$15K. They expect to be able deliver kits in August 2012. Their goal is to "start at a rock bottom price with a bare bones model that can be upgraded when owners are ready." For instance, a wide range of covers or shells are possible add-ons.
I had to take it for a short test drive: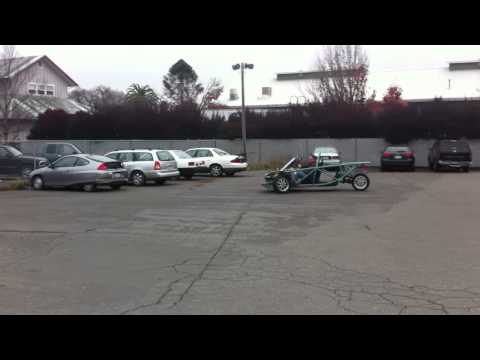 Two things were really interesting to me. One was how fast it accelerated. The other was the feeling of being in an open-cockpit where you can see the wheels turning and you can see the road. I imagine it's something like the feeling of a race car.
Here's a driver who got the car up to speed, squealing tires and all: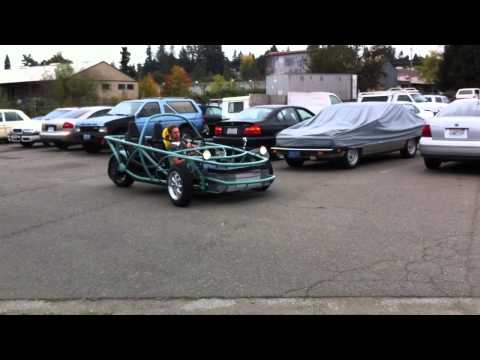 Here's another driver having some fun fishtailing on wet pavement: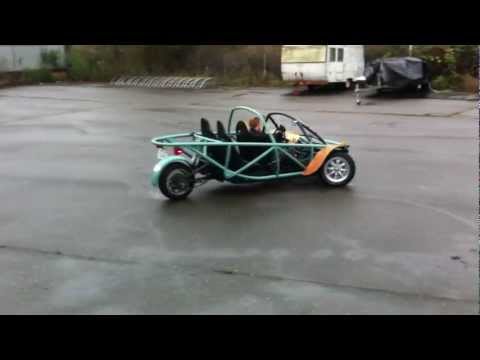 We'll be following the progress of Switch Vehicles and we hope to have them at Maker Faire this year.

Remember, just because Weekend Projects is on break at the moment, that doesn't mean you can't send us your stories and pictures of your mods! Belfast-based hacker David writes in with this awesome upcycled Light Theremin, built on an otherwise discarded dot matrix printer circuit board. He explains:
I'm a keen recycler of components as I was brought up with through hole components and their price has risen dramatically over time due to their being replaced by SMT. With our throwaway society and the decreasing lifespan of electronic devices there is an endless supply of free components if you are prepared to strip a few devices.

I decided to build the light theramin and found a suitable bare PCB from a dot matrix printer control panel which had been stripped to harvest touch buttons for arduino projects.

After trying the 555 timer a few different ways in the 16 pin DIL pad, I found one orientation which worked well and constructed the rest of the circuit around it using the existing tracks, using a few jumpers when required.
Sign up below for the Weekend Projects Newsletter to receive the projects before anybody else does, get tips, see other makers' builds, and more.
Sign Up for the "Weekend Projects" Newsletter
Please enter all required fields

Correct invalid entries

More:
See all of the RadioShack Weekend Projects posts

This is a bit of an unusual review, for two reasons: First, I can't tell you exactly what model the tool in question happens to be, and second, regardless of exactly which model it is, it hasn't been manufactured, as such, for many decades. Dymo still makes a 1/2″ metal-embossing labelmaker under its Rhino brand, but it is quite expensive, listed at $250 on the Dymo website as of this writing. I haven't used that model, but I can't imagine that for my limited home and hobby purposes it would be worth the cost.
But the $25 I spent to snag this old, used model of what is essentially the same tool was definitely money well spent. And if you want one of your own, an eBay search on "tapewriter"  turns up a half-dozen analogous models priced less than $30, as of this writing.
If you've ever used one of Dymo's small 1/4″ or 3/8″ plastic-embossing labelmakers (and who hasn't?) you already understand how this tool works, and how to operate it. But in terms of construction quality and durability, the Tapewriter is as far removed from those cheap plastic embossers as a Mercedes is from a Kia. It's 10″ long, weighs almost two pounds, and is made almost entirely from cast aluminum, with steel fittings here and there, and all held together with machine screws. The only polymer in the thing, as far as I can tell, is a rubber friction coating on the internal tape drive wheels.
When it arrived in the mail, I took it out of the box in the condition you see here. I loaded it with a new roll of 1/2″ aluminum embossing tape (which is still manufactured, with and without adhesive, and costs about $5 a roll) and found it worked perfectly.
Embossed aluminum is pretty much the ultimate labeling material. Without wanting to be morbid, there is a reason why military services around the world choose it for personnel identification tags. Secured with mechanical fasteners, instead of adhesives, an embossed aluminum label will stand up for years against water, extremes of heat and cold, prolonged direct sunlight, and any organic solvent you care to throw at it. This is a true "industrial-grade" labeling tool, and if you can snag a used one for a reasonable price, you can expect a lifetime of use from it.

Phil asks:
A geek friend of mine suffered a stroke last week and will be in a rehabilitation hospital for a few weeks. His room has WiFi in it.

I'd like to make him a device with a single rocker switch (or slider switch) where he can indicate whether he is up for having visitors.

The setting on the device will show up on a web site (that I make) where there will be a green light saying: "Jim is up for having visitors today." or a red light with the words: "Jim would prefer not having visitors today."

Could this be done pretty simply with an Arduino? How about the wifi communications part?

Sorry to hear of your friend's stroke, but how nice of you to want to make something to aid in his recovery. Your idea immediately reminded me of a project done at ITP called Is The Floor Open. It is a simple knife switch attached to an Arduino with an Ethernet shield that forwards the switch state to a website and Twitter account. Co-creator Greg Borenstein (author of Making Things See) writes:
The structure of the project was as follows:

- Arduino w/Ethernet shield that looked for a change in the state of the switch: open->closed meant floor closed at the end of the night. closed->open meant floor opened in the morning. When it detected that change it made an HTTP POST to a web service

- That web service was written in Ruby using Sinatra and DataMapper and runs on Heroku. The web service receives the data from the Arduino, records the time of the event and which direction the switch was thrown. It sends a tweet to twitter under the credentials for the istheflooropen twitter account. It also displays the current status on one web page and the full log of all received events in the past on another.

Greg has documentation of different versions of the Arduino code at these two links. However, if you need to connect to WiFi, the Ethernet shield isn't the right beast for your needs. You'll need something like the Cupperhead WiFi shield, and then you'll be able to connect to the hospital's WiFi network.
I hope this helps, and that your friend makes a speedy recovery. Please let us know how your project works out. And for readers, please give any suggestions you have for Phil in the comments.
More:
See all of the Ask MAKE columns

Circuit Milling With Roland iModela. My friend Davide from the Arduino team writes…
[Enrico Bassi] from FablabTorino brought to the extent the use of the Roland iModela, using the little (and inexpensive) desktop milling machine for pcb milling. (in the picture we milled the overexposed Fritzing Parking Assistant). He wrote some Scuola Lessons (here's the first) to explain how he realized the pcb, starting from Fritzing. Roland iModela is now on sell on the Arduino Store.
Not something you'll see at CES :) This is really cool, lots of people will be able to quickly crank out shields on site for the Arduinos at workshops and/or at home.

Via HaD:
Rainbows are revered as religious signs, the subject of ancient poems, adopted by social movements, formally described through science, and spread through memes. The fascination with rainbows is endless, transcends human categories, and embodies intense positivity.

We created the Rainbow Machine to share our joy of light art. We set the machine up at events for people to have their photo taken with it. Those who have their photo taken are given a card with a URL to find their photo online to keep as a momento of the event.
More info at their Github repository and Flickr.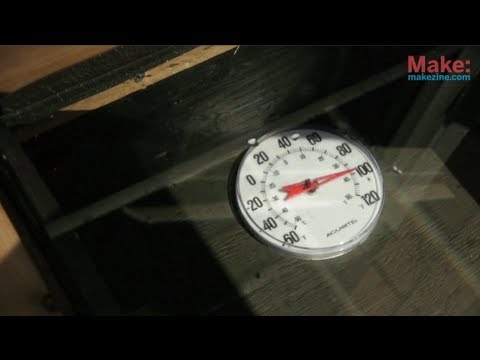 This time around on Tiny Yellow House, I decided to mess around with passive solar heat so as to warm the always-cold front foyer of my home. The result: a smallish, closeable, passive solar collector that fits into a window opening. Its not rocket science (and it NEVER will be here on Tiny Yellow House) but it does work, even in January, in New England.
The NEW version of my book Humble Homes, Simple Shacks is out in a week or two! Check it out (part of this design is from that book).
Subscribe to the Tiny Yellow House podcast in iTunes, download the m4v video directly, or watch it on YouTube and Vimeo.
More:
Check out all the episodes of Tiny Yellow House.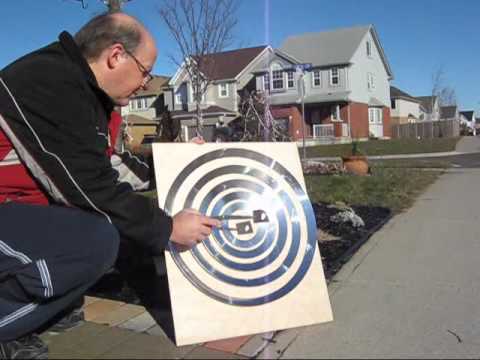 Uwe Oehler has written a simple program that prints out fold-up paper templates for the conic sections that make up the reflective surface of a Fresnel mirror. Cut the templates out of cardboard, cover the cardboard with aluminum tape, fold up the sections, and apply them to a flat backing. Even the relatively simple, five ring, 59% coverage reflector shown in the video will burn holes in construction paper under modest sunlight. [via Hack a Day]
More:
Making a flat parabolic mirror