---
I saw that my friend Thomas Edwards, tech artist and Dorkbot Overlord, was going to be at CES, so I asked him to share some thoughts on maker-friendly offerings at the event. Here's what he sent. – Gareth
Sphereo is a radio-controlled robotic sphere, about the size of a tennis ball. While driving around a white sphere with an internal colored LED with your smart phone is pretty fun in itself, the Sphereo creators are dedicated to having an open API so that makers can link up the Sphereo with their own robotic algorithms!
Here is a short video of the Sphereo in action: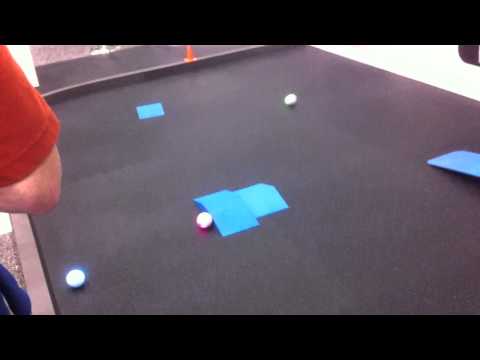 Cubify is a 3D printing service from 3D Systems. The service allows you to upload your 3D models and share them with or sell them to other Cubify members. If you upload an STL file and your 3D model passes a "3D Print Certification" that it can be made on a 3D printer, you can then order up a 3D print to be made.
Cubify is going a step beyond online ordering of 3D prints with their new Cube home 3D printer ($1299 MSRP). It will print objects as large as a 5.5-inch cube. ABS plastic print material comes in an EZ Load Print Cartridge ($50 MSRP) in up to 10 colors. STL printing files can be sent to the Cube on a USB memory stick or through a WiFi upload.
While not open source hardware like MakerBot, the Cube will ship as a complete device ready to make things rather than a kit (such as the Thing-O-Matic), and is expected to have an MSRP below the MakerBot Replicator assembled kit. Nice to see some competition going on in this area!
Here is a quick video look at the Cubify Cube: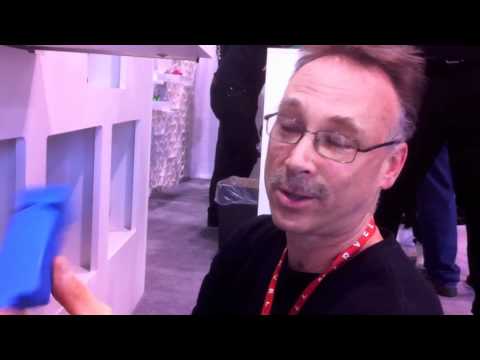 ---
Bio:
Thomas Edwards is a broadcast engineer and part-time technological artist living in Los Angeles, CA. He is a member of the Crash Space hackerspace, and co-curates the Dorkbot SoCal tech art organization.
More:
Catch up with all of our CES coverage

Our Toolsday guest contributor this week is Stuart Deutsch, whose review of C.H. Hanson's self-adjusting locking pliers appeared in MAKE Vol 29. Stuart writes regularly about tools and the tool business over at ToolGuyD. Look for more of his work, both online and in print, in the near future. Welcome, Stuart! – Ed.
Mnpctech's PC Modder Ruler and Gauge is a layout tool designed for computer case modders and scratch builders. If you're not quite sure what case modding is all about, you might start by checking out some of Ben Heck's MAKE PC Mod Picks-of-the-Day. This Half Life 2 mod is one of my own favorites.
Mnpctech and owner Bill Owen are well-known among modders. In addition to selling modding accessories, Bill and Mnpctech are famous for their wicked-cool case mods and designs. I imagine the Modder Ruler started off as a tool Bill designed for himself. Even if not, he's experienced enough to know what modders need in a multi-function layout tool.
Like most successful projects, a good case mod starts with careful planning. When laying out holes and mounting locations for common standardized components, such as hard drives, fans, and water cooling fittings, a template can greatly improve accuracy and speed things up. In addition to serving as a template, the Mnpctech Modder Ruler has a ton of handy reference information carved into it.

Ruler
The rigid CNC-machined aluminum ruler is 12″ long by 2″ wide and has both inch and metric markings, with 1/32″ and 1mm graduations. There are convenient markings to indicate common fan sizes: 40mm, 60mm, 80mm, 92mm, 120mm and 140mm, with markings for a few additional in-between and larger sizes as well. It's not the best ruler I've seen—that title is currently held by Woodpeckers' woodworking rule—but it's still very well-made.
Templates
The Modder Ruler features templates for the following common hardware components:
2.5″ SSD, 3.5″ HDD and 5.25″ optical drive mounting points
G 1/4 and G 3/8 water cooling fitting tap-drill sizes (11.8mm and 15.25mm)
16mm and 22mm Bulgin-style switches
I was able to test all but the G 3/8 template over the course of a few projects, and found the accuracy to be spot-on. In the past, I have used printed-out templates downloaded from the web, but the Modder Ruler proved to be much easier and more reliable.
Gauges and Reference Data
At one end there is a thickness gauge to help identify 1/8″, 3/16″, 1/4″ and 1/2″ materials, and on the back there are two sets of fastener gauges: #6-32, #8-32, #10-32, #10-24, 1/4″-20, M3, M4, M5 and M6. Reference information includes decimal to inch conversion factors, common tap drill bit sizes and 1/32″ – 1/4″ decimal and metric conversions.
I initially had little use for the fastener gauges, since I usually keep my machine screws well sorted and organized. But then I needed an M4 screw, which I knew was somewhere in a jar filled with other spare hardware, and the Modder Ruler saved the day by helping me find what I needed with just a bit of trial and error. For regular use I would recommend a separate thread identifier tool, but the ruler's gauges should hold up to occasional use.
As for the reference information, almost everyone walks around with a calculator-equipped mobile device, making the decimal conversions convenient but not essential. The tap drill chart is also handy, but could use additional information, such as machine screw clearance hole sizes.
If there's ever a second version, perhaps some of the reference information can be left off to save on machining time and cost, and maybe the thread gauge can be swapped for 5mm LED and fan mounting hole templates.
Summary
The Mnpctech Modder Ruler is definitely handy for frequent modders. It is packed front and back with useful features that help make short work of common layout tasks. At $35 it's not exactly cheap, but the expense can be justified in time savings after just a few uses.

Here's the first episode of MAKE's new podcast, Make: Talk! In each episode, I'll interview one of the makers from the pages of the magazine.

We created Make: Talk because we wanted to find out about the people who write the how-to articles in MAKE. As you might guess, MAKE's authors are often as interesting as the projects they build. In Make: Talk, you'll find out why they make things, how they acquire skills, where they go for inspiration, and what's on their workbenches.
Our maker this week is Steve Hoefer of Grathio Labs. Steve's uniquely appealing projects in MAKE include the Dizzy Robot, the Secret Knock Gumball Machine (above). He also wrote a how-to article in MAKE Volume 29 about a device called the Tacit that allows you to feel objects at a distance. Steve is one of my favorite makers, and in this interview, you'll find out why.
Download Make: Talk 001 as an MP3 | Subscribe to Make: Talk in iTunes | Subscribe via RSS | Download single episodes as MP3s


Over the holidays, when the Adafruit shipping staff was away, I shipped hundreds and hundreds of packages of open source electronics. I put on headphones, and did my rounds through the factory and storage shelves. It was a good chance for me to reflect on how much I like the postal service (and the companies that are built around it like Endicia and Stamps.com). For a reasonable price, they can get almost anything anywhere. Sure, there are problems once in awhile, but for the volume and price, it's pretty incredible. We have a daily pick up and delivery here in NYC; the postal staff is like part of my team. A few weeks ago, the postal service had a petition trying to get support so Saturday service wouldn't shut down — things are getting grim.
You've probably seen the recent headlines: the postal service has reported massive loses in the billions. As I spent the days and nights shipping, I thought it would be interesting to consider how we could transform and evolve the postal system. I think makers, hackers, and entrepreneurs have unique ways of looking at things, and I'd like to share some of the ideas I had. Most of all, I'd like your input. Together we could start some conversations on how we could utilize this national logistical treasure. Which brings us to this week's Soapbox: "How Makers, Hackers, and Entrepreneurs Can Save the U.S. Postal Service."
Let's go!
First, a quick history lesson:
The United States Postal Service (also known as USPS, the Post Office, or U.S. Mail) is an independent agency of the United States government responsible for providing postal service in the United States. It is one of the few government agencies explicitly authorized by the United States Constitution. The USPS traces its roots to 1775 during the Second Continental Congress, where Benjamin Franklin was appointed the first postmaster general. The cabinet-level Post Office Department was created in 1792 from Franklin's operation and transformed into its current form in 1971 under the Postal Reorganization Act.
Benjamin Franklin wasn't a president, but he's on the $100 bill, the highest bill in circulation. What a great symbol of American ingenuity. But how are they doing now? Not so good…
The USPS employs over 574,000 workers and operates over 218,000 vehicles. It is the second largest civilian employer in the United States. The USPS is the operator of the largest vehicle fleet in the world. The USPS is legally obligated to serve all Americans, regardless of geography, at uniform price and quality. The USPS has exclusive access to letter boxes marked "U.S. Mail" and personal letterboxes in the United States, but still competes against private package delivery services, such as UPS and FedEx.

On December 5, 2011 the USPS announced it will close more than half of its mail processing centers, eliminate 28,000 jobs and end overnight delivery of first-class mail. This will close down 252 of its 461 processing centers. On December 13, 2011 the USPS agreed to delay the closing of 252 mail processing centers as well as 3,700 local post offices until mid-May 2012. The Postal Accountability and Enhancement Act of 2006 (PAEA) (HR 6407), enacted on December 20, 2006, obligates the USPS to prefund 75-years' worth of future health care benefit payments to retirees within a ten-year time span — a requirement to which no other government organization is subject.
And just to get the bad news out of the way, here's more. Postal Service reports massive loss.

Chart from the NY Times.
The agency reported an annual loss of $5.1 billion, as declining mail volumes and mounting benefit costs take their toll. The Postal Service said its losses would have been roughly $10.6 billion if not for the passage of legislation postponing a $5.5 billion payment required to fund retiree health benefits.

Revenues from First-Class Mail, the Postal Service's largest and most profitable product, declined 6% from the previous fiscal year to $32 billion. Total mail volume declined by 3 billion pieces, or 1.7%.

"The continuing and inevitable electronic migration of First-Class Mail, which provides approximately 49 percent of our revenue, underscores the need to streamline our infrastructure and make changes to our business model," Postal Service CFO Joe Corbett said in a statement accompanying the figures.

Last year's losses hit $8.5 billion, despite deep cuts in expenses and staffing. Mail volume is down more than 20% over the past four years.
So before I list off my ideas (and you post yours) on turning this ship around, let's assume that the retiree health benefits are taken care of independently. I want to focus on ideas and services, not the benefit costs for people who retire. I realize that's part of the business concerns, but this is about transforming the postal service from a maker/hacker point of view. Let's keep the politics out and focus on the attainable, actionable ideas that could potentially happen. Got it? Thanks!
These are in no particular order, and there are some completely wacky ideas tossed in for humor.
The U.S. Postal Service Sensor Network

The postal service would outfit every truck with a networked "box of sensors." They would rent sensor space in every vehicle for sensor nets. We can do that with satellites now and there are DIY sats on the way, why not for mail trucks? USA pollution, radiation, bio-threat sensors, all on every truck, all available as an API to use. Researches could use it, regular people could send off their modules that were built to spec. "You get 12V DC power and 6″x6″x6″." We'd have a fleet of Arduino-powered sensor networks reporting back everything. Big data grinding away from every town in America. Google was collecting our wi-fi so it's certainly possible to collect other things as the trucks move about the U.S. Pictured above, a little postal truck-meets-Engadget.
The U.S. Postal Service Street-View Service

Rent mail car roof space to companies wanting to do mapping. Bing could get a real photo of most places EVERY DAY, almost like real-time Google Street View. Or maybe it's a public service that we all get access to with an API to experiment with. If you can get daily photos from every street, every place a postal truck goes to every day, what would be possible? Want to do a virtual tour of the USA? Work with Livestream/Ustream to stream the mail routes each day. I would tune in to my old addresses and hometown from time to time to "hitch a ride." That's a silly idea, but you get the point.
Pictured above, fake Google Street View car you can make on your own.
The U.S. Postal Service Cloud

Provide mobile hotspots wherever the mail service is, from buildings to vehicles. These would be small cell towers that would bring access to some areas each day, extend networks of cell providers, and a lot of things I didn't think of. The carriers could use the trucks to see weak areas of their networks and the big blue postal service mail bins could eventually be wireless network nodes in large cities, providing a public wireless network (and sensor network). Maybe your P.O. box is your own local backup storage on flash drives, off-site and always there when you need it. I'd love a TB of storage at the local post office that is syncing my important data that's off-site and always just there.
Pictured above, Cloud vector icons.
The U.S. Postal AdSense

Sell our mail to Google to scan, then they can add small relevant ads to it. Just kidding, maybe. But on a serious note, there is so much data that gets "scanned" in some way to get any mail from one place to another, I'm sure there's something else we could do with this. Handwriting analysis, pattern recognition, there's a lot going.
The U.S. Postal Kickstarter Fulfillment Service

Provide shipping services to "crowd-funded products" at reduced rates. For example, Kickstarters that are shipping their goods can use the postal service at a great rate. If one of the biggest issues the postal service has is declining use, why not bolt on to Kickstarter and offer such an amazing deal for makers to ship their goods to customers that they'll use it. Fueling crowd-sourced projects in some way will get more people using the postal service, and who knows, maybe others will start to see the value too. Since the most popular Kickstarter projects are actual physical goods, they eventually need to be shipped. Yes, eBay does deals, but this is different — this is a specific effort for community and crowd-funded services using the postal service exclusively because it's the best deal.
The U.S. Postal Service Adds 3D Printing

Have 3D printers in post offices. You send in a file and pick it up a few days later or it's sent to you. They could work with Ponoko, Shapeways, etc., and rent out space in each city to them. The post office has lots of space and large machines, and it's basically running 24/7 — that's what we need for 3D printing hubs. You'd upload your files to USPS.com and you'd pick up items in your special 3D P.O. box storage unit, or get them mailed to you.
The U.S. Postal Service Offers Small Business "Grants" For Office Space/Co-Working

Grant 10,000 square feet in NYC, and other big cities, that the postal service is not using (the post offices in NYC have tons of empty space). I'll pay market rate and run an electronics factory from it. That's a selfish one because I need about that much space now, but why not grant cool companies doing design, engineering, and science workspace grants to get them in the same building as post offices that aren't being used as much and have tons of space? Part of the deal is you'd use the postal service for all your shipping needs — well most of them! MakerBot in Brooklyn should just take over a mail building that's not being used. They're making big boxes of things that just need to be shipped.
Having internet startups and cool companies that make things in the same building as the post office in large cities could foster all sorts of cross-innovation.
Pictured above, the Peck Slip Post Office a few blocks from where I live/work. I want makers in that building before Apple turns it into an Apple store!
---
So those are the notes I jotted down as I shipped packages during an unusually warm December here in NYC. I'm really curious what you think. Remember, this is all about NEW IDEAS. Post yours in the comments!

Tomorrow, from 8am to 8pm EST, the MAKE sites will go dark, joining all of O'Reilly Media, and many other sites, like Wikipedia, Reddit, Boing Boing, Tucows, Twitpic, and more, in protest over the SOPA and PIPA bills now before the House and Senate. Even Google is joining in. They won't go dark, but they'll post a message about the protest and provide links to information about these troubling bills.
This isn't an action we take lightly. But we believe that SOPA, "Stop Online Piracy Act" (H.R. 3261), and PIPA, "PROTECT IP Act" (S. 968), are potentially poisonous to many of the things that we stand for. Not only has the internet had a hugely positive impact on our economy, our culture, and our ability to disseminate media and information, but it has allowed people from all walks of life and all areas of concern to become publishers, media producers, journalists, educators, doers, makers. We think that legislation like that being proposed would have a chilling effect on all of this. The bills are allegedly designed to combat commercial piracy, but as we've seen in previous efforts to fight illegal content, the pirates figure out an end-around and it's the everyday users (and in this case, pretty much every internet concern besides the big media companies) that would bear the brunt of these overreaching bills. As Tim O'Reilly says in his Radar column today "The solution to piracy must be a market solution, not a government intervention."
So, we'll go dark tomorrow and this will hopefully raise people's awareness of the issue and prompt them to contact their elected officials.
Here's a good SOPA/PIPA background piece on O'Reilly Radar by Alex Howard.
And here's the Washington Post's take on SOPA, apply titled SOPA's ugly message to the world about America and internet Innovation
After the jump is a video that explains what the main concerns are over this type of legislation.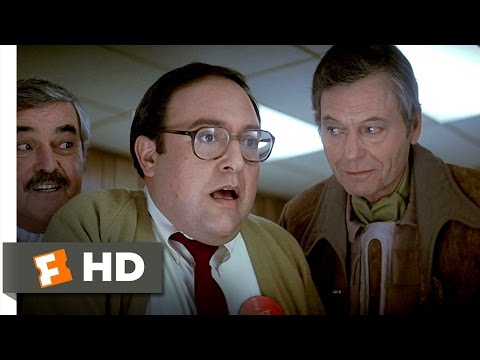 Those of you, um, enthusiastic enough to remember Star Trek IV may recall the scene embedded above.
If not, let me set up the clip: The crew of the Enterprise has gone into the past to retrieve some whales, OK? And take them "back to the future," to coin a phrase. But Scotty has a problem: He needs stuff to build a giant whale tank on the ship, but he has no goods to trade with, because, you know, in the future they only work to better themselves and nobody but a Ferengi would stoop to carrying money around. So Scotty barters his knowledge of 24th-century materials technology with a 20th-century engineer, who agrees to make him what he needs in exchange.
The 24th-century material in question is "transparent aluminum," and today I'm here to tell you: That future has arrived. Sort of. Pretty much.
The scene, as written, seems to imply that Scotty is talking about some fancy way of making metallic aluminum into a transparent form. Which ain't happening. What has happened, however, (and in fact what was happening in research circles at least as far back as 1981) is the development of a transparent aluminum-based ceramic called aluminum oxynitride, aka "AlON," that sounds a heckuva lot like the stuff Scotty is peddling. In fact, Star Trek IV came out in 1986, and it's entirely likely that one of the film's six (!) credited writers got wind of transparent aluminum from then-ongoing publicity about AlON, and decided to use it in the script.
Transparent aluminum starts out as a pile of white aluminum oxynitride powder. That powder gets packed into a rubber mold in the rough shape of the desired part, and subjected to a procedure called isostatic pressing, in which the mold is compressed in a tank of hydraulic fluid to 15,000 psi, which mashes the AlON into a grainy "green body." The grainy structure is then fused together by heating at 2000 °C for several days. The surface of the resulting part is cloudy, and has to be mechanically polished to make it optically clear.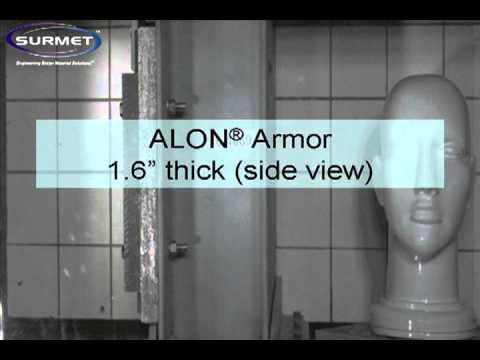 All that work pays off. AlON can do amazing things. Here, for instance, a 1.6″ thick AlON plate successfully resists a huge, powerful .50 AP bullet that smashes easily through more than twice that thickness of conventional laminated glass armor, with plenty of energy left over to extremely kill a plastic mannequin head.
It's expensive, of course, and so generally reserved for high-performance applications, especially in military fields. AlON is manufactured by Massachusetts-based Surmet Corporation for use in armored windows, lenses for battlefield optics, and "seeker domes," which are the clear round windows covering the sensor heads on the business ends of many missiles. If you want to read further, Tom Scheve has prepared a good bibliography over at HowStuffWorks.

Ben Light displayed Kinetic Sculpture 5 at the ITP Winter Show last month. When the user waves his/her hand over a photoresistor, a push solenoid is triggered, causing a rod to decouple and swing to the other side. Whatever losses are sustained due to conservation of energy are then recovered by a strong magnet that gives the rod that extra pull it needs to couple to an identical solenoid on the opposite end.
A row of five rods lets the user play with sequencing the movement, which alludes to classic demonstrations of harmonic motion. A maker with a nuttier sensibility would think this project is on track to be a perpetual motion machine, but I think Ben knows better.
More:

Are you a hackerspace member with an event you'd like to publicize? Send it to johnb@makezine.com or tweet me at @johnbaichtal and I'll post it. Also feel free to subscribe to my hackerspaces Twitter list. Hackerspace Happenings runs weekly(ish) Tuesday(i)s(h).
---
Hackerspace Symposium at c-base in Berlin


The Hackerspaces.org blog announced a symposium at the c-base hackerspace called "Hackerspaces: The story so far and the future ahead" to be held on Friday, February 3rd.
We reserved a slot for a symposium and get-together at the c-base Hackerspace in Berlin. It will be an official partner event of transmediale.12. transmediale is an annual festival for media art and digital culture taking place for one week in February in Berlin, Germany.

Gathering protagonists from the DIY hacker movement who build spaces for people to make and build things, we will explore a phenomenon that exploded in 2007 and has been growing ever since. Be prepared for in-depth discussions on blinking electronics, tinkering, self-organization, spaces, hacking in places like Africa, Asia, America, or Europe, and a friendly outlook on things to come.

What to expect: We'll start at 16:00 and make use of the afternoon at c-base, before an excellent line-up of DJs will finish off the gathering of the tribes. We want to put the emphasis on the exchange of ideas and no information overflow, but we want three talks or panels on the current state of the Hackerspace movement. If you have something to share, please send a short and sweet outline to johl@hackerspaces.org

See you in Berlin!
---
Minneapolis' Hack Factory Visited by Think Tank
Think tank MN2020 visited Twin Cities Makers' hackerspace, the Hack Factory to learn about the DIY and hackerspace movement, continuing the trend where these groups are starting to catch the public eye.
To "hack" is to deconstruct, figure out, and reinvent. The term has spawned a world-wide movement of engineers, programmers and hacker clubs dedicated to open-source learning and reinvention; sharing everything from wood-shop basics, to circuitry, to software. A central principal to the maker movement is keeping data and ideas open and accessible. Engineers and economists see the potential for both product development and job creation.

Local engineer and Minnesota 2020 Fellow Salman Mitha visited TC Maker in Minneapolis to explore the possible public policy implications for investing in the movement.
---
Model Rocketry Talk at Mesa, AZ's HeatSync
This Thursday, January 19th, we'll be hosting a talk on model rocketry by Geoffrey from the Superstition Spacemodeling Society. We will be going over the effects that modern technology has had on rocketry as a sport and a tool for teaching the next generations of engineers and scientists. Geoffrey has seven years of rocketry experience and has achieved the High Power Rocketry Level 3 rating, the highest NAR rating achievable and has competed nationally with the local club, who has been number one for six years straight.

After Geoffrey's talk, Ryan will be going in to where the lab fits in to all of this. We have all of the tools in the space to make these model rockets from scratch, whether it's 3D printed, or machined, so why not put them to use? It's the perfect hobby for people of all ages and interests, what is cooler than making highly explosive things fly up in to the air?
---
Linux Workshop at Galway, Ireland's 091 Labs
091 Labs will offer a Linux Workshop this Friday, January 20th at 7pm:
You want to learn Linux? Great! What you need is:

A laptop computer with enough hard disk space to install Linux.
A sense of self-worth and a desire to learn.
The fortitude to repartition your machine in order to install Linux.
We will be working with Ubuntu Linux 11.10.
---
3D Rendering Class at Philly's Hive76
I'll take you through the process of texturing, lighting, rendering, compositing, and post-processing to make a photo-realistic 3D render.

You'll learn the ins and outs of the interface in Blender, a professional strength, free and open source program for 3D rendering, animation, modeling, texturing, compositing, and post processing.
The first session will be held on Saturday, January 28th from 1-6pm. Tickets here.
---
Introduction to Filmmaking at Shanghai's XinCheJian
Instructor Jérôme Laniau, a French filmmaker, will lead an all-day workshop at XCJ. Cameras and software will be provided, although if you have your own please bring it.
The class will be held on Sunday, February 4th from 10am-10pm.
---
"Site 3: it's about being loud and burning things without getting in trouble"
Hi-ho, syber reporting here! One random Thursday in November, myself and Michelle-the-intern chatted with a couple of Site 3 members about what they were doing there. We didn't warn anyone we were doing this, so there's lots of activity and background noise, and as it turns out – that's exactly what Site 3 is about.
---
Digital Electronics for Arduino Workshop at Louisville's LVL1

We will build and program an electronic game and in the process learn LED's, tri-color LED's, pushbutton switches, speakers and Arduino programming. You will need to have an Arduino or an Arduino clone to participate in this workshop. You will also need to bring a laptop computer for programming your Arduino. We will show you how!
The workshop will be held on Sunday, January 29th from 2-5pm. Sign up on Eventbrite.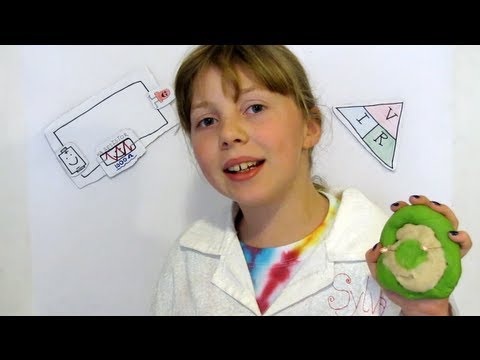 By Super Awesome Sylvia and her dad, James
Are you curious about experimenting with electronics, but the fear of electric shock or soldering iron burns keep you away?
Why not try squishy circuits!  With a special recipe of food-safe, kitchen-made, pliable dough developed at the University of St. Thomas, kids of all ages can easily use their hands to mold their very own simple circuits right before their eyes! Lets go!
For this build, we'll be mixing up two different types of dough, and then experimenting. For both types of dough, we'll need:
Deionized or distilled water (Tap water is OK if you don't have any)
Flour
Salt
Sugar
Vegetable oil
Cream of tartar (or lemon juice to substitute if you can't find the stuff)
Food coloring
And last but not least, some measuring cups and a medium sized pot to mix it all up in
For basic experimentation, you'll need:
6 volt battery pack (or 9 volt battery)
LEDs
Toy motor
Buzzer
Or head over to the Maker Shed and get the Squishy Circuits kit, perfect for classrooms, it's got everything you need to start experimenting with your conductive dough.
Subscribe to Sylvia's Mini Maker Show Podcast in iTunes, download the m4v video directly, or watch it on YouTube and Vimeo.

First, lets make the conductive dough: Get out your medium sized pot and add in the following ingredients:
1/2 cup tap water
1/2 cup flour
2 tablespoons salt
1 ½ tablespoons Cream of tartar (or 4 ½ tablespoons lemon juice to substitute) ,
½ teaspoons of vegetable oil
and last but not least, some food coloring!
Coloring the dough isn't required, but it really helps ensure it doesn't get confused with our insulator dough. Once that's all in the pot, mix it right up.
Once mixed cold, put the pot on the stove over medium heat (adults should help!), constantly stirring. It won't be long before it gets thicker and thicker (and much harder to stir), eventually turning into a big lumpy ball. Turn off the heat, and get yourself a big flat surface sprinkled with about 1/4 cup of flour, then empty out your big lumpy ball onto it. Start carefully rolling and kneading the dough around in the flour until it's the right consistency (careful, it's hot!). And that's it, now you've got your very own conductive dough!
Now for the insulating dough: Get out a large bowl and pour in:
1/2 cup flour
1/4 cup sugar
1 1/2 tablespoons vegetable oil
Mix it all together, then pour in the distilled water 1 tablespoon at a time, mixing it in fully before adding another one. Keep adding until your mix looks sticky and doughey like the picture below, then take it out, and like before, roll it around on a flour coated surface until it's the right consistency.
Now to experiment! But.. what is a circuit? and what is.. electricity?
Electricity is all around us, all because of Atoms and their charges. An atom is the simplest form of any element, and they're super important. Atoms are made up of protons and neutrons in the nucleus, surrounded by whizzing whirring shells of negatively charged electrons. With most metals, like our friend copper (commonly used for wires), their outer electrons are loose and easily shared between each other, these "free" electrons make them great electrical conductors, passing a charge from one atom to the next.
With other elements, like old curmudgeon oxygen, they don't like to share their electrons much, making them great electric insulators, keeping any charge from moving freely to other atoms very easily.
To make the passage of electrical charge do some work for us, we use a circuit. First, we need a battery. The electron charge wants to flow from the negative to the positive terminal, but the charge has no way to do it on its own through the air. Once we add long strings of conductive elements (wires, or our salty conductive dough), we can help them get there. Include a resistor and an LED, and our circuit is complete!
In every circuit, you have three basic things at play:
Voltage (measured in volts), is like the pressure for the electrons to move out of the battery.
Resistance (measured in ohms Ω) is whatever impedes (slows down) the flow of electricity through something, lowering the effective voltage.
Current (measured in amps) is a measurement of the actual power moving through a circuit in a given time, to see it, you need both voltage and resistance in a complete circuit.
Their relationship in a circuit is called Ohms Law, something we'll have to talk more about in another show.
Now to experiment!
First, a few rules: Never touch your batteries' leads directly to each other, that would cause a short and could damage the battery. Also, never hook an LED directly up to the battery, it will go "pop" and never work again!
First try just rolling up two bits of dough and attaching the battery leads to them, then connect an LED, as long as the polarity is correct, you should get light! Try a buzzer and a motor too. Notice if the dough touches the other piece of dough, the light will go out (or at least get very dim). Electricity is "lazy," and will always take the path of least resistance, if it can get where it wants to go without turning on the light or doing extra work, it will.
Now try making a big doughnut of conductive dough, then a smaller doughnut of insulating dough, then one center squidge of conductive dough in the middle. With your battery hooked up to the center and the outside, you can hook up your LEDs in a circle, or experiment with series vs parallel circuits.
Once you've got the hang of that, try using the conductive and the insulating dough as your own squishy potentiometer! Put a large resistor between analog 0 and ground on an Arduino, hook one side to 5 volts, and the other side to Analog pin 0 with our RIFF sketch, and try to make some squishy music! As the length of dough changes, so does the resistance.
For more awesome experiments to try out, check the awesome and comprehensive St. Thomas Squishy Circuits Building page.
When you're done, clean off any contacts with warm water, and store your dough in air tight plastic baggies to keep for up to two weeks.
That's all we've got for this episode, remember to have fun, never stop learning, and get out there and MAKE something!
Check out more episodes of Sylvia's Mini Maker Show.