---
Come to the Exploratorium this weekend as the Tinkering Studio hosts the first of four Open MAKE Saturdays. It runs from 10am to 2pm on the third Saturday of each month through April. Explore your own creativity with makers from around the Bay Area, who will share their art, ingenuity, and techniques for making. In addition, Dale Dougherty, founder and editor of MAKE, ends each session by interviewing featured makers in the McBean Theater.
This month's theme, Toys, and will include interactions with five particularly playful makers:
And it's not an Open MAKE without some making! Dissect toys, build a kinetic contraption from copper wire or a scribbling machine, perfect a tricky top, or create beautiful art with a kaleidoscope. The museum will offer activities ongoing from 10am to 2pm on a first-come, first-served basis. Or come early to reserve a scheduled spot with emiko and Shana for their Accessorize with Toys workshop.
Open MAKE is a collaboration between the Exploratorium, MAKE magazine, and Pixar Animation Studios. If you are a fan of Maker Faire, you won't want to miss these tasty appetizers organized by our friends at the Exploratorium. The event is included in the price of the museum's general admission and open to everyone.
This Saturday morning is also the first regional meeting of the Bay Area participants in the Young Makers program, where kids can work together to prepare a project to exhibit at this spring's Maker Faire. Those who have registered for the Young Makers program should receive instructions for entry by email. Make sure you sign up with us if you are a Young Maker!
By the way, if you are the teacher or a parent of kids between the ages of about 5 and 9, you may have noticed that while we welcome enthusiastic makers of any age, the Young Makers program is currently aimed at ages 12 and up. Well, there's a new group forming to discuss how we can support the specific needs of the littlest makers, and it will meet during the regional meeting this Saturday.


Rick Schertle has been a part of the MAKE community for years now. He's authored projects, created a kit, and been to many a Maker Faire. To top it off, he's an incredibly nice guy. When he's not busy teaching a classroom of kids during his day job, he's teaching kids the joy of making on his own time after work. He wrote a great little piece for us, introducing himself and telling the tale of how he got involved with MAKE. Here's Rick in his own words.
Jack-of-all-trades and master of none. That pretty much describes my dad and I growing up. I'm thankful to have a dad who taught me to use tools and let me work alongside him. Now, that's what I'm doing with my kids. We still haven't become masters at much, but we're having a lot of fun along the way!
My journey with MAKE began a few years ago, when a friend of mine (who happens to be a physics prof) thrust a copy of Volume 03 into my hands. The VCR Cat Feeder grabbed my attention. I thought, "what a silly, amazing, awesome gadget, but this magazine is for people much smarter than me." After all, I'm just a middle school language arts and history teacher. But having specialized in fun growing up, the amusement factor of MAKE never wore off, and I began playing around with a design for a compressed air rocket launcher. A few ideas were out there on the internet and commercial launchers were available for hundreds of dollars, but the idea was fairly simple. Through a couple of prototypes and a failed water rocket project, I came up with a design that was durable, portable, and cost effective. The rockets went incredibly high and were so cheap to make. So I pitched the idea to MAKE Editor-in-Chief Mark Fraunfelder and he liked it!
A few months later, my project was in print (Volume 15) and I began a great relationship with an amazing community of people. About a year later, I found a way to make the project more portable and universal, and that's where the kit came together. No other organization but MAKE would have given me a chance to try out a few to see how they would sell with very little risk. We put ten on the Maker Shed website and they sold out in less than a day. Then MAKE ordered 30 more and they quickly sold out. Now we were up to 100 and then eventually 500, to be delivered before Maker Faire a couple of years ago. Once you get to the 500 mark, it really begins to take over your house and life!
With the help of my son, daughter, wife, and friends, we lovingly hand-assembled each kit with boxes eventually piled to the ceiling of our dining room. I have no business background, so the process of sourcing the parts, assessing my profit margin, and building a production timeline was challenging but rewarding. As a family, we hitched a trailer to our mini van, then hand-delivered the kits to the MAKE headquarters two hours away, north of San Francisco. We received a royal welcome and when Dale Dougherty, publisher of MAKE and founder of Maker Faire, came out to help carry the kits in, I knew this really was a unique organization. With T-shirts and other goodies for the kids, exhausted, we headed happily home.
What I love about the MAKE movement is that it's a learning culture, moving people from users and consumers to creators and makers. Plenty of school districts (including mine) have "life-long learner" in their mission statements, but how many are actually living it out? I see it loud and clear in the maker movement. Wood shop was always my favorite class in school, and while I didn't choose to do it as a living, it has provided me with an awesome hobby. Now through my involvement with MAKE, I'm busting into electronics and even earned my MAKE robot badge along with my wife and kids. I've even got a welding class now on my to-do list.
Frustrated with the diminishing number of industrial and fine art classes in schools, I knew I wanted to do more to inspire this creativity in kids. Parents want it, kids want it, and soon society will begin to see the need for it again. So now I'm beginning to teach classes after school to small groups of elementary and middle school students. Offerings so far have included, of course, compressed air rockets and simple robots. In the future I hope to add more basic bots, soldering, and woodworking. As my dad inspired the maker in me as a kid and the maker movement has kept me going as an adult, I hope to help pass it on to the next generation as well.

Tony asks:
I am really interested in learning about electronics and how to make kits and potentially make things with my kids. However, I am more creative than technical and I was wondering where would be a good book/kit/guide to start with. I am not an engineer and I don't know anything about circuits, semiconductors or Arduino. My dream would to be able to make a gadget i could put on my dog's leash and it would transmit signals via GPS/3G as to where he was if he ran away (which he manages to a lot).
While the Arduino is a powerful tool for creating your own electronics projects, a basic understanding of analog electronics can prove to be essential in making them really come alive. A classic book to begin with is Getting Started in Electronics by Forrest Mims. In it, he takes you step-by-step through the basics of electricity and magnetism, on to simple descriptions of what individual components do, and then on to many example circuits you can put together yourself. Besides being a wealth of information, it's also elegantly scribed with accompanying hand-drawn diagrams.
One of Mims' projects is the Atari Punk Console, a lo-fi audio signal generator. This is a great project in which you'll learn by doing, and when completed you'll have a wacky noisemaker that's fun to use for kids and adults alike.
Another great basic electronics book is our own Make: Electronics. It's a really well-design, well-written primer on the subject, and brings you all the way through analog components and into the world of robots and programming microcontrollers. You can check it out in the Maker Shed.
As for your dream of a dog leash transponder, it's certainly possible, but there are some sizable hurdles you'd have to overcome. The great thing about Arduino is that it's excellent for prototyping projects, but can sap energy and space relatively quickly. Thus, keeping the device light, compact, and durable can prove to be difficult for a beginner. The size of your components, how much power they draw, and a suitable battery for your needs all will contribute to the project's possibility for success.
There are already products on the market, like the PATMicro, that transmit based on GPS data. Down the line it might be more fruitful to figure out how to hack one of these devices to suit your personal needs. If readers can make more specific suggestions for a project like this, please do so in the comments section.
Good luck with your first foray into electronics, and please keep us updated with your projects.
More:
See all of the Ask MAKE columns

"Shape memory" materials are so named because they can be deformed, then restored to their earlier shape by changing external conditions, commonly temperature. Though metallic shape memory materials (aka "shape memory alloys," "smart metals," and "memory metals," among others) are best known, many plastics also exhibit shape memory effects. Formed into wires, shape memory alloys make for effective lightweight actuators that can be heated resistively, simply by running current through the wire itself. So-called "muscle wire" actuators find their way into robots, cameraphones, cars, aircraft, and medical and dental devices.
---
#5
Living glass with shape memory alloy
---
#4
---
#3
Origami Crane Flaps its Wings With Memory Alloy
---
#2
The Lumen, a physical 3D display
---
#1
Muscle wire plants come to life when you breathe on them

I'm happy to announce today that O'Reilly's MAKE division, in partnership with Otherlab of San Francisco, has received an award from The Defense Advanced Research Projects Agency (DARPA) in support of its Manufacturing Experimentation and Outreach (MENTOR) program. The team will help advance DARPA's MENTOR program, an initiative aimed at introducing new design tools and collaborative practices of making to high school students.
The new Makerspace program, developed by Dale Dougherty of MAKE and Dr. Saul Griffith of Otherlab, will integrate online tools for design and collaboration with low-cost options for physical workspaces where students may access educational support to gain practical hands-on experience with new technologies and innovative processes to design and build projects. The program has a goal of reaching 1000 high schools over four years, starting with a pilot program of 10 high schools in California during the 2012-2013 school year.
The MENTOR effort is part of the DARPA's Adaptive Vehicle Make program portfolio and is aimed at engaging high school students in a series of collaborative distributed manufacturing and design experiments. The overarching objective of MENTOR is to develop and motivate a next generation of system designers and manufacturing innovators by exposing them to the principles of foundry-style digital manufacturing through modern prize-based design challenges.
Dr. Regina Dugan, Director of DARPA, has said: "One of the biggest challenges we face as a nation is the decline in our ability to make things."Having seen that quote, Saul Griffith and I decided to apply for the DARPA MENTOR program. Saul Griffith, a MAKE columnist, co-developer of HowToons, and an entrepreneur, is a master maker himself who has unique insights into the future of design and engineering. I'm excited to partner with him to develop a collaborative platform for students to share their designs and projects and to encourage high schools to build the capacity for making things and to offer this learning opportunity to more students. Part of the Makerspace program will be to use Maker Faire as a venue for bringing makers and educators together as well as showcasing student projects.
There is a lot of interest in how making can transform education and many of us are working to take advantage of the momentum of the maker movement and seize the moment to bring much needed change to education. This DARPA Mentor award allows us to accelerate this development as a national priority. I see us as building bridges between the maker community and the educational community so that we can understand how to bring the resources and practices of makers into high schools, into an educational context that is valuable for students and supportive of teachers.
We have created the website, Makerspace.com, to begin organizing information about the program for potential participants. We have also created a form to build a directory of Makerspaces so that we can help set up a network of participants who want to share ideas and implementations. As I've used the term here, Makerspace is an educationally-oriented hackerspace, designed to address the goals of young makers and educators who work with them. One of the goals of this Makerspace program is to find low-cost options for Makerspaces so that we might have more of them in our communities, in places like middle schools, community centers, and high schools.
Here's a May 2011 TEDx talk by Dr. Saul Griffith:

Links:

This longboard features a tablet computer, Kinect, and 800-watt electric motor, and reaches a max speed of 32 MPH.
Chaotic Moon Labs' "Board of Awesomeness" is intended as a technology teaser to show how perceptive computing can turn around the way we look at user experiences. The project utilizes a Microsoft Kinect device, Samsung Windows 8 tablet, a motorized longboard, and some standard and custom hardware to create a longboard that watches the user to determine what to do rather than have the operator use a wired or wireless controller. The project uses video recognition, speech recognition, localization data, accelerometer data, and other factors to determine what the user wants to do and allows the board to follow the operators commands without additional aid.
But what happens when you hit a bump and your hands accidentally wave around and set off the Kinect? [via Hacked Gadgets]

In celebration of Advanced Materials Month here on MAKE, I'm bringing you the most fabulous wearable electronics using innovative conductive materials like fibers and paints. This is the roundup to end all other roundups; it showcases 22 of my favorite projects. Above: Soft Circuit Musical Hats

Fairytale Fashion Show: Close-Up
---
LED Eyelashes
---
"See-thru-me" Light Shirt
---
Aniomagic Soft iPhone Remote Kit
---
Stretch-Sensing Bracelet
---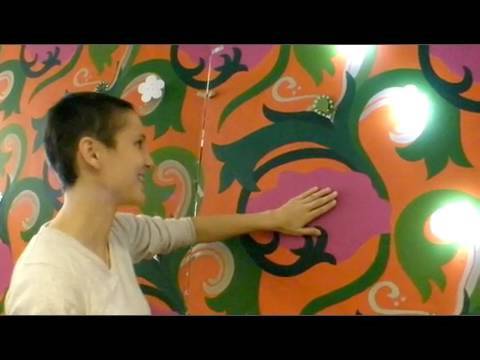 ---
RFID Tags with Conductive Thread antennas
---
Turn Signal Bike Jackets
---
How-To: Light-Up Leggings
---
LED Heart Pasties
---
Fabric and Paper Speakers
---
Surface Switches from Conductive Paper
---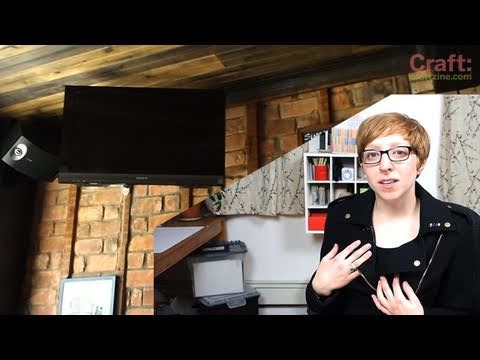 ---
LED Tank Top
---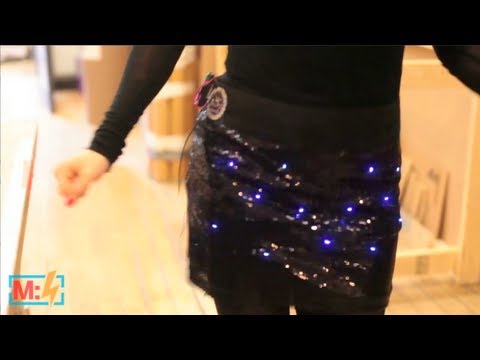 ---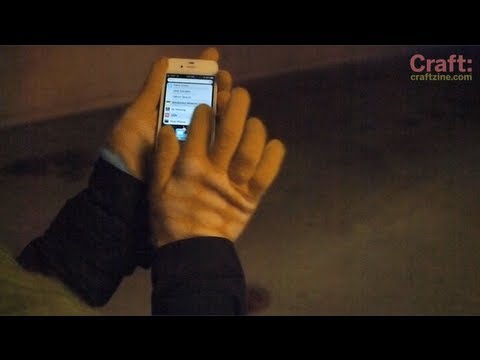 ---
Circuits That Stick to the Skin Like Temporary Tattoos
---
T-Shirt Responds to Pollution Levels
---
Massive "Wearables + Soft Computing" resources list
---
LED Shoe Clips
---
Salt and vinegar circuit etching
---
LED Sneakers
---
More:
Skill Builder 2012: Materials

I seem to recall that speaker enclosures should be rigid and massive, generally speaking, but there's no denying the cool factor in this build-it-yourself project from Quebecois industrial designer Samuel Bernier. [via nerdstink]

Lithuanian artist Gintautas Velykis creates art with the help of an algorithmic painting robot that lays down layer after layer of paint. His art machine, called ART.e.FAX, sprays droplets of water-based paint — see this cool demo.