---
Jon Danforth from Mini Maker Faire North Carolina wrote in to let us know that their call to makers is now open!
Maker Faire North Carolina

June 16, 2012

MAKER FAIRE: NORTH CAROLINA IS A CELEBRATION OF EVERYTHING MADE.

Every year at Maker Faire North Carolina Makers, Crafters, Inventors, Evil Geniuses, Scientists and Artists come together for a day of family-friendly fun and inspiration. From home-made cookies to home-made robots, Maker Faire: NC promises something for everyone in a showcase of the American creative spirit.
Mini Maker Faire North Carolina 2012 Call to Makers

Two young makers from Toronto, Mathew Ho and Asad Muhammad, both age 17, successfully sent a Lego minifig and four cameras to roughly 78,000 feet elevation on a homemade weather balloon. After a 97-minute flight, the balloon returned to Earth with great footage of the journey.
Inspired by a similar project done by MIT students, they were determined to make everything from scratch, down to sewing the 5-foot-diameter parachute. After about five months worth of weekends devoted to the build, they did it, and have some great photos to show for their hard work. Check out the video posted on the Toronto Star to hear them talk about their project and to see their balloon pics.
[Thanks Rachel!]

HydroSpan 100, from Houston-based Industrial Polymers Corporation, is billed as "a 3 dimensional copy machine enlarging any shape or design in near perfect proportion and detail." Shown uppermost, a Morgan silver dollar from 1896, enlarged via three generations of HydroSpan 100 casting to about the size of a salad plate. To use it, two components are mixed and poured into a conventional silicone mold. After curing for 24 hours, the resulting casting is soaked in water for a period of several days, swelling it uniformly to 160% of its original size. The enlarged casting can then be remolded and the process repeated as many times as necessary to achieve the desired final size. Industrial Polymers also manufactures a shrinking casting resin if you want to go down the rabbit hole, instead.

NEWS FROM THE FUTURE – The Pirate Bay 3D Prints Hollywood:
We're always trying to foresee the future a bit here at TPB. One of the things that we really know is that we as a society will always share. Digital communication has made that a lot easier and will continue to do so. And after the internets evolutionized data to go from analog to digital, it's time for the next step.

Today most data is born digitally. It's not about the transition from analog to digital anymore. We don't talk about how to rip anything without losing quality since we make perfect 1 to 1 digital copies of things. Music, movies, books, all come from the digital sphere. But we're physical people and we need objects to touch sometimes as well!

We believe that the next step in copying will be made from digital form into physical form. It will be physical objects. Or as we decided to call them: Physibles. Data objects that are able (and feasible) to become physical. We believe that things like three dimensional printers, scanners and such are just the first step. We believe that in the nearby future you will print your spare sparts for your vehicles. You will download your sneakers within 20 years.

The benefit to society is huge. No more shipping huge amount of products around the world. No more shipping the broken products back. No more child labour. We'll be able to print food for hungry people. We'll be able to share not only a recipe, but the full meal. We'll be able to actually copy that floppy, if we needed one.

We believe that the future of sharing is about physible data. We're thinking of temporarily renaming ourselves to The Product Bay – but we had no graphical artist around to make a logo. In the future, we'll download one.<
Makerbot has a great post on this too.

As you likely know, Make: Live is our bi-weekly streaming video show. We had an amazing first season and were thrilled to see that a live show about MAKE and making could be so well-received and so much fun to create. A million thanks to Becky Stern and Matt Richardson for doing such a great job of helming the show, MakerBot for graciously hosting us, Micheal Colombo for crewing, Collin Cunningham for the show music, Digi-Key, our sponsor, and all of the other folks at MAKE and beyond who made the first season such a success. And to all of our viewers and chat room contributors — you all are what made the show the most fun. I loved the fact that, during nearly every episode, at least one person in the comments would bust out with: "I love this show!", "This is SO awesome," or similar.
We look forward to bringing more of the awesome to future Make: Live programming. But for the moment, we're talking a break, doing some regrouping, and figuring out what form we want a future Make: Live to take. Look for a likely reboot in the spring.
In the meantime, we'd love to get your feedback on the show. What did you like? What didn't work for you? What would you like to see us do differently? What would be an optimum time to stream the show for you? How long should the show be? Please share your thoughts via the form below. Thanks! And look for our "On Air" light again soon!
[contact-form]
More:
If you missed any of the first season episodes, you can view them all on the Make: Live page. Here's a best-of reel for 2011: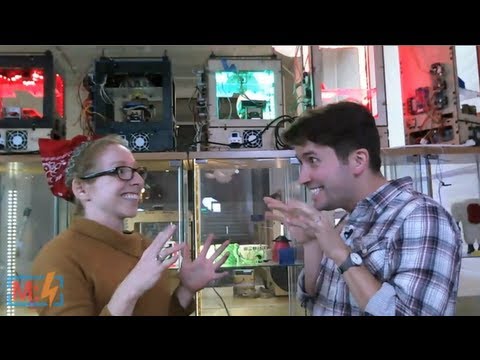 I've been looking forward to Art Hack Day for many months now, and it's finally here this weekend in Brooklyn! For the 50+ artist/hacker participants it's actually a 3-day long "happening" of collective creativity and DIY expression that will culminate at 7pm on Saturday, January 28th, with a public exhibition of all of their fabrications. Attempting to make transparent the process of creating art, "with special reverence toward open-source technologies," visitors are invited to interact with the participants during the event online. I hope to swing by before the opening to catch a sneak peek of what they're building, so stay tuned for some photos if you're out of town, or I hope to see you there this Saturday!
Art Hack Day
319 Scholes Street, Brooklyn
Exhibition: Saturday, January 28, 7 – 10 PM

Joel Miller of Massachusetts (known for his excellent MakerBot Transformer) is working on converting a milling machine into a CNC. He's even creating his own enclosure with touch screen, complete with PCBs he etched himself. Joel's blog posts have tons of information on how he accomplished each step of the project — check 'em out!

Yesterday I mentioned MIT's soon-to-be-released open-courseware materials detailing a DIY phrased radar array radar system built from pegboard and wi-fi antennae. The project, from MIT engineers Drs. Bradley Perry, Jonathan Paul Kitchens, Patrick Bell, Jeffrey Herd, and Greg Charvat produces 'radar video' at about three frames per second. Greg just e-mailed me a link to this first video showing what the imagery actually looks like. [Thanks, Greg!]

I love it when people use humble PVC as a project enclosure. In this case, Alex Avtanski of San Jose, CA, built this DIY Magnetometer to detect and measure magnetic storms.
The activity of the Sun varies on a cycle with a period of approximately 11 years. Periods of low solar activity are followed by a few years of sharply increased number of solar spots, flares, and coronal mass ejections (CMEs), disrupting Earth's magnetic field and causing magnetic storms. With the next Solar cycle maximum approaching I wanted to get on the fun too, so I set to build my own device for detecting and recording those magnetic storms, a.k.a. a magnetometer.
(…)
My magnetometer is of a torsion design. Torsion magnetometers work as follows: A magnet, attached to a mirror, is suspended from a thread. A laser beam is reflected from the mirror and falls on a detector. Changes in the Earth's magnetic field turn the magnet and the attached mirror, twisting the torsion thread. The reflected beam changes its position on the sensor, the changes are recorded and plotted on a chart.

MAKE pal Dino Segovis brings us this handy tutorial on running a stepper motor in "reverse," i.e. turning the shaft mechanically in order to generate electrical power, instead of the normal usage. He writes:
Any electric motor will also output a voltage when it's freely spinning. Stepper motors are much better at this because they have many times more poles to pass next to each other thus generating electrical pulses.
The AC current can be used as-is, he reports, to run LEDs, or easily rectified to give DC. [Thanks, Dino!]