---
Art Hack Day begins tonight, so if you're in NYC and looking for something to do, come out and see a few dozen art-hacker projects that were all made over the last two days by over 50 participants. Following are some sneak peek photos of what to expect, and these don't include the iOS jump rope software, earthquake jello project, pizza machine, 10-second GIF photobooth, and numerous other projects being assembled as I write this!

Mesh4LYFE, by Sean McIntyre, a homemade mesh network whose LEDs are displaying Conway's Game of Life

LOLDIALER by @huertanix, enter your number and prepare to be rickrolled!

3D-printed object of "Kinect space" with gold leaf by Sofy Yuditskaya, the object blends old and new world art-making techniques

I'd like to introduce what I hope will be a recurring feature here on Intern's Corner: a peek at what we interns have in our cars. To kick things off, let's have a look at Dan's Jeep, shall we?
Those four metal boxes are transformers of the type you might find on a neon sign. Each one produces thirty milliamps, although the voltages vary from 1,200 to 12,000 volts. He actually has a fifth one installed in his Tesla coil, back at the lab.
Some of you may have recognized the plumbing in the metal frame as a homemade jet engine, fashioned from an automotive turbocharger. This one uses a massive turbocharger from a tow truck's Diesel engine, so it should produce plenty of thrust when Dan finishes it. He has yet to add oil, fuel, or an ignition systems. He intends to fuel it with propane.
The most interesting item in the truck is Dan's handmade Civil War replica mortar. He turned the steel barrel on a lathe, giving it a 63 millimeter bore. He then welded trunnions (the metal pegs used as pivot points) to it. Finally, he built a base out of oak and redwood and coated it with urethane. Along with the mortar, there is a cardboard box (labeled "mortar supplies") stocked with black powder and wadding, just in case his Jeep breaks down in a zombie-infested area.
Dan has most often fired the mortar blank, producing an impressive shockwave and a sharp thump in the chest. However, it is also quite functional as a weapon of war. He once took it to a clearing and fired rocks with it. Needless to say, those rocks were never seen again.
---
Bio:
Max Eliaser is an Engineering Intern at Make: Labs. His hobbies include programming and scuba diving.

Digilent is proud to announce the 8th annual US regional Digilent Design Contest, to be held on May 6-7, 2012 in conjunction with the IEEE EIT conference in Indianapolis. Digilent Design Contests are engineering contests open to all students enrolled in any educational institution in that region.

Dates
Jan 25, 2012 – Registration begins
Feb 13, 2012 – Registration ends
Feb 23-Mar 1, 2012 – Hardware distribution
Apr 10-15, 2012 – Pre-evaluation report submission
May 1, 2012 – Submission of final project reports and presentations
May 6-7, 2012 – Final presentations in Indianapolis, IN

Challenge
The contest is open to all students and the goal is to develop innovative projects using Digilent products. Students are challenged to create an original project using Digilent boards, whether FPGA boards featuring state-of-the-art Xilinx FPGAs, microcontroller boards featuring Microchip microcontrollers, or chipKIT boards based on the Arduino development environment.

Prizes
Digilent will be awarding prizes to the top finishers. Also, as a courtesy from Digilent, all participants who present their projects in the final EU contest will get to keep the Digilent hardware they used for their work.

You can learn about the contest at http://www.digilentinc.com/events/ddc2012/ or its Facebook Page

Information on past contests can be found here: http://www.digilentinc.com/Showcase/Contests/ContestList.cfm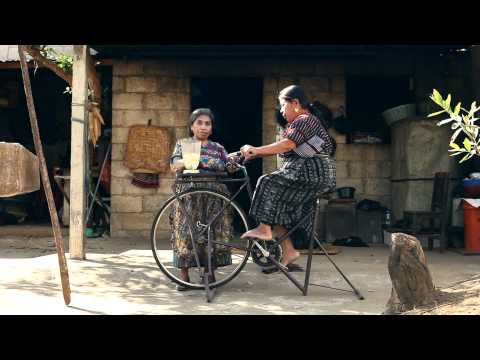 Worldwide Cycling Atlas produced this excellent video about Maya Pedal Asociación, a Guatemalan organization which has been repurposing bicycles into machines since 1997. Created because of the expense and scarcity of electricity in the municipality of San Andrés Itzapa, their Bicimáquinas are pedal-powered pumps, blenders, threshing machines, and washing machines. They're doing great work and if you want to help them out, they accept donations (of money or bicycle parts). For more information, check out their site. [Thanks, Manuela!]
More:
Pedaling forward with Maya Pedal

Here are parts two and three of Vi Hart's brilliant and dizzying exploration of the Fibonacci number, plant growth patterns, and the mathematics behind other cool, spiraly things.
More:
Spirals, Fibonacci, and Being a Plant

More Recent Articles