---
Nate's Tumble Log • United States Postal Service tries to compete with Google using fear:
What you need to do is embrace the future. Embrace what's working. Figure out what the "box" is that you and electronic delivery are competing in, and create a few attributes that you bring to the market that aren't in that box. And spend all your time, money, and energy outplaying everyone at those attributes.
I wrote a big ole' article about how the post office could embrace new technologies and get back in the game, unfortunately this video/ad was the most sent in link


Kiwi master craftsman Sören Berger is a woodturner, teacher, and inventor with 35 years at the lathe. It shows. In this amazing and slightly terrifying video, you'll see him turn a giant tree trunk section that starts with the bark still on it, inside and out, until it's perfectly smooth and translucent-thin. Inspiring and wonderful. Absolutely do not miss it. [via nerdstink]

Marie and Michael Porter of Minneapolis, MN, used colored marble tiles to create a gloriously nerdy Pi backsplash. [via Think Geek]

Jake Easton's Better Mousetrap is electrically and pneumatically powered, weighs almost six pounds, features a key lock switch and a manual safety, and strikes with 102 pounds of force. I think they foleyed that crunching noise in the video, however. Sounds like a bag of Fritos, to me.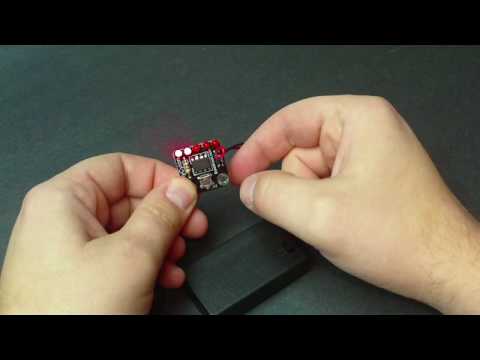 The Tiny Cylon Kit, available in the Maker Shed, is a fun and easy to solder multi-mode LED Larson scanner kit. It features 5 red LEDs that blink or glow in various patterns. The Tiny Cylon uses an Atmel ATtiny 13 for its brains that comes pre-programmed with multiple LED sequences. It's a perfect beginning soldering kit and great for building your own robot army!
Kit Includes:
Preprogrammed ATtiny13 with TinyCylon firmware
Quality printed circuit board
5 red LEDs
Push button switch
Battery holder with cover and power switch

Sculptor Tony Cragg created this dice-covered sculptures for Paris's FIAC art show, which took place in October. Love to see this style with d20s! [via Colossal; photo courtesy of Daniel Milliner]

Well, more accurately, they transform into "whegs," which look like legs, but are driven like wheels and don't, as a rule, have powered joints. Apart from sheer novelty value, the advantage seems to be that Quattroped is capable of high "road speeds" when it's on a smooth surface and in wheeled mode, but can transform to negotiate rough terrain that the wheels alone couldn't manage. It's the work of a team from National Taiwan University. Intrepid roboporter Evan Ackerman has more deets over at IEEE Spectrum.
More:

Relays can do cool stuff when you hook them up to the Internet. Check out XDA member JsChiSurf demonstrate his Android controlled garage door opener. Using an old Linux box connected to a serial relay, he's able to toggle his garage door opener using a custom app from his Android handset. [via androidcommunity]

More Recent Articles