---
You can't help yourself when you see an air cannon. You have to ask for a demonstration. "Let's try it," said President Obama, wanting to see Joey Hudy's "Extreme Marshmallow Shooter" in action. Later, he added: "The Secret Service won't like this."
After getting the President to help pump it up, Joey pulled the trigger and the marshmallow cannon worked. The crowd went wild. Congratulations, Joey. Joey and his project became the center of attention for the event, which celebrated efforts to engage kids in STEM (science, technology, engineering and math).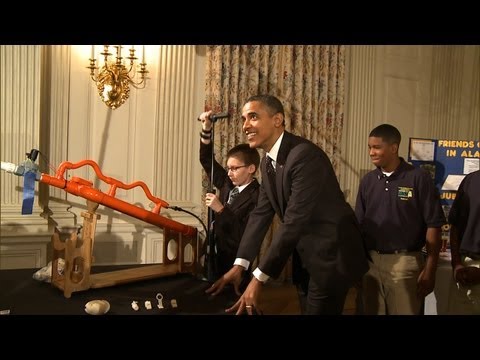 (whitehouse video)
Over 778 sources were covering Joey and the "extreme marshmallow cannon", according to Google News. Here's a sampling.
I'd say Joey went to Washington and made something happen.

Still a work-in-progress, this upcycled Star Trek ship model is made by Brazilian artist-maker J. Azevedo. He specializes in building robots and model dioramas using upcycled hardware and electronic components, as well as leading workshops for children on the importance of "environmental education," starting "from top to the bottom, inside out, reducing household refuse." Using this technique, not only can you build the starship you always wanted to see in action, but it's just as fun to attempt to identify individual components and their previous uses, such as Molex connectors, spray bottle caps, and individual Lego parts, among other bits.

The Madagascar Institute shop gets very cold in the winter—not just "keep the art fresh" cold, a pleasant chill that keeps you awake and working hard and focused cold—it freezing: Numbing cold, clumsy hands cold, visible breath cold, solvents getting slushy cold, clouded thinking and poor decisions cold. There are upsides (you bleed a lot less in the cold, and numb hands are like wearing heavy gloves all the time), but for the most part, it's a brutal slog, and the art can get a serious case of freezer burn. Absurdly, unseasonably warm winter days help, but for some sinister reason, the shop is always significantly colder than the outside world.
The solution seems simple: Heat! Like most things, that turns out to be a little more difficult than one would expect. As in many shops and warehouse spaces, there is one of those big gas heater/blower things hanging from the ceiling in the corner, but for complicated, angry-feud-with-the-gas-company reasons, ours is purely ornamental. Currently, the main source of heat (besides rage—if the rage was simmering, the shop would be consistently balmy, but it tends to explode regularly, and precious BTUs get sprayed all over the place) is a meepy electric version of a big gas blower. The little guy is trying, but electric heat has inherent limitations, and even when slurping in 60 amps at 220 volts, the best it can do is wheeze out a warm breeze, a breeze soon lost in the drafty shop. Also, as anyone who has ever relied on one of those things can tell you, little vents aside, it does an excellent job of heating the ceiling, with a razor-sharp thermocline right around sternum level.

Often, there is no need to heat the whole of a big, drafty shop—you need heat near you, near where you are working, close enough to keep fingers limber, toes in touch with your nervous system. Heat enough to work by. We have tried all types of electric heaters in the past, but they are usually little 110v things—portable, safe, completely useless unless you are within six inches of them.
The most efficient way to get heat is to burn stuff. I have no idea if this is factually, verifiably true, and I don't care. I do know that if you want real warm, things need to be on fire—as a human, I am hardwired to associate the sight of fire with comfort, warmth, a sense of security. A little danger, a blast of heat that might seriously harm you if you get too close, vague, poorly thought-out plans for somehow warming take-out leftovers in front of the heater (pro tip: do not do this). That is what hard working artists need in the winter months.
A few weeks ago, during an especially brutal (but totally seasonal, if "seasonal" has any real meaning anymore) stint of winter weather, the Review-Stuff-for-MAKE Fairy (yes, this is a real fairy. Look it up) smiled upon the Madagascar Institute in the form of a small, sturdy little workhorse of a corded/cordless propane heat machine, the Mr. Heater brand HERO. Mr. Heater calls this, "the world's first cordless forced air heater," and as far as I know this is true.
There are two standard types of propane heaters. First, the radiant type, where propane is burnt and heats an element to glowing-red heat. The radiant type ranges from the smallest, cheap tank-top burners to the big fancy Satan's-palm-tree type common to sidewalk cafes. Radiant heaters are simple, with few or no moving parts, and they usually require no external power. They are also pretty useless when it comes to heating a large space, overcoming anything more than a slight chill, or making a bad-ass sound. They get hot, but seem to only warm the air within a foot of the heating elements. (Also, since they are silent one might tend to forget when they are on, like when that lady in vinyl pants sat on a tophat heater at a Madagascar New Year's Eve party. She hopped up pretty quickly, leaving the back of her pants on the heater. She was not injured, but her pants were, and the heater did not take well to being covered in vinyl.)
Forced-air heaters do the same burning of propane and the same heating of an element, but take heating to the next level by forcing the hot air away from the heater and out to where it is needed. They heat a space far better than a radiant heater, make a cool, jet-engine-at-idle sound, and are less likely to lead to a catastrophic wardrobe failure. On the downside they contain more moving parts, make a noise like a jet engine at idle, and require an external power source to run the blower. The need for power is often a huge hassle, as one tends to use propane heaters in places (construction sites, street fair booths, semi-natural, underground river-caves underneath Yonkers) without reliable power. (I am pretty surprised that no one has designed a Peltier junction-powered fan that uses some of the heat to blow the air. I figure someone reading this might hop on it and make it happen. Get on it, makers.)
The HERO presents itself as the solution to the power problem. Built into the base of the heater is a rechargeable 12v battery pack. It will run like a normal forced air heater, plugged into house current, but will also run off if its battery for "up to 8 hours."
I tested the heater in both corded and cordless modes. I ran out of propane a couple of hours into the cordless test, but once the battery was charged, there was no noticeable decrease in performance after pulling the plug. The HERO is small, lightweight, and delivers a decent punch of hot air. The blast is brutal and dangerous a foot away from the heater, toasty warm three feet away, and a balmy summer breeze five or six feet away. Sitting on the floor, it turned a sub-gulag punishment shift into a pleasant work day in a short period of time. For all the heat it put out, the HERO was not a propane guzzler—a 20 pound tank that felt about one-third full lasted for around four or five hours. The HERO is (disappointingly, to some) quiet, more like a jet on the flightpath over your house than a jet in the next room. One possible drawback is that the green indicator LED (steady for charged/running, blinks for charging) is some kind of super-bright, possibly reverse-engineered UFO-grade light. It was bright enough that once it was on, it was impossible to see the on/off button right next to it. In fact it was impossible to see anything at all for a few minutes. This could be some undocumented feature that enables one to grow tropical plants in winter using the heat/light combo, but further research is needed.
Overall, the HERO is a nice, tight, efficient little heater. Makes cold places warm, quickly and well, which is the point of a heater, and the cordless feature is the type of perk that seems frivolous at first, but quickly becomes necessary and the standard by which to judge all others. Until someone out there develops a blower that runs off of heat (remember: my idea) the HERO is an excellent choice.

August 25th will mark the third anniversary of the Race of the Future competition, where makers create alternative energy vehicles and race them through the streets of Whiting, IN.
Gas prices are on the rise once again with no apparent end in sight. The need for discovering and perfecting alternate energy sources has never been greater. The "Race for the Future" aims to encourage, inspire and promote the development of vehicles powered by non-traditional energy sources.

We believe in the power of the everyday genius. Bringing together creative minds from various fields is the key to unlocking the breakthrough technologies that will power our future. When inventive minds mingle, the sparks of invention always fly.

Our call is to the garage inventor and the basement tinkerer, as well as to those with expertise in the fields of design and production. We invite all, young and old, dreamers and designers, inventors and builders from all over the world to join us in making history.

While our main objective is to encourage the discovery of new energy sources, our competition this year has been expanded to include experimental electric vehicles as well as vehicles which demonstrate improvements to existing technologies.

The "Race for the Future" has proved to be a meeting place for the curious and creative minds of Northwest Indiana, Southern Michigan and the Chicagoland area. This year we expand our invitation to the nation and the world.

Join us on August 25, 2012, at the third annual "Race for the Future", sponsored by the Alternate Power Initiative and the City of Whiting, Indiana. Bring your ideas, build a vehicle, race with us and together we will pioneer the future of transportation.

Dear beloved MAKE readers,
Today is my last day as Senior Video Producer for MAKE. The past four years have been, undoubtedly, the best times of my life so far. I'm immensely thankful to have been a part of such a dedicated and talented team — they're like family to me. While you won't be seeing me on the blog, Make: Live, or CRAFT videos any longer, this isn't so much "goodbye" as "see you around." I'll always be a proud member of the maker community.
After a little time off, I'll be taking a position at Adafruit Industries, heading up the wearable electronics group, and of course, you know I can't resist making videos. I'm delighted to dig into more ambitious projects than ever before, so I hope you'll check them out.
I thought I'd share some of my "greatest hits" videos from over the years, so here goes (after the jump)…
My first videos ever for MAKE/CRAFT, the Skeleton Cardigan. Part one shows you how to Photoshop an image into a knitting pattern, and part two shows how to knit it up. This sweater was lost in my luggage coming back from Maker Faire Bay Area 2008, so the video's all I've got to remember it by.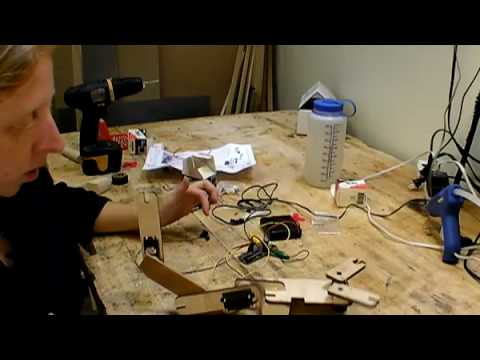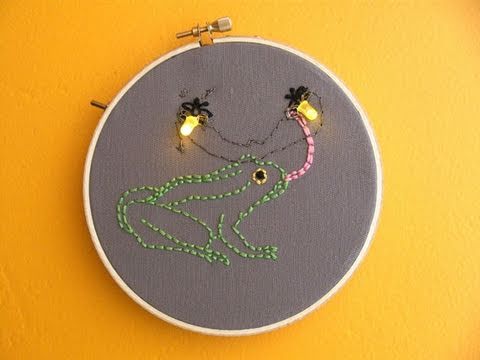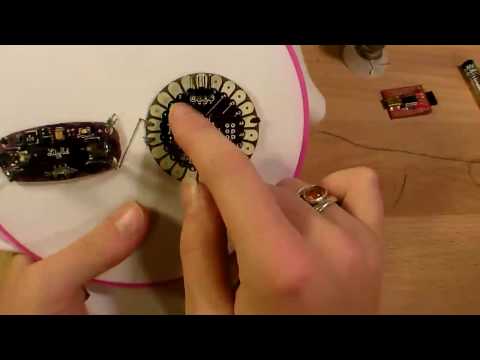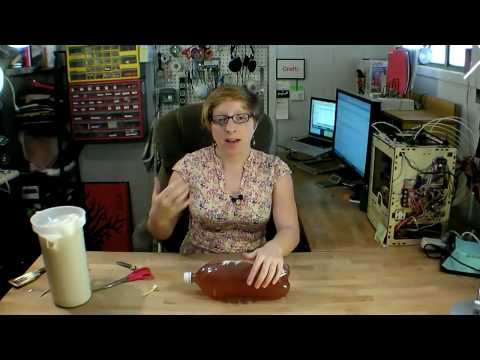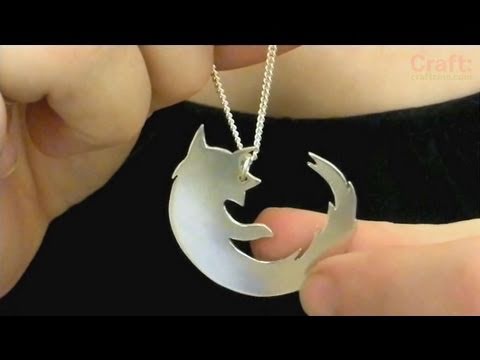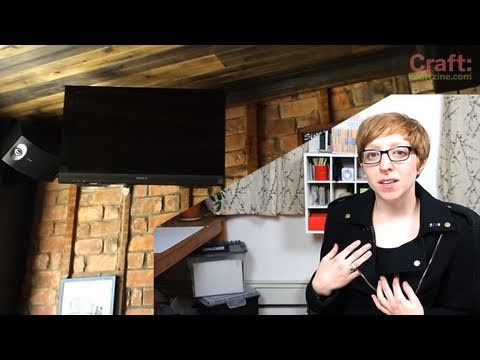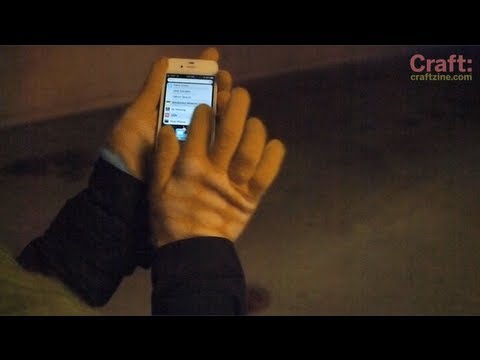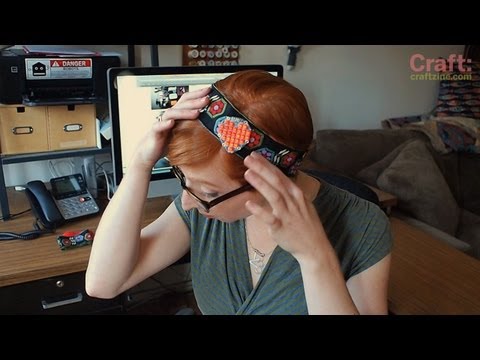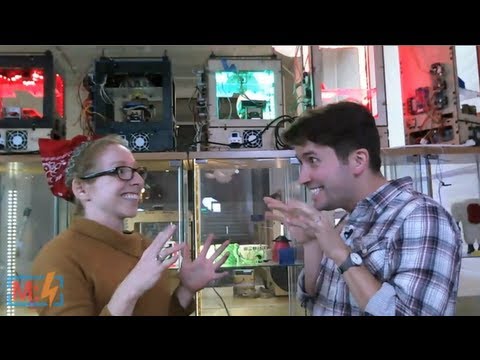 You can check out my entire body of video work for MAKE/CRAFT in the Becky's Workshop YouTube playlist, and if you want to keep up with my projects, follow me on Twitter. See you around the tubes!

I would not have thought, if you had just described it to me in words, that an Enterprise-shaped coffee table could be "classy," but I believe Etsy seller Barry Shields has done it. It's sold already, of course, but I bet he'll be making more. [via Dude Craft]

Today, President Obama and the White House are hosting science fair winners, which for the first time, include young makers: Ben Hylak of Chester, PA, and Joey Hudy of Phoenix, AZ. Both young boys were outstanding participants at Maker Faire this past year. I'm really proud to see each of them recognized for their achievements as makers.
From the White House press release:
"When students excel in math and science, they help America compete for the jobs and industries of the future," said President Obama. "That's why I'm proud to celebrate outstanding students at the White House Science Fair, and to announce new steps my Administration and its partners are taking to help more young people succeed in these critical subjects."
The release includes the following about Joey Hudy with a nice mention of Maker Faire.
Student "Making" and Starting Small Business to Sell his Invention. Fourteen year old Joey Hudy from Phoenix, Arizona is already a Maker Faire veteran. He invented an Extreme Marshmallow Cannon and an LED Cube Microcontroller Shield, which he has exhibited at Maker Faires in New York, San Francisco, and Detroit. He received two "Editor's Choice Awards" from Maker Faire, and has started a small business selling the microcontroller (Arduino) shield kits on several websites. As the World's Largest Do-It-Yourself Festival, Maker Faire is the premier event for grassroots American innovation.
We have received enthusiastic emails and calls from Ben's mom, Bridget, and Joey's mom, Julie. They are excited to see their sons get this kind of opportunity.
You can find a livestream of the event at 11:30 am ET today.
Ben Hylak
Ben Hylak of Chester, PA is at the White House event today because he is also a Broadcomm Science Fair winner. However, Ben was at last year's NYC Maker Faire with his telepresence robot, Maya.
Joey Hudy
Joey Hudy from Phoenix, AZ was at Maker Faire in the Bay Area, Detroit, and NYC as well as at the mini Maker Faire in his hometown.
Joey and Ben each have great stories to tell about what making means to them. Today, we're particularly proud to have Joey and Ben as ambassadors representing the Maker movement at the White House.

Why spend $400+ on a Geiger Counter when you can build your own for a fraction of the price? This new Geiger Counter Kit, available in the Maker Shed, was featured in MAKE: Volume 29 and is able to detect α(alpha), β(beta) and γ(gamma) radiation using the included GMT-01 tube. The simple to build kit can be soldered together in a few hours and is designed to be reliable and long lasting. When complete, the Geiger counter will output a click and flash an LED each time a radioactive particle is detected. The unit has two digital TTL logic pulse outputs that allow connection to a number of accessory instruments such as a a data logger, Digital Meter, or RS-232 adapter for connection to a PC (none included.)
Features

GMT-01 tube detects α(alpha) β(beta) and γ(gamma) radiation
2 digital outputs
Flashing LED and audio clicker alert you to detected radiation.
Robust circuit design
9V battery not included

This is the third installation of the Minne Maker Faire, sponsored by Twin Cities' original hackerspace organization, Twin Cities Maker.
Our third annual Minne Maker Faire is on the calendar for Saturday April 14th. To reflect our explosive growth, this year's fair will be bigger and better than ever. Old favorites are returning and new friends coming. Music, Food, Exhibits and Demonstrations.

12:00-5:00 PM: Open maker displays and demos.
7:00PM – ??: Music performances!
Are you a maker in or near the Twin Cities? Be sure to participate in this event! There are multiple spaces inside and outside the Hack Factory to display your project. Send an email to fair@tcmaker.org if you'd like to participate.
[photo by Pat Arneson]