---
When we launched Make: Projects, our how-to wiki, a year and a half ago, we wanted to free all the great projects from the over 25 volumes of MAKE by offering them up on the site. That way, folks could check them out even if they didn't have the issues of MAKE the projects came from, and our community could even suggest improvements to the projects and pose questions to the authors. The task at hand, though, was to enter the text and images into the system. Our rock star editorial intern, Craig Couden, stepped to the plate in style and to date has entered 114 MAKE projects. (Thanks Craig!) He recently posted a how-to called "Enter a Project on Make: Projects" to help walk folks through the process. How meta! If you've been waiting to share your project with the 10K MAKE community members on Make: Projects, wait no more. We want to see what you make!
This week we saw: The BeatBox by programmr, Arduino Survival Tin by Mortitd, Painting a One-Off QR Code on a Large Surface by Eric Hansen, Cheap Soldering Fan by William Anderson, Laser Harp (Frameless – Open Source) by Ruete, and Case for iPhone Lens Kit by Brad Kozak.

While New York City is known for its financial and advertising sectors, for the boogie-woogie lights of Broadway and Times Square, and even its "Silicon Alley" start-ups, showrooms for just about every major technology company, and now, its Maker Faire, there's another, older and often unseen side to the city of five boroughs. Prospect Productions recently interviewed Kennon Kay, Director of Agriculture at the 47-acre Queens County Farm Museum. It is described as "New York City's largest remaining tract of undisturbed farmland and the only working historical farm in the City," having been in operation since 1697. While the museum and farm are quite far away from the iconic architectures of the city and its bustling public transportation network that 17.7 million commuters use daily, it's nonetheless amazing to consider what's possible in this town — I often find myself mumbling, "Only here."
Kennon Kay is a normal twenty-something New Yorker. She lives on a normal Brooklyn street in a normal walk-up apartment. Her commute to work is long, crowded, unpredictable and filled with traffic. All quite normal. But normal ends when Kennon enters the gates to her job. There, inside those gates, the wail of noise, of sirens, horns, jackhammers and trains are replaced by the high-pitched chirp of chickens, the grunting of pigs, and the sway of the breeze through the acres of green that make up the Queens County Farm Museum. Here Kennon Kay is Director of Agriculture; the farm's 47 acres, her office.
Always one for minutia, I love this directional signage technique that allows the arrows to be turned and pointed in a specific position:
[via Huffington Post]

If you've traveled the epic American landscape, you'll agree there's something special about the exploration of folk photography. Dennis Manarchy seeks to capture these Vanishing Cultures before they disappear, using his handmade 35′ long, 12′ tall, and 8′ wide camera, whose bellows and body resemble an old view camera. Built on a frame of welded aluminum, the camera is made of "veneers of recycled wood, leatherette, and detailed with brass fittings." The lens mount is also a trap door to the camera's interior, which is notably bigger than my NYC apartment! Each picture produces a 4.5′ x 6′ negative whose contact prints alone produce remarkable detail. The plan is to print the images two stories tall!
[via Slate & Daily Mail]

The clever designers at Chicago's Tanagram adapted code developed to recognize those little black-and-white augmented-reality markers ("fiduciary markers") for target acquisition on a DARPA-funded robot that can autonomously deliver humanitarian aid and other supplies to 20′ square markers unrolled on the ground.
What's great about fiducial marker tracking technology is that it is pre-built to handle the marker being viewed at ANY angle (including nearly flat) in the crappiest of lighting conditions. A marker does not have to be smack in front of the camera to be recognized. Another added bonus is that it is easy to embed a two-dimensional barcode within the marker.
Their system can recognize 64 distinct markers, which opens up the possibility, for instance, of delivering particular types of supplies to particular places in a refugee camp. [Thanks, Joseph!]
More:
DIY Thermal Imaging for Under $200

What better way to light up a snowy night than to slash deep powder turns with a custom LED suit? Fashion photographer and filmmaker Jacob Sutton shot this awesome video of pro snowboarder William Hughes riding the slopes of Tignes in the Rhône-Alpes region of south-eastern France wearing a suit made by John Spatcher. Goodbye concentration, hello snow jones.
[via Nowness; thanks Phil Schutt!]

Piccolo is a pocket-sized stand-alone CNC platform. For less than $70, you can assemble your personal Arduino-compatible kit for tinkering, developing and deploying basic 3D output. Be it plotting quick graffiti, printing a one-off business card on the fly, or multiple Piccolos working together to create a large mural, this kit provides a platform for experimenting with 2D or 3D digital fabrication at a small scale. This open-source design emphasizes simplicity, and is entirely composed of digitally manufactured components and inexpensive off-the-shelf hardware.
Note that the website above hasn't been populated yet. [via buildr]


David asks:
I got your heat rate monitor and I'm planning to use it in a part of my live show where I bring an audience member up on stage and use their heartbeat as the kick drum that we then play along to for a song.

I'm not at all familiar with Arduino or Processing code. I need the simplest way to get the signal to an iPad or iPhone sampler so the heartbeat can be the trigger. Something to convert the signal to midi i think. Do you or do you know anyone who might be able to help me build this?
Hi David,
Using a pulse sensor (now available in the Maker Shed) to translate into a drum beat is certainly possible. The pulse sensor can be plugged into the Arduino and then translated as MIDI data through the Arduino's serial port. Check out this Arduino Playground page to learn more details. You can also take a look at this tutorial to familiarize yourself with the process. Once you've done this, the serial data can be used as an input for lots of different audio programs that accept MIDI.
If wiring directly to the pins of a MIDI plug is a problem, I suggest picking up a MIDI shield from Sparkfun, which has all the necessary hardware to do the job in a more plug-and-play fashion while connecting directly to the pins on your Arduino.

I hope this helps you get started. If readers have additional suggestions, please post them in the comments section.
More:

I've admired the work of UK AFoL Peter Reid, aka Flickr user Legoloverman, for a long time. His turtle model, shown to right, is one of my favorite fan-designed Lego models, ever. It doesn't use a lot of elements, but they're very carefully thought out. And now he's gone and arranged them like pieces of a plastic model kit, on a sprue that is itself made of Lego elements, and photographed them with little modeling tools also made of Lego, and I just had to share. He calls it Assembly required. [via The Brothers Brick]
More:
Greeble-tastic Lego Robot Arms

Do you want to add a more "human element" to your next project? The Pulse Sensor, available in the Maker Shed, measures subtle changes in light from expansion of the capillary blood vessels to sense your heartbeat. Gently place the sensor on any area of skin (such as a finger or earlobe) and it will transmit pulse data to your Arduino for processing. The downloadable sample Processing / Arduino code lets you visualize your pulse data right on your computer. It's a simple, non-invasive, inexpensive way to incorporate biofeedback into your projects. Need some great project ideas? Check out Becky Stern's Beating Heart Headband project from MAKE: Volume 29!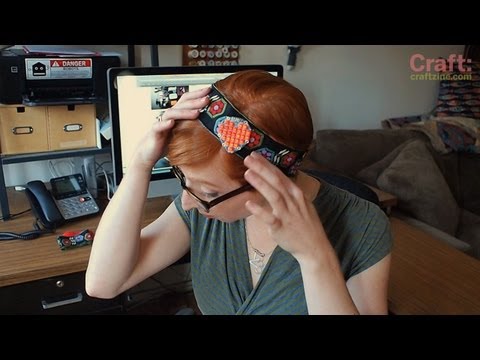 NEW – We now carry a 3.3V version of the Pulse Sensor that's perfect for Lilypads and other 3V Arduinos!