---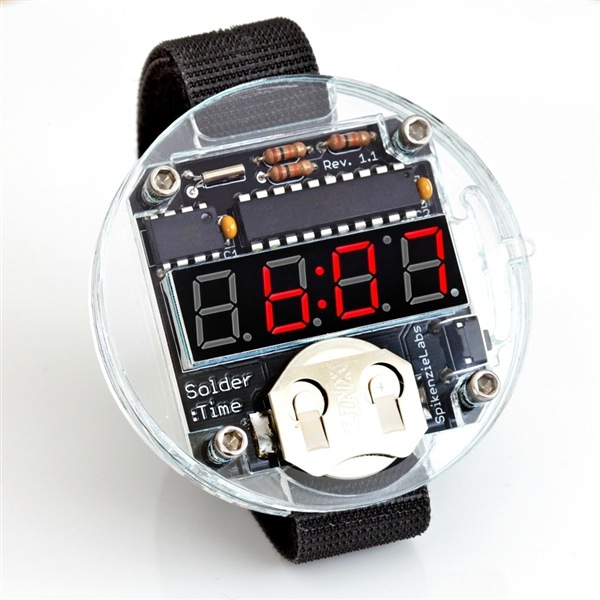 My daughter Jane told me she wanted to build something "electronic," and luckily, I had a sample of the Solder: Time kit. It looked like a fun thing to make, and it turned to be so.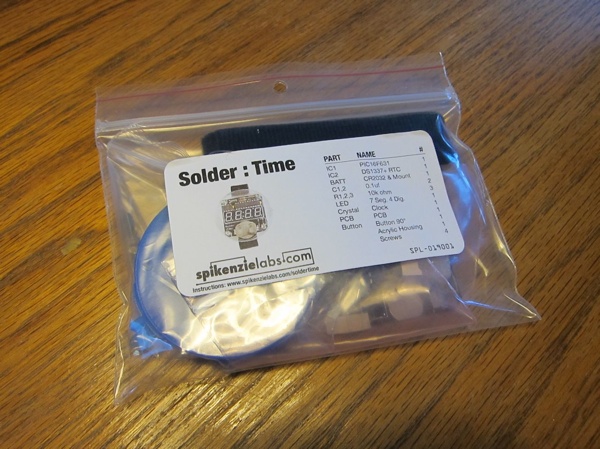 It's a large digital wristwatch and the $35 kit (available in Maker Shed) contains everything you need except the tools (a soldering iron and wire cutters).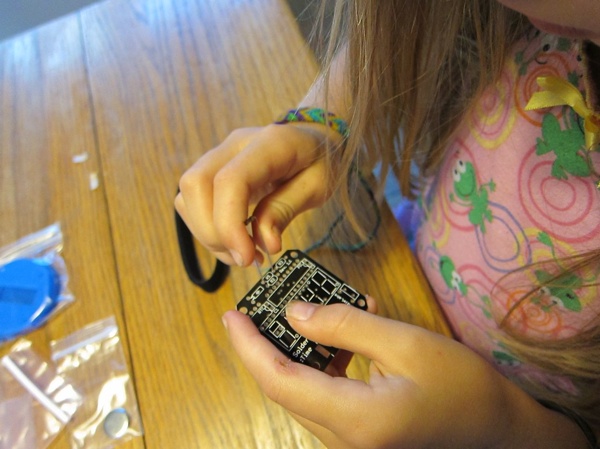 Jane is eight years old so I decided to do all of the soldering, but she enjoyed loading the printed circuit board with components.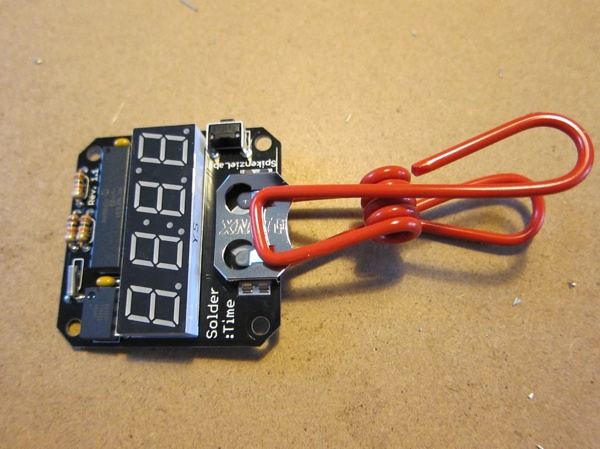 She loved the way the components looked and asked a lot of good questions: What is a resistor? Why do resistors have different colored bands on them? What is a capacitor? What is an integrated circuit? I answered the questions as well as I could.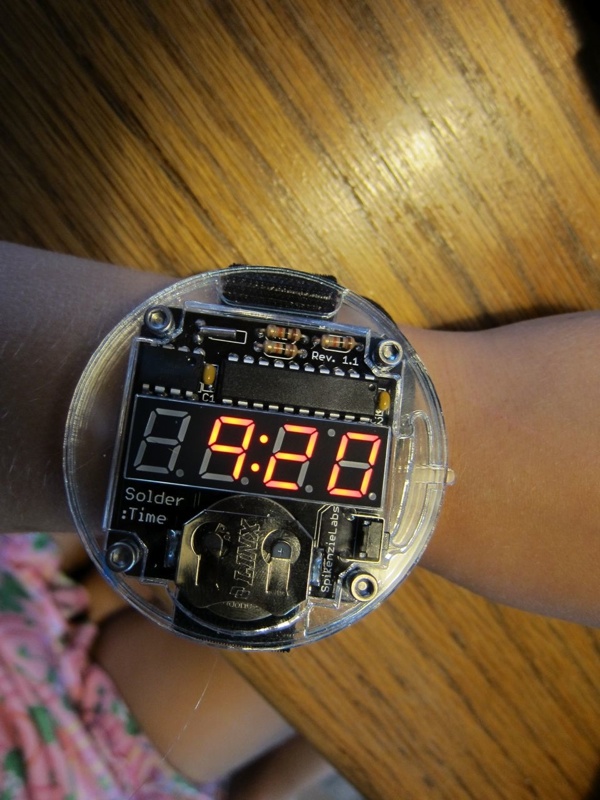 It took about 45 minutes to put the watch together. I feel like Jane got a lot out of doing this. Maybe she is ready to try a little soldering on our next project. Do any of you have kids aged eight or younger who can solder?

[Click on the headline above to see the entire photo gallery]
I had the great pleasure this last Saturday of attending the Young Makers program at the Exploratorium. The theme of the month was Time… and what a great time we had. You can watch a webcast of the Meet the Makers portion of the day here.
Here Are Some Highlights:
"The perfect way to show your retro-geek cred"/Atomic Nixie Clock /Oscilloscope Clocks (plus he'll show his video coat-turned-video-vest – things went a little haywire at Burning Man)

One of my favorite activities was the Stroboscope that has found a permanent home on the floor of the Exploratorium. If you have wanted your own, you can find the details in MAKE magazine Volume 24

Messing about with Numeric Displays

A table was set up with all the pins of a giant seven segment display. With jumper wires, kids (and kids at heart) could turn on all the segments and learn how the display worked. I saw kids trying to spell letters and even put a few together for small words.
The next event is Saturday, March 17, 2012 and will feature Tools. Bring your friends, bring your families, have a blast with your kids.
The highlight of the day for me was watching my son watch the Android zoetrope spin round and round. He just squealed with delight at the animated characters. What is your favorite memory of the Exploratorium?
Open MAKE is a collaboration between the Exploratorium, MAKE magazine, and Pixar Animation Studios. If you're a fan of Maker Faire, you won't want to miss these tasty tasty samples of Maker Faire organized by our friends at the Exploratorium. The event is included in the price of the museum's general admission and open to everyone.

I've written before about some of the cool applications of silicone polymers we're seeing in consumer products these days. Here's another example. The good folks at Rockler Woodworking & Hardware just sent me a couple of their new (ish) Silicone Glue Brushes, a clever idea for the shop I imagine got started when some enterprising carpenter appropriated a silicone pastry, or basting-brush, from the kitchen for glue-up work.
Apart from the small paddle at the other end of the handle, this is very similar to the cooking tool, but cheaper (at $4 apiece) than most of the "food grade" brushes I've seen online. Also, the bristles are bit thicker and more widely spaced than those on my silicone basting brush, which only makes sense for a brush designed to work with thicker liquids.
Rockler's glue brush is 7.5″ overall and weighs 3/4 oz. The soft black silicone head, which pops off the blue rigid polymer handle, is 1″ wide by 11/16″ thick, with 49 bristles in an hexagonal grid. Each bristle is 1/16″ in diameter, and the face of the brush is slanted, with the shortest bristles about 1/4″ and the longest about 1/2″.
I first tested mine against Titebond II Premium, which is a fairly typical polyvinyl acetate-based wood glue. You can clean it up wet, of course, like a regular brush, by running it under hot water, but the real value of silicone becomes evident when you just let the glue dry into a blob on the brush. Unlike a natural or synthetic fiber brush, the solidified mass of glue doesn't stick in the silicone bristles: just flex them a bit, and the dried glue falls off and/or pulls out in a single clump. I didn't get a chance to test this, but Rockler's advertising copy claims even fully-cured polyurethane construction adhesive (like Liquid Nails) just "cracks and peels right off the bristles."
If, like me, you use disposable foam brushes to save clean-up time, a silicone brush can be a more environmentally responsible, and in the long run, probably cheaper option. You can essentially use it like a disposable brush, except instead of throwing away the whole thing, you just throw away the blob of dried glue.
Curious about non-glue uses, I also experimented with using the brush to apply latex paint. As you can see, the bristles are really too thick to give even coverage, causing visible streaks. It's worth noting, however, that the amount of streaking varies with the substrate (plexiglass streaks much worse than plywood) and with the thickness of the paint. On the right material, with properly thinned paint (and maybe thinner bristles) a good paintbrush could be made from this stuff, too.
My latex paint sample wasn't completely dry as of this writing, but I will post an update about how well it cleans up as soon as it is. I also have an ongoing test with two-part epoxy and am planning another with cyanoacrylate, all results TBA. I'm determined to find something that will ruin this brush!

User AUTUIN at Free Geek Vancouver took apart a Coleman TV Lantern and mounted the guts inside a 1950′s era radio. In doing so, he used the Arduino TV Out library to make the screen stream algorithmically generated Buckminster Fuller-esque quotations that are saved to an SD card.
This is a sound example of case-modding, where the builder took great pains to mount all of the components sturdily, not to mention the physical hacking of the CRT to accept the Arduino's video stream. There's extensive documentation of the process if you're curious to know more.
More:

This robot, developed at Cornell, can travel along beams and modify them. BuildBot! [via Beyond the Beyond]

The embedded video is a collection of soundbytes that give a good general background of the Glove-TalkII system from Sidney S. Fels and Geoffrey E. Hinton.at The University of British Columbia. But the brief samples of the system in operation that it includes are, frankly, not a great advertisement for its capabilities or its potential. The best videos don't seem to be available as embeds, yet, and to really appreciate how Glove-TalkII works, I recommend following this link to download a short AVI clip from the project homepage, showing operator Sageev Oore "singing" the alphabet song using hand gestures.
As with a Theremin, pitch is controlled by hand position in space. Closed-finger gestures, with one hand, create voiced consonant sounds, while open-finger gestures with the same hand give sustained vowel sounds. Hard stops, like "puh" and "buh" and "tuh," are controlled with the fingers of the opposite hand. Looks like lots and lots of fun. [Thanks, Laura!]


DSO Nano v2.0, from the Maker Shed, is a pocket sized Digital Storage Oscilloscope designed for basic electronic engineering tasks. The DSO features an ARM Cortex™-M3 32 bit platform which provides basic waveform monitoring. It has a 320*240 color LCD, micro SD card storage, portable probes, LiPo Battery, USB connection, and signal generator. Perfect for in-field diagnostics, quick measurement, and hobbyist projects. Of course, this doesn't have all the features of a bench top 'scope but it sure will take up less room!
Features

Portable and lightweight
Color display
Waveform storage and playback
6 triggering mode
1Mhz Analog Bandwidth
Complete measurement markers and signal characteristic
Built-in Signal Generator
Accessories available
Open Source

The Cryoscope shows the user exactly what to expect outside by haptically exhibiting exactly how cold or warm it is to be outside. The user simply touches an aluminum cube that has been heated or cooled to the appropriate temperature. The unit fetches weather data from the internet, and translates it to the cube physically, pumping heat in or out of the cube.
[via core77]

Refurbishing old scientific and industrial equipment from eBay is something I love to do. If you understand what you're looking for and are a savvy eBay user, you can score some amazing bargains on stuff that just a few years back was high-end, cutting edge, extremely expensive research-, factory-, and/or military-grade equipment. Garage quantum physicist (no, I'm not kidding) David Prutchi definitely has the knack, as witnessed, a couple weeks back, by his method for hacking a military surplus fallout probe into a general purpose, broad-spectrum high energy ionizing radiation detector.
This week, David has done it again with this excellent guide to building your own atomic clock from a used rubidium oscillator:
Efratom Model M-100 Rubidium Frequency Standard (RFS) oscillators are widely available in the surplus market. Units on eBay commonly sell in the $150 to $200 range. Despite their low surplus price, they were originally very expensive components, with superb performance. The M100 was designed to be used by the military as a master oscillator in high-performance communication systems, frequency standard equipment, advanced navigation equipment, and all other systems which require extremely precise frequencies and time intervals.

With the proper input power provided and suitable cooling provisions, you can turn a surplus M-100 into a free-standing 10 MHz +/-5×10-11 frequency standard for frequency counters, as well as a precise calibration source. I use mine to keep precise track of frequency when working on Earth-Moon-Earth (EME) communications, where even tiny errors in tuning can make the difference between success and failure to receive weak echoes.
[Thanks, David!]
More:

The current iPhone takes a pretty decent macro shot to begin with. If you're looking to go beyond what you get out-of-box, take a look at the 8x macro lens from Westchester, IL area Etsy user Chris Ferguson. It's a machined hunk of ABS with quality optics that adheres to the iPhone 4′s case with a sticky gel pad that's easily removed without marring the finish.