This Sunday, tomorrow, paper airplane wizard and Maker Faire presenter, John Collins will be attempting to set a new world record for paper flight. The world record attempt will happen at 9:45am PST. The throws will take place at McClellan Air Force Base (3028 Peacekeeper Way, McClellan, CA) in a hangar. The aircraft is designed by John and will be thrown by Joe Ayoob.
You can listen to a radio interview with John from earlier in the week here. And you can see the entire event, streamed live, tomorrow.
Things are looking great in practice flights. John writes:
The plane flew more than 230 feet yesterday. The best throw of the day was just a bit more than 233. For our practice purposes, that was a test throw and so didn't count as one of our selected ten throws of the day. The best of the 10 were 227 and 225. In all, we beat the record 5 times with 3 planes on January 29th. We're definitely on track to re-write the distance record on February 26th. Stephen Kreiger's world record stands at 207 feet and 4 inches. It's all just talk until we officially attempt to break it February 26th.
Godspeed, John Collins!
More:
Maker Faire Bay Area: The Paper Airplane Guy Interview

My brother Pat wrote me:
Check out "Alone in the Wilderness" featuring Dick Proenneke living alone in Alaska. It's on our PBS affiliates a lot here (in Florida). He is a true pioneer, a 1960′s "maker" at work, building everything by hand, using tools he made.   He has no electricity. Shoots it all on his Brownie camera. Awesome techniques he demonstrates!
I especially like how he builds handles for his tools. Proenneke says that building a cabin in the wilderness was just "something he had to do" and by doing it test himself.   The YouTube video below covers ten minutes of the show and shows him building a cabin just before winter sets in.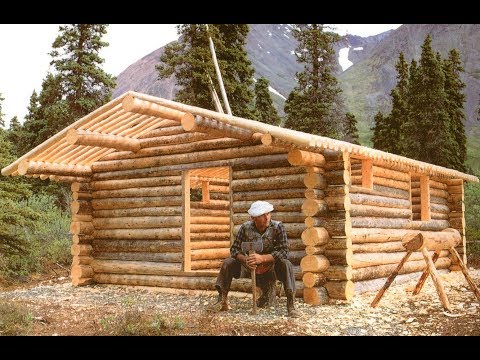 According to an article about him in Wikipedia,
Proenneke remained at Twin Lakes for the next 16 months, when he left to go home for a time to visit relatives and secure more supplies. He returned to the lakes in the following spring and remained there for most of the next 30 years, going to the lower 48 only occasionally to be with his family.
He passed away in 2003.  The complete set of his videos are available.
Ever dream of living alone in the wilderness?  I have, especially after reading "Call of the Wild" but I would not be able to do it.  Now I can vicariously through Dick Proenneke, and idly sit by and watch him do it all.  Incredible.