---
It's cold and rainy in Austin for SXSW, lines are long inside at registration, and the outdoor tequilla party stages are wet and empty.
The steadfast Make: Live crew has taken the quiet start to test out our livestreaming camera rig (six modem cards! no tin hat!) and to line up interviews for our alt.SXSW coverage.
We've already got time planned with Stupid Fun Club, the X Prize Foundation, MakerBot, frogdesign, Second Life founder Philip Rosedale, and more.
If you're at SXSW and you or your company have hardware, hacks, solutions, or ideas that you want to share with the MAKE audience, hash tag #makesxsw on Twitter or email sabrina@makerfaire.com to set up an interview.
For the fast track, follow #makesxsw on Twitter for updates, observations, and pix.  And stay tuned for the weather to clear and the SXSW action to heat up.

"Hey, kids! Wanna learn about gravitational physics?"
"Noooo!"
"Hey, kids! Wanna play Angry Birds?"
"Yeeeeah!!!"
Well soon you'll be able to do both with the release of Angry Birds Space, a new edition of the smash hit mobile game which sends the lovable avian critters into orbit.
Here's astronaut and physicist (and MAKE favorite) Don Pettit aboard the International Space Station for the announcement trailer and a brief physics demo.
I, for one, have a soft spot for orbital game mechanics and look forward to developer Rovio's take on the genre. And yes, kids, you just might learn something.

I asked Dan Pashman, Editorial Director of AmericansElect.org, to write about how he and his colleagues modified a Rock 'Em Sock 'Em Robot set with new heads. Here's what he wrote: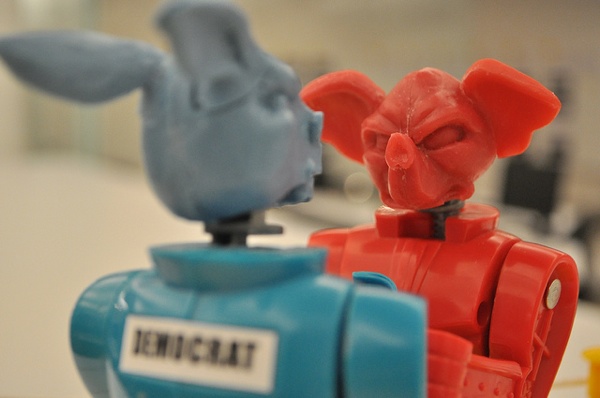 We wanted to make our own version of Rock 'Em Sock 'Em Robots for the Americans Elect lounge at SXSW, so we decided to replace the heads with donkey and elephant heads, to represent the two political parties. This also goes with the giant plush donkey and elephant that people may see in action around SXSW, who are with us. Like the two parties, they just can't get along.
For this maker's project, we teamed up with our friends at LBi. Here's how we did it…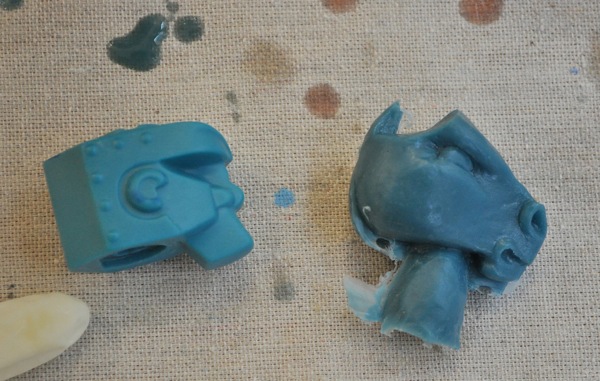 We made rubber molds for the donkey head, donkey ears, elephant head, and elephant ears. We sculpted the heads in clay, then pressed them halfway into a liquid rubber compound. We also made spherical indentations ("keys") in the mold near the head on one side and a bump on the other, so we'd have something to line up the two halves of the mold. It's very important that you spray a lot of mold release before you make the second part of the mold.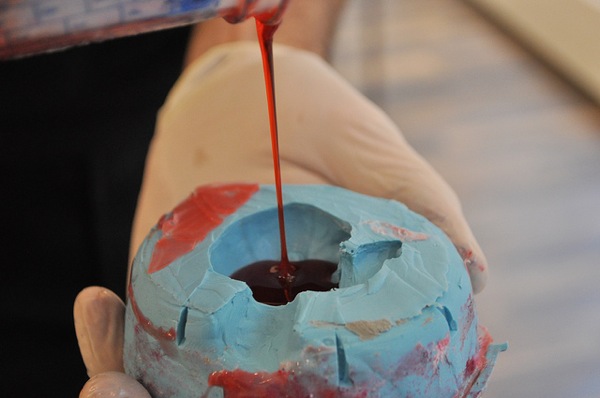 When you line the two halves of the rubber mold up and press them together, create a hole in the top to pour the liquid plastic in.
We used a two-part plastic mix and added dye. The original plastic mix is yellow, so you have to add a lot of white to get it to blue, but the white pigment makes the plastic softer, so there was a lot of trial and error involved. We went with a yellow plastic mix over clear because yellow is faster drying and we wanted to be able to go through trial and error quickly.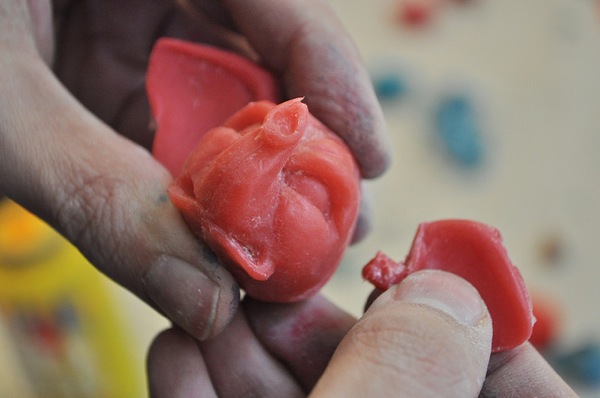 After you've poured the liquid plastic into the sandwiched-together mold, put it in a clamp and leave it to dry. When you remove it, drill holes up through the neck to attach to Rock 'Em Sock 'Em Robot base, and buff the seams. For the elephant we drilled holes into the sides of the head and stuck the ears in. For the donkey we made the mold so the ears wedge in to the top of the head. In both cases we used plastic glue to attach ears to the heads.
With the donkey head, it was very difficult to get the blue color. We found if you add a lot of pigment it doesn't bind correctly, and you get different levels of hardness in the plastic, and it's tough to do it consistently. We ended up making a bunch of them and went with the best looking ones.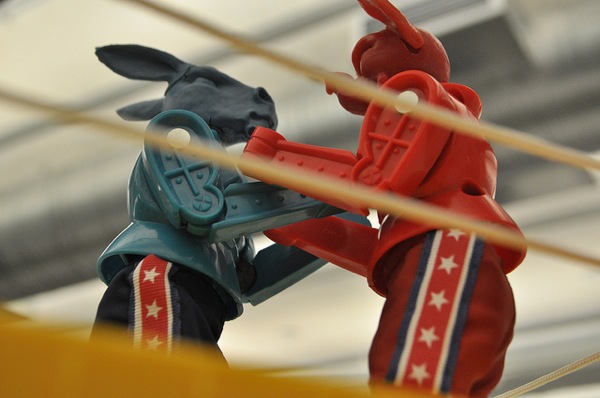 The shorts were sewn together on the robots.
Come to the Americans Elect lounge at SXSW, not only for the Flash Mob Happy Hours, but also to play Rock 'Em Sock 'Em Robots: Donkey v. Elephant yourself! And tweet a photo or video of our living, breathing donkey and elephant at #donkeyVelephant to win your own version of this limited edition game!
See all the process photos on Flickr.
Editor's Note: MAKE will be covering SXSW and will are going to try and get to the Rock 'Em Sock 'Em Robots: Donkey v. Elephant event to cover here on the site. Stay tuned…

Tech Companies Mum On Factory Audits @ Buzzfeed. John Herrman wrote to the gadget makers out there…
Under immense pressure, Apple decided to let independent auditors into its suppliers' factories. So we asked other companies: Will you do the same?

It's a simple question, phrased politely, and sent to the right people. Does your company have any plans to let independent auditors check up on your suppliers' factories? Here's what I got from some of the world's biggest electronics companies. They had a month to respond:
This is a follow up to my previous post "NEWS FROM THE FUTURE – Factory Audits Becomes a Feature". I think the massive maker community could help put the pressure on these companies as well. Makers tend to care about the origin of things, how they're made and by who. We're also willing to a pay a few bucks more if it's made better, lasts longer and is repairable – and most of all, I think we care about the conditions in which something is made. At some point an agreed upon indicator will sought after by more and more customers, right now Apple is leading they way, they're the easy target being #1 in a few arenas – and they're turning this to the standard that other gadget makers may be held to.

For the past eight years, NYC artist/designer Chris Jordan, aka CJ (seej.net) has been organizing a tech swap with the NYC tech arts community. It's lovingly called "G33k Xmas," and every one of them has been recorded in timelapse at seej.net/create/geek-xmas/
Here's CJ on how it G33k Xmas works:
People bring tech, then going around the table, everyone offers their stuff to the group with a brief intro if necessary, or just holds it up. If anyone wants it, they get it. If more than one person wants it, each party has to tell the group what they'll be using it for, and the group decides which need is greater. If no one wants something you're offering, you take it back. This really keeps useful things in the mix, vs "dumping" old stuff. This of course is just incredible fun, and gets pretty raucous.

The last one was on Feb 20th, and as always, it was… just wonderful. The photo (above) shows a fun moment when Josh Goldberg got a haptic interface from Josh Ott. To the left of Josh is Sean McIntyre, who's in the current MAKE. Also pictured are Noodle-truck Mark; Ethan Voit, who started Bring to Light; Benton-C Bainbridge, the Beastie Boys visualist; Josh Ott who wrote the iOS app Thicket… and on and on… crazy people, hehehe.

It would be so cool if more people did this. A couple of people who were there on Feb 20th were talking about doing it again soonish, not sure when/where though. Also, some people might do one in SF.

Along with being fun, G33K Xmas is an education in hardware and its usefulness, it keeps people's knowledge broad, and of course it reduces materialism– keeps gear in use and out of landfill.

If you're playing Rocksmith (and I think you should be), and you're playing standing up (ditto), you have probably run into the "where do I put the controller" problem. The gamepad is required to navigate the menu system between songs, and if you play in a standing position you have to keep a stool or a table nearby to keep it within easy reach.
This simple mod mounts a spring steel clip to the underside of a standard Xbox 360 controller so you can attach it to your guitar strap. In this position, it is easily accessed with your strumming hand.
The steel clip I'm using is a common replacement visor clip for several models of garage door remote. A belt clip fitting, such as Tandy Leather's 1238-00, should work just as well. The clip is secured to the Xbox battery holder in two ways: first with a short bolt that engages a small hex nut and lockwasher inside the battery holder, and second with a strip of double-sided foam tape that keeps it from rotating about the single bolt.
This mod does not affect normal controller operation in any way. The battery holder can still be removed and the batteries changed normally. In this position, the steel clip is inconspicuous and does not interfere with a normal gameplay grip, nor, significantly, with the controller's resting attitude on a flat surface.
Make: Projects — Guitar Strap Gamepad
More:

An inspired idea grown in a makerspace can produce retro magic. That's the message from 8bitlit collaborators Bryan and Adam. In less than two months, they've gone from concept through prototyping to small scale production. Their touch-sensitive Mario Brothers-themed pendant lamp is starting to sell. "Da-ding!"
Late last year, Bryan was reveling in laser cutting: cutting projects, toying with joinery. and learning. Several projects were in process: a peristaltic pump, a T-slot screw together enclosure, and a tree-shaped lamp. He had tried snap-together laser cut joints and was experimenting with acetone welding. These worked well. What new project could he build with what he had learned? Creating an acrylic box was already on Bryan's short list of ideas. However, as a child of the 1980s when Mario reigned supreme, the box idea quickly made the leap to being a Mario cube. A quick mashup with his tree-shaped lamp project and voila! The Mario Cube Lamp was born.

Now, how to make it? Bryan had a great idea, knows software, design circuits, and is a maker, but he didn't have the means to bring the cube to life. With work, a family, and a baby due soon there was no way he'd have the time to build the product. The answer became apparent at a Christmas party where Bryan met Adam, a member of TechShop.
Like so many others have, Adam grew as a maker in a makerspace. These tool-filled, collaborative environments are where learning, teaching, and making are a way of life. The confidence and competence he earned had convinced Adam that fast prototyping for product development is what he wants to do. In a way, Adam was Bryan's natural compliment with the experience and the means to make the venture a reality. Over banter that started with Arduino development but led to the coin block lamp, Adam quickly concluded "I could build that!" The date was December 15.
Within two days, the first prototype had been built and the odyssey had begun. Over the next two months they would learn many things, face many challenges, and experience many satisfying successes. As I write this, they stand on the cusp of selling into a new channel with great potential.
From the start, the features they wanted in the product were clear. The cube had to be translucent, it needed a touch-sensitive bottom, and it had to play the coin sound. However, getting it right and keeping it cheap would be a real challenge. For example, the ATTiny microcontroller was tempting to use because of its low cost but there was a nagging concern that it might not be capable enough to do the job. The list of things they didn't know was long.
Many answers came from prototyping, learning, and improving with each iteration. They plowed through prototypes: acrylic choices changed, circuit board design improved, building techniques were refined. They iterated on the product: fully-assembled product made room for a kit version, suspended pendant lamp was augmented with a light stand option, pricing points changed. In a maker world with access to good tools, cost-effective rapid improvement is a realistic business expectation.
Along the way, fellow makers and enthusiast communities were also there to help with answers. What's a cost effective way to trigger a light with the touch of a hand? What was the best design approach to implementing the ATTiny microcontroller? How could you generate the musical tunes associated with triggering the light? The willingness on the part of others to help them kept the project moving ahead with improved prototypes.
As time went by, Bryan and Adam became increasingly convinced they had created something special. More people were experiencing the product and having a reaction similar to theirs. The sights and sounds of a joyful youth spent playing video games were resonating. People who triggered the lamp were actually enjoying it more than they expected. Smiles were quick to surface. While many aspects of marketing will eventually become a challenge, they were confident in their product concept.
Rapid progress on the product led quickly to selling. The first sales were among friends and family. Soon after, they opened a store on Etsy.com, where their amateur video quickly drew 11,000 views — an inspired start. Just recently, the product found its way to the video game fan product site Lootiful.com. It's only the beginning but things are looking bright this February 13.
So what troubles them as they look ahead? A variety of unknowns, but primarily scaling. What will happen if they get a big order? How could they fulfill 1,000 orders if they have sudden success? Problems like this confront every successful product and while they're nice to have, they can keep you awake at night. Unfortunately, little is available to help with these challenges in today's makerspace network and this needs to change.
In the meantime Bryan and Adam are having a blast. What's more satisfying than making something you love? What's more gratifying that delivering a product that exceeds customer expectations? Hopefully things will continue to go their way and they'll have started a video game fan product business. What's next? Guess we'll have to wait and see. "Da-ding!"
---
Do you know of a product innovation worth featuring? A new business-in-the-making? Is it a story with an interesting odyssey, especially involving makers collaborating? If so, drop me a note at
MakerInnovation@me.com
. We want to shine a light on innovative product ideas by makers.

This is an excellent
short profile of video game pioneer Ralph Baer
. He's 90 and still inventing.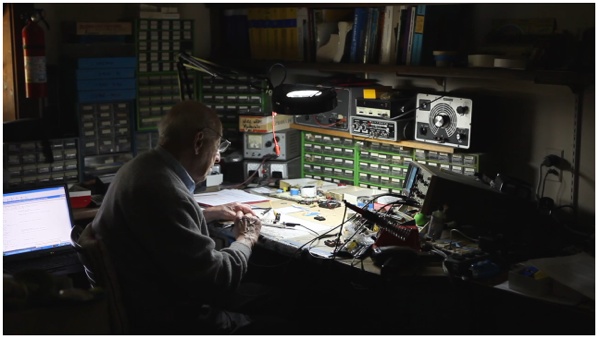 "I still get a big charge out of making something work. I write the hardware, I push a button, I put it into the microprocessor and it works. Ahhh… beautiful."
Ralph Baer is often called the father of video games. His invention, the Magnavox Odyssey, was the first home console system. I photographed and interviewed him this summer as part of my ongoing series on inventors (the book and app for which will be out eventually I promise).

Since he turns 90 years old this week, and this year marks the 40th anniversary of the video game, I chose for this video some bits from our interview in which we talk about, among other things, why he's still inventing at 90 years old.
Director David Friedman says, "This video is part of an ongoing series of photo and video portraits of contemporary inventors from all walks of life."

Seven?! So amazing on so many levels. [via G4 via @gerg]


Simon Jansen wanted an authentic prop to go with the decor of his workshop while he rebuilds an antique Austin 7 car. He got his hands on an old bakelite generator telephone with a hand crank and decided to mod it to play music while he worked.
Using an Adafruit Wave Shield mated to a barebones homemade Arduino, he was easily able to port the sound from the microcontroller hardware to the speaker on the phone. Once done, he programmed it so the music would slow down eventually, as if he had to recharge it using the hand crank on the phone. Since the hand crank only works at 60 VAC through 120 VAC he made his own opto-isolator to translate the electricity coming from the crank. In this way, he can use the original crank to trigger the Wave Shield into speeding the music back up.
Making the best of a limited user interface on the old crank phone, Simon took advantage of a technique called a hookflash, which is the act of rapidly pushing the receiver button on the phone. By using this with a supercapacitor, it causes a short power interrupt on the Arduino which triggers the Wave Shield to advance to the next track on a playlist. Also, unhooking the phone itself triggers the music to start playing.
This is a project with some nice tricks to make it work. Even better, Simon provides extensive documentation on his site if you want to learn more.