---
Though we're constantly moving toward more electronic and less paper-based communication, we've all got paper we don't need laying around, be it junk mail, newspaper, receipts, magazines, paper bags, books, or whatever else. If we're lucky, it ends up in the recycling bin. What about giving old paper new life by making it into new paper? Francois Vigneault shared his fun and simple how-to in CRAFT Volume 05, and you can check out the tutorial in Make: Projects. Learn how to build a pour mold, make pulp from the old pages in your blender, and pour yourself some handmade paper.

The Call for Makers for Maker Faire Bay Area 2012 has been extended a few more days – the deadline is now 11:59PM PT on Tuesday, March 27th. Thanks to all the makers who have already submitted their applications – the team is going through them now. But for you makers who need a little extra time to assemble your project notes, you can breathe a sigh of relief. However don't wait too long, as available space is filling up fast. As expected it's shaping up to be another really exciting event. From technology to craft to education and the arts, I can't wait to see the projects that make Maker Faire the Greatest "Show & Tell" on Earth!
And for makers looking to offset their travel costs, or in search of some additional funding to advance their project to the next level, the Road to Maker Faire Challenge, presented by Esurance, will reward one maker with a $2,000 stipend for their project. Applying to this challenge will not effect your Maker Faire application, so feel free to apply to both – however only one project per maker may apply for this award. This deadline is April 5th, so there's still time to propose an exciting project that challenges yourself and that perhaps the world has never seen before!
More:
Maker Faire Booth Design Challenge


We're excited to announce that the Call for Makers for Vancouver Mini Maker Faire 2012 in Vancouver, British Columbia, Canada – is now live! Applications are now open for Individual Makers, Maker Groups, Startup Makers, and Commercial Makers.
The 2012 Vancouver Mini Maker Faire will be held on the weekend of the 23rd and 24th of June in an even bigger location than 2011- The Pacific National Exhibition (PNE).
Applications from Makers are due by April 21st, but don't delay until the last minute as the earlier applications will help direct how we layout and allocate the space; so the sooner you apply, the more weight your requirements will have on the event!
Check out the Call for Makers page for full details, or check out some photos from our event in 2011!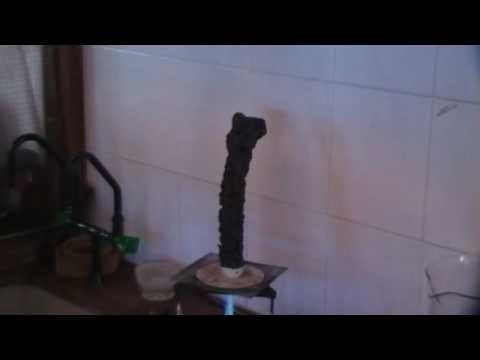 Almost two years ago to the day I wrote a post about how much I wanted to see a reaction of the type called "explosive polymerization." That phrase appears here and there on hazard warnings for certain compounds and in the general context of chemical safety, but I could find little online info about exactly what an "explosive polymerization" really was. I'm sure whoever puts those words on warning labels doesn't really count on the OMG-that-sounds-awesome-how-do-I-do-it? reaction, but apparently I am not the only one who had it.
This video is by Adrian McLaughlin, aka YouTuber plasticraincoat1. In it, what appears to be about 1/2 tsp of p-nitroanline (which is short for para-nitroaniline, which is also called 4-nitroaniline) is treated with a few drops of concentrated sulfuric acid, in a ceramic dish, over a Bunsen burner flame.  About 50 seconds later, a reaction that certainly seems like it could be described as "explosive polymerization" occurs.  The good stuff starts around 1:20. [Thanks, Fred!]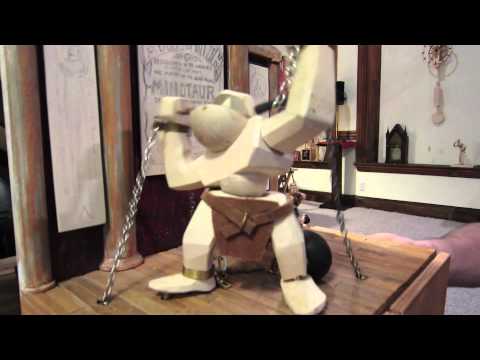 Dug North of Lowell, MA, whose work has appeared countless times in MAKE Magazine and the blog, gets star treatment in this video.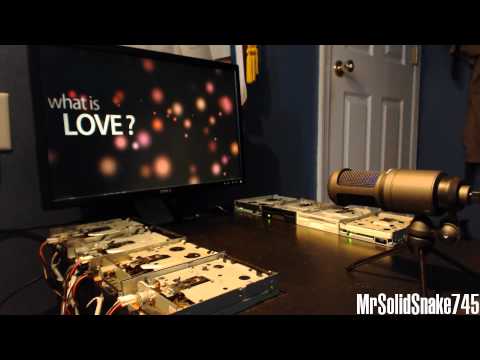 We've heard past examples of hard drives and disk drives being programmed to play music, but this version of club hit "What is Love?" has an undeniable funkiness to it that's worth noting.
Check out MrSolidSnake745 on Youtube for many more tracks he's produced with this method.
[via Retro Thing]
More:

A few years ago, someone emailed us at MAKE with the following message, and the 8 page scans below attached:
Hello Makezine Staff,
My brother is in jail awaiting trial and has become a huge fan of your magazine. He recently sent me a letter requesting that I send you some of his ideas for future articles in your magazine, please take a minute to check out the attachments I sent which are the pages of his letter.
The pages described several prisoner hacks, many based on using toilet paper as combustion fuel. Hey, neat, we thought, always nice to learn about MAKE readers doing clever things to improve their lives! In a reply, I thanked him, and since the "Two Anonymous Inmates / County Jail, USA" at the top seemed vague, I asked what jail his brother was in. He replied:
I am so happy to hear that you may be interested. They are in Escambia county jail which is close to Mobile, Alabama
We sat on the submission for a while, and eventually I decided that the method the letter describes of heating water to make instant coffee would be a fun "1+2+3″ project for the magazine. 1+2+3′s are one-page instructions for quick, simple projects. We like to have 2-3 of these mini-projects interspersed through each issue.
So we put the submission into the production pipeline: editing the text, fact-checking, working with an illustrator, designing the page, etc. Fairly late in the magazine production cycle, after our attention was no longer dominated by more complicated project articles, Keith asked if anyone had ever actually tried this one. It seemed so trivially simple that we'd overlooked it; just bridge a 9V battery with a chewing gum wrapper, after peeling off some of its label (presumably to allow more current), and then nurse the tiny spark into a fire on some toilet paper. I said I'd try it, and then completely struck out trying to find a 9V battery with a peelable label, as specified. I remember these from my childhood, but realized that I hadn't seen a 9V battery like this in decades. I recalled thinking momentarily, when I'd first read the letter, that 9V batteries didn't have peelable labels anymore, but put it out of my mind, assuming it was just be an off-brand– maybe some regional holdout battery brand sold in Alabama.
After filing the printing off of the case to expose bare metal, I found that the case metal was electrically isolated from both terminals. Hmm. And bridging the contacts directly didn't do anything.  Now it seemed like a hoax that I had fallen for. I looked at the letter again, and read "fraud," starting with the "Two Anonymous Inmates / County Jail, USA," and the two names that were signed: "Doc" and "The Smart Guy" — which seemed too obvious and unimaginative to be realistic, like character names from some cheesy prison movie or TV show. (If so, has anyone seen it or have any ideas where this came from?  Maybe someone saw some movie and thought, "wow, that could be in MAKE.")
Still, on the off-chance that the trick did work with some obscure, regional brand of 9V battery, I wanted to find out what battery brand was needed. I emailed to ask, got no response, and then went into full cyber-stalking mode, sending more emails, and searching on the sender's name (or at least the name in the From field of the emails), which was fairly distinctive. I pulled up what seemed to be his resume, left voicemails at the number listed, and also sent messages via Facebook to accounts that seemed to be his and his sisters'. Nothing. Meanwhile, Keith also did some investigating, and did the smartest thing: he called up the Alabama Board of Corrections (which I believe has jurisdiction over the county jails) and asked them if there were any inmates at Escambia who had that last name. The answer was no.
The page looked great, with beautiful illustrations and other examples of loving care that we like to put into MAKE, but we decided to kill it. You can see it above. Needless to say, if this was indeed a fabrication, this is not a nice thing to do. And if it isn't, I'd still love to know what brand of 9V battery you need, and where you can get one.

I haven't tried it, yet, but damn, what a cool idea. EagleUp is the work of Swiss design engineer Jerome Lamy. It runs inside SketchUp and requires co-installation of ImageMagick. The script will automatically generate a 3D model of a printed circuit board from an image exported by Cadsoft Eagle, then populate it with preexisting component models. Some components come with the script, some are available in Google's 3D Warehouse, and some are available in a library from Dangerous Prototypes, who also put together the excellent tutorial linked below. [via adafruit]
How-to build 3D models from Eagle files wiki page

Picking locks not only requires the right skills, it also requires the right tools. Fortunately, the folks at TOOOL (The Open Organization of Lockpickers) have come up a great way to ensure that you never leave your picks at home with the Emergency Lock-Pick Card (available in the Maker Shed.) This laser cut steel card conforms to ISO sizing standards for ATM and credit cards so it fits perfectly in your wallet. When the need arises, you simply snap out the tools to create a fully functioning lock pick set! After you save the day, simply put the tension wrenches in your wallet and the lock picks on your key chain so you are ready for the next emergency. Don't let the small size full you, the pick ends are standard size allowing you to pick nearly any pin-tumbler lock.
Features

1 Short Hook
1 Gonzo Hook
1 Half Snowman
1 Half Diamond Pick
1 Snake Rake
1 Long Rimple
5 Various Assorted Tension Tools