---
A few weeks ago, Makezine ran a feature on Adam Ellsworth and Bryan Duxbury's delightful Cube Lamp. The write-up did a wonderful job of exploring how entrepreneurs and makers meet at makerspaces and create businesses.
Having myself worked out of TechShop in San Francisco, where a permanent Cube Lamp has hung over the entrance to the work area for the past several months, I've gotten a chance to know Adam and the project. I was delighted to see the well-deserved recognition here on MAKE, as well as Gizmodo and G4. It's also been fascinated to watch the effects of all this publicity has had on their fledgeling business. Over the past three weeks, largely due to the relative media frenzy, the team has received over 300 orders.

When I say watch the effects, I mean that literally. I've watched Adam and the team from across the room as they have slowly taken over almost the entire shop with the laser cutting, silk screening, CNCing, and packaging. Aside from the spacial expansion caused by the burst of demand, there's also been a rallying of the TechShop community around Adam's success, with numerous other members chipping in to help with various steps in the process. In all, Adam estimated that as many as nine different TechShop members and staff have contributed a total of somewhere between 150 and 180 hours over the past few weeks. Heck, I even chipped in for a half hour of screen printing!
"We never would have been able to get this done without the community here," Adam said. "We got three hundred orders just over a three week period, and only a two weak lead time for delivery. It would have been impossible."
Of course, this type of situation happens all the time – businesses hire temporary workers to fill surging and seasonal demand. But this story has a maker twist.
"Everyone is capable of doing any task – silk screening, electronics, laser cutting, whatever. I think that's specific to the fact that we're getting people from TechShop," Adam said. "It's not that everyone knows everything, but they're all comfortable learning the different machines. They just learn from each other."
It's on-the-job training for makers.
It's not just a good situation for Adam, either. I talked to some of the TechShop Members who've been on the Cube Lamp production line. Sam Brown has been designing and working on a board game, Lyssan, that was recently funded on Kickstarter. While his boards were off to the printers, Sam found himself with some extra time. After seeing a flyer that Adam posted offering hourly work and seeing the growing work area the Cube Lamp was taking up, he decided to join the fun. He's worked over 30 hours for Adam.
"It's great to be working with other entrepreneurs. Even though our products are in different categories – electronics and board games – I'm still learning a lot from watching him go through this process," Sam explained. "There are similar issues that I will face – shipping, keeping customers happy – things like that are the same for every business."
Alex Glowaski joined TechShop less than a week ago. Alex doesn't have a job, but she doesn't seem to be too worried about it. She joined TechShop to find more hands-on work, which she quickly found with the Cube Lamp, but also to work on her own projects. For instance, she recently finished a cool, wearable transit card and already has new ideas for some wearable holograms she wants to experiment with. In the meantime, she's happy to pick up work with Cube Lamp, having put in about 25 hours on the project.
"Pretty much everyone here has a Kickstarter for something." Alex told me. And I think she might be right. A lot of the makers I know at TechShop are in some stage of the Kickstarter process: planning, campaigning, or fulfilling. Even though the Cube Lamp didn't go the crowdfunding route, the overwhelming demand spikes and the sudden workload that ensues are very similar to a maker Kickstarter project.
After spending the afternoon with Adam and the crew, I came to a realization: a TechShop Membership is the new entry-level job!
More:
"Da-ding!" Illuminates Video Game Nostalgia
Read David Lang's Zero to Maker column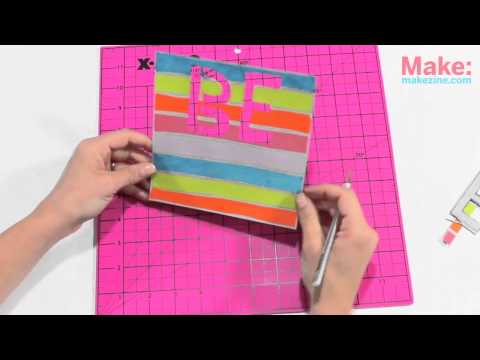 In today's crafty Make: Video, Corinne Leigh shows you how to create a simple hand-bound book for making art in, using as a scrapbook, a journal, whatever. She uses multicolored paper, stickers, and stencils, but you could just as easily bind up graph paper and create a project notebook.
Subscribe to the Make: Podcast in iTunes, download the mobile version directly, or watch it on YouTube.


NEWS FROM THE FUTURE – Computer Chips Track Students…
Grade-school students in a northeastern Brazilian city are using uniforms embedded with computer chips that alert parents if they are cutting classes, the city's education secretary, Coriolano Moraes, said Thursday. Twenty-thousand students in 25 of Vitória da Conquista's 213 public schools started using T-shirts with chips this week, Mr. Moraes said. By 2013, all of the city's 43,000 public school students will be using them, he added. The chips send a text message to the cellphones of parents when their children enter the school or alert the parents if their children have not arrived 20 minutes after classes have begun. The city government invested $670,000 in the project, Mr. Moraes said.
This will motivate a lot of kids to learn about micro-controllers for sure. Thanks Daniel!

Here's the 10th episode of MAKE's podcast, Make: Talk! In each episode, I interview one of the makers featured in the magazine.
Our maker this week is Andy Cavatorta, a roboticist, artist, musician, and filmmaker. He was at MIT's Media Lab from 2007 to 2010. In the current issue of MAKE, Volume 29, Andy wrote an article about his collaboration with the Icelandic musician Bjork to create robotic gravity harps for her touring performance. In my interview, we talk about this project and more.
Before the interview with Andy, I mention the latest deal in the Maker Shed: these fun-to-make Papertronics Lunar Modules with LEDs. They're $10 for a set of 3.


Very cool stunt from Thingiverse user acen, using a technique he credits to "zeq." In fact, this fully 3D version of the original Apple logo is a bit specialized, because the method would be much harder to use on a color object that wasn't divided into clear horizontal bands of color. Basically, it involves calculating exactly how much of each filament color will go into making your model, cutting those colors to accurate lengths, arranging them in order, and fusing them together. The resulting rainbow-colored length of plastic filament is fed into the extruder and, if you did it right and everything works correctly, all the right colors end up in all the right places in the finished model. A difficult prospect, but still an impressive trick that could be very handy in the right situation.
Original Apple logo in 3d by acen – Thingiverse

Last year we mentioned Ranjit's Instrument a Day project where he builds a musical instrument every day for a month. This year he continues the project into its fifth February. Such a great idea! [via NYC Resistor]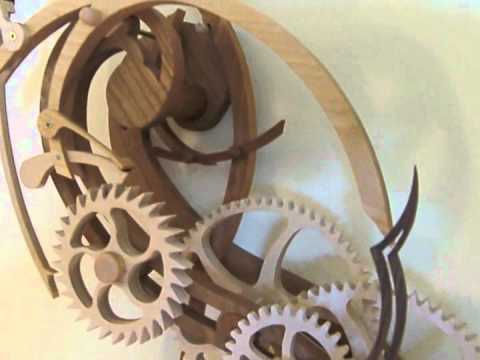 Mike Davey is a maker we're already familiar with through projects such as his incredibly detailed Turing Machine. This time he's made a wooden wall clock, based on a design by Clayton Boyer, that almost looks like a long-legged creature with a little finger periodically pulling on the escapement.
More: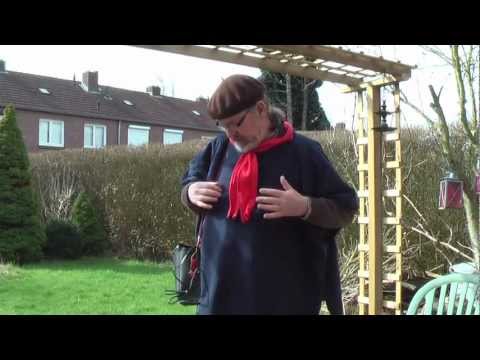 That battery looks a bit heavy to me, but depending on how far you have to carry it, and how cold it is, I can see how this gizmo from Berto could make the difference between a really nice outing and a really miserable one. And it's dead simple to make: Find a 12V electric blanket, cut a hole for your head (being careful to avoid the heating coils), reinforce the hole with some sewed-on cloth, and wire to a switch and battery to be carried around in your backpack. Berto used a sealed lead gel battery, which could, of course, be substituted with a much lighter (and more expensive) lithium-based unit.
Make: Projects — Battery-Heated Poncho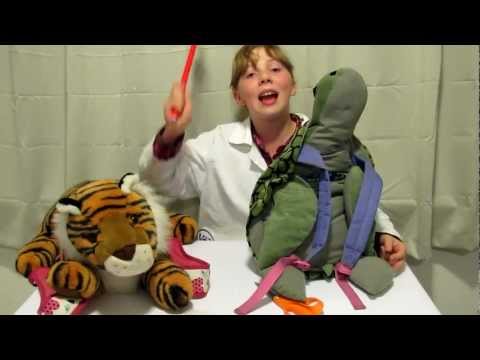 Subscribe to the Make: Podcast in iTunes, download the mobile version directly, or watch it on YouTube.
Looking for something crafty to make during a rainy weekend? Why not rev up an old stuffed animal into your very own Backpack Buddy!
For this sewable build, we'll need:
Medium to large stuffed animal (make sure it's got some room)
Some fabric scraps for the inside pocket
zipper/or other fastener (optional)
fabric glue or needle, thread and pins
Recycled backpack straps or Ribbon
Scissors
When picking out your stuffed animal, try and choose something a little bigger than you'd think: to keep it soft, we can't make the pocket very big. Don't pick too small, but not too big, either! Something just the right size to fit on your back, and that has room for both a useful pocket, and places to attach straps. Take a look at your stuffed animal. What we'll be doing is making a single cut, sewing in a pocket of fabric, then adding straps. Good places for the opening would be on the back, or the front for a more concealed pocket. It all depends on what your plushie has going for it. Be creative!
Once you're sure of where to put the opening, it's time to start cutting! Carefully snip the fabric open, then cut along the full width you plan to make the pocket. Once you've got your incision, reach in there and pull out some stuffed animal guts!! Not too much through, just enough to offset the pocket when full.
Now to make the pocket liner: Approximately measure the width and depth of the area, then take a doubled up piece of fabric, and cut out a rounded pocket shape from the two pieces. Now to sew this closed, and then sew the finished pocket to the animal.. but how do you sew?
---
People have been sewing things together for as long as we could thread a needle. It's simple, cheap, and one of the infinitely useful bits of knowledge that every maker should know how to do well.
First, take your thread and measure out a single arms length. Having more than this is a pain, and can tangle easily. Cut just this piece, thread onto your needle, then tie a knot or two connecting the two thread ends, making it hard for the thread to slip through the hole that the needle makes.
Of all the stitches, possibly the most useful and versatile for beginners is the backstitch.
To begin stitching, take your needle and poke up from the bottom of the fabric, and pull all the way to the knot. Next, as the name implies, we move back, to the right of where we came up, and push in. Then use the needle like a crowbar and tilt it down past the fabric, push forward about three quarters of the needle's length, then poke up back through the fabric and pull your thread up all the way through.
Then continue: Go back from where you came up, go in, push to the other side, pull through, and repeat! It's slower, but lots stronger than the more basic running stitch.
Get to know this strong, flexible stitch, and maybe one day it will save your life.
---
For our pocket, start sewing from the top of one corner, and move your way around the edge to the other corner, tying off the thread when needed. Take the finished pocket and carefully slide it through the incision and nestle it into the stuffing, making sure there's padding both behind and in front of the pocket. If you've got a zipper, go ahead and sandwich the flap between the pocket and the outside, pin into the fabric where you want it to be (use as many as you need to to keep it in one spot!), and sew each side in. This is really a lot of work, but totally worth it for a fully close-able pocket. For snaps or buttons, finish sewing the pocket in first, then add them on after.
Now for straps! Try adding them to your Buddy's arms for a piggy-back style, or mount them reverse for everyone to see your backpack's happy face. Make sure to put lots and lots of extra stitches in for the straps to keep them strong and secure, especially if you plan on carrying anything heavy.
That's all we've got for this episode, remember to be nice to your buddy, keep sewing, and get out there and MAKE something!


So, you have an Arduino and you want to do more than blink the on-board LED, right? You're going to need a way to hook up circuits and sensors, so you need a MakerShield! The MakerShield kit is available exclusively in the Maker Shed and works with Netduino, Arduino, and shield compatible clones. The MakerShield comes un-assembled and can be soldered together in around 30 minutes. It has a number of great features such as two on-board LEDs, a button, and a 10K potentiometer. The prototyping area even fits one of our mini breadboards (not included) for handy prototyping.
Want to find out more? Check out Make: Projects for directions on how to build it and how to use the button!