---
Tired of dealing with keys to get into his office, Valentin Heun hacked together this door unlocker with a laser-cutter, Arduino, and some bits n' bobs from SparkFun. Full design files and parts list can be found on the linked page.
The maker occupation, meme'd, by WeFab.
We've posted about the mouth-melting miracle of Sriracha sauce here before — many of us at MAKE can't get enough of it. Here's an article from Serious Eats that tests several different recipes and compares them to the commercial sauce. In the end, in sounds like you get a sauce that's not the same as the stuff in the red rooster bottle, but maybe as good (YMMV) and with a fresher taste.
There's some fun background info in the piece, too. Like the fact that the name, Sriracha, comes from Si Racha, the city in Thailand from which it originates. And the iconic rooster on the bottle is the astrological sign of the company's founder David Tran and the company name, Huy Fong, was the name of the freighter Tran came to the US on from Vietnam.
For some flaming Sriricha laughs, check out this comic on The Oatmeal. (Caution: Cartoon F-bomb ahead)
How to Make Sriracha from Scratch
More:
Make Your Own Sriracha Chili Sauce (on CRAFT)
At MIT, Jose Gomez-Marquez and his Little Devices Lab hack toys to make inexpensive medical devices and improvisation-friendly kits (MEDIKits) for use in developing countries. In so doing, they A) save people's lives, and B) challenge the medical devices industry, which typically sells equipment that's expensive and designed to prevent hacking. Program your agents to snag this Sunday's The Next List video profile of Jose: How Toys Can Save Lives, broadcasting on CNN at 2pm ET.
Jose contributes to the MAKE blog and wrote a fantastic article on his MEDIKits for our special issue Ultimate Kit Guide last year. We'll publish the article here on the blog next week.
The Next List (CNN): How Toys Can Save Lives
NEWS FROM THE FUTURE – Your Teeth Fight Back Against Bacteria With Graphene:
People who believe that their teeth are transmitting messages – perhaps from the CIA – through secret implants in their fillings can normally be dismissed as unbalanced. But Michael McAlpine of Princeton University, US, whose team is responsible for a remote chemical sensor, which really can transmit messages from the molars, is certainly not crazy.  

The sensor developed by McAlpine's team detects bacteria and can operate in rather strange places, including on the surface of teeth. The graphene-based device can spot bacteria at the level of single cells and reports this using wireless technology. His team haven't picked up any broadcasts from the intelligence services yet, but the sensor is shaping up to be an attractive prototype for the diagnostic tools of the future.

The sensor represents a novel synergy between several clever materials. As well as graphene and designer peptides, a radio frequency identification tag is also part of the setup. This technology – the same type used in electronic key cards – enables wireless communication with a detector. It is the first time such a device has been interfaced directly with biological tissue.  
Here's the 11th episode of MAKE's podcast, Make: Talk! In each episode, I interview one of the makers featured in the magazine.
Our maker this week is Yury Gitman. Yury's a toy inventor and product designer who teaches physical computing and toy design at Parsons The New School for Design in New York. In the current issue of MAKE, Volume 29, Yury co-wrote an article about his Pulse Sensor, a wearable heart beat sensor that he created with his colleague Joel Murphy.
Before the interview with Andy, I mention a cool project on our Make: Projects site. It's a guide on how to harvest and use squid ink, which you can use for cooking or printing. It was written by Instrucatables.com co-founder Christy Canida.

@Lurwah from Hack42 wrote in to share a cool thing happening in the Netherlands this weekend: six Dutch hackerspaces will be holding simultaneous open houses.
This Saturday, 31st of March, Dutch hackerspaces will open their doors. We invite all those who are interested to come take a look at what hackers really are and do. Of course, we expect visitors to participate as well. Each hackerspace has prepared quite a lot of fun activities, everything from LED-throwies and mini-arduino-workshops to security lectures.
See a Google Translated version of the press release or check out the Dutch version to learn more. Sounds amazing!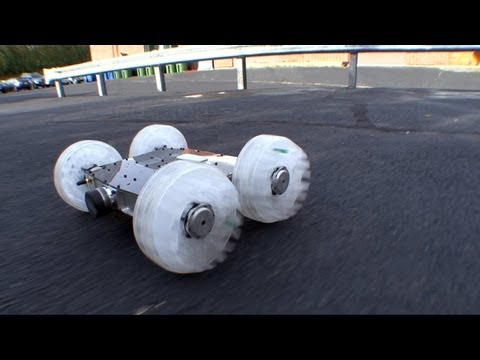 Boston Dynamics' Sand Flea is an eleven pound bot equipped with a device that can launch it onto buildings, over compound walls, or through a second story window. It can jump around 25 times before it needs a recharge.


Development of this bot is continuing through the help of the US Army's Rapid Equipping Force (REF). It's an unassuming little bot that has explosive power — always interesting to see what the folks at Boston Dynamics are up to in robotics.
More:
Are you a tinkerer that would like to get into microcontrollers but wants to do more than simply get started? The Maker Shed's Ultimate Microcontroller Pack includes what you need to get started and to grow with microcontollers. The 100+ components include everything from servos to an LCD screen, plenty to keep you busy without having to source individual parts. Everyone from beginners to advanced users will appreciate all that the Ultimate Microcontroller Pack offers. It's available with Arduino, Netduino, and without a microcontroller, just in case you already have one. It really is the ultimate parts assortment!
Don't want to pay for shipping? Check your local RadioShack for availability!
Did you know that there's a recipe category on Make: Projects? Next time you're smoking salmon, brewing kombucha, or making your favorite casserole, consider taking step shots and sharing your process.

Josh Burroughs writes:
Duck is a wonderful and versatile meat. This simple recipe for curing and drying the breast meat produces a ham remarkably similar to a good prosciutto but only takes about a week.

While this recipe can be made with grocery-store duck, it's best when made using pastured duck from a local farm. When left to their own devices farm ducks have a pretty varied diet and will eat a wide variety of grasses, bugs, minnows, etc., in addition to their feed. This not only contributes to the well-being of the duck, it also greatly improves the flavor and texture of the meat. With a simple dry-cure recipe like this that difference is greatly amplified.

Make a handsome Circuit Board Cabinet out of PCBs and some bits of wood.

For those that want to bike when there's snow on the ground, Chad Schneider shows you how to modify your tires to be more snow-friendly, by adding studs and homemade chains.

Angad Daryani explains how to build a solar boat, based on his experience building one for Indian Institute of Technology's Techfest, in 2010. At the time, Angad was in 6th grade.