---
Here is a great article from Open Music Labs which details the teardown and design of an old school MIDI keyboard. This is a particularly good write up, as it explains the mechanical as well as electrical design decisions the manufacturer made in an effort to create a device which accurately captures a player's performance while simultaneously optimizing for cost.
Wanna shoot fireballs from the palm of your hand? Of course you do. When Joel Johnson set out to fashion his own fireball shooter, he was intent on making one with a minimum of parts that was small enough to be concealed in his hand. He shared his "Orpheus Shooter" build with us back in MAKE Volume 13, the Magic issue. Joel has some real gems in his intro, including "I'm absolutely horrible at DIY — I'd solder my fingers to my face if it were possible — so if I can cook up something like this, you should be able to take this simple design and improve it immeasurably." You gotta appreciate a maker who sees that there's room for improvement in his design: "My grasp of the principles of electricity ends around 'don't lick a light socket,' so there may be smarter ways to rig this unit than the one I have chosen." And naturally there is a safety warning: "Remember your fire safety fundamentals: it may be hilarious to shoot fireballs at your sleeping cat, but she'll have the last caterwaul when you set your bed aflame."
With all that said, we think Joel's design is pretty nifty (and appreciate his humble sense of humor), with its simple materials list that includes a glo-plug, binder clip, AAA battery, and momentary pushbutton switch. The only specialty item is the flash cotton and paper, available at magic stores. We just shared the entire build on Make: Projects so you can get cracking building your own fireball shooter. It's simple to build, and a blast to play with. Just make sure to keep your inner pyro in check and always respect fire.
Eric Pan, the founder and CEO of Seeed Technology and co-founder of Chaihuo makerspace, describes himself an Open Source Hardware Facilitator.  Not surprising, then, that he's the person behind the first Maker Faire in China, this Sunday's Shenzhen Mini Maker Faire.
Pan says he has about 40 local and another 30 foreign makers signed up to exhibit at the festival, with a good customary Maker Faire range from tech through craft.  Local makers include an RF engineer who makes cool toys out of wood and piano parts in his off-time, as well as a security guard who makes 3D printers.  There will be robots and scrap metal sculptures and workshops, and even a sous vide cooking demo.  Mitch Altman will be one of the foreign makers, with others coming from Japan and Beijing.  And the publishers of the Chinese edition of MAKE, RADIO, will also be on hand.
A former engineer for Intel, Pan has traveled to the U.S. for three Maker Faires, and met with the Maker Faire team last September at World Maker Faire New York about bringing one to Shenzhen.  Pan wanted to share Maker Faire with to the product development capital of the world because it's about "thinking out of the box, and using humor when turning ideas into reality.  It's also about being more open and more collaborative."
Shenzhen was China's first Special Economic Zone, and has become the world's most well-known center of hardware and consumer electronics production. Lead Apple manufacturer Foxconn alone employs somewhere around 300,000 people here, and it's likely if you're in hardware development, you or someone you work with has made a trip to Shenzhen.
Shenzhen is also known in the US as the geographic center of consumer guilt for questionable labor practices tied up in making all our beloved electronic devices.  (Listen to these two very recent This America Life stories Mr. Daisey and the Apple Factory and then Retraction to get caught up.)
This is another of the reasons why Eric Pan wanted to make a Maker Faire in Shenzhen:  "To go against this stereotype.  Shenzhen is the most advanced city for technology and science in China, the best place for startups in China. There are two universities here, and just about every university including Beijing University has branches here. "
According to Wikipedia, in 2007, Shenzhen was the home of over 20% of China's PhDs.  That's a lot of well educated people in the middle of the world's hardware supply chain—-a perfect breeding ground for innovation. The kind of community not only prime for a Maker Faire, but also for a hackerspace!
Shenzhen's first hackerspace opened in August. It is called Chaihuo, which means fireplace or bonfire or hearth—"a Chinese metaphor that everyone brings some wood and the fire will burn higher," explains Pan.
Pan describes Chaihuo's organizing premise a bit different from the US or European makerspace models.  It's a bit more of a startup incubator.  "It's not really for hacking as a hobby.  In Shenzhen, people are more straightforward and trying to create something first to make a living."
Chaihuo has 3 physical areas:  meeting rooms for Ideas, a workshop for Hack, and desks for Startup.  There are 30-40 part-time members, and 8 startup members who are there focused full-time on their projects. "These are people who want to not just work day  and night, but have their own dream of making things and turning it into reality."
Pan says some Chaihuo members will represent this weekend at the Shenzhen Mini Maker Faire.
If you or anyone you know is nearby in China or Hong Kong, by all means take the opportunity to witness this moment in history and get to the Shenzhen Mini Maker Faire this weekend.  Pan is committed to a location in the center of town for next year's Faire, so it's guaranteed to never again to be as intimate as it will be this weekend.
And of course, if you just can't make it to China, check back to makezine.com for coverage.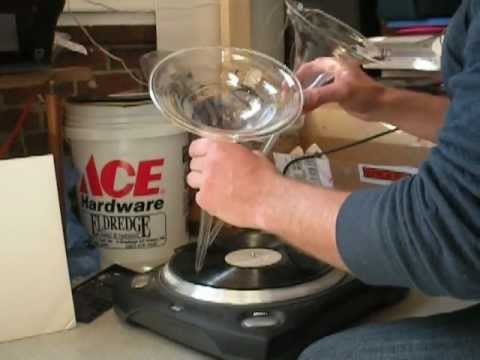 Great find by our own Andrew Salomone over at CRAFT:
Artist Jeremy LeClair, of Various Artists Records, had these beautiful glass resonating phonograph horns made for him by glass artist Joe Forestall and now he can acoustically play to two different parts of a record at the same time!
Jeremy's new technique produces some very cool sounds.  Don't miss the vid.
More:
Joey Johnston of Starkville, MS, wrote in with this well-done Lego model spelling out a worthy motto: Never Stop Making. He built it for his typography class at Mississippi State.
Today, President Obama will sign the JOBS Act, which establishes a new securities registration exemption for crowdfunding. This means that, early next year (or so), Kickstarter-like "funding portals" will allow people raising money for projects to offer "perks" based on possible future revenue from those projects. In other words, investments. This is an experiment that I'm excited about, and expect will lead to lots of great innovation and meaningful jobs (and will also attract hucksters). TechShop CEO Mark Hatch calls the JOBS Act one of the "most important pieces of legislation in decades" and expects it to help software companies and hardware startups most of all.
As one of the crowd that championed the crowdfunding exemption component of the JOBS Act, I'll be attending the signing ceremony in the Rose Garden this afternoon. I feel honored to be a guest there, am looking forward to it, and will take photos if I can and post them here!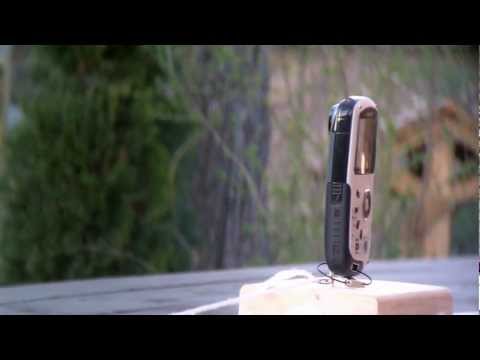 Maker Daniel Colvin built this simple camera slider out of little more than wood, string and some hardware. The camera sits atop a platform and is pulled by a string using a K'nex geared motor.
If one wants to take simple tracking shots, conventional options use wheels and pipes, so it's great to see Daniel using thrift as his motivator for this project.
[via Hacked Gadgets]
Wikipedia quotes ASTM C71 on the definition of refractory: "non-metallic materials having those chemical and physical properties that make them applicable for structures, or as components of systems, that are exposed to environments above 1,000 °F." They are commonly used, for instance, to line kilns and other high-temperature furnaces.
Castable refractories can be mixed with water, formed, and solidified like cement, but the process of drying the solid before full-temperature use is critical. When working with castable refractory, be mindful of the hazard of heating trapped water too rapidly and causing a steam explosion. If using a commercial mixture, follow the manufacturer's directions closely. If using a DIY formula, use a gradual "bake out" process in which the cast material is brought up to final operating temperature very gradually, in a series of slow, prolonged stages, with full cooling phases in between.
There are several recipes for "homemade" refractories floating around the web, but Lionel Oliver's tutorial over on BackyardMetalcasting.com is one of my favorite resources on the subject.  Lionel has been experimenting with and writing about home foundry work online for more than a decade, now, and his recipe uses no hard-to-find materials. By volume, it is 3:3:4 Portland cement:perlite:silica sand, mixed together thoroughly, then combined with 4 parts fireclay. The dry ingredients are then moistened to the texture of "stiff cookie dough," packed into a form, and allowed to dry thoroughly before bake-out.
If you can get your hands on ready-made furnace cement, preferably of the "black" 3000 °F variety used to make repairs on wood-burning stoves, a simpler recipe is provided by John A. Wasser:
You will need about 1 part (by volume) of Furnace Cement for each 4 parts (by volume) of Perlite so for a two gallon bag of Perlite you will need a half gallon of Furnace Cement. If you use much less than four volumes of Perlite for each volume of Furnace Cement all of the passages between Perlite beads will be sealed and it will take a long time for the cement to set (it needs contact with air). If you use much more than five volumes of Perlite for each volume of Furnace Cement the resulting material will be quite weak. You will also want to have some Furnace Cement to use as a sealing coat on your lining. The Furnace Cement has about the consistency of roofing tar and is very sticky. It is MUCH easier to work with if you add about 2 cups of water per gallon of cement. This makes it more like a thin plaster.
John's site doesn't have any pictures, but here's a page from Dan's Workshop showing John's refractory mixture in use in the construction of a small electric furnace.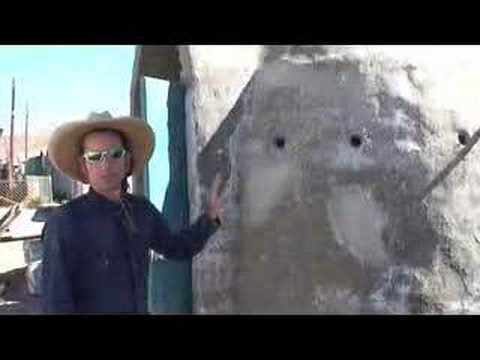 Mikey Sklar of Truth or Consequences, NM, wrote this Instructable on building a dome out of paper, steel, and concrete:
When my girlfriend (Wendy Tremayne) and I arrived in southern New Mexico one of the first things we did was look around for a local building material. Clay would need to be excavated and hauled in, straw bale was already expensive and not local, manufactured building materials like rastra were a little too off the shelf for us. We ended up settling on what we had locally available and that was/is paper. It is common for small remote towns to not have much in the way of recycling. Our town was collecting paper, but more often than not would just dump it in the landfill after collection. They were happy to help us load our truck up with their newspaper which was mostly a nuisance to them. We later found a source of rebar being made from old cars within a 100 miles of our place.

Since we would have a lot of batteries and solar PV equipment that needed a good home we decided to do our first structure as a battery room for our solar equipment. Domes are inherently strong and energy efficient structures. This is how we started building a battery dome from paper.
More Recent Articles