---
This 300-step Rube Goldberg Machine claims the world's record:
The Purdue Society of Professional Engineers team smashed its own world record for largest Rube Goldberg machine with a 300-step behemoth that flawlessly accomplished the simple task of blowing up and popping a balloon – setting the new world record for the Largest functional Rube Goldberg machine, according to World Records Academy.

As first reported on MacRumors, AT&T has begun unlocking iPhones for customers who:
Have an account in good standing
Have an iPhone that's not currently under an active term commitment
I've got an iPhone 3GS and AT&T service that meets both requirements, so as soon as I'd gotten my fill of Easter chocolate, I hopped on AT&T's technical support chat, and had the following conversation:
Wanda Reese: I will be more than happy to assist you by sending an unlock code request.
Wanda Reese: You can find your iPhone serial number, IMEI, ICCID, or MEID in the About screen on your iPhone. From the Home screen, tap Settings > General > About and scroll .
Brian Jepson: Thank you. My IMEI is ****.
Wanda Reese: Please send me the IMEI number?
Brian Jepson: My IMEI is ****.
Wanda Reese: Thank you. I will need a few moments please to send the request. Can you allow me the time? 
Brian Jepson: Certainly, yes. And thanks!
Wanda Reese: Apple will release the unlock code during the next 72 hours to your email address. Please send me a contact number and also your Email address? 
Brian Jepson: My phone number is **** and my email address is ****@****.
Brian Jepson: Thank you.
Wanda Reese: Please stay with me, I will send you a Ticket number shortly.
Brian Jepson: Thanks. I will stay with you.
Wanda Reese: Thank you for your patience.
Wanda Reese: **** 
Wanda Reese: Mr. Jepson, please keep the Ticket number.
Brian Jepson: Got it, thanks!
Wanda Reese: Please allow 24 to 48 hours for completion of the request, you will be contacted by the device unlock team with the results of the unlock code request via email. 
Wanda Reese: May I assist you with anything else today?  
Brian Jepson: No thank you; I am all set, and I really appreciate your help!
Wanda Reese: I thank you for visiting our technical support live chat today and being a valued and dedicated customer.  It has been a pleasure assisting you.
Brian Jepson: Thanks!
Wanda Reese: I hope you have an awesome day!
Brian Jepson: You too, thanks!

A few minutes ago, I received an email telling me "We have reviewed your request and confirmed that you are eligible to have the requested iPhone unlocked." All I had to do was restore (being sure to back up when prompted) my iPhone, and I was greeted with the delightful message "Congratulations, your iPhone has been unlocked". I'll be using it on T-Mobile (which means I won't enjoy 3G unless/until T-Mobile's 3G refarming becomes more widespread).
The iPhone is still a long way from being hackable out of the box, and this doesn't help it in that regard (jailbreaking and unlocking are two different things). But it's a step toward more customer-friendliness. Coupled with another recent development (the addition of Core Bluetooth, which allows you to talk to Bluetooth 4.0 Bluetooth Low Energy devices without the customary MFi hassle), I'm encouraged, and a happier customer, too.
I was asked to make something for the O'Reilly Strata Conference, which was held in Santa Clara at the end of February 2012. We needed some devices to capture votes from attendees who participated in Coco Krumme's Data Crush: Where Wine and Data Meet:
This new event at Strata will host wine tastings for participants, whose feedback data will be compiled and analyzed to extrapolate behavioral trends and factors influencing their responses.
At the event, we had several stations set up with different types of wine. It was your basic taste test, where the brands were concealed, and the architect of the experiment (Coco) used various methods to influence responses. After the participants drank the wine, they were instructed to proceed to the WineShade voting station and press the button whose label corresponded to the wine they just drank. As the experiment proceeded, the votes would be tallied on a central server.
I decided the best way to make this system was to shovel a bunch of newish technologies into the project: MakerBot, XBee, Arduino, Node.js. I believe it was Alasdair Allan who dubbed this the hipster stack. I believe it was Alex Howard who dubbed it the WineShade. But between the wine and solder fumes, my memory is suspect!
MakerBot
If I'm going to make something physical, I knew my MakerBot Thing-O-Matic could make my life easier. At first, I thought I'd use the MakerBot to print out something to hold buttons and indicators in place, but I decided to go with some foam core for this. I had decided to use lampshades as the chassis for each station, and I needed something to cap it off. So I made a little tower to go on top of each one. I eventually went with something smaller than what you see here.

Arduino Mega
I knew I'd need a lot of I/O, since each station would have three bargraphs and three buttons (though we ended up using only two each). I didn't want to put too many components into this since I'd need to build them, so I decided to drive the bargraphs directly from the Arduino pins. To minimize the number of transistors, I decided to take advantage of persistence of vision, and multiplex the bargraph. I wrote a small library for the Adafruit LED bar graphs to do this, and posted it to GitHub. I'm just using one color, but the library could easily be extended to handle both of the bar graph's colors.

Digi's XBee
These voting stations would be spread out all over the place, and needed a way to talk to a central server. I've had a lot of experience with Digi's XBee modules, and I've always wanted to use the XBee Internet Gateway (XIG) in a project. XIG lives on a Digi ConnectPort X, and acts as a gateway between the XBee network and web servers (XIG can also talk to the IDigi cloud). I reached out to Rob Faludi, author of Building Wireless Sensor Networks, and he arranged to loan me a ConnectPort X2 Industrial and four XBee Pro modules. Thanks, Rob (and Digi)! I liked XIG so much that I bought a ConnectPort X2 Commercial (less RAM than the Industrial, but it works well for me).

Node.js
If I'm going to have the XBees talking to the network, they better have a server to talk to. I usually reach for PHP or Perl for this sort of thing, but I decided I'd heard enough about Node.js (Beagle Bone's adoption of it got me really interested in it) that I better look into it. It worked great. It would have taken me longer to write this in PHP (or any of my usual languages) than it did for me to learn Node.js and implement it. Once I got my head around the asynchronous insanity, I could add whatever feature struck my fancy in a matter of minutes (OK, so some features needed more minutes than others).

The trickiest part of building each unit was connecting the Arduino Mega to all the pins on the buttons and LED displays. I decided to take an Adafruit perma-proto breadboard, solder some long male pins to it, and shape them so they'd plug into the double row of headers on the Arduino Mega. It was a kind of makeshift Arduino Mega tail shield, but it works. I threaded each strand of ribbon cable into a breadboard hole and up before soldering it down, which gave me quite a bit of strain relief.

I've got some documentation in process in the form of a GitHub repository that includes the Arduino code. It's a pretty simple system: when the Arduino boots up, it sends a URL over the serial port that the XBee's connected to (you'll want to modify the server string in the Arduino source), and XIG relays this to the server, and sends the response back to the Arduino over the XBee network. The server is a Node.js server that handles the requests from the Arduino: press a button, and a vote is registered. At each bootup (and after each button press), the Arduino gets the current vote tally from the Node server. That way, the Arduino doesn't have to store any state at all! There's also a primitive UI (/dash on the server) that lets you view the votes and manipulate them or reset them if needed. The index.js file lists all the handlers, and the corresponding handler code is in requestHandlers.js.
Flick set: WineShade for Strata
GitHub repo: bjepson/WineShade
These days, I am a bit skeptical about books in general. Especially new ones.
Don't get me wrong: I love books, and live literally surrounded by them. But in an age of perpetual information supersaturation, I have to wonder, every time a new book comes out, if the world really needed that extra weight of paper and text. Personally, I'd rather see good ideas expressed as fortune cookies than as tomes, but no one is going to make much money selling a fortune cookie, no matter how revolutionary its twenty-odd words may be.
So it's hard, for me, to find books that really justify themselves, and when my colleague John Baichtal asked me to review The Cult of LEGO, his recent survey of adult Lego fandom with BrickJournal founder Joe Meno, I was nervous. John's my pal, and though I would never, to be honest, publish a negative review of one of his books, I anticipated the very real possibility that I would have to tell him, after receiving and reading it, that I was "going to have to pass," or something just as awkward. I rehearsed a few diplomatic phrases: "It's just that I'm really, really picky about booksman."
As you will certainly have guessed by now, however, I didn't have to use them. The Cult of LEGO, I can report with some relief, is well worth its weight in words. If you are interested in the Lego subculture—and there are good reasons, I think, why everyone should be—John and Joe's book provides a concise, handy, visually-searchable index where (and this bit is key) there was none before. And if ever a subculture were in need of indexing, it was Lego fandom.
Adult Fans of Lego (AFoLs) were among the earliest Internet adopters, and some online Lego communities are about as old as online communities can be. The sheer number of sites dedicated to some aspect or another of the LEGO universe is enormous: There's Brickshelf, BrickLink, BrickArms, LUGNET, MOCpages, Peeron.com, LDraw.org, The Brothers Brick, From Bricks to Bothans, Mechahub, Classic-Pirates.com, Classic-Castle.com, and classic-space.com, just to list a few of the big-name sites. (And yes, I know I left out your personal favorite. Apologies!) Add to that the almost six thousand Lego-related Flickr groups, as well as the considerable and rapidly expanding official online presence of the Lego Group, itself, and, well…a person could spend months or even years trying to get a handle on all the different communities, memes, trends, and genres.
But now you don't have to, because John and Joe have done it for you. If you're standing at the edge of the Lego ocean and looking for the best place to jump in, you need look no further.
And, almost incidentally, really, The Cult of LEGO is a really good book, under all the traditional criteria for good books: well researched, well-written, well-organized, well-photographed. It's a pleasure to look at and to hold and to read. It would make a great gift or coffee table book (in case you another one of those), and if you've ever tinkered with Lego even a little bit, it's impossible to even glance through its 290 pages without being inspired by something you see.
The Cult of LEGO is on sale in the Maker Shed, this week, at 20% off the regular price. Just use coupon code "LEGOS" at checkout. Also, as a special reward for Shed shoppers, John has autographed two cases of books for us, and the first 28 buyers will receive one of these signed copies. Get 'em while they last!
Gerri Detweiler is the host of Talk Credit Radio. She interviewed me about MAKE magazine and my book Made by Hand.<
Gerri: Tell me a little bit about what you learned from your DIY journey?

Mark: I think the most important thing I learned was that it's okay to make mistakes, and that you can learn a lot from mistakes. In fact, a lot of research has shown that people learn fast when they do make errors because it really sticks in your mind.

As Editor-in-Chief of Make Magazine which is a technological project magazine, I hung around a lot of people that I call "alpha makers," people who are just committed to anything and they do a great job of it. I found that it isn't so much their skill level that's important but the fact they have gotten over their fear of screwing up. And that is like the most important thing that I learned, otherwise you're going to be frozen with fear.

I make tons of mistakes all the time but I hopefully learn from them so that every new box guitar I build is a little bit better than the one before. Then you can raise the bar and challenge yourself to try something a little better. It's a fun way of looking at the world.
How to Be a DIYer Without Time or Talent<
Artist Daniel Palacios created the art installation simply titled "Waves." Two motors in opposed positions rotate a piece of rope, causing it to whip through the air at high speed. The rope is coerced into a standing wave form, giving both visual and aural feedback to the viewer.
[via The Creators Project]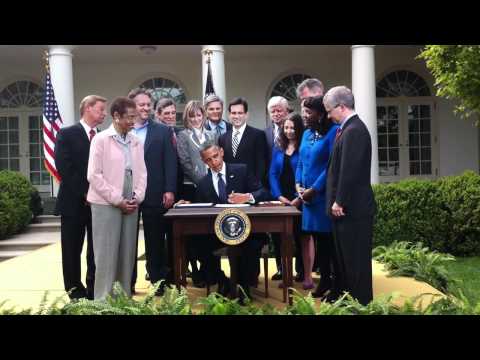 Last Thursday's signing of the JOBS Act at the White House was fun.  After going through three layers of ID checking and an airport-style walk-through detector, I walked into a garden area where a military band was playing some surprisingly jazzy tuneage.  The mood was festive– the ice water in paper cups was flowing generously, and the weather was fine. In the sea of DC people, the only folks I recognized (or had met only via email) were my crowdfunding revolution comrades– Jenny Kassan; Kevin Lawton; Woodie, Jason, and Zak from Startup Exemption; Michael Shuman; Danae and Slava from IndieGoGo; Karen Kerrigan; Dana Mauriello; Amy Cortese; Howard Leonhardt; and of course our man in the White House, Doug Rand from the Office of Science and Technology Policy, who had worked with all of us, and many others there whom I haven't met. Presumably Doug had gotten the whole gang invited, which was really nice.
Soon we were led around to the Rose Garden, where there were chairs for the audience, the stage and podium and TV cameras aplenty. After everyone was seated, a bunch of entrepreneurs from around the country gathered around the signing table, including Steve Case of AOL and the White House's Startup America initiative, and Samantha Abrams, owner of Emmy's Organics– I met her later; she's the young woman in the blue cardigan. Also around the table were Rep. Patrick McHenry, who introduced the first crowdfunding bill into the House and whom we all therefore consider a hero, Sen. Scott Brown (R-MA), who introduced a crowdfunding bill into the Senate, and House Majority Leader Eric Cantor.  I'm not sure if Sen Jeff Merkley (D-OR) was there, but I didn't see him on the stage — he introduced another CF bill and co-wrote the final Senate version that the House approved and is now law.
Then President Obama walked out and made some remarks about the legislation– it was a good explanation that didn't use the word "crowdfunding" anywhere. I learned later from Kevin, who had talked with someone from the Treasury department who had written most of the speech, that they avoided the term because it might be unfamiliar and confusing to many people.
Then he walked over to the signing desk and signed the bill using multiple pens, probably only about one letter each, so that more people could get souvenir pens as gifts.  His patter while signing is not reflected in the official transcript, so I present it here for the benefit of historians: "All right.  It's — it takes a while. Left-handed. That's the third left-handed president out of the last four presidents. Bill Clinton was left-handed and George H. W. Bush was left-handed." Then a guy with white hair in back said, "It makes for better rotation on the" [garbled - "jump shots"?] Obama answered, "Is that what it is?" Then he finished signing and said, "There we go, it's done."  Then he stood up and chatted a bit with the people around the table before walking back inside.
After a bit more mingling and frequent picture-taking (everyone was doing it), we were ushered out. Kate Mitchell and Steve Case hosted a reception afterwards at the rooftop bar of the nearby W Hotel. There I talked with Andrea Sreshta of luminAID  who told me about her friend Jeff Warren of the Grassroots Mapping project, which has taught and used DIY aerial photography to enable people in Lima, Peru to avoid forced relocation, and to document the effects of the 2010 Deepwater Horizon oil spill in the Gulf of Mexico. I also talked with Slava, who told me about the Veloso 3D Printer, a kit project on IndieGoGo for a 3D printer that forms objects top-down, layer by layer, by projecting light onto a liquid polymer bath– which is faster and gives higher resolution than ABS extrusion.
From there I went with Danae and Slava to a reception hosted by Woodie Neiss and Startup Exemption at the "Off The Record" bar at the Hay-Adams hotel.  Woodie had just been at an entrepreneurship conference in Instanbul hosted by MIT, where some high-up government minister told him that Turkey would be #2 after the US with crowdfunding legislation, and Kevin reported having talked with high-ups in Brazil about interest in getting it going there as well. Everyone was amazed at how fast the idea of a crowdfunding exemption progressed in this country, and we expect it to happen worldwide.
From my point of view, it's been amazing to pursue it from an idea I blogged in late 2009 to a successful crowdfunding campaign to fund a petition the SEC, and then continue covering it, meeting and introducing like-minded activists and now see it signed into law. The question came up at the Hay-Adams who would tell this story, and Doug said it would probably best be told Rashomon-style, from multiple points of view. I totally agree.
More photos and video:
The band
President Obama walks out
The so-called hermit crab is in fact a social creature; in the wild they exist in colonies of a hundred or more. The common name applies to more than 1,000 species of the superfamily Paguroidea, but only a few of these are routinely kept as pets. Their signature behavior of adopting a series of second-hand shells as they grow has been riffed on by makers in a number of clever ways.
Most recently trending, this piece from the The Guardian, with video showing "Harry," a hermit crab who lives in a rock pool at Legoland Windsor, sporting a brightly colored shell custom made from Lego elements by the staff. Legoland's Liane Riley chose to emphasize that Harry was not forced to endorse their product: "We weren't really sure if he'd actually move in, but he rejected the sea and snail shells on offer and seems very comfortable in his new home." [Thanks, Laura!]
Home is wear the art is: hermit crab moves into Lego shell
More: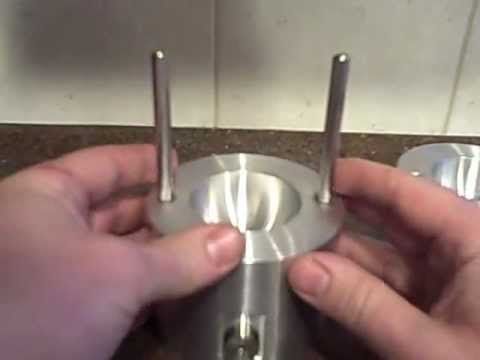 Gordon Vizecky of Minneapolis, MN, machined this ice sphere mold in his shop as his first lathe project. Gordon's video shows all the steps he went through to grind out the hemispheres.
We've seen lots of cool Atari Punk Consoles here, over the years, but this rainbow-buttoned build from Peter, in San Diego, is an especially attractive specimen. Click through to the MAKE Flickr pool, below, to see and hear it in action.
atari punk console in a fruit cake tin
More: