---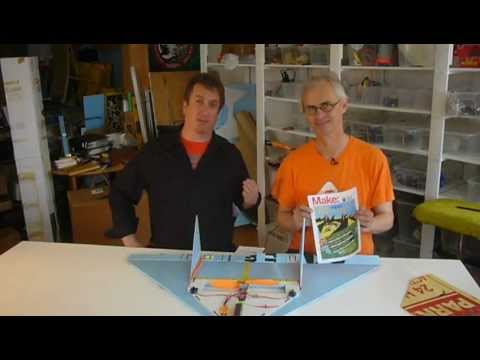 Splinter and Breck of Brooklyn Aerodrome posted a video appreciation/critique of our cover for MAKE vol. 30, which features (a version of) their Towel R/C flying wing. The Towel is one of the featured projects in the magazine, and Breck did a fantastic job writing and photographing the how-to article.
The video notes some liberties that we took with the wing shown on the cover. Here is our official response:
Thanks guys– you rule! It was fun working on this.

On the safety issue, note that the all-Coroplast body version of the wing that we built and shot for the cover of MAKE Volume 30 is a variant of the Brooklyn Aerodrome design that's detailed in the how-to article inside. Our engineering intern Dan Spangler (that's him flying it on page 83) built it for fun after building the by-the-book version inside, and we all loved how it looked.

We agree with this video that, all other variables being equal, it would hurt more to be hit by our "cover model" variant than by the original foam-body flying wing described in the actual instructions, and that by sizing the removable deck such that it reaches the leading edges of the airframe rather than stopping back an inch makes it more subject to damage. That's also a good point about the receiver being backwards on the cover photo version.

The take-away here is, if you want to build the Towel R/C flying wing, follow the instructions, photos, and illustrations in the actual article, not our cover model– which (like other cover models) looks good but might not be as practical.
Brooklyn Aerodrome on the cover of MAKE magazine! [YouTube]
Do you remember the first tool you used? For me, it was a screwdriver I stuck in the electric socket (I don't recommend that.) The first tool I used for its intended purpose though was my father's Stanley No. 45 Yankee Drill. I vividly remember him helping me to drill my first hole using it. For those that don't know, a Yankee drill it a mechanical tool that is powered by you; you put in the bit, grasp the handle, push down, and the shaft rotates clockwise spinning the drill bit. Release the pressure and an internal spring pushes the handle back up, rotating the shaft in the opposite direction returning it to its original state. It's simple, effective, and perfect for pilot holes, light drilling jobs, and tight spaces where you can't fit your cordless drill. I've had my eye on dad's Yankee drill for quite a while so when the opportunity arose to to review Garrett Wade's reproduction, I leapt at the chance.
Around 10 years ago Stanley discontinued manufacture of the Yankee drill due to the popularity of battery powered cordless drills. Fortunately, Garrett Wade stepped into fill the void in the market releasing their own version. The first thing you'll notice is that while both drills are mechanically similar and have bit storage in the handle, they look quite different. That is because the GW version is modeled after the original Yankee drill which was made first by the North Bros. and later by Stanley. The Garrett Wade is said to be an identical reproduction of the original. The Stanley No. 45 I borrowed from dad is a later revision of the original.
The GW version is every bit as hefty as the Stanley. Both have a solid, sturdy feel in your hand as a quality tool should. The way you access the bit storage on each is different. The Stanley uses a simple, twist off cap while the GW requires you to loosen a collar and slide the handle down to access the bits. I'm assuming this design was chosen because that's the how the original was. It also ensures that you'll never lose the cap. The bits hidden inside are sharpened so they they cut on both the push and pull strokes making for fast, efficient drilling. The Garrett Wade bits are exactly the same as the originals which is great news for owners of Stanleys. You can purchase a full set of replacement sets at GarrettWade.com for $24.95
The action on the GW version is incredibly smooth, much more so than the Stanley. I'm sure years of use the Stanley has received attributes to this. The GW also has a slightly lighter spring tension which I found makes it much easier to drill holes. The Stanley would occasionally bind in the piece of 2×4 I was testing with but the GW experienced no binding at all (I used the same bit in each for consistency.)
The chuck on each tool is mostly identical. Pulling the chuck out loosens a captive ball bearing allowing you to insert a bit. Releasing the chuck tightens the ball bearing against a notch in the bit, locking it into place. The Stanley locked the bits in very tightly and allowed only slight rotational play to occur and only a slight amount of side to side "wobble" (or runout in CNC speak) despite it's age.  When a bit is chucked into the Garrett Wade there is about 45° of rotational play between the chuck and the bit and there is considerably more "wobble." It didn't seem to effect the functionality in the least and it's possible that the 45° is present to add some "snap" when the rotation of the tool changes direction to reduce binding. I would appreciate less wobble but it's not enough to make me question the quality of the tool.
Overall, I do like the Garrett Wade Yankee Drill. It is a high quality, well made product. My only gripes are the bit wobble and the price. At nearly $70 at GarrettWade.com, I'm not going to encourage everyone to go out and buy this one. However, a Yankee drill is a great tool that I think every maker should have in their toolbox. A quick search of online auction sites brought up several good (original) examples for less than half of the cost of this unit. Also, since Yankee drills have been in production for so long, chances are you have a relative or friend that might be willing to part ways with one that's collecting dust in their toolbox.
Having said that, I fully expect this drill to hold up as well as dad's Stanley and one day, I hope to teach my kids how to use it like my dad taught me.
Niamh O'Connor at Urban Threads has an interesting angle on the recent phenomenon of skill badges. Rather than selling the badges, they're selling (licensing?) the designs, enabling anyone with access to an embroidery machine to embroider their own badge or garment. She's especially interested in targeting hackerspaces and is prepared to offer free designs to these groups. (Apparently the above designs are not necessarily included in their offer…)
Any space that gets an embroidery machine can get in contact with us at support@urbanthreads.com and we'll offer some free designs of their choice to get their collection started! In general, we're just looking at supporting the community in any way we can, I think hackerspaces are a totally rad idea and we think we can offer designs that would appeal to the hacker demographic.

These spaces you guys are creating seem like a perfect place to kickstart the more specialized areas of crafting… sergers, quilting machines, knitting machines, all kinds of stuff that normal folk sometimes don't have the money to get their hands on, not just areas for knitting and the like, but really a place they can grab tools they can't usually access. We ourselves have worked with two local designers who said they would love to use machine embroidery on their designs if only they could get access to a machine. We love what we do, but we understand that the cost of machines can sometimes be prohibitive for some people to try it out.
So, if your group has one of these machines and would like to play around with Urban Threads' designs, be sure to drop Niamh a line.
Want to see some real Real Steel? This weekend, robots and robot builders from around the world are converging at the San Mateo Fairgrounds to meet and compete in the RoboGames. If you're serious about robots, you already know this and you made arrangements to attend long ago, but if you just want to experience this phenomenal event, connect, learn, and get inspired, it's open to the public. In observance of the RoboGames, there will also be a mini-screening of the Robot Film Festival this Friday evening in San Francisco, at the Autofuss/Bot & Dolly/BeatBots studios in Potrero Hill.
RoboGames 2012 poster by Chris Kawagiwa, photo by Dave Schumaker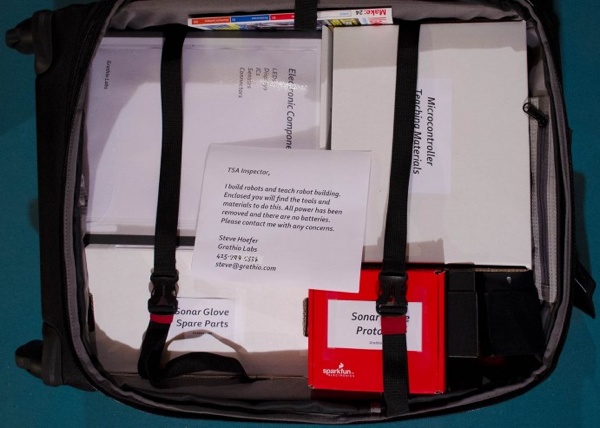 Steve Hoefer, who has contributed several articles to MAKE, including the Secret Knock Gumball Machine and the Tacit Ultrasonic Bat Glove, has a good post on his blog about how to bring your electronics projects on flights without running into hassles with the TSA.
Communicate, don't try to hide. This is what a TSA inspector sees when they open my luggage:

Clearly labeled and organized things, a concise letter to the TSA inspector, contact information (business cards inside of each box too). And a copy of Make magazine for good measure. The outside of my luggage is covered with high visibility retroreflective tape. It's not trying to blend in.

Front and center is a clear, concise note for the TSA agent explaining what they're going to find within. It doesn't have to be complete, and shorter is better. But it shows you care about the same things that security agents care about. You'll also notice that all of my crazy crap prototypes and tools are right on top where they're easy for an curious inspector to look at. They're labeled with what they are. I have my contact information prominent and in each box, just in case something gets mislaid.
How To: Fly With Homemade Electronics
When we were brainstorming content for concrete month, our thoughts went immediately to Ray Alderman, aka Whamodyne, whose method for using a burned-out light bulb as a sacrificial mold for concrete is one of the most popular Instructables of all time.  We contacted Ray, who's a mensch if ever there were one, and asked if he wanted to write something for us to go with the theme.   He agreed, and just now published this most excellent tutorial over on Make: Projects. Snip:
I've been wanting to try out some new ideas for simpler projects that can be done over a weekend, kind of a rainy day thing for parents with kids or just some friends hanging out together. This project uses anchoring cement as the concrete element. This cement is great for smaller projects like this, as it cures quickly (overnight to be safe) and can be mixed with water to the point where it is pourable.  For most small scale concrete work the water to dry mix ratio is extremely important and having too much or too little can mess up everything. For my concrete lightbulbs I measure it out to the gram and even then there is variations per batch. Anchoring cement is far more for giving and allows you to use kitchen measuring cups and spoons and semi-close is good enough. Having pourable cement means that it will fill your mold completely.
Ray's work, as always, is very carefully planned and executed, and photographed and documented brilliantly.   This would be a great quick gift project, and his (literally) cookie-cutter method is easy to customize with whatever shape you want. [Thanks, Ray!]
Make: Projects — Concrete Tea Light Holder
In the Maker Shed:


The Best of Instructables Volume I
The Instructables staff, the editors of MAKE, and the Instructables community itself put together this collection of the best food, home and garden, technology, science, and crafts how-to's from the site. The Best of Instructables includes full-color photographs, complete step-by-step instructions, and tips, tricks, and build techniques you won't find anywhere else. Over 300 pages!
So awesome! Every hackerspace should do this.
For 24 hours this June, it's an all-out hacker brawl to see who can build the coolest thing from a big pile of junk. Think of it as the home version of Junk Yard Wars. There are no rules, buy a ticket for your team, show up with your friends, and compete over tools and junk for 24 hours to build something incredible.

Announcing the first annual LVL1 Boneyard Hackathon. This will be a 24 hour, adrenaline-and-caffeine fueled race to create something awesome. Form a team, and you'll be given an Arduino and a breadboard. You'll have to do the rest using your brain, and all the resources of LVL1, including tools, boneyard parts, and hookup wire.

What is the Boneyard? The Boneyard is LVL1's Island of Misfit electronics. A place where the broken and downtrodden collects, and awaits a reawakening. Each and every one of you will be having a hand in the zombificiation of some electronic device. Everything from oil-filled capacitors, to surplus mil-spec electronics lies in the Boneyard, waiting for your tender soldering iron.
University of Cambridge students researching synthetic bone tissue use LEGO MINDSTORMS to automate the generation of new tissue samples. Repeatedly dipping a sample into various solutions builds up the compound to be tested, which is something perfectly suited to for automation. To promote its international Science Fair competition, Google created a short video highlighting the project. [via PSFK]
We've seen iPhone binder clip tripod mounts before, but this new version by Imgur user playstationfire is novel in that rather than clamping the phone, it uses the wire handles of two opposing clips to cradle the device. [via Lifehacker]
NASA wants your help! They're hosting the International Space Apps Challenge this weekend at locations across the globe. The international space apps competition is part of NASA's Open Government Initiative. They're encouraging participants to contribute to projects in four major areas:
1. Software
2. Open Hardware
3. Citizen Science
4. Data Visualization
So far, there are over 60 challenges listed on the website, and over 25 participating locations. Looks to be a lot of fun!