---
What happens when you mix art with robotics and make it open source? That's the question that haunts Carter Stokum and Wayne Campbell, two artists with technical backgrounds who want to find the answer. Both passionate about the idea, they're currently running a Kickstarter campaign to create a community to explore the question.
These two met as student and teacher when Carter was Wayne's instructor for several classes at TechShop. As time went by, they became friends, and as tends to happen between friends, they discovered common interests. It turns out that robotics, which Carter knows well, when applied to construction, which Wayne knows well, made for interesting conversation.
A train of thought that started with robots doing automated 3D scans of buildings under construction would meander into robots painting parking lot lines. Many of the tasks they discussed had been done by robots in Japan for over a decade but had never found their way to the US. While they felt challenged to perhaps address this gap, before they could take action, they had an epiphany. If robots could mark up construction sites, then robots could certainly paint using the world as its canvas.
That insight set them free. What if a robot could draw giant portraits in public places? How cool would it be if a robot kept a giant calendar so Google Satellite images could be dated? What fun would come from the ability to paint giant mazes? But then it dawned on them that these were all too predictable, too rigid. There wasn't enough artistic expression in the making of exact copies.
What they'd been thinking about so far was creating vector art, the kind of graphic defined by math which can scale perfectly to any size. It didn't include variability, randomness, and bit-mapped elements which could be means of artistic expression. They wanted to expand the definition of what their art robot might do.
What if an artist mixed vector and raster graphics and incorporated randomness based on tweets received from a community of followers? How cool would it be to have a robot incorporate environmental factors such as light, heat, and humidity into its output? What if a robot's movement could have randomness injected into its path, allowing its tread to periodically overwrite the art?
To their artistic way of thinking, this was getting pretty exciting. If the code they wrote was open, then anyone could make modifications. There could be thousands of different ways of injecting artistic expression into the robot's art and most of them might never occur to Wayne and Carter. The prospect of what might come of open software got them thinking about open hardware.
Spray paint and chalk are the media they'd been thinking about. Then someone asked Carter about painting on ice. Another wanted to apply frosting. Yet another was interested in using felt-tip markers as their medium. Each of these would require hardware modifications to be done well. Opening up the hardware design would add many new dimensions and not just to applying the media. This was really getting interesting!
So now the definition of their ambitions took shape: using robots for creative expression with the world as a canvas was the goal. How could they achieve it? Open software and hardware would be the keys to having a community expose the possibilities but such communities don't spontaneously appear. If they were going to explore the potential of this idea then they were going to have to build and foster a community. To fund the development of the website they chose Kickstarter.
These two are passionate to fill a gap between technology and art using robots to paint the world. Will they get the funds necessary to build and stock the site? Will their site succeed at enlisting a corp of people with a similar ambition? They hope so. However, even if it doesn't, theirs is not a passion that's ebbing anytime soon. Carter and Wayne are into this for the long haul and I suspect we'll soon be seeing expressive evidence of their success.
Teams have gathered from all over the globe this weekend in San Mateo, CA to compete in 50+ categories at the 9th annual RoboGames . Various theaters of combat are arrayed across Fiesta Hall at the San Mateo Convention Center (also the site of Maker Faire Bay Area), featuring a whole range of environments, like MechWars (armed humanoid robots shooting it out amidst a few highrises in some spare cityscape), Robot Soccer, and Sumo (a pushing match in a ring).

There's also a nice array of ArtBots on display (try playing the computer-controlled foosball table game).
Of course, the center of attention is the Lexan-encased combat arena, a rugged see-through cage surrounded on three sides by packed bleachers, where the various weight classes of combat robots take each other on. Backstage, an unassuming looking announcer sits ringside, expertly chronicling every interaction. Next to him stands the black and white shirted ref (and RoboGames co-producer Simone Davalos), who manages both start and stop times, the logging of the match results, and overseeing the orange-clad safety crew. Three judges are crammed in there too, notepads in hand, evaluating machines for performance, ready to call a winner if the machines failed to complete a knock-out within the allotted three minutes.
And yes, the wedge is a dominant design, but at least 2/3rds of the combots have some very entertaining weapon design, blades generating sparks, wild noise, or other good machine drama.
The event itself is a great experience. Interesting to see the spectrum of the community, with its clearly welcoming entry-level categories (great for kids) through hardcore experts, with everyone—including Robogames rockstar, the Sewer Snake team—really accessible to the audience.
If you're in the Bay Area, RoboGames continues today through 7pm at the San Mateo County Events Center.
This week in the MAKE Flickr pool we saw…
lego production from rubygirl jewelry.
---
String Boat 1 from fsm vpggru.
---
Kevin's Noise Box from Pete Prodoehl.
---
Tridimensional Chess Set (3D Star Trek Chess) (2) from gmjhowe.
---
Bubble Display Wiring from Mr. Bell.
---
Transistor Nixie Tube Clock – Completed from KLaFaille.
---
Wooden Knuckles from Pete Prodoehl.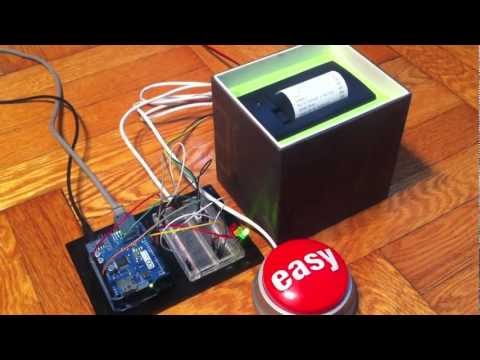 If you've ever been to Times Square in New York City, you're probably familiar with the tkts booth, which offers discounted Broadway tickets for same-day shows. Using an Arduino with an Ethernet Shield, a Staples Easy Button, and a thermal printer, Chris D'Angelo created a device that prints the current discount for each show. Since tkts doesn't have a public API, Chris used their iPhone app and a man-in-the-middle proxy called mitmproxy to determine the URL that the app requests to get the latest data. The Arduino requests that URL and parses the response, which is then formatted for output on the serial thermal printer. Nice thinking! I'm definitely adding mitmproxy to my toolset. [via Adafruit]

Open MAKE was great fun as always, and bittersweet– bitter because it's the last one this year, and sweet because, as Tinkering Studio director Karen Wilkinson pointed out, the Pier 15 location where the Exploratorium is moving to next year will have five times the space for tinkering and making — and it will be happening there all the time, not just on occasion.
Presiding over the event in front was Lidia the Seal, a massive, 8′ tall sculpture by Angela Pozzi that's made almost entirely of trash (mostly plastic) that washed onto beaches. And drawing crowds in the back was Caine's Arcade, a great mini amusement arcade made out of scrap cardboard by 9-year-old Caine Monroy who is the subject of a beautiful new short film by Nirvan Mullick. Swap-O-Rama-Rama tables were piled high with buried clothing treasures, and sewing machines were at hand for on-the-spot remaking (20 minute limit, please). At 3:30, a "Trashion Show" spotlighted local clothing designers' remade couture. Here are some other highlights:
Shuai Chen of SCRAP (Scrounger's Center for Reusable Art Parts) helped people make hand puppets out of fabric discards and other trash. Since 1976, SCRAP has been diverting discards from local businesses to schoolteachers for use as art supplies, and they currently give away or sell at deep discount (typically 1/3 of retail) 115 tons of supplies per year. Located in the Bayview district of San Francisco, SCRAP is open to the the public at monthly giveaways. The most in-demand goods they handle are office supplies such as reams of blank paper, markers, and foamcore posterboard. They also have lots of picture frames, and blank greeting cards for 20c. One thing they've had less success finding takers for lately are back issues of National Geographic and Smithsonian, which are the only two magazines they stock.
Another exhibitor that helps teachers was RAFT, which featured their classroom-friendly kit for making a Benham's Disk top from an old CD, a plastic bottle cap, and a marble. RAFT volunteers assemble the kits and make them available at cost or subsidized to science teachers, many of whom have no budgets for classroom materials and pay for them out of their own pockets.
Also on the ultra-cheap teaching hacks tip, Joel Rosenberg was there with a paper-and-brad schematic version of the Cracker Box Amp project from MAKE Volume 09. It was along the same lines as the page-size circuits he showed me at the last Open MAKE, but an impressive step up in what it could do. We discussed how it could be made both more instructive and cheaper still by substituting a length of thin nichrome wire and a regular wire sweep for the potentiometer. So cool. To demonstrate the amp, he plugged in his iPod and played the Clash's London Calling, and it was a triumph of punk.
Sudhu Tewari showed a bunch of musical instruments and noisemakers made from trash. Many used contact microphones, which reveal a hidden world of sound when attached to many ordinary objects. The contact mics are just mini piezoelectric speakers used in reverse, to convert sound vibrations into electric signal instead of turning signal into sound. You can cut the speakers out of musical greeting cards, but larger ones from Jameco have a wider frequency response. To avoid ground hum, Sudhu uses coaxial cable and splits the ground wire mesh into two wires that he solders symmetrically on each side of the piezo element. He demo'd contact-mic instruments made from a colander and springs, mason twine and a board, and a grooved piece of wood that he found on the street; a friend told him it was a featherboard for use with a table saw. Sudhu played the featherboard's thin tines can be played with a bow, and also used its contact mic to amplify the sci-fi sound of a struck, dangling Slinky.
Team Viper showed their amazing flight simulator, which is built into the cockpit section of a real salvage Piper 128 airplane. They sourced the plane section at Faeth Aircraft Parts in Sacramento, which they described as an amazing and enormous place, where you can browse through rows and rows of decommissioned airplanes and buy whatever pieces you want. Don't look for it online; you have to phone and make an appointment.
Nicole Catrett and others from the Exploratorium's Tinkering Studio helped people make "Haute Mobiles" — small wire mobiles that dangle over your head, anchored at the bottom by a wire headband. Expect this great idea to spread. Gever Tulley set up an Arduino-controlled system that took fascinating stroboscopic photos of rotating bits of trash hanging from a string. Andrea Nemerson showed how to do great-looking "graphics transplants" on old t-shirts, by cutting them up and collaging them with Seam-A-Seam2, a double-stick fusable web that you iron on.
At the "Meet the Makers" program in the theater, it became clear that trash artists have great senses of humor. I've never seen group presentations by marble sculptors or painters in oils, but I can't imagine nearly as many laughs as the audience enjoyed with this lineup. MAKE founder and publisher Dale Dougherty moderated the panel and observed that makers are resourceful and often just plain cheap, and like squirrels, they collect things for later. He welcomed Caine Monroy and Nirvan Mullick, who told the audience that they would be screening Nirvan's film Caine's Arcade later, at 3pm.
Nemo Gould explained that he was an artist-in-residence at the Recology, aka the San Francisco dump, which he called "the happiest place on Earth." (Recology's 4-month artist residencies are much sought-after by trash artists). Gould showed photos and videos of his beautiful all-trash sculptures and also his well-organized workshop, explaining that there's no use collecting lots of stuff if you can't find it when you need it. Cathy McEver explained that she calls her blog "Stuff You Can't Have" because people are always asking her where she got the things that she makes, and then whether they can buy them– and the answer is No. (But they can make their own.) One series that Cathy showed photos of was "Wonder," in which she made pieces from Wonder bread and the bags it comes in. Wonder bread lasts a long time indoors, and the four slices that she has embroidered (two of which are in other people's art collections) still look good.
Sudhu Tewari also did the artist residency at Recology and loved it. He's currently working on a PhD in Cultural Musicology and has noticed that when people are presented with traditional musical instruments that they can't play, they're intimidated; these instruments convey a lot of cultural context and have a lot of rules. But when you give them a new instrument, they just go ahead and play and jam together. So Sudhu is working with others on a "Sound Garden," a kind of sonic playground with one-of-a-kind instruments that people can experiment with together.
Jeremy Mayer assembles amazing sculptures entirely out of typewriter parts, which are plentiful. He explained that he uses no solder, glue, or welding to join the parts; its all just the parts themselves. It takes him about 1000 hours to construct a life-size human figure, and he tries to model his constructions after real human anatomy, including the bones, musculature and ligaments. Finally, Paul Spooner showed videos of his charming and hilarious automata, which are like mechanical sight gags.
More Recent Articles