---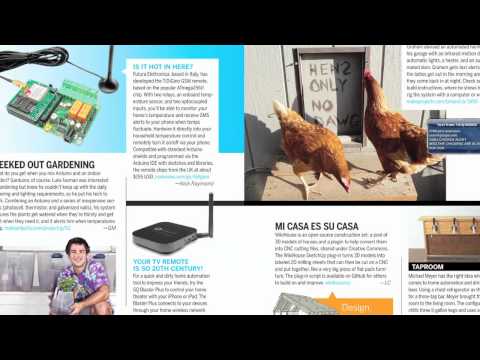 The members of the Fun Bike Unicorn Club are bringing Death Defying Figure 8 Pedal Car Races to Maker Faire Bay Area 2012. Inspired by old-school pedal carts, the club started building and of course the desire to race followed. In the spirit of healthy, and perhaps reckless, competetion, The Unicorns will be shredding around the track racing not only eachother, but anyone else who has brought a car to race. The rules are simple, don't spend too much money, build it yourself, and brakes are mandatory! Learn more about the races, FBUC, and how to enter here.
Subscribe to the Meet The Makers Podcast in iTunes, download the .m4v directly, or watch it on YouTube.
Check out more episodes of Meet The Makers.

With 23 days left in our countdown to Maker Faire Bay Area, taking place on May 19 and 20 in San Mateo, the heat is on! This year we have over 600 maker entries, and as we hustle to produce what will undoubtedly be the Greatest Show and Tell on Earth, makers are burning the midnight oil to get their projects in top shape to share with thousands of fellow makers and enthusiasts.
One crew of bright young makers who've embarked on a monumental project of epic proportion go by the name Team Viper, five high school students who are all Maker Faire veterans. Team Viper is comprised of John Boyer (16), Alex Jacobson (16), Joseph DeRose (13), Sam Frank (16), Sam DeRose (17) (pictured above, left to right), and with help from their dedicated mentors, they're bringing a project that's sure to blow your mind. The Viper is a full-motion flight simulator built into the fuselage of a Piper PA-28 plane, complete with 360-degree rotation on both the pitch and roll axes, as well as a fully immersive flying environment inside. We caught up with these busy gentlemen to get a preview of The Viper.
1. Describe what role each of you play, as well as how you each developed the skills you bring to the team.
Alex Jacobson: Each of us has a sort of general role which we are well-suited for because it's in a particular field we're interested in. Sam F. and I are doing working on the software and electronics because that's what we enjoy and have done in the past. Joe has been working on filming and documenting the entire project, and creating any visual or audio effects that go in the plane. John and Sam D. are working on the hardware side, like getting The Viper to roll, because those are the sorts of skills that Sam D. and John have. However, even though we have particular fields that we enjoy most, that doesn't mean it's the only thing we did on the project. We made Sam D. do some coding and made John work on the electronics because they weren't doing anything at the time, and we're all just trying to pitch in together. The skills that back each one of us are mostly self-taught or taught to us by our parents. Coding was something that Sam F. and I taught ourselves, but when we starting having to apply it to this project, Tony [DeRose] had to teach us and show us some of the more advanced concepts. We all help each other out and learn from each other to get this project done, because if we tried to just separate the entire thing and assign each person certain jobs and not collaborate we would never get this done.
Sam DeRose: I've helped with a lot of the design and physical construction of The Viper. I've also been responsible for a lot of the electrical and electronic aspects. I've liked making things for as long as I can remember. I've been developing skills for many years. The first year I exhibited a project at the Faire was when I was in 8th grade, though I had been been building things from a much earlier age.
Sam Frank: Each of us are assigned to different roles, but many of us have been known to delve into subjects we were not originally skilled in. The Viper is not only a fun project, but it has also been an incredible learning experience for each of us. Personally, I'm skilled in software development, so I was originally assigned some of that along with Alex. We've also been working a lot on electronics and Arduino interfacing and programming, something that I had very little knowledge about prior to the project, but have since become quite proficient in. I've taught myself most of what I know now in terms of programming, but have absorbed a great deal of information from my peers and mentors on the project.
Joseph DeRose: I am the media director and I create the promotional and weekly update videos. I also make the audio clips and visual elements that play in the cockpit.
2. How did the team come together, and what's the most important thing you've learned about collaborating on a major project like this?
AJ: Our team sort of grew together out of two teams: one from two years ago and one from last year. I worked with Sam D. and Tony on Saphira two years ago, and by that time it was their third Maker Faire project. Last year I worked with Sam F. and John, who, like me, go to Bay School in The Presidio, on Fire Jam, again for Maker Faire. This year we brought the two teams together to create an even more ambitious project: The Viper.
SF: The Young Maker Program is what brought us together on this project. Prior to The Viper, Alex, John, and I all worked on something called Fire Jam, which was a Rock Band controlled fire-shooting candelabra. The previous year, Alex worked with Sam D. on Saphira, an animatronic fire-breathing dragon. By far the most important thing I have personally learned from the project has been the importance of teamwork and collaborative thinking. Much of what has been accomplished would not have been possible without every team member's input.
3. How did the idea for the project originate? What was your prototyping and R&D process?
SD: Four years ago, on a family trip to Washington D.C., we rode on a flight simulator at the Smithsonian Air and Space Museum. That simulator could roll 360 degrees and had limited but agile performance on the pitch axis. That flying experience excited us so much that we spent the rest of the trip dreaming up designs for our own simulator that we thought would provide an even better experience by having 360-degree rotation on the pitch axis as well. Fast forward to this past summer when we were watching the Battlestar Galactica series on DVD. The series re-inspired us to begin thinking again about a flight simulator, this time themed after the Viper Mark VII from the series. We've put a lot of time and energy into building Lego prototypes and main CAD models. We've also generated dozens of pages of design sketches based on concept art from the TV show.
4. Where did you source the Piper PA-28 fuselage? Give us the details of the main hardware components involved in The Viper.
AJ: We found an airplane graveyard in Sacramento and took a few trips there, and eventually found a plane that fit the size requirements that we determined. We then went up there one last time with a pickup truck and drove it back home to San Rafael. The other important parts are things like the computer that I built, the monitors that were donated to us, the entire frame that carries the plane, and the motors that rotate the entire thing in two directions. Other, more aesthetic things include our dashboard inside the plane, which has tons of buttons and lights that you interact with, and two arm rests that hold the joystick and thruster to control the plane.
SD: We built outward from the interior staring with the installation of the cockpit embellishments, including a Recaro racing seat and six-point harness. Next we had the motion platform fabricated with steel tubing. Driving the movement of the platform are two 1HP motors. One of the main challenges was getting power and data into the cabin. Since the simulator can rotate continuosly on two axes, you can't just run cables from the ground into the cabin. To tackle this, we used components called slip rings that allow for electrical signals to be transmitted through rotating joints. For control, we're are using five Arduinos, two PCs, two iPhones, and one iPad that are networked together.
5. Tell us about the fully immersive environment you're creating for the interior.
AJ: Inside the cockpit we have three screens in front of you, which displays the game called Flight Gear that you play as you ride in The Viper. We have a racing seat with a 6-point harness to keep you strapped in tight so you stay safe when you go all the way upside down. There is also the dashboard, which has two iPhones and an iPad displaying virtual sensors and things like that, lights, and also LEDs so that you feel like you're in a real Piper airplane. Once you get in, we have a door that we put on so that the only thing you can see is the monitors, and the rest of the outside world is completely blacked out.
SD: In the cockpit we not only have a realistic arrangement of three 22″ high-def computer monitors displaying the virtual world in which the pilot flies around in, but we also outfitted the cabin with a joystick, thruster, and custom intsrument panel complete with three displays, and dozens of buttons and LEDs. We've also put a lot of energy into theming all other visible surfaces in order to create a convincing experience for the pilot. Speakers in the cabin will play game sounds that we're recording from the TV show. The helmet the pilot wears is equipped with a com link to the operator on the ground. The only senses we don't control are taste and smell — that's for Maker Faire 2013.
SF: We've been loosely basing the interior off of the many Viper models from BSG, but also incorporating a bunch of other science fiction and actual airplane elements. The cockpit includes a total of five displays, three of which are high-resolution monitors to provide a very immersive experience. We want the pilot to feel like they're really in a Viper, and by providing an environment which is not only believable but a pleasure to use, we can definitely achieve the level of immersion we're looking for.
6. You've gotten an amazing amount of publicity and support around this project. Describe how crowd funding has been a game changer for this year's build.
SD: In previous years the project costs have been mostly manageable. From the beginning of this project we knew we'd need external support. Originally we were planning to rely on corporate donations, but as we got deeper into the project, Kickstarter seemed like a better alternative. As soon as we put up the Kickstarter page the thing took off. We ended up raising over $11,000 in a month.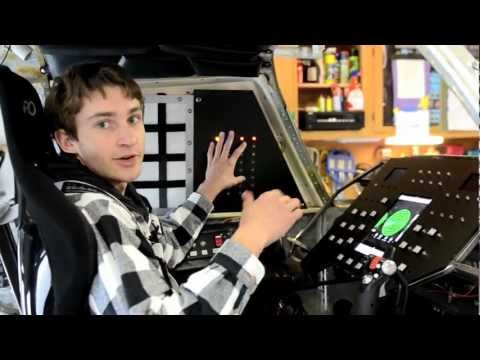 7. Your Maker Faire projects get more elaborate every year. How has the experience of sharing your builds with thousands of like-minded makers fueled what you create?
SD: The driving force for me isn't to show off at Maker Faire. I build things because I love it. However, knowing the project will be exhibited at the Faire influences certain decisions like safety concerns, theatricality, etc.
JD: Maker Faire provides a deadline and incentive to build something great before time runs out. Without Maker Faire we wouldn't have a goal, and our projects would most likely be left unfinished, rusting in a pile in the garage.
8. Your project is a great example of dreaming big. What advice do you have for other young makers who are inspired by your build?
SD: When I first starting building things it didn't take long to realize the complexity of the projects I could make. The simpler things worked out, and the more complicated things didn't. However, years of these kinds of activities have pushed the bar higher. Even now, with 10 people working vigorously (half of them adults), 8 months doesn't seem like enough time to accomplish everything we envision. That being said, if you think you'd like to be doing projects like this, start small and don't be hard on yourself when you fail. That's when all the learning takes place.
JD: Don't jump into something you haven't thought a lot about. Start with small projects, working your way up to bigger projects.
Thanks for the inspiration, Team Viper! If this is what they're building now, imagine what they'll be making five years from now.
To check out The Viper in action and join us at the Faire, head over to the Maker Faire website for all the information you need, including how to pick up early bird tickets. See you there!
Earlier this month, the first Maker Faire in China took place in Shenzhen, a special economic zone noted for its electronics production facilities and factories. Over 60 local and foreign makers traveled to Shenzhen, including Mitch Altman from San Francisco, Gen Ito from Japan, makers from Beijing, as well as participants from Shenzhen's own hackerspace Chaihuo. Projects included robots, egg-bots, 3D POV displays, and even toys upcycled from piano parts, alongside tables teaching about modeling clay and the always popular learn to solder workshop. Thanks to Eric Pan from Seeed Technology for helping organize the event, and Ian from Dangerous Prototypes for the pictures. Many more pictures, and interviews with makers can be found here.
More pictures after the jump!
Images courtesy of Dangerous Prototypes – see more at their Maker Faire Shenzhen China roundup
Here's the 14th episode of MAKE's podcast, Make: Talk!
Our maker this week is Mike Riley. He's the author of a new book called Programming Your Home: Automate with Arduino, Android, and Your Computer.
In the show, I also talk a bit about the new issue of MAKE, Vol 30, which is available on newsstands now and by subscription. We've got a great line up of projects in this issue, including how-to's on making indestructable LED Torches, an electronic Magic 8 Box Fortune Teller, all sorts of home automation projects, and our cover story — a very easy to make and fun to fly remote control stunt flyer.

Rachel@CRAFT writes:
Reddit user BillyAppletini posted about this amazing CAT-AT (an AT-AT Walker cat house) that he made for a friend. His comment thread has a lot of fun information about the building process, and his image gallery contains pictures of the project in-progress. I – I mean my cat – desperately needs one of these … I love the interior details like "trophy" bird heads mounted on the wall, a lighted bar with tiny liquor bottles, and a wee disco ball.
Billy's is but the latest in a series of excellent AT-AT projects we've featured in this space. Check out more, below! [Thanks, Rachel!]
The Making of the Epic CAT-AT – An AT-AT Walker Cat Condo
More: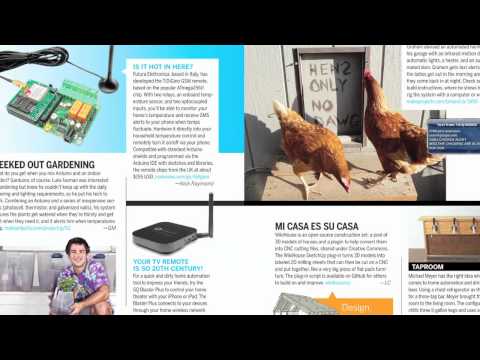 MAKE Volume 30 is on newsstands now, and we've put together a preview video highlighting some of its impressive content. Watch us crash the flying wing featured on the cover, drool over the delicious Yakatori grill, and take a peek at some home automation projects (the theme of this issue).
If you want to get your hands on Volume 30 and the three issues after that, you can subscribe here, or order a copy of this single issue in the Maker Shed.
Subscribe to the MAKE Magazine Extras Podcast in iTunes, download the .m4v directly, or watch this video on YouTube.

In my previous article Jan Malasek from Pololu had some really interesting statements on intellectual property, so in addition to wanting to know more, I thought I'd see if Jan was up for an interview with MAKE about Pololu. I've been covering a lot of open-source hardware companies, almost exclusively, so I wanted to make sure I had some in the "maker space" that have not been covered in the recent open-source hardware articles (I don't think open-source is for everyone, and see the value in a lot of diverse business models). Special thanks to Jan for sharing a bit about the company and more!
---
Hi Jan! Thanks for answering these questions! Where are you right now?
I'm in my office in Las Vegas.
How did Pololu get started?
We got started in 2000 as college students making an IR beacon system for MIT's 6.270 autonomous robot contest. (There's more info about it here) I was involved with organizing the contest for a few years, and the beacons they were using the first year I was there were very limited and cost a lot, so I convinced the other organizers to get the beacons from me if I could come up with something better.
What are the products you're most proud of?
At this point, I'm still shooting for "not embarrassing". Some of the products that fit that designation are our 3pi robot, Maestro servo controllers, and Wixel wireless modules. Those products have some decent engineering to them, we've sold thousands of them, and customers seem to like them.
What are your more popular products?
Besides the ones I just mentioned, some of the simple sensor and motor driver carriers are quite popular. It's kind of frustrating when a really simple carrier sells more than a design we spend months on.
How many people do you have?
Around 45.
Why did you move to Nevada?
I think a lot of Nevada is quite different from Las Vegas, though I've only driven through Reno once. Las Vegas was appealing because it doesn't get very cold, natural disasters are not very likely, and the business climate seemed relatively good (coming from Massachusetts). I like the idea of prostitution and gambling being legal in Nevada, even if I don't engage in it (my gamble was coming to Las Vegas in the first place).
Is it true the taxes are less? Was that a reason?
I think so, and it definitely contributed to the decision. Unfortunately, having no income tax didn't help that much when we weren't making money, and the sales tax is pretty high (and keeps rising), which sucks when we're buying equipment.
Is there a lot of space for a maker company to have machines like manufacturing equipment, etc.?
If you're asking about commercial real estate space, there's quite a bit available, though it can be difficult to find a space with the right mix of warehouse and office space for a company like ours. I am quite happy with the space we just moved to, where we have almost 40,000 square feet, of which about 12,000 is warehouse.
How is the maker scene out there? Are there hackerspaces and events in Nevada?
We helped start the Las Vegas robot club, LVBots, around 2004. Participation in that was decent and growing until around 2008; it dropped off quite a bit as Las Vegas got hit by the recession. Some of the LVBots members are involved in a Las Vegas hacker space (SYN Shop) that's been slowly getting off the ground, but I have not been involved with it, so I do not really know what they are up to.
What products of yours are open-source hardware?
None.
You're in the maker world, but you do not release any of your products as open-source hardware, why?
There are many reasons, but they mostly boil down to not thinking it's worth it from a business perspective. I am somewhat skeptical of companies pushing OSHW, so I think it would be disingenuous to use what I think is a gimmick to market a product. For instance, the 3pi robot I mentioned earlier has several custom mechanical parts, a patented circuit, and is done in Altium Designer, which costs over $5k per seat. I realize that some schools might have site licenses for Altium, but for the typical user, releasing the source documents would not mean much. We already provide schematics and explanations of how the thing works, the design is fairly well validated, and it's not a particularly useful starting point for an improved design (e.g. one with a better processor), so the main entities actually getting something out of our releasing the source would be those trying to make knock-offs, and I'm fine with not giving them a shortcut.
In my previous article about Arduino being counterfeited you said "I do not think intellectual property is a morally valid concept, and I am all about freedom" – that comment surprised me and was the reason I wanted to do this interview, what did you mean?
My father escaped from communist Czechoslovakia when he was eighteen; he instilled in me a love of freedom. I think a lot of the problems in the world come from people thinking it's okay to force others to do things, especially when that force is coming from a democratic society. Physical property must be protected since exclusivity is inherent in physical things (I no longer have something if you take it from me) and the rights to the result of your own work are fundamental to basic freedom. That is not the case with intellectual property: the primary purpose of that construct is to forcibly prevent people from doing things. If I invent a wheel, of course I would rather you give me something in exchange for me making you one, but it is not right for me to go beat you up or destroy your wheel if you make one yourself. Besides being immoral, intellectual property is also empirically bad for society; however, that should not really be relevant to the discussion, just as consideration of economic costs should be irrelevant when considering the morality of slavery.
Are there any products you plan to release as open-source hardware, if so which ones?
There's nothing specific in the works. The most likely candidates are supporting boards for something like a mechanical chassis. But since the hardware would support a proprietary product (the chassis) and be done in Altium, I don't think we would make a big deal of it.
You had mentioned you filed a patent or attempted to, what was it for?
US patent 7781920 is for the pushbutton power switch we use in several of our products. To those that might think it's hypocritical to think patents are bad and then to get one, I think it's acceptable to play by the rules while saying the rules are bad. I doubt that getting a lot of patents will be part of our long-term strategy, and participating in the system might give more credibility to my criticisms of it.
You also "DRM" your bootloaders, why? Has it helped protect your intellectual property? Did it work, has anyone cracked it?
I think it's not quite right to call it DRM, in the sense that we do not talk about selling that secured firmware. We sell, for instance, a servo controller, and once you buy it, you have it. The servo controller has the capability of being updated, but we do not sell the updates or try to limit you to using a particular update on a particular servo controller. Anyway, we secure the bootloaders so that people cannot copy our designs too easily. We shoot for a level of security such that it would be easier to just rewrite the firmware from scratch than to try to crack the security. I don't know if anyone has cracked it. You seemed to think there was no room for secrets in my freedom principle. Secrets are fine in that you do not owe it to anyone to tell them things you do not want to, and you should not be forced to tell others something.
What new products are working on?
We just released the mechanical part of our new Zumo robot, which in some sense has been in development for almost 5 years. We will be working on electronics for that such as an Arduino shield and stand-alone controllers.
Where can people see some Pololu hardware in person?
Counting our electronics boards and mechanical parts like wheels and brackets, we've sold hundreds of thousands of units, so chances are that something we made is in a maker project near you. We're also happy to give tours and show people our products in person, so if you're interested and in Vegas, let us know.
---
Again, I'd like to thank Jan for answering these questions over email. Makers, post up any follow questions in the comments!
The GE Garages have rolled on to Houston's Rice University campus, offering hands-on experience with laser cutters, 3D printers, and more. There are also workshops ranging from soldering to working with Autodesk software, scheduled over the next week and a half.
GE Garages is a high-tech, hands-on lab celebrating inventors and entrepreneurs, and providing you the chance to get your hands dirty and discover modern manufacturing processes.

The space is loaded with laser cutters, 3D printers, injection molders, metal inert gas welders, computer numeric control mills, and other high-tech tools. Take a break from studying to custom laser cut your laptop, mold a case for your iPhone, or help weld bike racks for campus!
The garages are located in West Lot 3 at Rice University, and are open from 2pm to 8pm daily (note: hours of operation were recently changed) from now through May 3. Visitors can pop in for playtime, or sign up for one of the workshops. The schedule of workshops can be found on the GE Garages website and the GE Garage Rice University event Facebook page. There are also lots of giveaways and special prizes each day, so be sure to stop by.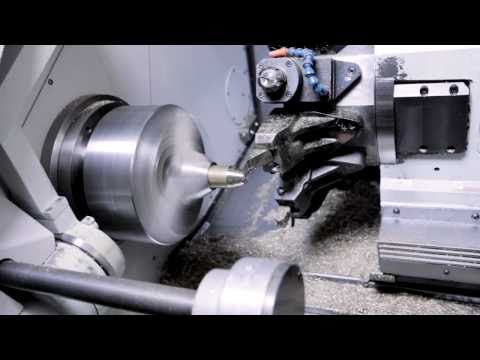 "Movement is Everything" shows the CNCing of a Boehm Stirling engine. Nicely done and totally turns the creation of these beautiful devices into an art unto itself. [via FrankieBit]
Photographer Gustavo Sanabria has a lovely photo series that provides a peek into Bangkok, Thailand's industrial Talat Noi neighborhood.
Via Google Translate:
Talat Noi is the name of a neighborhood south of Chinatown in Bangkok along the Chao Phraya River. Formerly was home to most of the blacksmiths, tool steel producers. After the Second World War blacksmiths had to adapt and become mechanical. Now a network of alleys full of shops and parts stores.
Talat Noi photo series (site is in Spanish)