A $20 Trillion Rock Could Turn a Startup Into Earth's Richest Company…
Meet Amun 3554. Doesn't look like much, right? Little more than a mile wide, it's one of the smallest M-class (metal-bearing) asteroids yet discovered. Unless it ever decides to smash into us – a theoretical possibility, but extremely unlikely over the next few centuries – it will continue orbiting the sun, unknown and unmolested.

That is, unless Planetary Resources has its way. Planetary Resources is the asteroid-mining company launched Tuesday in Seattle, with backing from Microsoft and Google billionaires, along with the equally prominent James Cameron and Ross Perot, Jr.

Its object is to completely dismember poor little rocks like Amun.

That's because Amun is a goldmine, well, not gold so much. But it does contain a cool $8 trillion worth of platinum, an essential precious metal used in everything from jewelry to fuel cells to computers (and one that's currently trading at the same rate as gold – $1500 an ounce.) On Earth, only a few hundred tonnes of the stuff are produced every year.
One of of crafty makers, Meg Allan Cole, got inspired to try her hand at a papercrafted automaton. Here are her results. -Gareth
An automaton is a self-moving machine made out of wood, metal, or paper. A paper version is the perfect invitation to a crafter or maker to get down and dirty and build an automaton of your very own! While on my paper art kick, I thought I'd try my hand at building one, and in today's video, I break it down and show you how to make an old school Nintendo Mario Brothers paper automaton.

Subscribe to the MAKE Podcast in iTunes, download the m4v directly, or watch it on YouTube.

This was my very first automaton and the process was a totally new concept for me. I needed a little guidance and found it in Dug North, an artist expert on all things automata. He sent me this incredibly helpful diagram of all of the names of the parts involved.

He also broke down the slightly confusing tenses of the actual word:
Plural: automata or (increasingly acceptable) automatons
Singular: automaton

I loved learning about this fascinating artform and look forward to hopefully even designing my own one day.

Emerson Bianchin uses scrap pieces such as keys, bearings, and plumbing fixtures to create his miniature motorcycles. In describing his work, Emerson notes that a piece often begins with a single component, upon which he builds a matrix, eventually bringing the motorcycle to completion.
[via Recyclart]
More: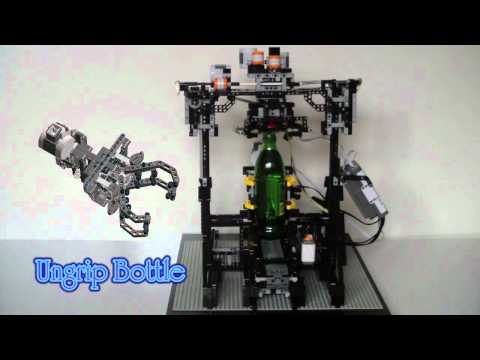 R.J. McNamara built this great Mindstorms bottle opener:
I decided to tackle building LEGO Mindstorms NXT Bottle Openers… The task turned out to be somewhat more difficult than I envisioned. The most difficult part by far was the Gripper Mechanisms, as they had to securely hold the Bottle and it's cap in a manner that allowed them to be unscrewed…

A single NXT Brick controls the 'Drink Bottle Opener' Mechanism. It us 5x NXT Motors, 2x RCX Type Touch, plus 1x NXT Touch Sensor to Stop and Start the Robot. To control the two extra NXT motor, I have used a Mindsensors MotorMux which requires an additional 9 Volt power Supply.
I love how the video shows off whatever sub-assembly is currently in operation. [via the NXT Step]
Found on Make: Projects!
Build a rocking chair with a dummy sitting in it which rocks under its own power using an automotive windshield wiper motor.
Author: Keith Corcoran
Easily and quickly prepare a Japanese bento box with Ton Katsu (pork cutlet) as the main dish, an appetizer of miso soup and a California roll.
Author: Justin
This is a paper version of the Yut-no-ri game kit. You can make your own board game or you can make this kit version as a gift for your friends.
Author: Michelle Min
Build the most unique clock on the market, featuring a retro Russian display tube and a clear plastic case so you can appreciate the inner workings of this fantastic gadget!
Author: Nick Brenn
Getting hands-on with your cellphone just got a heck of a lot easier. Folks at MIT's High-Low Tech group have assembled a very handsome DIY cellphone from about $150 in easily sourced parts. [via Adafruit]
Cellular connectivity is provided by the SM5100B GSM Module, available from SparkFun Electronics. The display is a color 1.8″, 160×128 pixel, TFT screen on a breakout board from Adafruit Industries. Flexures in the veneer allow pressing of the buttons beneath. Currently, the software supports voice calls, although SMS and other functionality could be added with the same hardware.