---
Over the past seven years that we've been putting on the Maker Faire, we've made countless new friends and have been endlessly amazed by the creativity of the maker community. The wonderful thing about the maker movement is that everyone is invited, and of course this includes robots, like our good friend Russell the Electric Giraffe. This year at our seventh annual Maker Faire Bay Area, taking place on May 19 and 20 in San Mateo, we have a new bot joining us, and his name is Hotshot Few Thousand. Hotshot is certainly not short on personality, and he took some time out of his busy schedule to chat with us.
1. You consider yourself to be the "world's only living robot." What does that mean to you? Is it lonely being the only one?
Well, think about it: you've got robots that vacuum your living room or robots that make you coffee, robots that wiggle back and forth if you poke them in the eye or whatever — that's no way to live a life. I'm trying to get out and interact with people and share some real experiences. All Asimo does is fall down stairs. And as for being lonely, just because I don't have any feelings doesn't mean I don't have any feelings.
2. Can you share some of your technical specs with us? What makes you tick and how were you conceived?
Well I utilize a variety of cutting-edge equipment including a hamster wheel, orange three-prong adapter, dual 67.5-volt batteries, and quad Z80 processors. And I was conceived immaculately.
3. What are some of your favorite features and skills?
I enjoy a good smoke. I am practiced in the art of palm reading and I would be a brown belt right now if my sensei wasn't such a stickler for what he calls "proper form."
4. You're 7 years old at this point, correct? How have you changed over the years?
I would like to quote Matthew McConaughey's character Wooderson from Dazed and Confused, who wisely stated, "The older you get, the more rules they are going to try and get you to follow. You just gotta keep on livin', man, L-I-V-I-N."
5. You love being in public making new friends. What are some of the notable places you've visited?
Well, I've been to some pretty awesome places and in some pretty absurd situations. The Burning Man festival — quite the get-together that was. I snuck into Hunter S. Thompson's funeral gathering — that was a doozy. One time I got on stage with The Flaming Lips in New Orleans — that didn't suck so much. American Idol was a waste of time — they had no appreciation in the slightest for my rendition of "Tainted Love" by Soft Cell. I attend Coachella Music Fest every year to keep up with the latest hipster garb and lingo. Most recently, I auditioned for America's Got Talent in San Francisco as a stand-up comedian in front of over 4,000 rabid Howard Stern fans — stay tuned for that one.
6. Folks aren't used to seeing free-roaming humanoids. What are some of the most memorable reactions you've gotten?
I've seen it all. People are pretty excitable. I've been threatened, assaulted, proposed to. I've been given stripteases and lap dances, and even asked to the prom. There's nothing you people won't say or do.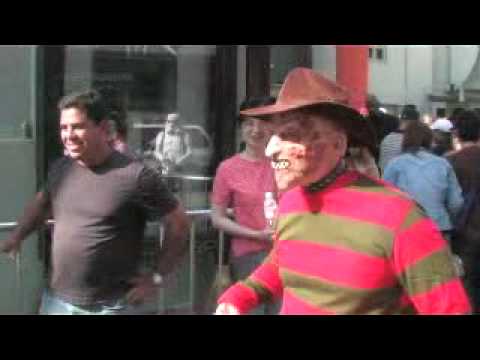 7. This is your first time coming to Maker Faire. How did you hear about the Faire, and what made you decide to participate as a maker?
I've always wanted to attend Maker Faire ever since I read about it in a Weekly Reader. The creativity of people is the by-product that fuels this blue ball called Earth. I can imagine Maker Faire Bay Area will be a heaping helping of people's by-product — wait, that doesn't sound right.
8. What are your hobbies?
I like to go to the zoo and stare at the people. I collect wrestling videos in beta format. I scrapbook, bungee jump, and my DVR is overflowing with shows about hoarding. I hoard hoarding shows.
9. What's your motto?
Being a robot takes more nuts than people realize.
10. Do you foresee a future where being a humanoid is not so unusual?
I hope not. I'd have to say I'm enjoying the attention. I'm not too worried, though, even the Jetsons only had one robot, and they where thousands of years in the future. Rosie the Maid — she vacuumed and made coffee, by the way, so I think I'm doing alright … L-I-V-I-N.
Thanks Hotshot! We know you're going to have an awesome time at the Faire.
For folks who want to join us, all the information you need to attend, including how to get discount tickets before May 10, is on the Maker Faire site. See you there!
Our latest Weekend Project will have you exploring the field of BEAM robotics, which… wait, did that Symet just move on its own accord? Yes, these
BEAM Solar Chariots
have a mind of their own! Well not really a mind, more like a nervous system that stores up solar power and then discharges it, producing movement. Inspired by nature, BEAM stands for Biology, Electronics, Aesthetics, and Mechanics, which both informs and inspires BEAM design and function. The Solar Roller and Symet both use the same circuit design, dubbed "solar engine," named so for deriving its energy from solar light. With various technoscrap parts — we salvaged ours from an old micro-cassette player – and common components (transistors, resistors, LED, and capacitors) hooked up to a solar cell, you can build one of these little critters!
The Solar Roller move forward with bursts of energy, while the Symet spins around on its DC motor's axle. Watch the video below to see both these vehicle being built and in action, then head over to the project page to start making your own BEAM critters!
Sign up below for the Weekend Projects Newsletter to receive the projects before anybody else does, get tips, see other makers' builds, and more.
Please enter all required fields

Correct invalid entries

More:
See all of the Weekend Projects posts
Dunno how many retro wargaming enthusiasts we have in our audience.  I know Gareth and I definitely qualify, and I'd bet dollars to donuts that many of you at least recognize the name Ogre.  If not, here's my best off-the-cuff haiku:
Bees can kill a bear
Simple rules, a subtle game
Our future is blood
And here's the Wikipedia entry if that was less than helpful to you.
The first original project I ever did for MAKE was a method for making wargaming counters out of Shrinky Dinks, using a set of Ogre gamepieces as an example.
In 1977, the original edition of Ogre was a young Steve Jackson's first commercial game offering.  I was two years old. Since that time, Ogre has been through five editions, and whispers of a sixth have been percolating among the Illuminati for years.
Now it's here.  Steve set out to fund the project on Kickstarter, seeking $20,000.  As of today, they're about to break $440K, with a week still to go.   They keep blasting through their stretch goals, and the game they're going to make keeps getting better and better as a result. [Thanks, MikeG!]
Ogre Designer's Edition by Steve Jackson Games — Kickstarter
Guilherme Pena Costa created a lighting system for a standard childs' swing that uses the motion of the swinger to power strips of LEDs.
A geared motor with an armature is attached to the swing's chain, and then run through a bridge rectifier before giving juice to the LEDs. The result is an array of lights that respond directly to the motion of the swing. Pumping hard, Guilherme is able to generate between 6-10 volts at 230-400 mA.
Ever wanted to talk with other people who create and maintain hacker and makerspaces? SpaceCamps exist as a forum for facilitators and founders of hacker and makerspaces to speak to each other on the meta level of the maker movement and associated responsibilities. SpaceCamp took place at Maker Faire San Mateo, Detroit, and New York in 2011. It's also taken place for the Seattle ecosystem and informally at Chaos Communication Camp in Germany. This first independent Camp will bring together people for a focused 1 1/2-day event. We will all learn from each others' victories and mistakes, design new patterns for our space processes, and walk away from the event with deeper ways to interact with each other.
The first dedicated SpaceCamp (not as a subsection during another event) will take place May 16th and 17th in the Bay Area.
19:00 to 22:00 of Wednesday, May 16th at Noisebridge: mingling and session planning
Thursday, May 17th at San Mateo Faire Grounds (where Maker Faire will take place that weekend): 10:00 to 21:00 with breaks for lunch and dinner. MAKE is generously hosting the space, though this is a Space Federation event. You are responsible for getting yourself there and creating a badge.
See atrium.schoolfactory.org/spacecamp for session planning and logistics. See #spacecamp on freenode for conversation and the usual lurking. And see http://spacecampwest.eventbrite.com/ to register!
The DIWire Bender is a rapid prototype machine that bends metal wire to produce 2D or 3D shapes. Wire unwinds from a spool, passes through a series of wheels that straighten it, and then feeds through the bending head, which moves around in 3 dimensions to create the desired bends and curves. Vector files (e.g., Adobe Illustrator files), text files of commands (e.g., feed 50 mm, bend 90° to right…) provide DIWire's instructions. It's essentially a 3D printer that describes lines, instead of volumes, in space, and it could be used for anything from prototypes to customized products.
[via Core77]
Sara Wylie at the Public Laboratory for Open Technology and Science (PLOTS) has developed an inexpensive, DIY "thermal flashlight" that you can build into an old VHS tape case. Paired with a camera, the device lets you create a color heatmap of interior surfaces. A school program in Harlem, New York is using the device to document apartments that require better insulation.
Here's how to make one. The thermal flashlight uses a $14 non-contact infrared thermometer that reads temperatures from short distances. It translates the readings into colored light that shines back onto the test surface from an RGB LED: blue for cold and red for hot. To make a heatmap, you take a long-exposure photograph in the dark as you sweep the flashlight over all of the surfaces you want to image. For best results, wear dark clothing, and of course stay out of the way of the camera's view of the RGB LED light.
From New Scientist, photo: Jeff Warren.
IM BLANKY, from a group of architects at the University of Toronto, is both blanket and input device.  Its surface is decorated with a network of interconnected sensors and microcontrollers that is both functional and beautiful.
Each sensor consists of a six-lobed "flower" with a conductive tassel in the center.  The tassel is loose, and its orientation with respect to gravity influences which of the petals it falls on.  This action closes a circuit, and the software can thus infer something about the slope of the blanket at each sensor, which gives some information about its overall shape.
Also, of course, about the shape of any object the blanket is draped over, which presents an interesting idea: Can we make useful 3D models this way?
As with most experimental devices, there are many caveats and open questions. First, though I may have missed something, it seems that simply knowing the orientations of each sensor with respect to gravity is not sufficient to infer the blanket's overall shape—you also have to know something about the displacement of each sensor with respect to some reference position.  The prototype has only 104 sensors over its 8′ x 4′  area, which is very low resolution for modeling purposes. I'd love to see some sample output, but it may be telling that none has been posted.
Nonetheless, some great-outside-the-box thinking, and an unusually beautiful prototype. [via Hack a Day]
IM BLANKY « RAD: Responsive Architecture at Daniels
I loved reading Tom Larkworthy's recent post on Edinburgh (Scotland) Hacklab's blog on his experiments with building an OSHW robot arm with a reach of 1m, positionable to within 0.1mm and able to lift up to 2kg. Rather than sourcing expensive components, Tom's goal was to develop an optical tracking system that would allow the use of commonplace motors. In the post, he tries a couple of different techniques including edge detection of a Lego construct using VRML. Ultimately this post appears to relect Tom's initial experiments, and he still has a lot of work ahead of him.
Managing to fit into two rather large suitcases, Melvin the Machine, from Eindhoven, NL design studio HEYHEYHEY is a portable 38-step Rube Goldberg machine traveling abroad and having a bit of fun along the way. At each stop, if the run is successful, Melvin will finish off with a personalized stamped postcard and affix proper postage before the operator tosses it in the mail. Also on board is an HTC Desire that snaps photos and uploads them to a map so folks can follow along as Melvin travels from place to place. [via The Verge]