---
Seattle-based artist Tamara Clammer began teaching herself leatherworking in 2004, and today she makes an array of imaginative masks and accessories. As she writes on her website:
It didn't make sense to anyone that I would buy expensive tools and supplies, rent a space, and have no idea how to use any of it. But it felt right, and I dedicated a lot of time and effort to figuring it out. I'm still figuring it out. And I expect to always be, because the ways to create with leather are limitless. Now that I've discovered a series of steps that always yields great results, I'm dedicated to teaching these steps to others.
Next weekend at Maker Faire Bay Area, Tamara will be providing a hands-on, interactive workshop space to teach people to make their own small leather creations using found and common household objects.
I sat down one evening at Unit 15 in the old Rainier Brewery Building with Rob Flickenger. His projects have always been amazing – the can-tenna, shrunken quarters, building wireless networks for the UN in Africa, and writing the books (literally) on wireless networks. His most recent project pushes him even further into the Mad-Scientist realm. He's built a Tesla Gun.


NOTE TO READERS: This is a dangerous idea. An operator holds this device as it operates. Tesla coils and other high voltage devices can stop your heart. The operator must be ABSOLUTELY SURE that the case has a solid ground to shunt the electricity to earth, and not through you. And while I'm all about taking informed and calculated risks, this is me informing you. Ok. Read on.
When I asked him why he had started on this project, he cited Steven Sanders and Matt Fraction's Five Fists of Science, a graphic novel in which Tesla and Twain battle the evil forces of Edison and Marconi. "How much more epically awesome can you get than a young Tesla fighting evil with a TESLA GUN?"
While Rob is undoubtedly brilliant, he had to learn a lot to make this project happen. If you made something like this out of duct tape and plastic, it would kill you. But if he wanted that Tesla Gun, he'd have to make a lot of the parts himself. Luckily for Rob, he lives in Seattle, where we have an outstanding group of hacker/makerspaces and incredible people doing crazy things in them. He went and talked to a lot of people. He learned about aluminum casting, 3D printing, working with ceramic slip, and machining — all things he had never had first-hand experience with. He learned even more about high voltage electronics. The end result is a hand-held (if you are very, very certain it is grounded) spark-gap Tesla Gun that puts out around 100k volts with sparks leaping a meter to DAGGAR*.

How and where it was made:
The casing needed to aluminum to withstand the high voltage and look cool. Rob headed over to Hazard Factory to talk with Rusty. They used the foundry there and green casted a NERF gun mold.
The resulting case was machined down with the Hackerbot mill so it would line up correctly and look pretty. He also machined some HDPE stand offs to house the primary coil, so it would be sturdy and resistant to HV. Then he needed a different switch – "no one in their right mind would manufacture what I needed for the consumer market."
Off to Metrix Create:Space to 3D powder print a mold. They then poured porcelain slip into it, and fired the resulting piece in the kiln. The custom-made porcelain and tungsten switch can withstand 20kv at several hundred amps.
Most of the work was done at Rob's resident hackerspace, Unit 15 (private). There, he put together his Hockey Puck of Doom. HPoD is a zero voltage sense flyback driver found on Instructables that lets you turn an 18 volt drill battery into 20k volts (the reason this device is more portable than other coils of the same effect). He hand-wound the 1100 turns of #30 copper wire, and laser etched some of the fiddly bits for a more mad-scientist feeling. And my personal favorite: the transformer is from an old TV, which is the best possible use I can think of for old TVs.
Finally, he did a talk at Ada's Technical Books and at Jigsaw Renaissance to share the joy. The talk at Ada's was video'd and can be viewed here.


"Telsa Coils are at the intersection of science and magic. It's impossible to describe the visceral experience of the luminous discharge of a secondary terminal, from a machine that creates ion streams using 100 year old technology. They make a room smell like a thunderstorm."


As a closing story, Rob told me about the most exciting thing he had ever electrified – himself. One evening, three Tesla coils were running in the same room at Hackerbot at the same time. He powered his down and noticed it was self-resonating – throwing sparks from secondary without being powered, presumably from being in-tune with the two others. He thought, the current coming off must be small, and wondered if he could draw it out with his finger. Rob was then surprised to pull a 4 foot spark — one of the the others was striking it from another angle. "It was awesome. But not the kind of awesome I like to promote. You want the controlled kind of high voltage project."
You can read a whole lot more about the project over on his blog, Hacker Friendly. He'll be showing it off at the Seattle Mini Maker Faire.
*DAGGAR is a staple of HV projects in Seattle. There is nothing more epic than catching lightning on this cheesily ornate blade.
images by yours truly and Rob Flickenger.
Eleven feet long and 150 lbs, the "Blackbird" is "a fully custom made electric recumbent chopper bicycle constructed of off-the-shelf parts from the hardware store" combined with scrap bike components, along with a commercial motor and battery. As for being super-charged, this bike is driven by a 36V DC motor capable of delivering 50 miles per charge at up to 20 MPH. If necessary, it can be switched off and instantly becomes a pedal-powered chopper! An array of cateyes, headlights, a pair of monkeylights, and even a singular spinning strobe light would definitely cause this machine to be confused with a UFO late at night!
The maker, Cat Woodmansee, says, "It is mad science, and is abundantly cool. But it is a serious transportation machine, totally practical." Cat claims to have logged over 15,000 miles in daily commutes.
Find this "Blackbird" Super Cruiser at the forthcoming Maker Faire Bay Area. It'll be parked in the west lot along with other electric cars and solar vehicles. See you there!
The Water Quality Forum of Knoxville, TN, is sponsoring an artistic rain barrel contest to promote the use of rain barrels to catch roof run-off. Twenty local artists have decorated rain barrels, which are being auctioned off to raise money starting tomorrow. This one from Curtis Glover is making the rounds, but they're all pretty awesome. Click through to the whole gallery, below. [via Boing Boing]
Rainy Day Brush-Off 2012 « Water Quality Forum
More: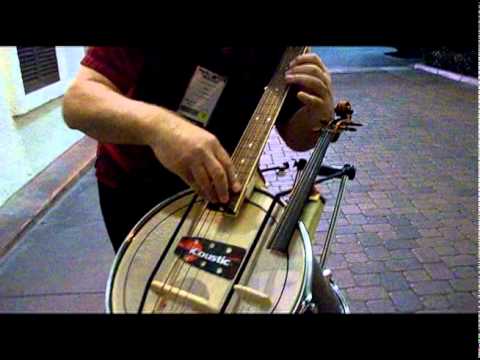 Using a tom tom drum, an Icoustic bass, and violin, iCoustic founder Ken Preece has produced what looks to be a low-end banjo on steroids. The size and proximity of the tom tom brings out the depth of the bass as he plays it. Definitely a hip way to play upright bass.
[via Recyclart]
I really enjoyed RobotGrrl's post on EMSL where she unboxes a mint Heathkit AC Voltmeter kit and assembles it. She finds all sorts of amazing components like RCA "electron tubes", a crystal diode, and a gloriously old skool instruction book. See her unboxing and build progress pix.
And if you're into Heathkits, be sure to read Dale Dougherty's ode to Heathkit in our MAKE Kits special issue.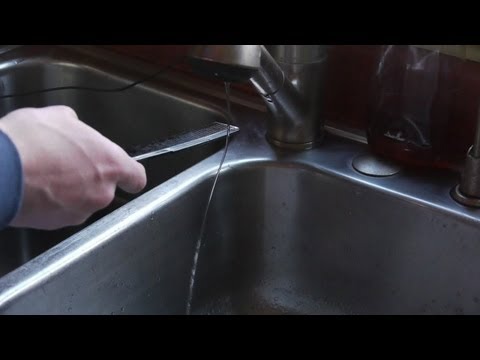 Ben Krasnow is one of the coolest makers I know. From his backyard lab in Redwood City (a stone's throw away from Maker Faire — well, maybe with the aid of a trebuchet) Ben makes things that usually require a lot of money and sophisticated equipment: an electron scanning microscope, silica aerogel, and freeze-dried astronaut ice cream (I've tasted it, and it's spectacular). Ben also builds electromechanical hardware for Valve Corporation, the famous game developers behind Half-Life.
Ben is coming to Maker Fair again this year, and he'll be demonstrating his electron microscope on the Make: Demo Stage on Sunday at 2:30 PM. The rest of the weekend, he'll be showing his work on liquid lenses "that change focal length based on the electrical potential applied to the lens. This makes use of a phenomenon known as electrowetting." See Ben's liquid lens video here.

I'm excited about MAKE's Hardware Innovation Workshop, May 15-16, at PARC in Palo Alto. The workshop is an opportunity to explore what's shaping the newly emerging businesses that makers are creating.  Come meet the people who are leading this new wave of hardware innovation and contribute to the discussion about new opportunities in making. You'll be able to get a "big picture"  understanding of how new technology and new communities are changing product development, collaborative design, and manufacturing.
The makers themselves are part of an open R&D lab that any company can benefit from, if they know how to engage them.  Increasingly, businesses and investors are beginning to pay attention.
Here are some of the headlines:
Open source hardware and software are providing standardized components on which to build new applications.
New fabrication tools are creating a rapid-prototyping revolution that makes iteration cheaper, faster, and easier.
Collaborative design practices are using new tools and tapping new kinds of expertise.
Options for manufacturing at scale are improving, as more and more of the process becomes automated.
Crowdfunding is helping launch new projects and providing funding to test out new product ideas.
Traditional investors are wary of hardware, but hardware-focused incubators hope to soften resistance by helping hardware startups become better prepared for investors.
Check out the full list of  makers who will be speaking at the Hardware Innovation Workshop.    Phil Torrone and Limor Fried of AdaFruit, Massimo Banzi of Arduino, Ayah Bdeir of LittleBits, Tod Kurt of ThingM, Liam Casey of PCH International, Bunnie Huang, Caterina Mota of OpenMaterials, Allan Chochinov of Core77, Nathan Seidle of SparkFun Electronics, Mark Hatch of TechShop and Carl Bass of Autodesk.   In addition, on Tuesday evening, we will open with a showcase of 25 hardware startups along with demos by companies like Autodesk, ShopBot, MakerBot, and more.
The Workshop is a one-and-a-half day intensive introduction to the business of making and the makers who are creating these businesses.  We will be sharing the ideas that come out of this workshop in a variety of ways during and after the event. Watch Makezine for details.
If you need information on the event and to register, go to:  Hardware Innovation Workshop.
This was a reality check for me: Before there were TVs and computers, chairs were sometimes pointed at other human beings.
Well, not directly at them, I suppose. After all, if you force two adults to sit in chairs at the same height, directly opposite one another, directly facing each other, with nothing in between, at conversational distances, sooner or later they're going to come to blows. Or at least feel like doing so.
Enter the "conversation chair," for which I admit preferring the French term tête-à-tête: Two chairs built together, expressly for the purpose that their occupants sit and talk to one another. The parties sit very close beside each other, but facing opposite directions and, often, with the security of a shared armrest between them. The confrontational body language of face-to-face seating is eliminated and the degree of intimacy of the conversation is easily controlled, by either party, simply by turning the head. A three-way version—a tête-a-tête-à-tête, perhaps?—also turns up from time to time.
The UT-Austin campus and the Texas State Capitol are very close to each other, and when I was an undergraduate in 1999, the Capitol building was open for the public to explore. You could just walk into the Governor's outer office and sign his guest book, which I did. That was the first place I ever saw a tête-à-tête, a cool 19th-century antique, and I was reminded of it this morning when I saw this thoroughly modern tête-à-tête rocking chair prototype from NYU ITP student Annelie Berner. [via matt richardson]
At long last, we have the Egg-Bot Kit in the Maker Shed! The Egg-Bot art robot was originally designed by Bruce Shapiro and is purpose built to draw designs on round objects 3cm to 10cm in diameter. Use it to decorate eggs, light bulbs, ornaments, golf balls, and (with some work) even wine glasses! The laser-cut tool holder can accept fine point markers, engravers, and a host of other drawing apparatuses. To use it, simply assemble the kit, adjust the holder to fit your object, plug in your computer, use the open source program Inkscape to create your design, and hit the button! Before you know it you'll be creating art on unique objects like never before!
Features:

The Eggbot chassis with integrated stand
Two precision stepping motors
Pen-lift servo motor
The Eggbot controller board
All the hinges, standoffs, and other hardware that makes up the Eggbot
Plug-in universal-input power supply
USB cable
A Sharpie brand pen