---
When you need to clean something small or delicate, such as precision instruments or optics, don't reach for a dirty microfiber cloth or lint-leaving and potentially scratchy paper towel, use a Kimwipe. Kimwipes are disposable delicate task wipers that are intended for use in laboratories and industrial settings, but they are every bit as versatile in home workshops.
"Delicate task wipers" has always sounded strange to me, but I suppose the distinction is necessary to avoid confusing Kimwipes with Kleenex tissues or ordinary tissue paper. But that's essentially what Kimwipes are – sheets of high quality low-lint tissue paper.
Kimwipes, made by Kimberly Clark Professional, are available in a variety of sizes and thicknesses. I mainly use the smallest size Kimwipes, product code 34155, which are 1-ply 4.4 x 8.4 inch sheets. Although the sheets are somewhat small, they're more than enough for most minor tasks. Plus, the dispenser box has an extremely small footprint, making it much more likely I'll keep them within reach.
These wipers are relatively tight-knit and as lint-free as you could ever ask for. They won't clean up sopping-wet messes, but they can handle small cleanups with ease. While you can use Kimwipes with optics, you have to be very light or use them wet with lens-cleaning solution to avoid scratching delicate coatings or surfaces.
A couple of years back when I learned how to polish soft metallurgical samples (e.g. solder balls for microscopy), I was taught that Kimwipes are fine to use on softer samples that have been polished with up to 1200 grit abrasives. After that, a blast of dry nitrogen works better for scratch-free drying. I don't know whether this is one man's practice or standard convention, but the habit stuck with me when cleaning the extremely delicate surfaces.
I have no experience with other brands' disposable wipers, but have had no complaints with Kimwipes in the 10-years or so that I've been using them regularly. I typically order 1-2 boxes (280-count) at a time for ~$5 each including shipping (via Amazon).
Stuart Deutsch is a tool enthusiast, critic, and collector, and writes his passion at ToolGuyd.
No matter where you are in America – the United States of America – you're within shouting distance of an amateur. Maybe it's a garage tinkerer, a homebrew geneticist, DIY archaeologist, or "self-taught sky-buffs" fabricating home telescopes that rival the technical ability of major institutions. These characters and their creations are explored in This American Life contributing editor Jack Hitt's newly published book, Bunch of Amateurs, which hits stands today.
America's self-invented tinkerers are back at it in their metaphorical garages—fiddling with everything from solar-powered cars to space elevators. In Bunch of Amateurs, Jack Hitt visits a number of different garages and has written a fascinating book that looks at America's current batch of amateurs and their pursuits. From a tattooed young woman in the Bay Area trying to splice a fish's glow-in-the-dark gene into common yogurt (all done in her kitchen using salad spinners) to a space fanatic on the brink of developing the next generation of telescopes from his mobile home, Hitt not only tells the stories of people in the grip of a passion but argues that America's history is bound up in a cycle of amateur surges.
In celebration of the amateur spirit, we're giving away a bunch of prizes (including an Orion 90mm refractor telescope) starting today and in the coming weeks – more information after the jump.
For our first prize we're giving away an Orion AstroView 90mm refractor telescope. Also included is an adjustable tripod and multiple eyepieces for various star-gazing applications. Celestial objects in the night sky will appear bright as day with this awesome entry-level telescope. You can find more information on this device on the manufacturer's website.
To enter to win: all you have to do is leave a comment below! Comments before 11:59PM PST will be considered to win this prize. Be sure to leave a valid email so we can contact you if you win. Feel free to tell a story about your own amateur pursuits, although this is not necessary – just leave a comment! For complete rules please click here.
We'll be offering two more prizes, on Tuesday May 29th & Tuesday June 12th, accompanied by interviews with the author Jack Hitt – be sure to check back then for another chance to win!
---
These prizes are provided by The Crown Publishing Group, publishers of Bunch of Amateurs.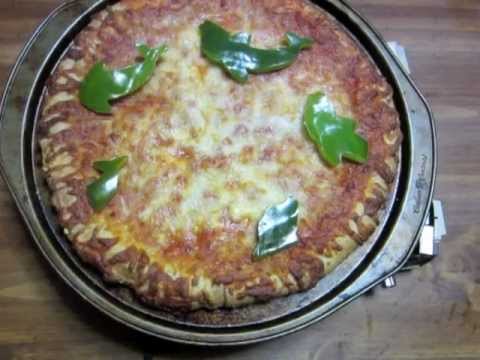 It's hard to ignore the popularity of pizza and animated GIFs on the internet, especially on social networking sites like Tumblr. The Pizzoetrope is a device that brings pizza, animated GIFs, and social networking together in one elegant dish. As the name suggests, The Pizzoetrope is basically a zoetrope that is created on a pizza by using the toppings to make the images in the animation. Animated GIFs from the internet can be used as a template for decorating the Pizzoetrope and the finished pizza can be used as a catalyst for social networking by sharing it with friends or having a Pizzoetrope party!
To learn how to make your own Pizzoetrope, check out my tutorial on Make: Projects.
If you're interested in learning more about zoetropes and other animation devices, then be sure to read Marc de Vinck's Phenakistoscope tutorial as a prerequisite to making your own Pizzoetrope.
Keep in mind that it may take some trial and error to get your Pizzoetrope animations to work properly, so be prepared to go through a few test pizzas, as if you really needed an excuse to eat more pizza.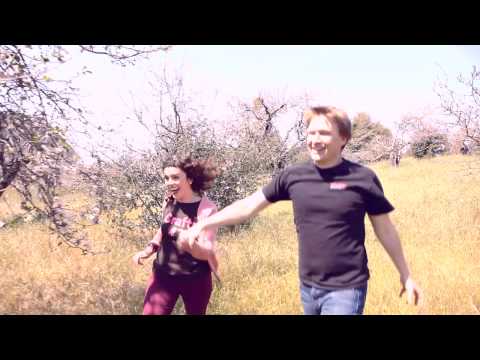 We had a lot of fun making this goofy video. As it declares, coming in June, CRAFT, our popular go-to site for the crafting community, will be moving over to makezine.com. We've always felt as though crafting was just another type of making. As we've moved our content management deeper into WordPress, it makes sense for us to move our craft content over to the makezine.com domain and to treat it as one of the key content areas that we plan on building out as we move forward. So, coming next month, that's what we'll be doing. CRAFT on MAKE.
Here's CRAFT editor Rachel Hobson on the move:
Our teams already work closely together to bring you the best of the maker movement. By moving CRAFT over to MAKE, we'll be able to offer you the crafty content you love in a more streamlined, efficient way. You'll get the same types of posts each day, from the same team members you know and love. All our feeds will automatically transfer, so you won't have to update your RSS reader or other methods of reading the new CRAFT feed on MAKE. The transition will be as seamless as possible.

We'll also be joining forces at Maker Faire Bay Area this weekend. The CRAFT and MAKE areas have merged into one amazing space, ready to spark all of your making curiosity, from stitching to soldering. Be sure to check back this week for updates on our exciting CRAFT programming for the Faire.

We look forward to working as part of the greater MAKE team and continuing to share the best DIY inspiration for makers of all kinds.
This week and weekend we have more education-related events than we ever have before, and we're delighted to invite you to all of them. This post outlines all that's happening from Thursday through Sunday of Maker Faire week.
We know teachers are already supreme makers, building smart students every day. And the best teachers we know love to roll up their sleeves and take on do-it-yourself projects with their students. This year, as Maker Faire celebrates the DIY communities in arts, craft, engineering, green design, music, science, tech, and so many other areas, we're putting a special spotlight on how these activities work in school as part of our "DIY Learning: The New School" pavilion. We welcome all students, teachers and parents to explore both this special exhibit hall along with all the other inspiring examples of learning at Maker Faire.
A special pre-Faire meetup just for teachers
On Thursday, May 17th, from 4-7pm, join us for a special afternoon session co-hosted by MAKE and EdSurge devoted entirely to educators! Become a Maker: you will have time to try your hand at building projects. We'll talk about how to integrate "making" activities into the classroom with national leaders, Dale Dougherty of Maker Faire, master teacher Gary Stager, and Classroom 2.0's Steve Hargadon. And you'll have a chance to meet and talk with local area makers and teachers about what they're making and how it supports learning in the classroom. Find out how to start a Makerspace or Maker Club at your school, and find out how to get more involved with all our intiatives by meeting Maker Education's AnnMarie Thomas. Try your hand with MakerBot, Arduinos — both in and out of Coffeebots (seen above), kits from Maker Shed, and more cutting-edge personal fab from the DIY Pavilion. Oh, yes, there will be food, too. And more! You won't go home empty-handed. This event is open to all educators. And we know teachers love this four-letter word: it's FREE! But please sign up so we'll be prepared for your visit.

A unique learning pavilion
In our pavilion DIY Learning: The New School, EdSurge has put together a great selection of "show-and-make" projects to engage you–and some fabulous speakers who will share their insights on the changing nature of learning. Here's just a taste of what you can expect:
Building real-world projects: Use laser-cutting tools to build bubble wands, boats and 3D toys with our teams from the FabLab. Build electronics circuits (things that blink!) geared for students from elementary school to adults. Brainstorm with master teachers about how to use every day materials for projects–and where to get the ingredients you need. And more.
Building digital projects: Teach it like Khan–learn to put your lessons on a tablet. Create digital portfolios. Design schools of the future with Google Sketchup. Code video games with Scratch, MIT's kid-friendly programming environment. And more.
Listen and talk with experts. See the section "Plan your visit" (below) for our full schedule. Our leading speakers include…
Check out our mini Makerspace in this building, too, and sign up to be a part of a network of high schools who make with their students. We're looking for 10 partners in California during the 2012-13 school year, and 1000 by 2015. You can also meet the people involved with the project at 2:00 Saturday on Center Stage, in the Meeting Pavilion building.
Preview the DIY Learning: The New School pavilion during the Educators' Meetup Thursday from 4-7pm or come back to enjoy it on Saturday or Sunday. And to prepare for that….
Plan your visit
We have a free app available to download for iPhone, iPad, and Android. You can also go online and choose Makers to visit by topic, for example, all Young Makers.
You could also be kept quite busy just with all the on-stage talks we have that are possibly relevant to your work with kids and inspiring the next generation of Makers.
Check out the Education Stage's Full Schedule with dozens of talks in the DIY Learning pavilion, woven in below with the other relevant talks on other stages:
Saturday
11:00
This is What Learning Looks Like!
(Education Stage)
12:00
Tinkering and Maker Culture: Transforming K-12 Math and Science Education
(Education Stage)
12:30
How Play, Innovation and Imagination Support Learning
(Education Stage)
1:00
Raspberry Pi: How a $35 Computer Will Give Students an Appetite for STEM
(Center Stage)
1:00
Citizen Science and Space Exploration
(Education Stage)
1:30
Discover, Create, Advance: Managing Innovation in 21st Century Classrooms
(Education Stage)
1:30
I Make, Therefore I Play
– the science behind play: how it shapes the brain, encourages discovery and gets you hired at JPL!
(Center Stage)
2:00
Democratizing Design: Enabling the Crowd and the Next Generation
— includes MENTOR, inspiring the next generation of innovators by introducing students at 1,000 high schools to distributed digital design and programmable manufacturing technologies.
(Center Stage)
2:00
Teaching eTextiles to Young Makers
(Education Stage)
2:30

Every Child a Maker

— announcing an exciting new initiative that seeks to create more opportunities in the community for young people to make (Center Stage)
3:00
Scratch – Programming and Animation for Kids of All Ages
(Education Stage)
3:30
Where Are The Black Makers?
– kids need mentors, role models, heroes! Diversity in STEM needs help!
(Innovation Stage)
3:30
TweetHaus – Public Art, Citizen Science, and Collaboration
(Education Stage)
4:00
OpenROV – Open Source Underwater Robots
(Education Stage)
4:30
Transformative Learning: Research Evidence for Learning Through Making
(Education Stage)
5:00
Adaptive Apps to Spark Creativity and Master Language Learning
(Education Stage)
5:30
Mothership HackerMoms: First Women's Hackerspace. Ever.
— come hear about how one hackerspace gets more women making
5:30 Better, Cheaper, Faster! Open Source Books (Education Stage)
6:00 Designing Spaces for Inspired Learning (Education Stage)
6:30
Tinkering and Maker Culture: Transforming K-12 Math and Science Education
(Education Stage)
Our official education tag during Maker Faire: #MakerEducation

Make: Asks is a new weekly column where we ask you, our readers, for responses to maker-related questions. We hope the column will spark interesting conversation and that we'll get to know more about each other.
One time I accidentally shorted the transformer on one of my guitar amps, sending sparks flying. This was definitely an epic (and dangerous) fail for me.
This week's question: What was your most epic mistake on a project you were working on? Were you able to fix it?
Post your responses in the comments section.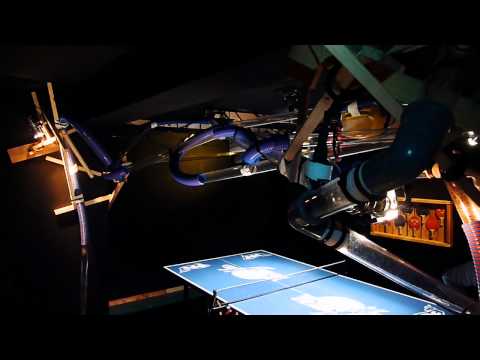 This appeals to my childish desire to add more chaos to the game of ping pong. From Make: friend Niklas Roy
In Spring/Summer 2012 both guys were invited to create an installation version of Ping Pong Country in Lille's Gare St. Sauveur. They were a bit tired of doing the same thing for such a long time over and over again, so they asked me to contribute some machinery to the environment in order to make it a bit different in its actual version. I came up with the devilish plan to offer the audience an opportunity for sabotaging the game in a playful way.
While some people play ping pong (preferably more than two players which then have to run around the table) another visitor can confuse the players via a separate control panel which is part of the sabotage edition: This destructive master mixer lets you switch the music to Heavy Metal (accompanied by disturbing strobe light); you can turn on fans on the ceiling for an additional wind challenge; you can just add some funny train and animal sounds with a supercool children's toy, or – and now it comes – you can spill plenty of balls onto the ping pong table which you collected beforehand with the "Ping Pong Ball Suction Construction"!
Ping Pong Ball Suction Construction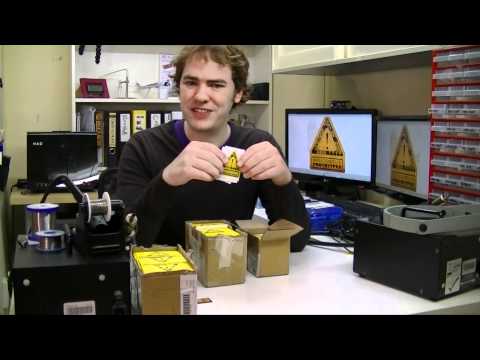 How do electronics ninjas DangPro get ready for Bay Area Maker Faire? Watch and find out!
Julian Leland of Swarthmore, PA, wrote in to share the milling machine he built for his senior project.
I'm a graduating engineering major at Swarthmore College in SE Pennsylvania; I just wrapped up my senior design project this month, and wanted to share it with you.

My project was to design and fabricate a "self-replicating" milling machine. Philosophically, it's somewhat of a mixture of the RepRap and the Multimachine – create a high-precision metalworking tool, which is made entirely of easily available off-the-shelf components or components that a preexisting copy of the machine could make.

Currently, it's still at "prototype" level – there's been some nasty chatter issues that I'm still working out. However, in the meantime, I wanted to post my work to share with the community (and hopefully get feedback, too). Enjoy!
Self-Replicating Milling Machine
---
Craig Newswanger has been an Army photographer, a laser light show artist, and a Disney Imagineer. Now, he's a senior engineer at Zebra Imaging in Austin, where, as I understand it, he is essentially a professional holographer. If that resumé doesn't make you just the teensiest bit jealous, you are a better person than I. In Drawing Machine II, Craig takes inspiration, in part, from 19th-century "rose engine" lathes used to perform a complex radial engraving technique called Guilloché (Wikipedia). He writes:
Guilloché is the word used to describe intricate repetitive patterns often used in security printing and fine metal working. The machine uses three micro-step motors that are controlled by a program written in PureData. Careful control of the motor speed ratios and positioning of the pen arms results in complex patterns. Some of the best patterns are the result of setting the speeds very near but not quite on specific harmonic relationships. The pen traces a Lissajous curve and the paper rotates beneath the pen, thus tracing out the complex pattern. The patterns take from 10 minutes to and hour to create.
The embedded video is well-produced, wonderfully clear, and very thorough. It starts by introducing the 1920s-era toy that sparked the concept, proceeds to the construction details of the machine itself, then to the software interface, and then wraps up with some mesmerizing footage of the machine in motion and some of the beautiful drawings that result.
New Drawing Machine « Resonance Studio Workshop
More: