---
Our centerpiece sculpture is Brollyflock by Flux. It looks beautiful all lit up at dusk.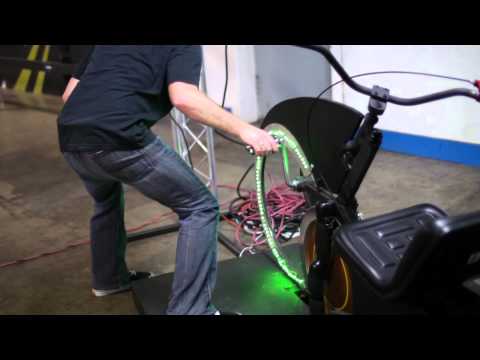 Two pieces new to Maker Faire Bay this weekend area will be Light Trikes and Crowd Connect. The team from Frog made digital games physical and physical games digital. They explain the hardware and software behind their epic builds. Come play at Maker Faire Bay Area, this weekend, May 19th and 20th.
Once upon a time, there were two serpents, Jormungand (Midgard) and Julunggul (Rainbow), who slithered between two worlds, "the old world that needed and revered them and the present which has shunned such monsters as fears metamorphosed into mythical form." Dark and with the power of fire, Jormungand winds it way through the landscape. Bright and with the light of the earth, Julunggul slithers to meet with her dark twin. Their synchronized dance is a gorgeous sight to behold: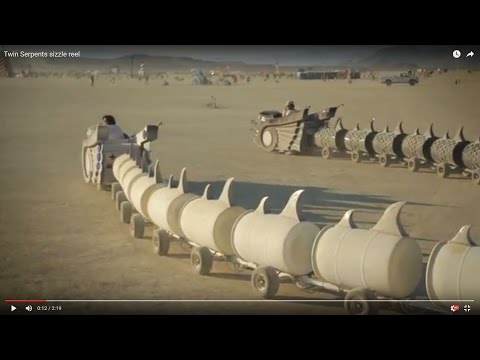 Lovingly hand-built by makers Jon Sarriugarte and Kyrsten Mate, each 4-foot-wide, 50-foot-long serpent has a huge display of LED lights the length of its body capable of creating rainbows, plasma fields, water drops, fire, and video, made possible by an array of over 15,000 individually addressable LEDs. Add to this a soundtrack of serpent calls designed at Skywalker Sound by Kyrsten, played on the 2000-watt sound system built into each head.
Jon and Krysten have brought amazing projects to each Faire since the first in 2006, including The Boiler Bar and The Golden Mean snail car. Accompanying them is their talented and adorable daughter Zolie. At the 2006 Faire, Jon and Krysten had made custom hoodies that read "Maker" on the back, while Zolie's read "Made."
Come slither with the Serpent Twins at Maker Faire Bay Area this weekend at the San Mateo Fairgrounds.
Getting the motorized mushroom ready for action!
Here are crates of gear ready to be picked up by Maker Faire station managers. Gareth and I are coveting the black toolboxes.
ArcAttack! does some amazing experiments with kids at Maker Education Day today.

There will be a lot of people showing off their 3D printers at the Bay Area Maker Faire this weekend, including Jeffrey Lipton representing Cornell's venerable Fab@Home project. We previously posted about some of the food printing exploits of the Cornell Creative Machines Lab on the CRAFT blog last year. Food is just one application for the dual syringe head on the Fab@Home Model 2.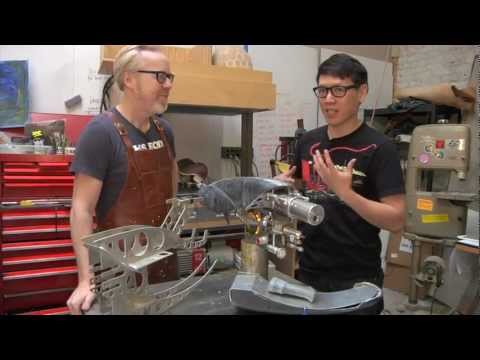 Tested takes you inside Adam Savage's man cave where he keeps amazing movie props and collectibles, as well as works on his own projects. Today, Adam tells the story of his Zorg Industries ZF-1 replica from The Fifth Element, which he's been working on for over 13 years.
Thomas Poulsom's British Bird Series explores the loveliness of the British ornithological scene, in all the glory of Lego! Even cooler, you can help these models become an official Lego model through the magic of Lego's Cuusoo platform, where amateur builders can post models, and those creations which receive enough votes actually get made. If you like Thomas's birds, visit the Cuusoo page and support it — he needs 10,000 votes for the sets to get greenlit.
The first MAKE Hardware Innovation Workshop wrapped up this evening. Featuring over 30 of the most well-known innovators in the MAKE space, the event found a perfect home in the storied garden-roofed research facilities at PARC Xerox. As one of the speakers commented, this was probably the first time that all of these path-breaking makers had shared the same stage. Some takeaway notes and tweets from the event:
"Create more value than you capture." – Tim O'Reilly
"The challenge going forward is: How do we retain the sense of community that we've built together while grown as companies?" – Limor Fried
"If you can't meet the boss on your first visit to the factory, the factory is too big for you." – Bunnie Huang's advice to maker pros.
"Arduino is the Linux of the maker movement" – Dale Dougherty
"Inexperience is a great Innovator" -Liam Casey, PCH International
"If your Arduino smells really bad, it's a Chinese knockoff!" – Massimo Banzi, Arduino
"We need to make the people here heroes outside this room" – Tim O'Reilly
"It doesn't happen that often when you see a wave starting to break" – comment from the audience (the sense of riding that wave, and feeling like you're standing in the middle of something important, was palpable)
"Want to invest in driving education? Start with screwdrivers and work your way up." – Dale Dougherty
"I think today will be recognized as a day when we all realized this is an entrepreneurial movement. And a revolution." – Tim O'Reilly
"Be able to say no in 60 seconds by knowing if it is true to your theme." -Brad Feld, The Foundry Group
"When you stop learning how to make things, you stop learning how to advance as a country" -Jay Rogers, Local Motors
"To quote Capote… A good time was had by all [incl. us! we are working on the future of manufacturing, mass customization, etc.] -PARC Xerox
[Photos by Gregory Hayes]