Here are the latest updates for you
Last week, thousands rallied at the Texas State Capitol to protest $9 billion in proposed cuts to education.
John Kuhn, superintendent of Perrin-Whitt Consolidated Independent School District, spoke at the rally, and here is a video of his speech: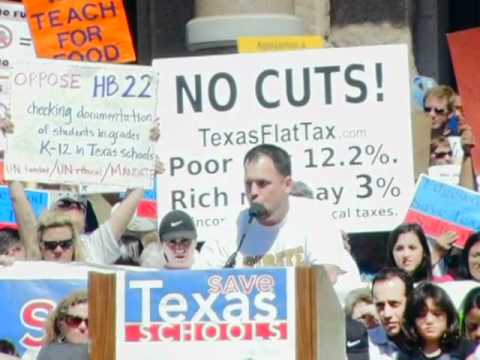 Thanks to Anthony Cody, the a writer of a "must-read" blog at Education Week, for the tip.
I've previously posted about Corkboard Me, an easier and more functional Wallwisher-like tool.
The site has just announced the ability to embed your virtual bulletin boards.
It just keeps on getting better…
Though some of these new resources are more related to storytelling, I'm still adding them to The Best Digital Storytelling Resources:
What All Good Stories Have In Common from Free Range Thinking
How to Tell a Story that Feels Your Own in 30 Seconds from Network For Good
Take this test — Can You Spot A Story?
Here are the newest additions to The Best Resources For Beginning To Learn What Twitter Is All About:
An Educators Guide To Twitter, compiled by Steven Anderson.
A list of educational chats on Twitter, compiled by Cybraryman.
A slideshow on the difference between Facebook and Twitter.
Here are some good pieces on school reform that have appeared in the last few days:
In Performance Evaluations, Subjectivity Is Not Random is from The Shanker Blog. I'm adding it to The Best Articles For Helping To Understand Both Why Teacher Tenure Is Important & The Reasons Behind Seniority-Based Layoffs.
Teachers, Their Unions and the American Education Reform Agenda is a report just issued by National Center on Education and the Economy. I'm adding it to The Best Resources For Learning Why Teachers Unions Are Important.
Standardized Tests and Foul Shooting: Look Out, Michael Jordan! is by John Sener. I'm adding it to The Best Sites For Getting Some Perspective On International Test Comparison Demagoguery.
Harvard Thinks Big is an annual event (started last year) where invited faculty members present ten minute talks. They just posted this year's presentations on YouTube.
And, speaking of TED Talks, I just discovered that there is a YouTube channel devoted to TEDxTalks, which are local TED-like events that take place around the world.
I'm adding both resources to The Best Teacher Resources For "TED Talks" (& Similar Presentations).
The Marzano Research Laboratory has released a study on their website that concluded:
on the average, the use of cooperative learning by teachers in the action research studies was associated with a gain in student academic achievement of 30 percentile points over what was expected when teachers did not use cooperative learning.
Not bad…
I'm adding this info to The Best Sites For Cooperative Learning Ideas.
I have a huge backlog of resources that I've been planning to post about in this blog but, just because of time constraints, have not gotten around to doing. Instead of letting that backlog grow bigger, I regularly grab a few and list them here with a minimal description. It forces me to look through these older links, and help me organize them for my own use. I hope others will find them helpful, too. These are resources that I didn't include in my "Best Tweets" feature because I had planned to post about them, or because I didn't even get around to sending a tweet sharing them.
Here are This Week's "Links I Should Have Posted About, But Didn't":
Counting Up Recent Reform FAILs by John Thompson
The Power of Observing and Talking to Real Humans by Bob Sutton
Interactive Cambridge ESL Games
Open Government is a new site designed to provide accessible information about state governments
Take a test to see how wasteful you are…
United Nations Refugee Agency Teacher's Corner and Lesson Plans
Charting the Path from Engagement to Achievement: A Report on the 2009 High School Survey of Student Engagement
The Face Of Seven Billion from National Geographic
Infographic: Motivating Employees in the Workplace
5 lessons for educators from "The King's Speech"
Here are some other regular features I post in this blog:
"The Best…" series (which are now 650 in number)
The most popular posts on this blog each month
My monthly choices for the best posts on this blog each month
Each month I do an "Interview Of The Month" with a leader in education
Periodically, I post "A Look Back" highlighting older posts that I think are particularly useful
Resources that share various "most popular" lists useful to teachers
More Recent Articles