Here's a video of a very sneaky penguin. I'm adding it to The Best Sites For Learning About Penguins.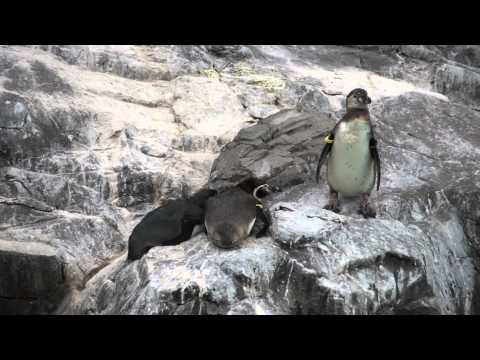 Last week, I wrote about how my students were in middle of one of my favorite units — about focusing on neighborhood assets. You can read more about it there.
We're now finishing it up, and students have developed their "ideal neighborhoods." Here are a couple of same videos from them, along with a "bonus" musical video developed with Magisto, which I've also written about…

How Can We Build Trust Between Parents & Teachers? is the question of the week for my Education Week Teacher column.
Please feel free to leave your responses there or here….

Telling students it's okay to fail helps them succeed — study is the title of a Valerie Strauss blog post about a recently published study. Here's an excerpt from her post:
Telling children that it is perfectly normal to sometimes fail at school can actually help them do better academically, according to newly published research.
The results of three experiments by French researchers are not definitive but they are intuitive; kids who don't feel overwhelming pressure to do well all the time are more likely to feel free to explore, take academic chances and not fall apart if they make a mistake.
Here are two other reports on the same study:
For Better Learning, Failure Is An Option
Reducing Academic Pressure May Help Children Succeed
I'm adding all of these reports to The Best Posts, Articles & Videos About Learning From Mistakes & Failures.

Measuring the U.S. Melting Pot is an interactive map from Bloomberg. It shows the distribution of ethnic heritages county-by-county across the United States.
I'm adding it to The Best Sites For Learning About Immigration In The United States.
Thanks to Chart Porn for the tip.

TIME Magazine has a very interesting article on a recent study comparing retention of information and concepts by students reading e-books and paper books.
Here is its conclusion:
…it may be that physical books are best when you want to study complex ideas and concepts that you wish to integrate deeply into your memory.
It's a fairly lengthy article, and a more nuanced one than you would conclude just by reading that excerpt, so I'd encourage you to read the entire article.

The United Nations has designated March 22nd as World Water Day.
I have a lot of resources at The Best Resources For Teaching & Learning About World Water Day. I haven't gotten a chance to completely update it, but most of the sites should be current.

Every month I make a short list highlighting my choices of the best resources I shared through (and learned from) Twitter, but didn't necessarily include them in posts here on my blog. Now and then, in order to make it a bit easier for me, I may try to break it up into mid-month and end-of-month lists (and sometimes I'm a bit late).
I've already shared in earlier posts several new resources I found on Twitter — and where I gave credit to those from whom I learned about them. Those are not included again in this post.
If you don't use Twitter, you can also check-out all of my "tweets" on Twitter profile page or subscribe to their RSS feed.
I use Storify to "curate" my best tweets:
[View the story "March's (2012) Best Tweets -- Part One" on Storify]

More Recent Articles