The British Natural History Museum and the BBC hold an annual Wildlife Photographer of the Year competition.
I'll be adding this list to The Best Photos — In The World?
Here are the most recent winners, as well as winners from previous years:
Wild Planet: the best of the Wildlife Photographer of the Year competition for 2011 is from The Telegraph.
You can see all previous winners at the Award's main site though, as in most photo awards, the main site does not have the photos displayed as attractively as news sites do.
In pictures: Wildlife Photographer of the Year 2010 is from the BBC.
Veolia Environnement Wildlife Photographer of the Year 2010 winners is from The Telegraph.
Veolia Environnement wildlife photographer of the year – 2009 shortlist is from The Guardian. There was a scandal that year, and the winner was disqualified.
You might also be interested in the nearly 900 other "The Best…" lists, too.

Education Secretary Arne Duncan made what I called his biggest mistake when he supported the L.A. Times publication of teacher ratings.
Yesterday, he performed what I can only call incredible gymnastics in changing his position.
He claims he supported the LA Times publication because it was important for teachers to get that information, and having the Times' publish it was the only way to get it into their hands.
So he supported the publication to help teachers.
Right.
Though now he says other papers should not publish the data.
However, he says it should be made available to parents.
Amazing….

Today, Pasi Sahlberg was interviewed on the radio by Cornel West. It's embedded below. I've added it to The Best Resources To Learn About Finland's Education System.


I periodically post a list of my most popular posts on parent engagement that appear in my other blog, Engaging Parents In School.
It's that time again.
And, if you're interested, I also periodically post a list of my best posts on parent engagement (which include "The Best…" lists), too.
Here are My Most Popular Posts On Parent Engagement Over The Past Six Months:
1. The Best Sources Of Parent Engagement Advice For Teachers
2. The Best Resources On Parent/Teacher Conferences
3. The Worst Parent Engagement Ideas
4. The Best Ideas On How Parents Can Help Their Kids Succeed Academically
5. Good Middle School Journal Article On Parent Involvement
6. The Best Examples Of Parent Engagement Through Community Organizing
7. Idaho schools tie merit pay to parent involvement
8. The Best Research Available On Parent Engagement
9. The NY Times' Tom Friedman On Parent Involvement
10. The Best Resources For Learning About Teacher Home Visits
12. Very Accessible Review Of Parent Involvement Engagement Research
13. Important Report On Parent Engagement Released Today
14. The Best Overviews Of Parent Engagement
15. A Collection Of "The Best…" Lists On Parent Engagement — 2011
16. Jeez, What Was Ron Clark Thinking?
17. My Best Posts, Articles & Interviews On Parent Engagement
18. The Best Reasons Why Parents Should Be Looked At As Allies & Not Targets Of Blame

I've written a lot about the importance of being positive in the classroom (see My Best Posts On Why It's Important To Be Positive In Class). And here comes even more research that emphasizes its importance.
The New York Times has just published an article headlined Praise Is Fleeting, But Brickbats We Recall. Though I'd strongly encourage you to read the whole piece, here are some excerpts:
Negative emotions generally involve more thinking, and the information is processed more thoroughly than positive ones, he said. Thus, we tend to ruminate more about unpleasant events — and use stronger words to describe them — than happy ones…
….Professor Amabile said she found that the negative effect of a setback at work on happiness was more than twice as strong as the positive effect of an event that signaled progress. And the power of a setback to increase frustration is over three times as strong as the power of progress to decrease frustration.
"This applies even to small events," she said.
If managers or bosses know this, then they should be acutely aware of the impact they have when they fail to recognize the importance to workers of making progress on meaningful work, criticize, take credit for their employees' work, pass on negative information from on top without filtering and don't listen when employees try to express grievances.
The answer, then, is not to heap meaningless praise on our employees or, for that matter, our children or friends, but to criticize constructively — and sparingly.
Professor Nass said that most people can take in only one critical comment at a time.
….As Professor Baumeister noted in his study, "Many good events can overcome the psychological effects of a bad one." In fact, the authors quote a ratio of five goods for every one bad.
That's a good reminder that we all need to engage in more acts of kindness — toward others and ourselves — to balance out the world.
One suggestion the article makes, which I question is that it's better to start with criticism and then follow with praise. I wonder how much experience the researchers have had with children — or their parents….

NASA put a video camera on a booster rocket and this is what it recorded. You can read more about it here.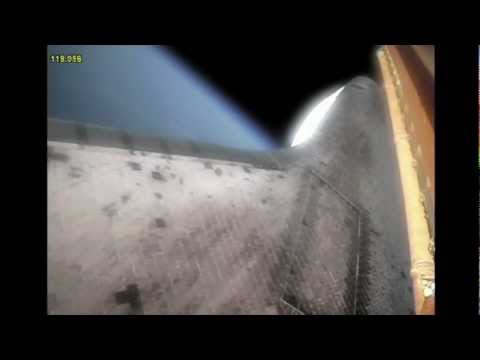 Embedplus is a nice tool that's on The Best Tools For Cutting-Out & Saving Portions Of Online Videos (Or Annotating Them) list. They recently added a really neat dictionary feature called Learn how to pronounce words (and use them).
You type in a word, and it shows you multiple short clips from videos where the word is used. Jeez, so many dictionaries are next to useless for English Language Learners because they either just show the word in writing or only pronounce the word itself. Some might include a written sentence demonstrating it in context. But you can't beat literally seeing and hearing it!
Of course, the videos are all from YouTube, which make it inaccessible for most schools. But students certainly use it at home.
I'm adding it to The Best Reference Websites For English Language Learners.

The BBC has created a very, very large infographic titled "How Big Is Our Solar System?" Scroll down (which is a little odd) and it will take you from the surface of earth to the far reaches of space.
It's similar to a couple of other infographics:
Scroll to see the ocean's deepest depths is an interactive infographic from The BBC. Scroll down the infographic and it not only shows you information about what is happening at that depth of the ocean, it also provides videos and images.  "Our Amazing Planet: Top To Bottom," is another one, but there's no interactivity and it also covers above the ocean.