On this day in 1968, Dr. Martin Luther King was assassinated.
I thought I'd bring together a few related resources, and will add more.
You might also be interested in The Best Websites For Learning About Martin Luther King.
Here are my choices for The Best Resources To Remember Dr. Martin Luther King's Death (& Life):
Here is a video of his last speech:
Here's the transcript of the speech.
Remembering MLK's Prophetic 'Mountaintop' Speech is from NPR.
The Assassination of Martin Luther King is from The New York Times Learning Network.

Martin Luther King assassination in 1968 a 'cruel and wanton act' is from The Washington Post.
Here's a slideshow from LIFE.
Any feedback is always welcome.
If you've found this post useful, you might want to consider subscribing to this blog for free.
You might also find my 900 other "The Best…" lists useful.
Chocolate is one of life's greatest pleasures, but for the children working in slavery conditions in cacao fields across West Africa's Ivory Coast, the reality behind it is anything but sweet.
Some 70 to 75 percent of the world's cocoa beans are grown on small farms in West Africa, including the Ivory Coast, according to the World Cocoa Foundation and the International Cocoa Initiative. The CNN Freedom Project reports that in the Ivory Coast alone, there are an estimated 200,000 children working the fields, many against their will, to satisfy the world's hunger for chocolate.
The average American eats around 11 pounds of chocolate each year, and the weeks leading up to Easter show the second biggest United States sales spike of the year next to Halloween – 71 million pounds according to a 2009 Neilsen report. A recent press release from Kraft claims that worldwide, more consumers purchase chocolate during Easter than any other season.
So how does a chocolate lover ensure that the treats filling their family's Easter baskets are not supporting a life of slavery for a child half a world away?
You can read the rest of the article, which also  has a video, which I've embedded below.  I'm adding both to The Best Sites For Learning About Easter And Passover.
Today, Google released a video demonstrating their hopes for augmented reality glasses they developing. It's a little too connected for me — What do you think? And what do you think your students will think?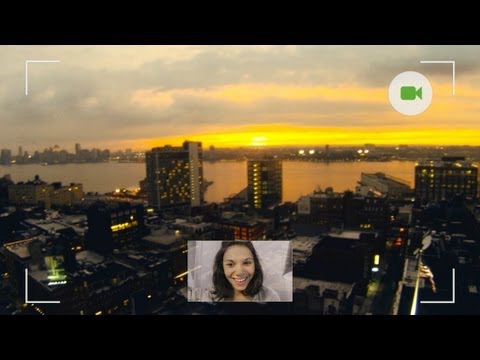 I have a huge backlog of resources that I've been planning to post about in this blog but, just because of time constraints, have not gotten around to doing. Instead of letting that backlog grow bigger, I regularly grab a few and list them here with a minimal description. It forces me to look through these older links, and help me organize them for my own use. I hope others will find them helpful, too. These are resources that I didn't include in my "Best Tweets" feature because I had planned to post about them, or because I didn't even get around to sending a tweet sharing them.
Here are This Week's "Links I Should Have Posted About, But Didn't":
San Francisco's Famed Coit Tower Murals in Peril Due to Fog, Neglect is a video and slideshow from the PBS News Hour. For the Depression-era Murals of Coit Tower, Great Recession-era Neglect is also from the News Hour. I'm adding them to The Best Sites To Learn About San Francisco.
Broken Co-Worker is an interesting "Choose Your Own Adventure" game where players are in the role of a bullied worker. It appears to be classroom appropriate, but I did not explore all the alternatives available. I'm adding it to The Best Places To Read & Write "Choose Your Own Adventure" Stories.

Olympic Preparations for London 2012 is a photo gallery from The Atlantic. I'm adding it to The Best Sites For Learning About The London 2012 Olympics.
The E-Reader of 1935 is a fun illustration from The Atlantic. I'm adding it to The Best Sites For Learning About The History Of Technology.
'The oldest work of art ever': 42,000-year-old paintings of seals found in Spanish cave is from The Mail Online. I'm adding it to The Best Sites For Learning About Prehistoric Cave Paintings.
Can't Confirm That Quotation? Search Google Books is from Mind Shift. I'm adding it to The Best Places To Find Quotations On The Web.
Bloom's Digital Taxonomy Wheel is a very cool interactive, but it also seems a bit strange to me. I'm just not sure how helpful people will find it. I'm still adding it to The Best Resources For Helping Teachers Use Bloom's Taxonomy In The Classroom.
What Is Modern Slavery? Investigating Human Trafficking is from The New York Times Learning Network. I'm adding it to The Best Resources For Learning About Human Trafficking Today.
Visuals Are Valuable is an intriguing infographic.
Here are some other regular features I post in this blog:
"The Best…" series (which now number 691)
The most popular posts on this blog each month
My monthly choices for the best posts on this blog each month
Each month I do an "Interview Of The Month" with a leader in education
Periodically, I post "A Look Back" highlighting older posts that I think are particularly useful
Resources that share various "most popular" lists useful to teachers
Interviews with ESL/EFL teachers in "hot spots" around the world.
Articles I've written for other publications.
Regular "round-ups" of good posts and articles about school reform
More Recent Articles