The Family Fun Zone from Prima Princessa's Tutuzone - Learn how to make a LOLLIPOP FAIRY and and fairy dust plus  lots more fairy fun including fairy coloring pages for kids and fairy dress up ideas! You will love doing these fun fairy preschool activities at home with your child. 
Lollipop Fairy - Easy Kids Craft 
This little lollipop fairy is super easy. Kids really love these because it uses lollipops which makes it even more magical.
Directions:
1. Take a lollipop and draw a simple face with a permanent marker as well as simple hair.
2. Cut out 4 circles of tissue paper the same size. You can certainly mixt the colors if you so choose. Fold in half and cut a little notch. This notch will end up in the middle of the circles.
3. Stick lollipop throught the hole. Then wrap a pipe-cleaner around the top of the tissue a few times to hold it on. Shape extra pipe-cleaner into arms.
4. Squeeze another pipecleaner under first pipecleaner in the back and shape into wings.
5. Lastly make a little cirle out of another pipe-cleaner for the crown and cut a small peice for the wand which you just fold over a little bit at the top to give a ball feel.
This is a great preschool activity but you can easily please older children. They will bet more involved with the construction of the fairy and you can pull out more decorative items for them.  
Edible Fairy Wands - Kid Recipe
This recipe is super easy and super fun preschool activity for kids. Mom melts a bag of chocolate chips and a bag of of white chocolate chips in either the microwave or on the stove top. Make sure to ahve out several bowls of sprinkle, mini-chocolate chips, and other types of small candy. Make sure chocolate is not too hot. Kids dip ther long pretzels into the chocolate and then into the little bowls of candy decorations. Leave to wand on wax or parchement paper to cool.
Fun Butterfly Fairy Facepainting
This is an adorable video featuring a little girl getting a butterfly fairy face painting. Looks like lots of fun!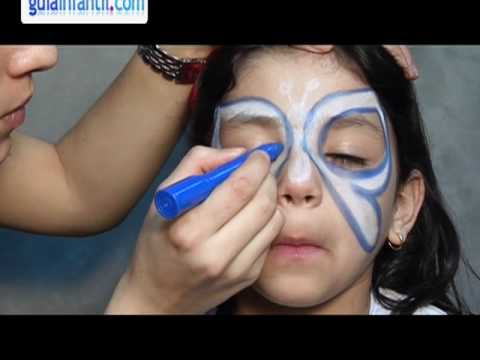 Fairy Dust - Easy Kids Craft
This is a great preschool activity because it stimulates the imagination as well as helps develop fine motor skills. Have your child decorate the front (and back if they so choose) of a piece of construction paper first with markers and second with lots of glitter and if you have them sequins are a fun touch. Once it is dry you will cut the paper into about 6 long strips. Then let your child cut these strips up into little strips. Place your fairy dust in a paper lunch box that has also been decorated. (Tip: do this outside on top of old newspaper as glitter tends to get everywhere. Use waded up old newspaper bags to spread the glue. For less mess use glitter glue instead of loose glitter)

Fairy Wands - Easy Kids Craft
There are lots of ways to make a fairy wand. These are 2 of my favorites. They
are both wonderful preschool activities. The wand made out of a stick is fun for older children.
For the first wand roll up starting from the corner going diagonal a piece of construction paper. Let your child tape it into place. Kids love to tape. Then either cut out a circle, star or heart shape for your child or let her do it. Decorate this shape and then tape onto the wand. Lastly, have your child select some ribbon. I just use whatever I have in my wrapping paper drawer. Tape this onto the wand and it is done! Kids love the ribbons on these fancy fairy wands.
This next wand is great for kids a bit older, ages 5-9. Go out in your backyard or to the park in search of special fairy sticks. Once you get back home paint your stick and watch it transform into a fairy wand. 
Fairy Wings and Fairy Costumes
There are few things as fun for little girls as fairy wings and fairy costumes. There are so many great fairy wings and fairy costumes you can find on-line or at your local toy-store. These are some great ones we found.
Dream Dazzlers Fairy Dress Up Set                              

 
Little Adventures Fairy Dress Up Set
 Visit Prima Princessa for more links to fairy costumes and fun online connect the dot fairy dress up games.
Your daughter will enjoy dressing up in her fairy costumes and dancing along to "Prima Princessa: Sleeping Beauty" target="_self">Prima Princessa Presents Sleeping Beauty" which is full of lovely ballerina fairies. 
Fairies love bells. If you go outside ringing your bells you will make the fairies very happy. They love to dance to jingle bells!
Easy Kids Crafts - How to Draw a Fairy
As you can see this is a very simple fairy to draw making it a geat preschool acticity. It use the basic shapes - a circle and triangle. The trick is to draw the wand first before your draw the wings. 
Easy Kids Crafts - Pipe Cleaner Fairy
I love this pipe cleaner fairy from The Craft Club. It is easy to make you just need to make a trip to the craft store for the bead, yarn, pipe-cleaners, stiff fabric and flower parts. The instructions are photographic making it super easy to follow.
Fairy Coloring Pages for Kids - Fun Preschool Activity
Gorgeous fairies - coloring pages for kids from Coloring Castle
Super cute fairies- coloring pages for kids from Activity Village 
Ballerina Fairy - coloring pages for kids from Prima Princessa
Prima Princessa- fun dance along preschool activity DVDs for only $6.99  featuring a combination of ballet lessons and real ballets on stage