"MyDD" - 3 new articles
"President Obama should ask for - and accept - the resignations of the remaining members of his economic team, starting with Secretary Geithner and Larry Summers, the head of the National Economic Council," said Minority Leader John Boehner in a morning speech to business leaders at the City Club of Cleveland. And with that masterful stroke of political rhetoric, long called for by many observers on the left including this one, John Boehner has set the terms of the debate for the Fall election. Granted, the Fall election was always bound to be a referendum on the President's economic policies but now Boehner has floated an idea that many outside the GOP's base can latch onto.
Beyond that demand for personnel changes in the White House Economic Team, Boehner's speech offered the standard Republican boilerplate of failed ideas: lower taxes, fewer regulations, free trade agreements, and unspecified spending cuts but presumably to social safety net entitlement programmes. While the speech is disingenuous - he quotes John F. Kennedy "an economy constrained by high tax rates will never produce enough revenue to balance the budget, just as it will never create enough jobs." but neglects to mention the top marginal rate in 1961 was 91 percent a far cry from today's 35 percent - the speech, politically speaking, is Boehner's finest hour. It's the pitch for a man who thinks himself the Speaker-in-waiting.
Mind you, the Democrats have somewhat pre-empted Boehner by making him a campaign issue and the White House is firing back. Bill Burton, the White House deputy press secretary, said he had reviewed Boehner's speech and found "what was most surprising was his full-throated defense of the indefensible." Burton rejected Boehner's call for Obama to dismiss Geithner and Summers, saying the "irony of this is that Boehner would fire the people who made the tough decisions, who did the hard work to get the economy going again." And the problem with the Administration, they think the economy is on the right track when we are headed for long period of Japanese-style malaise.
The other must read piece of news today is in the Wall Street Journal where Jon Hilsenrath covers the on-going debate at the Federal Reserve over how to kick start the economy.
After steering the economy away from another Great Depression, Mr. Bernanke confronts a painfully slow rebound.

Unemployment is still high and inflation is uncomfortably low. Fed officials, who spent much of the early part of this year planning for an exit from easy-money policies, have been forced to think about doing more to jolt the economy to life.

Fed officials emphasize they have common objectives despite being deeply divided over what to do next: They seek to avoid either deflation, a broad decline in prices and wages, or an upsurge of inflation. And they share a strong desire to get the economy growing fast enough to sustain a recovery without unusual government support.

The Fed already has cut the short-term interest rates it targets to near zero, vowed to keep them there for an extended period and purchased trillions of dollars in securities, with money the central bank creates, to push down long-term interest rates.

The most contentious issue now is whether to print more money and buy even more long-term securities, which would expand the Fed's portfolio further. An earlier bond-buying program ended in March.

A decision hinges largely on whether the Fed sees inflation falling much further or if economic growth fails to revive. The Fed and most private forecasters still expect faster growth in 2011, and few economists are predicting outright deflation.

Among the other issues: Should the Fed act quickly, or should it wait for firmer evidence that the economy is truly faltering? And if it does decide to act, should it take small, cautious steps or large, dramatic ones?
Deflation is a concern of mine but what troubles me most isn't the Fed's wrangling though it sheds clarity over the situation but rather that Administration appears lackadaisical in tackling unemployment. From day one, it should have been priority one but the views of Christina Romer were dismissed by Summer, Geithner and Emanuel, the troika that runs the White House economic policy. Rightly or wrongly, the troika is perceived as putting the interests of Wall Street ahead of Main Street and perceptions do matter. Still, it is hard to discern a sustained effort by the Administration on the nation's unemployment problem. By letting unemployment fester, it has gives credence to the GOP thus giving them an opening.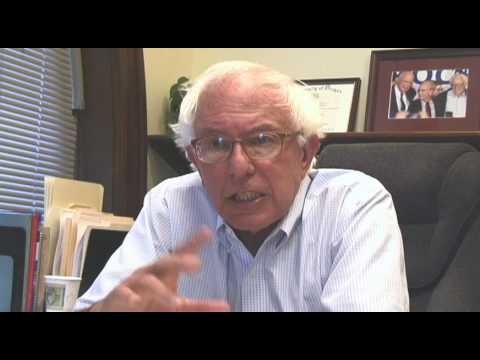 Here's Vermont Senator Bernie Sanders taking two questions from constituents. The first is Senator Sanders' thoughts on the achievements and disappointments of President Obama's tenure and the second is on Senator Sanders' views on the recently passed Wall Street reform law.
Florida Primary Preview
Polling last week showed Kendrick Meek overtaking Jeff Greene in the Democratic Senate primary and Bill McCollum overtaking Rick Scott in the GOP guberanatorial primary. However, a new Quinnipiac University poll released Monday shows Attorney General Bill McCollum's lead narrowing to 39-35 percent against Rick Scott, a healthcare billionaire. In the Democratic primary for US Senate, Rep. Kendrick Meek appears to have a steady 39-29 percent lead over investment billionaire Jeff Greene, according to the poll of likely primary voters. The Miami Herald has more on these races.
Earlier this year, the New York Times wondered if Marco Rubio might be the first Senator from the Tea Party but now the nation's paper of record finds the right wing Tea Party darling veering off-script. Of course, Rubio has already pivoted towards the general election where he will face Governor Charlie Crist now running as a centrist independent and the winner of the Meek/Greene primary. The Florida Senate race is certainly the nation's most intriguing one.
I'm pretty adamant on this but I think Marco Rubio is the most dangerous candidate running in any race this cycle - one that must be defeated at all costs. That's quite a statement given the likes of Sharron Angle, Rand Paul, Pat Toomey and Ken Buck. Why do I think that Rubio must be defeated? Well statements like this one where he is perceived as the next Ronald Reagan.
And frankly, I concur. He's the next Reagan, polished enough to hide his real agenda and articulate enough to sound sane at least say compared to Sarah Palin. Rubio has his feet in several conservative camps. First and foremost, he is Jeb Bush's designated heir giving him an in with the Bush wing and more importantly their money and organizing prowess. Second, he's close to the neocon presidential pardoned felon Elliot Abrams, who like Jeb Bush is a signatory in the Project for the Next American Century. Third, he's got Jim DeMint's backing and the support the red-meat conservative wing of the GOP. While he's a not a social conservative along the likes of Mike Huckabee, he's a good-looking somewhat charismatic Hispanic with the picture perfect family who seemingly lives his values. He's Florida's answer to Wisconsin's Paul Ryan. One of these two will be on GOP ticket before long. Giving Marco Rubio a Senate seat is giving him a launching pad to a presidential bid. I'd just assume beating him here and now. 
The Woes of Chet Culver
Stateline interviewed Iowa Governor who is fighting for his political life trailing Terry Branstad by 16 points in the latest poll. While Culver has Iowa sitting pretty with a balanced budget, cash reserves, low debt, and unemployment below the national average, it's not translating into votes. Here's part of the reason why, an unmotivated base.
Relations between Culver and labor hit a low in 2008, when the governor vetoed a bill that would have expanded collective bargaining rights for public employees. The move so infuriated labor unions that one union lobbyist, when asked what Culver's biggest misstep as governor has been, asked, "Have you talked to anyone around here?"

Culver has governed as a political centrist in other ways. To balance the budget last year, he and lawmakers relied on an across-the-board spending cut of 10 percent that slashed hundreds of millions of dollars from key areas such as public education and health and human services. While deep budget-slashing has won New Jersey Governor Chris Christie plaudits from national Republicans, it is not typically the way to draw Democrats to the polls in droves, says Mack Shelley, a political science professor at Iowa State University.
Vermont's Democratic Gubernatorial Primary
Susan Bartlett, Matt Dunne, Deb Markowitz, Doug Racine and Peter Shumlin are down to the wire battling for votes ahead of Tuesday's primary in the Green Mountain State. After months of campaigning, no candidate has emerged as the clear favorite. The Burlington Free Press has more on what promises to be a cliffhanger election.
More Recent Articles