Here are the latest updates for you
Bauer Griffin
Jennifer Garner runs errands with her daughter Seraphina, 1, and a nanny. She's walking! Awwww, how cute!
Bauer Griffin
But it's nothing very scandalous, if you ask me.
Gossip Girl star Chace Crawford was hanging out at Ringo's Pub in Plano, TX last night. He and a friend got in a car, and they were then busted for possessing an unlit joint. Crawford was arrested and charged with possession of marijuana under 2 ounces. The misdemeanor charge carries a maximum of 6 months in jail.
If he was smoking the joint, then hey – I get it. But an unlit joint? Seems a stretch if you ask me.
Answer after the jump!
Charlize Theron exited a Bristol Farm Store and briefly covered her face while entering her car in Hollywood.
Fame
Kim Kardashian had a key role in designing her avatar for her new Iphone app. The Appetizer Mobile iPhone app includes Kim's beauty tips, tweets and animated screenshots of herself. And she paid close attention to her most well noted asset.
"Kim approved it all," says a source. In fact, she paid special attention to one specific body part: her famed derriere!

"Kim asked them to revise her avatar three or four times because it didn't look right to her."

Her final pick? "She went with the biggest butt of all the options."
The app is now available on Itunes.
Source Fame
Gary Coleman will not be buried this weekend as originally planned, as his ex-wife Shannon Price is fighting with his estranged parents about the location of his burial, TMZ reports. Coleman died Friday at age 42 in a Utah hospital following a fall that resulted in a brain hemorrhage, and the TV star's parents are seeking custody of his body and want it returned to the star's boyhood home in Illinois, his former manager, Victor Perillo, told the Associate Press on Thursday.
Perillo said Coleman's parents, Sue and Willie Coleman, are the legal custodians of his body because Coleman and Price divorced in 2008. But a rep for Gary's ex-wife claims Price is the executor of the actor's will and has the power to make all decisions regarding the funeral and his estate.
"The Colemans don't want to fight with anyone," their lawyer said in a statement. "They just want to bring their son home."
According to TMZ, a mortuary is holding Coleman's remains and his funeral has been canceled for now.
There's more! Continue reading…
Minus the Bear have always avoided easy classification, preferring to tread their own inimitable path defined by energy and invention. OMNI, the Seattle-based band's fourth full-length recording and debut Dangerbird Records release, sees a stunning evolution to their sound and vision. As evinced by the album's all-encompassing title, Minus the Bear have merged their myriad influences into a sweeping collection marked by its slinky and sensual melding of city-stomping rock and deep funk grooves. That spirit of sonic lasciviousness is mirrored in the album's raw take on human sexuality – a theme as intricate and elaborate as the band's extraordinary music. Boldly experimental yet instantly accessible, OMNI is Minus the Bear's most provocative and potent work to date.

"I think it's a real leap forward," singer/guitarist Jake Snider agrees. "It's an impactful sounding record."

Founded in 2001, Minus the Bear earned immediate attention with their distinctive spastic prog-pop hybrid, all serrated rhythms, swirling synths, and guitarist Dave Knudson's multi-layered, pedal-hopping acrobatics. Prolific from the start, the band let loose with series of EPs and albums, each drawing escalating acclaim and a host of new fans.
I got my hands on OMNI a couple weeks ago, and I've listened to it non-stop! My favorites are the first two tracks, My Time and Summer Angel.
Minus the Bear played in Portland, Oregon last Friday at the famous Roseland Theater. The show was absolutely unbelievable!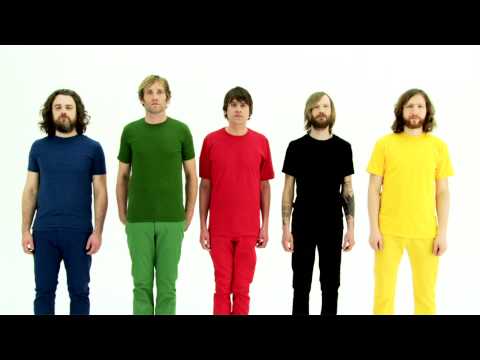 Check out Minus the Bear's website!
Minus the Bear in iTunes
Amazing Photos by Troy Kujala Photography