Stylist Rachel Zoe was spotted out with her son Skyler Berman in Soho in New York City yesterday afternoon. I'm sure the stylist is crazy busy with Fashion Week!
Her son is so cute!
Photos: Fame/Flynet

Sienna Miller debuts her baby bump!! See the picture here > DListed
Lil' Wayne is ENGAGED!? Too Fab
DISGUSTING!! Courtney Stodden and Doug Hutchison posed for nasty Valentine's Day pictures! Superficial
VIDEO: Model falls on the Fashion Week runway. Now that's gotta be embarrassing! Too Fab
PICS: 'Teen Mom' Leah Messer put her daughters in a beauty pageant. Of course she did. Superficial
Scarlett Johansson wears a bikini on a yacht during a Valentine's Day cruise with her boyfriend! Popsugar
AnnaLynne McCord flashes some skin! Hollywood Tuna
Whitney Houston's private funeral to take place this Saturday – find out where! ASL
Is Keanu Reeves getting plastic surgery – or has his face always looked like this? Celebitchy
Salma Hayek looking gorgeous in blue! INO
Kate Moss' daughter is growing into a really beautiful young lady! Celeb Baby Scoop
PETA's questionable new vegan ad kinda makes me squirm! Make Her Up

Is it just me – or do these new Victoria Beckham pictures make her look very sick!? I mean not necessarily Macaulay Culkin sick, but sick nonetheless!
Maybe Fashion Week is getting the best of her.
Victoria Beckham attends the launch of Britain's GREAT campaign in Grand Central Station on February 15, 2012 in New York City, NY.
Photos: Fame/Flynet

Pregnant actress Hilary Duff was spotted picking up some lunch to go in West Hollywood, CA yesterday afternoon. The actress wore a very little jean skirt. Too much for a pregnant gal – or cute?
Photos: Fame/Flynet

Actress Angelina Jolie and her partner, Brad Pitt attended the "In the Land of Blood and Honey" screening at Zetra Olympic center last night in Sarajevo, Bosnia. Angelina got a warm welcome from the audience and added, "I am happy to be here. I love Bosnia, I love you."
I think Angelina looks great, and Brad looks even better.
Here's a bit of what went down during her trip to Bosnia via Celebitchy:
According to this report at the Washington Post (read the full piece here), Angelina greeted the 5,000-strong crowd with a few words in Bosnian, then she gave a little speech in English. After the film, she got a standing ovation, which made her cry, and she said, "To share this with you means the world to me."

At a press conference earlier in the day (in Sarajevo), Angelina talked about the need for a "wake up call" for the international community to pay attention to war crimes and atrocities in real time. She made some pointed comments about the situation in Syria too – "I am satisfied with what we made, I feel very strongly about it and I believe that its core issue — which is the need for intervention and need for the world to care about atrocities when they are happening — is very, very timely and especially with things that are happening in Syria today." Wait… so she's saying that we need to get involved in Syria? I mean… I understand the humanitarian argument, sure. But there's so much more at play in Syria than encouraging America to get on a white horse and "save the day." Will the proponents of force say that we'll be greeted as liberators? Again? Angelina has the heart of a neo-conservative, I swear.

She also addressed concerns by the Serb community that they are being portrayed as "the bad guys" in the film: "I think it is very important that this film is out at this time and … if this film points the finger at anybody it is the international community. I understand that it's sensitive. But I also know that the Serbian people are intelligent and open-minded people. They will know the difference between what's been forced upon them and what they feel in their own hearts… although it's difficult, I hope that they see intention behind it." In a rare move, Angelina is also arranging "private screenings" for Serbs who are interested in seeing the film – she will even send the film to someone's home, if they are interested.
Photos: Fame/Flynet

This new still was just released by Disney, and shows Kristen Stewart and costar Chris Hemsworth in a dramatic scene.
The grown-up version of the children's story has Stewart in the title role, with Hemsworth as the huntsman and Charlize Theron as a malevolent evil queen.
I can't wait to see it. I really hope this gets Kristen Stewart OUT of the 'Twilight' pigeonhole she's been in. I would like to see her go on and play different characters, but even this picture makes me think of Bella and Edward. Doesn't it?
Trailer below!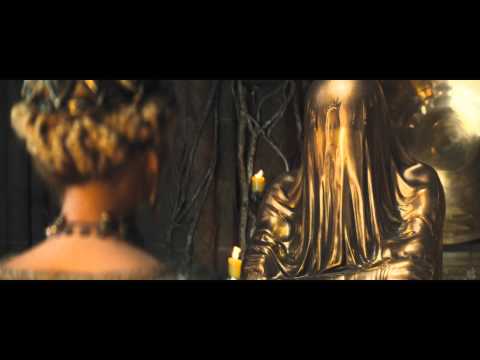 Trident and Stride have teamed up to bring you "Chew For The Loot," an instant-win game that will reward gum chewers with a million dollars, 50 bucks at a time.  That's right, every specially-marked pack of Trident orStride you chew is a chance for your mouth to earn you an instant 50 bucks.  Just open the game piece to find out if you're the winner.  And if you don't win the first time, keep trying – the more you chew, the more chances you have to win!
While you can't win on Facebook, Trident and Stride have put together interactive Facebook tabs that allow you to get a virtual taste of money right now by adding some bling to your mouth (using one of your Facebook photos).  Try it now and 'LIKE' the official "Chew For The Loot" tab at your favorite brand's Facebook page:
- Trident: http://www.facebook.com/tridentgum
- Stride: http://www.facebook.com/stride-gum

See full rules and regulations at www.chew4loot.com.
SHARE WITH YOUR FRIENDS
Get your friends in on the action and share on Twitter and Facebook.
- Share on Twitter:  Click on the tweet below to easily share with your Twitter followers.
Get ready to taste the MONEY! @TridentGum & @StrideGum are giving away a million dollars, 50 bucks at a time bit.ly/chew4loot #chew4loot
- Share on Facebook:  Click here on the link below to easily share with your Facebook friends
Remember, the only way to receive a chance to win is by purchasing a specially-marked pack of Trident or Stride.  While you can't win on Facebook, Trident and Stride have put together interactive Facebook tabs that allow you to get a virtual taste of money right now by adding some bling to your mouth (using one of your Facebook photos).  Get ready to taste the money!
ICYDK BONUS CONTEST! 
I have 2 sets of prizes to hand out to 2 lucky readers of ICYDK! 2 of you will win a $50 Visa gift card AND 1 box of Trident gum!! All you have to do is share with your friends using the links above – then leave me the permalink in the comments below! That's it! Share on Twitter or Facebook – then send me the proof you've done so – and you'll be entered to win!!