Here are the latest updates for sricaitanyamahaprabhu.planetiskcom@blogger.com
You can now listen to the workshop titled "Futuristic Pleasure: be here then" from Wed 21st July 2010 lead by Devamrita Swami here:
A daily broadcast of the Ultimate Self Realization Course(TM) Sunday 6 March 2011 The Supreme Personality of Godhead, Lord Sri Krishna, and His eternal consort, Srimati Radharani are enjoying transcendental pastimes in the topmost planet of the spiritual world, Sri Goloka Vrindavan. They are beckoning us to rejoin them. Our Mission: To help everyone awaken their original Krishna consciousness, which is eternal, full of knowledge and full of bliss. Such a global awakening will, in one stroke, solve all the problems of the world society bringing in a new era of unprecedented peace and prosperity for all. May that day, which the world so desperately needs, come very soon. We request you to participate in this mission by reviving your dormant Krishna consciousness and assisting us in spreading this science all over the world. Dedicated with love to ISKCON Founder-Acharya: His Divine Grace A.C. Bhaktivedanta Swami Prabhupada, our beloved spiritual master, and to you, our dear readers. Today's Thought: That Wondrous Spiritual Sky Uploaded from Bhaktivedanta Ashram--Austin, Texas USA Why settle for ever-increasing chaos and confusion in this material world's cycle of birth and death when you can instead taste ever-increasing bliss by reviving the dormant love of God within you heart? While suffering is the pastime of the ignorant, those who are wise move up to a higher level of consciousness beyond the three modes of material nature and qualify themselves to regain their eternal identities in that wondrous spiritual sky where people never die. Sankarshan Das Adhikari The Amazing Spiritual Sky, Land of Immortality http://www.backtohome.com/images/spiritual-sky.jpg Answers According to the Vedic Version: Question: Godhead and Mayavadis My dear Srila Gurudeva, Why do we call God Godhead? And why does Your Grace talk about Mayavadi followers as people who do not worship well and do not understand, while we are asked to accept all religions and their way of expressing themselves? J. Answer: Head God and Formlessness Advocates The word god can refer to any controller such as the moon god, the sun god, etc. But when we say Godhead we are referring to the Supreme God, the supreme controller, the source of all existence. A Mayavadi is someone who says that the form and personality of God is maya or an illusion. Religion means to give loving service to God. But if there is no person there to accept our loving service, there is no question of religion. One may approach God as Krishna, Allah, or Jehovah. That is alright. But if we deny that He is person, as the Mayavadis do, there is no question of religion. In other words, Mayavadi philosophy is a covered form of atheism. They say that they accept God, but then they say that He has no form and no personality. It is better to come out honestly and declare oneself to be an atheist, than to say I am a theist and then deny God's form and personality, as the Mayavadis do. Sankarshan Das Adhikari Transcendental Resources: Receive the Special Blessings of Krishna Now you too can render the greatest service to the suffering humanity and attract the all-auspicious blessings of Lord Sri Krishna upon yourself and your family by assisting our mission. Lectures and Kirtans in Audio and Video: Link to High Definition Videos Link to Over 1,000 Lecture Audios Lecture-Travel Schedule for 2011 http://www.ultimateselfrealization.com/schedule Have Questions or Need Further Guidance? Check out the resources at:http://www.ultimateselfrealization.com or write Sankarshan Das Adhikari at: sda@backtohome.com Get your copy today of the world's greatest self-realization guide book, Bhagavad-gita As It Is available at: http://www.ultimateselfrealization.com/store Know someone who could benefit from this? Forward it to them. Searchable archives of all of course material: http://www.sda-archives.com Receive Thought for the Day as an RSS feed:http://www.backtohome.com/rss.htm Unsubscribe or change your email address Follow us on Twitter: http://twitter.com/Daily_Thought Copyright 2005-2011 by Ultimate Self Realization.Com Distribution of this material is encouraged. Simply we request you to acknowledge where it is coming from with a link to our sign up page: http://www.backtohome.com Our records indicate that at requested to be enrolled to receive e-mails from the Ultimate Self Realization Course at: This request was made on: From the following IP address:
Celebrations at the temple on Saturday March 19th...please come and enjoy kirtan, discourse on the pastimes of Chaitanya Mahaprabhu and a sumptuous feast.
This festival celebrates the appearance anniversary of Lord Chaitanya Mahaprabhu. It is observed annually (in late February, early March) by Krishna devotees all over the world—especially in the area of Mayapur, India, the place where He appeared in the year 1486. This year, Gaura Purnima falls on Sunday, February 28th (in the western world).
Lord Caitanya Mahaprabhu is Krishna Himself, appearing as His own devotee, to teach us that we can gain full enlightenment simply by chanting the holy names of the Lord:
Hare Krishna, Hare Krishna, Krishna Krishna, Hare Hare/
Hare Rama, Hare Rama, Rama Rama, Hare Hare
Those who witnessed the Lord's pastimes saw Him dance and chant with ecstatic love for God, the likes of which had never been seen before.
Lord Chaitanya encouraged everyone to follow this same process. He taught that anyone—regardless of background or spiritual qualification—can develop their innate love of God and experience great spiritual pleasure by chanting the Hare Krishna mantra.
The present-day International Society for Krishna Consciousness continues the work begun by Lord Chaitanya, who predicted that the chanting of the holy names of Krishna would spread all over the world.
Gaura Purnima means "golden full moon," signifying that:
1) Lord Chaitanya was "born" during a full moon, and
2) The Lord blesses everyone with the soothing, moonlike rays of His sublime teachings.
His followers generally observe this festival by fasting and chanting the holy names all day. At moonrise, a special multi-course feast is offered to the Lord and then enjoyed by all.
HH BVMadhava Swami will be visiting New Govardhana over the next couple days. He will be giving the Sunday Feast Lecture TODAY (6th Mar) and Bhagavatam Class TOMORROW MORNING at 8am (7th Mar).
Please take advantage of Maharaja's association – A very dear devotee of Tulasi , and Krsna, Balarama he is always speaking of Their divine glories.
Today at 16:30 – Tomorrow at 19:30
Location
New Govardhana Farm
525 Tylagum Rd
Eungella
Today at 16:30 – Tomorrow at 19:30
Location
New Govardhana Farm
525 Tylagum Rd
Eungella
Srimad Bhagavatam 12.2.2 - The scary description of Kali-yuga gives impetus to devotees to go back to Godhead (kaler dosa-nidhe rajann...)

www.sdgonline.org.
A Writer of Pieces
New format–I will begin with a poem written on the day of its printing. Then I will print random excerpts of books I have printed over the last 30 years. I hope this variety will be pleasing.
Poem for March 5

A devotee has asked me to
send a poem about painting
for his painting exhibit.
I know I have some, and I
will look them up.
You tell how you
attempted Krishna in
tri-bhanga pose, and
Radha holds her hand
on Krishna's arm.
You can give an example that
the heavyset man sitting bare-chested and
chanting on his beads
is a sadhu from
my imagination,
and he chants day and
night holding beads in
his hands.
The avadhuta madman is distinguished only by
his Vaisnava tilaka
and his sikha
and his waving arms.
The birds flying across the trees
and the swans and flowers
are Krishna's picture in the
material world, and so it's done
with brush. I'm lacking expertise
but steer to Krishna giving
an indication of the Lord
in the picture of a young bhakta boy
and a bent old man chanting
on his japa.
I have no particular skill
for realism or abstract,
but I sincerely
make a world
and write the words
Govindam adi purusam
tam aham bhajami.
Write the words if
you like, it's graffiti.
Make the smiling face
of a neophyte,
the gravity of a madhyama
the ecstatic bliss
of a mahabhagavata.
Use bright colors
and shapes,
do it nicely.
www.sdgonline.org.
From Begging for the Nectar of the Holy Name (1992)
Japa Retreat
"My planned retreat is a month from now. What can I do right now to feel the friendly reciprocation of the holy name? He is my most dear friend. How to understand that? (A good sign that my con­sciousness is turning to japa: I'm chanting during the night, between dreams, etc. )
"Today, I rose at 1 A.M., said brief prayers, and started japa by 1:10 A.M. I kept going for two hours and chanted twelve rounds. But I don't think of Krishna's pastimes when I chant. Why is that? I say I don't have time for it, that I can't stop to read some­thing that will remind me of Vraja-lila.
"Still, it is worthwhile to focus on chanting and hearing, to try to escape the plan-making mind. At the chanting retreat, I will be able to reduce all my other activities and concentrate on praying the holy names.
"Saturday, alone in room for almost one and a half hours of japa, 2:30-3:45 P.M. Something, a little spark of earnestness, was there and I was attentive. Later, I became sleepy.

"Sri Namastaka: 'O Harinama! The tips of the toes of Your lotus feet are constantly being worshiped by the glowing radiance emanating from the string of gems known as the Upanisads, the crown jewels of all the Vedas. You are eternally adored by liberated souls such as Narada and Sukadeva. O Harinama! I take complete shelter of You. (text 1)'"
www.sdgonline.org.
From Spiritualized Dictionary (1997)
Aria

"A Greek air, melody, or tune, specifically: 'An accompanied, extended, and usually elaborate melody sung by a single voice (as in an opera)—compare RECITATIVE.' It makes me think again about the story of the flute player in the pit. In one jungle tribe, every twenty years or so they take their best flute player and put him into a deep pit with enough food and water to last seven days. The idea is that he will play his flute for the pleasure of the gods—no one else will hear him—up until the time of death. It is expected that he will make his best performance in such desperate circumstances.
"This story captures my imagination because a writer often feels alone when he is in his 'pit,' writing out his desperate cry to the Lord. I suppose being an opera singer is similar if you are alone with only your voice as your offering. The aria is lifted on your voice and given the strength of spirit. O Krishna, please receive this melody I am offering at Your lotus feet.
"What aria are we singing? Rather than the song of the free bhakta, we are singing the song of the vaidhi-bhakta. That's why our arias sometimes sound more like slave songs than the songs of those who are free to relish Krishna's lilas. A vaidhi-bhakta prays to become spontaneous in his love for Krishna. He prays to see his activities not as work but as service. He prays to realize that he's not chained to the material world by anything other than his uncontrolled mind and senses. He prays to love his guru.
"His prayer is his aria, and it helps to free him. He sings of his impatience to attain the goal; he sings of approaching death. He sings of duty and of the joy of taking up his beads early in the morning.
"Although most people prefer to sing for an audience, a vaidhi-bhakta also tries to sing alone. When he is alone, it's easier for him to look at his lack of courage, his enviousness, his tendency to find fault, and his spiritual aspirations. It's easier to sing the song of hope in the face of hopelessness: 'I have been chanting my rounds for thirty years with these ears and this tongue and trying to hear the Lord's name. I wish I could do better, but I don't seem able. Still, while this body has breath, I will continue to chant the holy name. Dear Lord, I ask for nothing more than to continue this chanting and praying life after life. Please let me always serve Your devotees and chant Your holy name despite my failure to do either of these things properly. As You desire, please give me the strength to be a pure devotee. Please let me always understand the pure devotion to my spiritual master's activities and to follow him with faith.'
"And as with any song, our aria will improve and deepen when we sing it with heart."
www.sdgonline.org.
From ISKCON in the 1970s: Diaries
Chapter Five

"Dear Lord, please give me the strength to serve You."

1975
"This chapter covers a period where Srila Prabhupada was traveling through the USA, and when our BBT Library Party managed to catch up with him in a few cities. In those days I was not a regulated diary writer. I was too busy serving, and I had not developed the habit. The continuity of what exactly I was doing at this time is not clear from these pages, therefore, but there are strong glimpses of Srila Prabhupada on morning walks, lectures and so on. Private meetings were more rare. I was mostly satisfied to see my divine master at least on frequent occasions and to always bring him news of the Library Party's successful sale of his books at the universities. We tried to schedule our university visits to coincide with the cities Prabhupada visited. Little did we know then that his stay with us would be so brief, that this was his last tour of the USA.
"Here we also got a view of Prabhupada in argumentation and some of the very rebellious challenges that he met, such as the group of long-haired 'disciples' he spoke to in Los Angeles. Sometimes Prabhupada used to say that he could have stayed at home and loved Krishna, but because he saw people were suffering, he traveled; traveling meant to expose himself to many challenges. People may think that Prabhupada speaks too strongly, but if you get a glimpse at some of the challenges Prabhupada faced, you realize that he had to be strong. It was his opponents who resented that Prabhupada was so strong, whereas those who wanted to remain in Krishna consciousness aspired to be led by Prabhupada's argumentation.
"This also helps us to understand Prabhupada's statement about Christ, 'We adore and offer obeisances to Christ.' Since he himself was always on the preaching field, Prabhupada could appreciate how Christ gave everything to preach and yet was always tolerant, even against the ultimate challenges . . .
"Seeing my notes, in which I half-complain and half-assure myself to work hard, I draw some solace. I was doing as much as I could in the spirit of 'work now, samadhi later.' Prabhupada's inspirational presence enabled us to work hard assisting him to expand the Krishna consciousness movement. We pray to always be thankful to Prabhupada for pushing us in those days. According to the Bhagavad-gita, whatever little assistance we offer to the Vaisnavas is to our eternal credit . . . Even from a sketchy diary like mine, one can appreciate how Srila Prabhupada was scattering seeds of spiritual instruction wherever he went. Many of those bhakti seeds are still growing; some are waiting to be cultivated by whomever will come forward to do it. For example, by his informal talks one evening in Detroit: 'He is keen for an institute for all our philosophy books. Any scholar may come and study them and then argue with us, and we shall demonstrate how Krishna consciousness is superior.' Prabhupada's lectures are also full of hundreds of seeds (bhakti-lata-bija) thrown out to the hearts of the listeners—the only prayer to make to Krishna is, 'Dear Lord, please give me the strength to serve You.'
"Prabhupada's U.S. summer tour was interrupted when he got the chance to visit with India's prime minister, Indira Gandhi. He left suddenly from Toronto.  I was able to have a private meeting with him just before he left, and he assured me to stay on the same course of distributing his books to the university libraries, getting appreciations of his books from the scholars, and lecturing in the colleges."
www.sdgonline.org.
From The Qualities of Sri Krishna (1995)
Forgiving
"Rupa Gosvami defines a forgiving person as 'a person who can tolerate all kinds of offenses from the opposite party.' Lord Krishna tolerated Sisupala's blasphemy. 'Sri Yamunacarya further says in his prayer that the forgiving power of Lord Krishna is even greater than that of Lord Ramacandra, because Sisupala was always in the habit of insulting Krishna—not only in one lifetime, but continually throughout three lives. Still, Krishna was so kind that He gave Sisupala the salvation of merging into His existence.' (NOD, Chap. 21, p. 171)
"Krishna is the supreme father. He loves all living entities. He is confident, secure, and filled with well-being. This is the basis of His forgiving nature. In turn, Lord Krishna will be pleased with us if we are forgiving to others. In the Bhagavad-gita, Krishna says that forgiveness as well as intelligence, knowledge, truthfulness, fearlessness, nonviolence, and austerities—'all these various qualities of living beings are created by Me alone.' (Bg. 10.5) To attain forgiveness, therefore, is to triumph in saintly behavior. Canakya Pandita describes forgiveness as a sadhu's chief quality. Maharaja Ambarisa exemplified this forgiveness by showing mercy to Durvasa Maharaja, even though Durvasa tried to kill him. Similarly, Lord Nityananda forgave Jagai and Madhai.
"Lord Krishna sets the standard for a devotee's forgiveness. He insists that since we want Him to forgive us, we should first of all be forgiving toward others. A saintly person forgives not only his own family members but his enemies. (Krishna is so kind to His enemies that He grants them liberation.) Prabhupada reminded us that Jesus Christ asked God to forgive the ignorance of those who crucified him. Christ gave his followers the following words in the Lord's Prayer: 'Forgive us our trespasses as we forgive those who trespass against us.'
"A good way to demonstrate forgiveness is to continue to give people Krishna consciousness despite their ingratitude. This is the preacher's mood. Although there are so many reasons why we may want to reject the nondevotees, a devotee displays forgiveness by continuing to preach."
All those in the New Govardhana + Brisbane Area!!!! – Kadamba Kanana Swami Maharaja has specially requested the YOUTH to come and associate with him on WED 16 March.
If you live in the NEW GOVARDHANA AREA – Nitai Christian Durr will arrange transport for whoever would like to come, please contact him on 0422 724 920 or via facebook.
The Program starts at 7pm with Gaura Arati followed by an EVENING OF KIRTAN with MAHARAJA!
Please make the effort as Maharaj doesn't often make it to Brisbane.
*KADAMBA KANANA SWAMI BRISBANE VISIT*
Location: ISKCON Brisbane
Time: Monday, 14 March 2011 19:30
Share this story your way:


Every ingredient in the perfect recipe for happiness is present at Sri Sri Radha Ballabha's Australian Abode:

a kaleidoscopic darsana of a delightful explosion of colours, with Lord Nityananda's earrings glowing like those half-moon crescents on the book cover of the Arabian Nights' Tales.

This, combined with the jovial and cozy family-like atmosphere created by all the devotees cheerfully chatting their hearts away, encircled by care-free children busy being their chirpy little selves.

Melbourne is indeed Vaikuntha:
The Land of No Worries!

Please share your realisations with other devotees from around the world...simply send me an introduction email and I will be happy to make you a member:

rasa108@gmail.com

ys

Rasa Rasika dasa
1966 March 5: "Today I have sent one letter to the Secretary Salvation Army for exchange. At 2 o'clock went to Ananda Ashram. Kirtan was performed in the evening. Very much appreciated."
Prabhupada Journal :: 1966
1968 March 5: "Please be happy in separation. I am separated from my Guru Maharaja since 1936 but I am always with him so long I work according to his direction."
Prabhupada Letters :: 1968
1971 March 5: "Anyone reading our KRSNA book, TLC, NOD, and Bhagavad As It Is, is sure to become a Krishna Conscious person. Therefore somehow or other we must push on this literature distribution program."
Prabhupada Letters :: 1971
1972 March 5: "You are the flowers of your nation, the most exalted and never inferior or less than even the most so-called elevated materialistic person."
Prabhupada Letters :: 1972
1972 March 5: "Even I cannot give you any nice thing, still, because you have got some love for Krishna and your Spiritual Master, you are working very hard in every way just to push on this movement."
Prabhupada Letters :: 1972
1972 March 5: "Practically now it is in the hands of you big guns to manage everything. if you go on helping me in this way, you may know it for certain that very soon you will see Krishna face-to-face."
Prabhupada Letters :: 1972
1973 March 5: "We want to avoid skin disease and the Indian people are like the tannery expert. Such a cobbler is expert at skin disease. They will see our Sankirtana Party and think it is a white dance."
Prabhupada Letters :: 1973
1974 March 5: "We do not say that one has to leave home. Either you leave home or remain there, you go on with your progressive interest and participation in this great movement."
Prabhupada Letters :: 1974
| | |
| --- | --- |
| | ISKCON guru Mukunda Goswami's long-awaited memoir of the early days of the Hare Krishna Movement in New York, San Francisco, and London—entitled Miracle on Second Avenue—was ceremonially "offered" to the Deities of Sri-Sri Pancha-Tattva at ISKCON's headquarters in Mayapur, West Bengal on February 23rd. |
Our editing is to correct grammatical and spelling errors only, without interpolation of style or philosophy.
>>> Ref. VedaBase => Letter to: Rupanuga, 17 February, 1970
Today I received the official pictures from Stanwell School from the opening day of CelebratingRE a month of events throughout the UK on the importance of religious education in schools. It's always nice to enter into an auditorium were lovely music is being played, the students were very accomplished. The various faiths were invited to [...]
| | |
| --- | --- |
| | After a 6.3 magnitude earthquake completely destroyed their Deities and temple building on February 22nd Christchurch devotees are trying to stay positive during one of the most difficult times in their lives. They've made a temporary home for forms of Srila Prabhupada, Giriraja, and their small Gaura Nitai Deities, who survived the earthquake, in one devotee's house. |
| | |
| --- | --- |
| | In November 2010, the leadership of Bhaktivedanta Manor—ISKCON UK's flagship temple—agreed that an independent Review Team should interview many devotees across its key community groups to get valuable feedback on its management and possible areas of improvement. |
| | |
| --- | --- |
| | The Oscar-winning film of the year, "The King's Speech", depicts the compelling story of King George VI and his speech therapist, Lionel Logue. Lionel Logue was neither a physician nor a conventional speech therapist, but his homeophatic treatment was impressively successful. |
Lecture on Bhagavad Gita, Chapter 17, Texts 17-19 titled "The Top Then Brahmas" given by Prahladananda Swami.
Dallas, TX
2010-12-15 
Bhagavad-gita As It Is 17.17
sraddhaya paraya taptam
tapas tat tri-vidham naraih
aphalakankshibhir yuktaih
sattvikam paricakshate
TRANSLATION
This threefold austerity, performed with transcendental faith by men not expecting material benefits but engaged only for the sake of the Supreme, is called austerity in goodness.
Bhagavad-gita As It Is 17.18
satkara-mana-pujartham
tapo dambhena caiva yat
kriyate tad iha proktam
rajasam calam adhruvam
TRANSLATION
Penance performed out of pride and for the sake of gaining respect, honor and worship is said to be in the mode of passion. It is neither stable nor permanent.
PURPORT
Sometimes penance and austerity are executed to attract people and receive honor, respect and worship from others. Persons in the mode of passion arrange to be worshiped by subordinates and let them wash their feet and offer riches. Such arrangements artificially made by the performance of penances are considered to be in the mode of passion. The results are temporary; they can be continued for some time, but they are not permanent.
Bhagavad-gita As It Is 17.19
mudha-grahenatmano yat
pidaya kriyate tapah
parasyotsadanartham va
tat tamasam udahritam
TRANSLATION
Penance performed out of foolishness, with self-torture or to destroy or injure others, is said to be in the mode of ignorance.
PURPORT
There are instances of foolish penance undertaken by demons like Hiranyakasipu, who performed austere penances to become immortal and kill the demigods. He prayed to Brahma for such things, but ultimately he was killed by the Supreme Personality of Godhead. To undergo penances for something which is impossible is certainly in the mode of ignorance.
Download:
2010-12-15b - Prahladananda Swami - BG 17.17-19 - The Top Ten Brahmas.mp3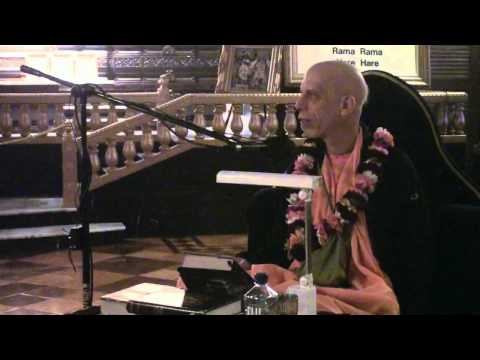 Lecture on Srimad Bhagavatam, Canto 10, Chapter 1, Text 22 titled "Unclean and Lying".
Dallas, TX
2010-12-15
Srimad Bhagavatam 10.1.22
puraiva pumsavadhrito dhara-jvaro
bhavadbhir amsair yadushupajanyatam
sa yavad urvya bharam isvaresvarah
sva-kala-saktya kshapayams cared bhuvi
TRANSLATION
Lord Brahma informed the demigods: Before we submitted our petition to the Lord, He was already aware of the distress on earth. Consequently, for as long as the Lord moves on earth to diminish its burden by His own potency in the form of time, all of you demigods should appear through plenary portions as sons and grandsons in the family of the Yadus.
PURPORT
As stated in the Brahma-samhita (5.39):
ramadi-murtishu kala-niyamena tishthan
nanavataram akarod bhuvaneshu kintu
krishnah svayam samabhavat paramah puman yo
govindam adi-purusham tam aham bhajami
"I worship the Supreme Personality of Godhead, Govinda, who is always situated in various incarnations such as Rama, Nrisimha and many sub-incarnations as well, but who is the original personality of Godhead, known as Krishna, and who incarnates personally also."
In this verse from Srimad-Bhagavatam we find the words puraiva pumsavadhrito dhara jvarah. The word pumsa refers to Krishna, who was already aware of how the whole world was suffering because of the increase of demons. Without reference to the supreme power of the Personality of Godhead, demons assert themselves to be independent kings and presidents, and thus they create a disturbance by increasing their military power. When such disturbances are very prominent, Krishna appears. At present also, various demoniac states all over the world are increasing their military power in many ways, and the whole situation has become distressful. Therefore Krishna has appeared by His name, in the Hare Krishna movement, which will certainly diminish the burden of the world. Philosophers, religionists, and people in general must take to this movement very seriously, for man-made plans and devices will not help bring peace on earth. The transcendental sound Hare Krishna is not different from the person Krishna.
nama cintamanih krishnas
There is no difference between the sound Hare Krishna and Krishna the person.
SB 10.01.22 Unclean & Lying 2010-12-15
Now that we have gone through the principles we might ask, "Is there only one type of institution that can teach these principles?" If we look at the school where Krishna and Balaram attended, it was an asrama school. They were away from the village. Do you remember what they learnt from their asrama school? Sixty four arts! Anybody can name some of them? The art of playing on an x-shaped drum, like Lord Siva's drum! The art of knowing what is in your hand that you can't see. [Member of audience, HH Prahladananda Swami responded with these two] He has the whole Krishna book memorized. [Reference to HH Prahladananda Swami.]

We were once in Russia. At our preaching program we were all taking prasadam. Prahladananda Swami said, "Would you like to hear Krishna book?" I thought he was going to pull out a book. He started reciting the whole chapter.
February 28th, 2011
Topic: Dhruva Maharaja Goes Back To Godhead
SB 4. 12. 23
Speaker: HG Urmila Mataji
ISKCON Mayapur
to read the whole transcription of Mother Urmila's lecture see here.
Rememberance Of Tamal Krishna Goswami 2002-03-27
Today is the Disappearance day of His Holiness Tamal Krishna Goswami.  This remembrance took place just a week after Maharaja's departure.  2002-03-27 Radhadesh
| | |
| --- | --- |
| | Universal Declaration of Human Rights states: "All human beings are born free and equal in dignity and rights. They are endowed with reason and conscience and should act towards one another in a spirit of brotherhood." A spirit of brotherhood has been notably absent from too many places in recent years. Unless it means the kind of brothers who like to knock hell out of each other. |
| | |
| --- | --- |
| | With a view to provide divine touch, the International Society for Krishna Consciousness (ISKCON), is all set to open its play school to impart value based education for children in Hyderabad. |
| | |
| --- | --- |
| | The New Dwarikadham temple is ISKCON's newest and perhaps one of the most opulent of its gems. Situated on an expansive plot, this monument`s modern yet simple architectural design is not only pleasing to the eye but also soothing to the soul. |
In a very colorful occassion, amidst roaring kirtan and chanting of vedic mantras,Garuda flag was hoisted, marking the inauguration of Mayapur Gaura Purnima festival 2011.Speaking on the occassion, HH Jayapataka Swami, who has attended all the Gaura Purnima festivals (except one which he missed last year)for the past 39 years, highlighted how this festival is so dear to Srila Prabhupada.
Others on Madhava:
Click here to see the tour dates at www.kirtanaustralia.com
"Madhava's kirtan is one of the most transcendent kirtan experiences I've ever had. He sings with so much heart and dedication that every one who is present is effortlessly transported to another universe on waves of his chanting. His melodies are rich and inviting, his voice is honest and true, and he always surrounds himself with beautiful musicians and artists – all part of his artful way of revealing a doorway to the divine
world through sacred chant. Madhava is a treasure to hear and to join with in kirtan. I pray that I'll be chanting with him for many years to come, basking in the warm glow of the names of the divine." — Gaura Vani Bandleader – As Kindred Spirits Creative Director – Mantralogy
"Madhava is a powerful and inspirational devotional singer and master of mantra singing. His music and melodies bring ecstacy to our singing and dancing, bathing us in happiness as we respond to his illuminating voice." — Loren Russo Yoga teacher, Miami FL, USA
"Madhava's singing touches the heart…. his chanting is always sweet and full of energy. It is a wonderful experience being in his kirtans." — Dr. Nisha Vastani Research Scientist, Uni Hospital- Zurich, Switzerland
"The kirtana of Madhava has an almost magnetic influence. The mind and heart get totally attracted, then drawn into the inside world where one can meet the soul of the universe. Tune in and you will have a deeply
rewarding, spiritual experience." — Sacinandana Swami Inspirational speaker and spiritualist
Click here to see the tour dates at Kirtan Australia.
Share this story your way:
With deep affection and admiration for HH Tamal Krsna Goswami's devotion to Srila Prabhupada, Maharaja's godbrothers, disciples and Mayapur community devotees remembered & glorified His Holiness on his disappearance day. After Mangala Arthi, HH Bhakti Caru Swami sang the "je anilo prema dhana" prayers. From 10 a.m. onwards, glorification of Maharaj took place in the community hall, followed by pushpanjali and Arthi at Maharajas Samadhi.
Skype conference with Russian disciples. (Feb 3rd)
Jagannatha dasa: In an effort to serve devotees, I have created http://didprabhupadasay.wordpress.com for seeking and posting the source of quotes which are attributed to Srila Prabhupada
Srimad Bhagavatam 12.2.1 - The symptoms of Kali-yuga started manifesting as soon as Krsna left earth for His own abode (krsne sva dhamopagate dharma-jnanadibhih saha...)

We will celebrate the appearance of Sri Chaitanya Mahaprabhu on March 19th. Since this is weekend day, everyone should have free time to participate in our festival. We want to spend the day chanting the Holy Name and hearing about Lord Chaitanya's lila.
Guest Lodge will be open for Gaur Purnima. Please call 304-843-1600 Ext. 111 for reservation.
Who is Lord Chaitanya:
is believed by Gaudiya Vaishnavas that Chaitanya Mahaprabhu is Lord Krishna Himself in the mood of Srimati Radharani. He is known to be the most magnanimous form of God who gives the love of God through very easy process of chanting the Holy Names of the Lord. It was Lord Chaitanya who inaugurated the chanting of 'Hare Krishna Maha Mantra' as the process of deliverance for the age of Kali. Sankirtana movement was started by Sri Chaitanya Mahaprabhu which is gradually spreading throughout the world.
Appearance and Childhood: Lord Chaitanya appeared as son of Jagannatha Mishra and Sachidevi who were descendants of brahmanas originally residing in Sylhet. It was the evening of 18th February 1486, when the moon was about to rise and there was a lunar eclipse, Chaitanya Mahaprabhu appeared. At that time people were engaged in purificatory methods of the eclipse shouting louding "Haribol!!!" and Chaitanya Mahaprabhu took birth amidst the Holy Names. Chaitanya Mahaprabhu was a beautiful child with golden complexion. He was born under a nimba tree or Neem tree, thus was called as 'Nimai' by His mother and other ladies in the neighborhood. He was also called as 'Gaura' for His golden yellow complexion. Beautiful and attractive as He was, everyone loved to play with Him and came to see Him everyday. He had several pastimes in His childhood. Lord Chaitanya In his youth, Sri Chaitanya was erudite scholar and was unchallenged expert in Sanskrit. He soon became devotee of Lord Krishna after His father departure. He was associating with great devotees of that time and eventually became the eminent leader of Vaishnavas group. He was always seen with Lord Nityananda. The life of Lord Chaitanya is a vast literature and His pastimes are unlimited. In this article it is not possible to describe all the glories of Sri Chaitanya Mahaprabhu.
Sent By His Grace Mukunda Dasa The weather is quite moderate right now with the mornings a little chilly while it is quite pleasant in the day. The gardens in our temple are in full bloom with various coloured Dalia, roses and other seasonal flowers. However the hot and unbearable summer will descend by beginning [...]
The main thing is to fix your mind on the sound of the chanting. As you strain and yearn to keep your attention fixed, this naturally brings a mood of devotion. This is the way you serve the holy name. Just as when cooking, if you try very hard not to burn the preparation, to spice it nicely, and to keep it cooking nicely, then you express your devotion in this way.
From
Japa Reform Notebook
by Satsvarupa dasa Goswami
Antardwip das: GAUR PURNIMA 2011 Special Broadcast (subject to change) MARCH 5 th 8 am – 10am: Festival Inauguration 10am – 12:00 H.G. Tamohara Dasa - Devotee Care "Developing Community Systems of Devotee Care" 10 am – 2 pm: Bhakti Vrksha Festival 6:30 Stage Programs - The three lives of Bharata by HH Bhakti Marg Swami 7pm – 10pm: Kirtan led by Niranjana Swami
Kicking off at 6:30pm AEST (7:30pm in Byron Bay) on Saturday March 5, 2011*, tune in for the "Sarvabhauma Bhattacarya of modern kirtan": Dave Stringer.
Coming from a jazz musician background, and influenced by Saivite traditions of kirtan, Dave is being backed tonight by the Kirtan Australia "Hare Krishna Heavy Metal Orchestra": Prema Yogi on cartals, Sitapati on bass, and Vrajadhama on mrdanga.
* check the time and date on the player
Aindra – Hare Krishna Kirtan – ISKCON Mayapur – February 16, 2007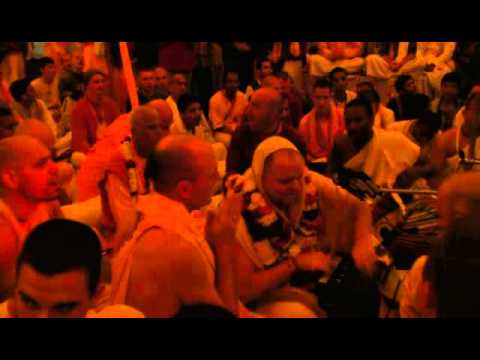 More Recent Articles