Here are the latest updates for you
A daily broadcast of the Ultimate Self Realization Course Tuesday 24 May 2011 The Supreme Personality of Godhead, Lord Sri Krishna, and His eternal consort, Srimati Radharani are enjoying transcendental pastimes in the topmost planet of the spiritual world, Sri Goloka Vrindavan. They are beckoning us to rejoin them. (Click on photo to see a larger image.) Our Mission: To help everyone awaken their original Krishna consciousness, which is eternal, full of knowledge and full of bliss. Such a global awakening will, in one stroke, solve all the problems of the world society bringing in a new era of unprecedented peace and prosperity for all. May that day, which the world so desperately needs, come very soon. We request you to participate in this mission by reviving your dormant Krishna consciousness and assisting us in spreading this science all over the world. Dedicated with love to ISKCON Founder-Acharya: His Divine Grace A.C. Bhaktivedanta Swami Prabhupada, our beloved spiritual master, and to you, our dear readers. Today's Thought: Heading Out with a Message that Can Transform the Entire World Uploaded from Bhaktivedanta Ashram--Austin, Texas USA After a refreshing, invigorating three weeks hiatus here at Bhaktivedanta Ashram in Austin, Texas USA my wife, Vishnupriya devi dasi, and I are heading out today once again on an around-the-world itinerary for spreading the sublime transcendental self-realization science of Krishna to more and more souls all over the world. Although we are simply tiny, little messengers, the message we are delivering is so powerful that it can completely transform the entire human society within eighteen days, if the leaders of the world society would only listen. We are praying for that day when they will heed our message. May it come soon. Sankarshan Das Adhikari Heading Out on Vrindavana Parikrama-4 April 2011 Sankarshan Das Adhikari--Vishnupriya Devi Dasi http://www.backtohome.com/images/2011-Spring/Heading_out.JPG Answers According to the Vedic Version: Question: How to Get Free from Karma? Dear Gurudeva, Please accept my humble obeisances. All glories to Srila Prabhupada. How does the concept of karma work in the material world? If I make some person happy or hurt somebody, do I have to wait more lifetimes for that soul to do the same thing back to me, or do I get my karmic reactions in this lifetime? Are my present experiences burning off past karma, or are they creating new karma? For instance, if somebody wants to give me money, should I refuse it because it will generate new karma, or should I accept it understanding that it is finishing past karma? By doing good things like spreading the Holy Name and making people around us spiritually aware are we killing our bad karma? Or does the bad karma have to be neutralized by interacting with specific souls from previous lives? What are karmic ties, and how can I finish my karma from past lives? Your unworthy servant N.M. Answer: With the Help of a Liberated Soul Karma means that for every sinful action I perform I will be punished and that for my pious deeds I will be rewarded. These karmic reactions can come quickly or they can be delayed over many lifetimes. Karma is so entangling that simultaneously as we finish old karma we are creating new karma. It's like quicksand. No matter how you move you go deeper and deeper into the quicksand. You can only be saved by a person who is outside of the quicksand. That person who can save us from the quicksand of karma is the bona fide spiritual master. The spiritual master saves us by teaching us the art of how to fully surrender to Lord Krishna. It is only through this surrender that we can gain permanent liberation from the clutches of karma. We will never gain permanent relief through interacting with those souls with whom we have karmic debts because on this level as we pay off old karmic debts we are simply creating new ones. Surrender to Krishna is the only option. Are you ready to surrender now? Sankarshan Das Adhikari Transcendental Resources: Receive the Special Blessings of Krishna Now you too can render the greatest service to the suffering humanity and attract the all-auspicious blessings of Lord Sri Krishna upon yourself and your family by assisting our mission. k Lectures and Kirtans in Audio and Video: Link to High Definition Videos Link to Over 1,000 Lecture Audios Lecture-Travel Schedule for 2011 http://www.ultimateselfrealization.com/schedule Have Questions or Need Further Guidance? Check out the resources at: http://www.ultimateselfrealization.com or write Sankarshan Das Adhikari at: sda@backtohome.com Get your copy today of the world's greatest self-realization guide book, Bhagavad-gita As It Is available at:http://www.ultimateselfrealization.com/store Know someone who could benefit from this? Forward it to them. Searchable archives of all of course material: http://www.sda-archives.com Receive Thought for the Day as an RSS feed: http://www.backtohome.com/rss.htm Unsubscribe or change your email address Follow us on Twitter: http://twitter.com/Daily_Thought Sankarshan Das Adhikari on Facebook: http://www.facebook.com/SDASITE Thought for the Day on Facebook: http://www.facebook.com/Ultimate.Self.Realization Copyright 2005-2011 by Ultimate Self Realization.Com Distribution of this material is encouraged. Simply we request you to acknowledge where it is coming from with a link to our sign up page: http://www.backtohome.com Our records indicate that at requested to be enrolled to receive e-mails from the Ultimate Self Realization Course at: This request was made on: From the following IP address:
Special Announcement for all of our readers in the UK. Sankarshan Das Adhikari will be giving the evening Bhagavad-gita Lecture on Wednesday 25 May from 6pm until 7pm at the ISKCON temple on Soho Street in London. He would like to personally meet with you you all after the class. Here is the website for the temple: http://www.iskcon-london.org/
  Sent By Her Grace Devahuti Mataji ; click here
Here is a most interesting article on the wedding of one devotee lady, following a sequence of events straight from the 'Fairy Tales' section.
Enjoy!
For those waiting (im)patiently, Hari Sauri Prabhu's schedule is as follows:
Wednesday 25th – Morning Bhagavatam class
Evening Temple room 7:30pm

Thursday 26th - Morning Bhagavatam class
Evening Home program at 6pm

Friday 27th - Morning Bhagavatam class
Evening Hampton park Bhakti Vrksa at 7:30pm

Saturday 28th - Morning Bhagavatam class
Evening Temple room 7:45pm. Topic – Slide show on Bhaktivedanta Research Centre, the mission for manuscripts.

Sunday 29th - Temple Sunday feast at 5pm
Afternoon Bhakti Vrksa. Topic – Slide show on Bhaktivedanta Research Centre, the mission for manuscripts. (to be confirmed)

Monday 30th - Morning Bhagavatam class
Evening – to be worked out

Tuesday 31st Morning Bhagavatam class
Evening – to be worked out

So, stay posted for updates.
Ljubljana, Slovenia

The starting point of all significant change is mindset.

If there is any one secret to effectiveness, it is concentration. Effective leaders do first things first … and they do one thing at a time.

To me, shooting for the rhinoceros in our Krsna conscious Society means not so much building big temples or distributing millions of books but building a goodwill, unity and trust in our devotional communities.

In the Age of Quarrel it is very difficult to cooperate and to agree and so this is the greatest challenge.

Organization and intelligence or intelligently managed organization cannot be made without unity and trust.

These are some of the most important pillars of our leadership strategy. These are some of our top priorities.

We must work in the service of Krsna but also on the service. It means to be clear what we are doing and why. And what we are trying to achieve.

Another task is to be able to challenge people without hurting them or insulting them. One way to do that is to ask hard questions in a soft way.

The leader of the past knew how to tell. The leader of the future will know how to ask.
Have you noticed how Pancajanya, the personal conchshell of the Lord, is beautifully adorned today?
The celebrated personality of Pancajanya is mentioned in the Srimad Bhagavatam (1.11.2) as follows:
"The white and fat-boweled conchshell, being gripped by the hand of Lord Krsna and sounded by Him, appeared to be reddened by the touch of His transcendental lips. It seemed that a white swan was playing in the stems of red lotus flowers."
Here is the darsana of Lord Krsna surrounded by His divine entourage and paraphernalia.
A daily broadcast of the Ultimate Self Realization Course Monday 23 May 2011 The Supreme Personality of Godhead, Lord Sri Krishna, and His eternal consort, Srimati Radharani are enjoying transcendental pastimes in the topmost planet of the spiritual world, Sri Goloka Vrindavan. They are beckoning us to rejoin them. (Click on photo to see a larger image.) Our Mission: To help everyone awaken their original Krishna consciousness, which is eternal, full of knowledge and full of bliss. Such a global awakening will, in one stroke, solve all the problems of the world society bringing in a new era of unprecedented peace and prosperity for all. May that day, which the world so desperately needs, come very soon. We request you to participate in this mission by reviving your dormant Krishna consciousness and assisting us in spreading this science all over the world. Dedicated with love to ISKCON Founder-Acharya: His Divine Grace A.C. Bhaktivedanta Swami Prabhupada, our beloved spiritual master, and to you, our dear readers. Today's Thought: Bulgarian President Receives the Bhagavatam Uploaded from Bhaktivedanta Ashram--Austin, Texas USA Recently on 13 May 2011, the most auspicious Ekadasi day, my Bulgarian disciple, Narada Muni Das, presented several volumes of the Srimad Bhagavatam to Mr. Georgi Parvanov, the president of Bulgaria. Upon receiving this topmost of all literatures the president stated, This is serious literature. We hope that this esteemed leader of Bulgaria will take the time from his busy schedule to read and understand these most profound and sublime teachings. If he does so, he will gain new insights on how to be an actual leader of his country, a leader who can deliver the citizens from the cycle of birth and death by facilitating their advancement along the pathway of spiritual perfection. Sankarshan Das Adhikari Narada Muni Das Presents the Srimad Bhagavatam http://www.backtohome.com/images/Narada_Muni_BG.jpg Answers According to the Vedic Version: Question: What Can I Learn from a Toothache? Dear Gurudeva, Please accept my humble obeisances. All glories to Srila Prabhupada. I currently have a serious toothache. What lesson should I learn from this? And what can I do about it? Your unworthy servant I.D. Answer: It's an Impetus for Attaining Your Svarupa I am sorry to hear about your serious toothache and hope that you will be feeling better soon. For toothache, Srila Prabhupada recommends: For your toothache trouble, you can brush your teeth with the following mixture; common salt, 1 part, and pure mustard oil, quite sufficient to make it a suitable paste. With this paste brush your teeth, especially the painful part, very nicely. Gargle in hot water, and keep always some cloves in your mouth. I think that will cure your troubles. It doesn't require to extract any teeth. The lesson to be learned from a toothache is that you are not your material body. By this toothache you are burning off the reactions from previous sinful activities. So instead of being disturbed you should feel grateful that Krishna is freeing you from your past karma to help you become qualified for returning to His eternal abode. He is reminding you that you are not your body and giving you impetus for attaining your svarupa, your original spiritual form in the spiritual sky. Sankarshan Das Adhikari Transcendental Resources: Receive the Special Blessings of Krishna Now you too can render the greatest service to the suffering humanity and attract the all-auspicious blessings of Lord Sri Krishna upon yourself and your family by assisting our mission. Lectures and Kirtans in Audio and Video: Link to High Definition Videos Link to Over 1,000 Lecture Audios Lecture-Travel Schedule for 2011 http://www.ultimateselfrealization.com/schedule Have Questions or Need Further Guidance? Check out the resources at: http://www.ultimateselfrealization.com or write Sankarshan Das Adhikari at: sda@backtohome.com Get your copy today of the world's greatest self-realization guide book, Bhagavad-gita As It Is available at:http://www.ultimateselfrealization.com/store Know someone who could benefit from this? Forward it to them. Searchable archives of all of course material: http://www.sda-archives.com Receive Thought for the Day as an RSS feed: http://www.backtohome.com/rss.htm Unsubscribe or change your email address Follow us on Twitter: http://twitter.com/Daily_Thought Sankarshan Das Adhikari on Facebook: http://www.facebook.com/SDASITE Thought for the Day on Facebook: http://www.facebook.com/Ultimate.Self.Realization Copyright 2005-2011 by Ultimate Self Realization.Com Distribution of this material is encouraged. Simply we request you to acknowledge where it is coming from with a link to our sign up page: http://www.backtohome.com Our records indicate that at requested to be enrolled to receive e-mails from the Ultimate Self Realization Course at: This request was made on: From the following IP address:
By the time this photo was taken (aboard the good ship Spirit) I was feeling pretty relaxed. All the tough parts of the management of our massive 40th Anniversary and Reunion Weekend had been consummated sucessfully.
Here's some more excellent photos of our great weekend...
Or try this great movie clip...
Or this:
Then this.
And this, while we're at it...
And our last, late night kirtan for the festival...
I am in due receipt of your letter dated July 20, 1975 and have noted your problems. My suggestion is that you please chant Hare Krishna Hare Krishna Krishna Krishna Hare Hare; Hare Rama Hare Rama Rama Rama Hare Hare. This maha mantra cleanses the dust from the mirror of the mind and awakens us to a pure life of devotional service to the Lord, free from all anxieties.
Letter to Wanda Bonner - 24 August, 1975
Yajna Purusa Dasa of the Bhakti Center in New York City will join other faith leaders for a public Panel Discussion at the Sixth Street Community Synagogue on May 25th, organized by the group "Local Faith Communities of the East Village."
The Brahmachari monk, who started Manhattan's Bhaktivedanta Ashram in 1998, and then the Bhakti Center around six years ago, will be joined by twelve other faith leaders from the East Village.
These include Rabbi Greg Wall of the Sixth Street Community Synagogue, Father Arthur Wendel of the Most Holy Redeemer Catholic Church, Imam Abu Sufian of Madina Masjid Mosque, Lama Pema Dorjee of the Nechung Foundation, and Sam Ruiz of Iglesia Alianza Cristiana y Misionera, among others.
The event will begin at 7pm, with each faith leader sharing the story of his or her personal spiritual journey, and explaining how they came to their understanding of what spirituality means to them. The histories of some of the local faith institutions, as well as information about what they've been doing for the neighborhood, will also be told.
Finally, the discussion will be opened up to the audience—consisting of the general public as well as members of each faith's congregation—who will ask questions and also get a chance to share realizations from their own spiritual paths.
"This kind of discussion is important because it encourages people of different faiths to become more broad-minded by seeing the similarities between their own stories, and the stories of others who were attracted to serve God," says Yajna Purusa Dasa. "It will help people to see, 'They're worshipping the same God as I am, just in a different way.'"
The upcoming panel discussion is just one of many public and private faith meetings organized by the Local Faith Communities group since its inception in Spring 2009.
Interestingly, the group was the inspiration of a man who is not affiliated with any particular religious group, but is, as Yajna Purusa says, "a very spiritual person."
Now 58, Anthony Donovan has lived in the East Village since 1990, and conducts historical tours there. He had been attending programs at 26 2nd Ave, where Srila Prabhupada started ISKCON in 1966, as well as at many other churches, synagogues and mosques in the East Village. Wanting to connect all these neighbors, he approached their leaders with his idea, and many—including ISKCON of course—enthusiastically accepted.
"We stand against the prejudice, divisions, hatred and wars in our many names," says Donovan on the group's website. "We share the same missions to serve people in our community, especially in times of need and crisis, and also to help celebrate our unique heritage. We rejoice in our traditions, without losing sight of our undeniable common ground, and our common goals to do good and to serve others."
As well as Yajna Purusa, eleven other East Village religious leaders joined the group—including rabbis, imams, Catholic and Russian Orthodox priests, Episcopal and Protestant ministers, a Spanish Evangelical pastor, and a Tibetan lama. They meet monthly, rotating sites and sharing their spiritual spaces each time. At these private meetings, they discuss issues facing their congregations and how they can work together to solve them.
For instance on one occasion, just as Ramadan 2009 was beginning, a huge billboard sprang up directly across from the entrance to the Madina Masjid Mosque on 11th Street, advertising a new TV show with an image of five larger-than-life naked teenagers, just barely covering their private parts. When the Mosque brought this up at a Local Faith Communities meeting, and asked if there was any way to help, the concerned group contacted the TV station in question as well as their ad agency in California. Understanding the impact on the community, the company apologized and took immediate action, changing the billboard the very next day.
Several months later, the same Mosque suddenly lost access to their building for Friday prayers, attended by over 350 people. The group sent out an urgent request, and soon the local St. George's Ukranian Catholic Church stepped forward, warmly opening their doors to the Mosque's congregation and showing great hospitality and community spirit. Welcoming the members of a religion often portrayed as their "enemies" to pray, they asked nothing in return—except "Could you say one little prayer for us too?"
This caring interfaith group also helps each other with lighter issues—for instance, when cooks at the Bhakti Center's new Bhakti Café wanted to make their food not only vegetarian but also kosher, Rabbi Greg Wall of the Sixth Street Community Synagogue stepped forward to assist.
While this May's panel discussion is the first of its kind, the group has also had several prior public events.
"In December for the past two years, we've held an evening of interfaith recitation and music called Spiritual Sounds," Yajna Purusa says. "Each faith organization from the neighborhood makes their own musical presentation, and we hold it at a different church, temple, synagogue or mosque each time."
The group also held a series of Open Houses every Thursday evening in summer 2009, welcoming the public to enter any of its member institutions, get information, or simply contemplate quietly in the special spaces.
"Numerous people spoke of 'never being in a synagogue,' or a church, or a mosque, etc," says Anthony Donovan on his site. "Those of the public who wandered in expressed how they loved both the idea, and the reality of this openness and sharing."
On May 5th 2010, a special version of this Open Houses evening was held wherein leaders walked with each other as well as members of the public to each institution—visiting a mosque, a synagogue, a Tibetan temple, a Vaishnava temple and several churches, all in one evening.
The next Open Houses is scheduled for September 6th of this year, while the next Panel Discussion is also expected to be held sometime in September.
"At the next one, each member will share their faith's approach to Death and Dying," says Yajna Purusa. "As we do with our private meetings, we'll rotate the venues every time, so the next one could be at the Bhakti Center."
In the future, Yajna Purusa also hopes to hold a regular program wherein he introduces leaders of different faiths to the Bhakti Center's congregation.
"Interfaith events like this will certainly create awareness that we exist, and may inspire more people to find out what we're about," he says. "But they're also a good way for our congregation to interact with people of other faiths, hear their stories, and in so doing decrease the sectarianism and fanaticism that naturally comes along with any faith. Getting to know people of other faiths, meeting them in person and hearing their stories, is very powerful."
Local Faith Communities from Anthony Donovan on Vimeo.
For more information, please visit www.LocalFaithCommunities.org.
1966
April 30: "At present I am staying in New York city and holding my classes on the culture of musical kirtana as well as discourses on the cult of devotion (Bhakti) which are participated by the American Youths, Ladies and Gentlemen."
Prabhupada Letters :: 1966
1969 April 30: "So far as the songs that you have written, you may send me a copy of them and I shall see them. In Montreal also they are writing songs in the popular Western style of music and it is coming very nicely."
Prabhupada Letters :: 1969
1969 April 30: "If your house can develop into a students home, preaching our philosophy to the residents, it will be a great service. If the occupants take part in kirtana and hear our philosophy, certainly they will take it up."
Prabhupada Letters :: 1969
1970 April 30: "Parivrajakacarya is ordered not to stay more than three days at a place, but at the Paramahamsa stage, one can stop moving. So I have made my headquarters here, still I may go outside."
Prabhupada Letters :: 1970
1971 April 30: "It is published that four Hare Krishna Movement Missionaries were killed in Dacca by soldiers. I had advised not to go after the civil war began but I am afraid they were very daring and might have gone against my instruction."
Prabhupada Letters :: 1971
1973 April 30: "To err is human, so in the neophyte stage some discrepancies are there. Kindly forgive their small mistakes. The big thing is they have given everything to Krishna - that is never a mistake."
Prabhupada Letters :: 1973
1974 April 30: "Forget your relationship with him. Now you become mixed up in Krsna business and live like a chaste Hindu widow woman, wear white sari and engage 24 hours a day in chanting Hare Krsna Mantra."
Prabhupada Letters :: 1974
1974 April 30: "They sit separately in the temple and then outside mix again. Therefore I get the boys and girls married. But nature is so strong that in spite of being married they are attracted to the opposite sex."
Prabhupada Letters :: 1974
1968 April 29: "I am going to Boston where there are so many nice college engagements arranged. Just recently we went to Temple University, Philadelphia where we held kirtana and lecture. Tomorrow we have got engagement at New York University. So we are spreading this Sankirtana very nicely here. Please keep me informed of your activities there."
Prabhupada Letters :: 1968
1969 April 29: "I was very much pleased with the student community in Buffalo and similarly in San Francisco, Columbus and North Carolina. So our future hope is this student community. The child is the father of the man and if the fathers of the children of this country are not taking part with us then the future fathers will surely be sympathetic. That is a great hope for us."
Prabhupada Letters :: 1969
1970 April 29: "Regarding KRSNA Book chapter 31, page 4, top, the word Hrdaya is correct. You must always ask the Lord's grace to make you in the right position. It is not for your sense gratification, it is for the Lord's service. For the Lord's service we can ask for His grace and mercy a hundred times but for our sense gratification we cannot pray or ask anything - that is pure devotion."
Prabhupada Letters :: 1970
1970 April 29: "Come here sometime soon at your convenience and we can discuss your proposals in more detail. Take inspiration from the temple activities and we can discuss together our future plans for India. I will be very glad to see you both at that time."
Prabhupada Letters :: 1970
1973 April 29: "Regarding reading Mahabharata, why divert your attention in this way? Bhagavatam is also Mahabharata. There are so many books I have presented already, so whatever you have got, just become expert in that. There are many things still yet to be learned."
Prabhupada Letters :: 1973
1973 April 29: "Yes, we can invest $70,000 and purchase the Washington D.C. Temple. So you negotiate, and we shall purchase in name of MV Trust. So you consult and do the needful. What happened about the Columbia house?"
Prabhupada Letters :: 1973
1974 April 29: "So I am very much encouraged by this political field in America. Preach on the basis of the division of society into four orders. Without this, society is useless and people cannot be happy or even have the necessities of life. In India they do no take it very seriously so it is up to you Americans to actually accomplish something."
Prabhupada Letters :: 1974
1974 April 29: "Our presentation is so scientific that learned persons are appreciating all over the world. Fix up a time when I can come conveniently to visit if you like. Schedule meetings with some of the leading citizens and important men of your country who may be interested to meet with me."
Prabhupada Letters :: 1974
1966 April 28:
"Navami. Expenses Paul paid $1.00. Today I brought all things from 72nd Street to Paul's loft."
Prabhupada Journal :: 1966
So those who have joined this Krsna consciousness movement, my request is they follow the regulative principles, as instructed by Rupa Gosvami, with enthusiasm, read books and distribute books. And that is a very great service. I'll speak something, you may forget, but if you read from the book, you will get good opportunity to understand the philosophy. So our principle is to study the books as well as to distribute the books. People will be benefited and their life will be successful. This is Krsna consciousness movement.
>>> Ref. VedaBase => Arrival -- Honolulu, May 3, 1976

A video montage featuring highlights of KM06 – New Vrindaban, KM07 – Alachua, KM07 – Moscow & KM08 – Radhadesh, shown during the KulimeLA 2009 Gala Evening at the Ford Theater in Hollywood. 
In the ancient Sanskrit language, "Kuli Mela" is "A Celebration of Community."
The main theme for KulimeLA 2009 was to "Honor the Past, Celebrate the Present & Envision the Future."
To celebrate the 20th anniversary of the Los Angeles Gurukuli Reunion, the John Anson Ford Amphitheater, nestled in the Hollywood Hills, was chosen as an ideal location for Kulis to come together to acknowledge their collective history and appreciate the many accomplishments of the pioneer Gurukulis throughout the past two decades.
Dressed in formal and elegant attire, approximately one thousand Vaishnavas gathered to walk the red carpet and participate in an amazing evening that beautifully showcased "A Mosaic of Our Generations."
CLICK HERE to check out the growing Kuli Mela video and audio selections on Krishna.com.
The Kuli Mela Association is a 501(C)(3) non-profit organization whose mission is to connect our diverse and dynamic global community. We believe that by encouraging each other along our individual paths and by serving together in our shared goals we can make a positive difference in the world.
For more information please visit our KMA Facebook Page.
By Atma-Nivedana dasa
At our last Saturday evening, weekly Bhagavad Gita and Kirtan program for new people, which my wife, Subhangada dasi, and I organize and teach, I had an amazing experience that verified the truth of one of Srila Prabhupada's most essential instructions: "So Kindly help me. This is my request. Print as many books in as many languages and distribute throughout the whole world. Then Krsna consciousness movement will automatically increase."
By Kurma Rupa Das
If a family keeps a cow and calf and has a few acres of land, a vegetarian diet is easily sustainable. I know a family in Colorado whose cow gives nine gallons of milk a day and she lactates for four to five years. They have enough land for the cow and her offspring to graze on and even with several months of winter they can easily maintain their cow
Dusyanta dasa: In Iskcon Cow protection projects the same principle of Ahimsa milk production is propounded over and over.The reasoning for this conclusion is based upon the fact that the Cows are protected-they will not be slaughtered.In Iskcon, Cow protection has been manifested on badly thought out ideas on how Cows are protected and on assumptions and misconceptions leading from atypical hippy-like mentality and understanding of what Cow protection actually is
Nartaka Gopala dasi: Srimati Padma dasi, a disciple of His Divine Grace AC Bhaktivedanta Swami Prabhupada, passed away on April 22, 2011 in San Diego, California from colon cancer. Padma was a most remarkable and amazing woman. She was one of our original Head Pujaris at ISKCON Miami from 1976 to 1983
I submitted a comment to Dandavats.com last week simply asking how to report violations of ISKCON Law 3.5.5.1.3.9, related to notifying ISKCON communities when a person known to have abused children is being maintained at the temple or staying on temple property. Several comments on other subjects have been approved and published since mine was submitted, but my question has so far been ignored. The top article on the site right now brags about a child protection project, but I cannot help but feel like ISKCON has a predominantly cover-your-ass mentality with the leaders more concerned about protecting their reputations than protecting the vulnerable persons in ISKCON.
Does anyone know an easy way to report serious violations of ISKCON Law by GBC members to the GBC body? In this case, reporting to the Child Protection Office is not a very good option, because one of the persons who participated in breaking ISKCON Law 3.5.5.1.3.9 at Gita-nagari in 2005 was Tamohara, the Director of the ISKCON Child Protection Office. The others were Radhanatha, Malati, and the late Bhakti-Tirtha.
These four, Bhakti-Tirtha, Tamohara, Radhanatha, and Malati, all disregarded ISKCON Law 3.5.5.1.3.9 when they facilitated Vakresvara Pandit to come to Gita-nagari and stay as a V.I.P. for a few months, despite his failure to meet the principle conditions for allowing his participation with ISKCON after the Child Protection Office determined that he had repeatedly molested a child girl only 1/3 his age. The rectification plan in the Official Decision pertaining to Vakresvara Pandit says that he had to comply with its first two requirements or not be allowed on ISKCON property or any participation in ISKCON functions, yet he showed only contempt for the established rectification process. How, then, did these GBC members consider Vakresvara Pandit a safe person, what to speak of his being qualified to sit on the Vyasaasana and give class?!!!
Although these GBC members apparently felt no need to comply with ISKCON's child protection laws, rules, and official decisions (they made up their own rules for this occasion and broke them too), my wife and I were alarmed to have a child molester living luxuriously in our community, especially without the community knowing of him as a potentially dangerous person. Because I pursued this as a concern consistent with my official duties, I was driven out of the community and eventually out of ISKCON, which I find so obscenely wrong that it undermines everything Srila Prabhupada taught.
Judging by the results at this point — especially when I consider the abuse of over 500 ISKCON children in the gurukulas that Srila Prabhupada founded and had filled by his order, topped off by my experience of losing a popularity contest against a child molester (thanks to such big gurus praising him so much) even while our community was trying to come up with $35,000 to pay part of the child abuse settlement — after fifteen years of chanting Hare Krishna, I can no longer take ISKCON seriously as a spiritual movement. It is time to move on.
---
www.sdgonline.org.
4:36 A.M.

A Writer of Pieces
New format–I will begin with a poem written on the day of its printing. Then I will print random excerpts of books I have printed over the last 35 years. I hope this variety will be pleasing.
Poem for May 23rd
Slept peacefully but woke
after 1:00 A.M. with a headache.
Chanted counting the rounds
not feeling the meaning
straining to keep awake. I
finished my quota in over two hours.
Uddhava lamented for the
conditioned souls who could not
understand Krishna because of the
apparent contradictions in His
life. It appeared He was carried
by Vasudeva to Gokula out
of fear of Kamsa and that He
died as a reaction to sin, shot
in the foot by a hunter.
The pure devotees are never
swayed by such faithless
propaganda, but those who
doubt are doomed.
Haridasa asked me if I was
writing. I said it appears
the autobiog is finished
and I don't have a new project
as yet. He said, "After a big
work like you have just
finished, it's natural to take a break."
That seems to be the case,
as I wait on His mercy,
knowing I am a writer who
likes to work.
Muktavanya and I walked
the backyard yesterday.
He said he used to worry
about the American temples
which were so short on
devotees, but now he thinks,
"Who knows what will happen?"
indicating there may be
a change. Jody's yard sale
was a flop. Baladeva watched
us walking from the front
porch while he chanted his rounds.
In a few days, Narayana
returns.  Today I have to
do yoga.
The poem is my personal
offering to the world. Haridasa
told me they are constructing
a huge building in Chicago
for poetry readings. He
liked my essay on Poetry
published on the Web.
I make a song to
sing to keep persons
merry in the face
of their troubles.
Such is the effect
of a happy verse
written in tune
to music in my head.
www.sdgonline.org.
From Vrndavana Writing
"Baladeva knows I still don't have a title for this book, so he suggested, 'Waiting in Vrndavana.'
"'Waiting for what?' I asked.
"'Waiting for the mercy that can be granted by one of the servants of Radharani. You mentioned there are sadhus here waiting and praying to be granted entrance.'
"'Yes. Prabhupada says they are waiting to go back to Godhead and spending all of their time chanting and hearing. But I don't think of myself as waiting. To me, the word 'waiting' implies either an inactive state–like sitting around when you should be striving—or the advanced state of full surrender. "I won't eat or sleep or move from the bank of Radha-kunda, where I am crying Your names until You give me a drop of Your mercy."'
"I am not waiting, just going ahead doing what I can with whatever resources I have. I hope to be in the mood that Srila Prabhupada taught–don't wait until you are liberated, but go ahead and preach and serve. Of course I am waiting, but I don't want to mention it as a major theme. I don't want to be impatient.
"The day continues, humid and gray. I am sitting under the fan, looking out the window.
"I heard Madhu humming the same rock bhajana I heard him hum in Ireland. I thought he would drop that here. The gate creaks. Baladeva is back with his tiffin. He stops to bathe his feet in the basin, then walks inside. Madhu tells him Nitai, the rickshaw-walla, came by looking to take him on his daily shopping errand.
"Squirrels run lively along the wall. Me in here looking outside, looking inside, looking over at my books.
"I am always satisfied if I can tell some truth. I'm starting to look forward to finishing this book. That is not so good. You have waited a long time to get these precious days. 'Only nine left?' The reason is that I am anxious I cannot make it all the way. In baseball language, it is called 'choking up.' It always happens. I pitch about five and a half good innings, then start to tire. Before I know it, I wonder how I will continue. I should abandon this doubt. I can float in the Yamuna. I am not carrying this on my own. Krishnadasa Kaviraja said the mercy of the saints was like a walking stick he leaned on. He is crippled and blind, leaning on the mercy of the saints. I want to be like that.
"'Day and night may my tongue be filled with the sweet nectar of Sri Radha's glories. And I pray for the position of the maidservant of Her lotus feet in Vrndavana forest. May my peaceful composure be stolen away by the youthful beauty of the golden-complexioned goddess Sri Radha. By the power of my tears, hairs standing erect, and the other symptoms of my love for Sri Radha, may I cross beyond the world of repeated birth and death.' (V.M., Sataka 8.53).
"If I cannot reach the Divine Couple, then at least let me use my time well. At least let me evoke honest impressions of Vrndavana. At least let me understand the goal of living in Vrndavana. To aspire to be nonviolent in Vrndavana and to perform devotional service here . . . offering myself to the rasika gurus . . . I remember how Rumi said there's more than one way to bow down. So I am bowing down—please make my words the words of a devotee. Please make my service love."
From Dear Sky: Letters from a Sannyasi

"New Mayapura
"Dear Friends,
"I am writing from the kunja in hopes that the kunja itself will draw from me something might I wish to convey. As I entered, I noticed a big branch lying broken on the ground. I was here yesterday, but I didn't notice it. A friend told me that this tree is actually dead; only its creepers are producing greenery. That's not true—the greenery belongs to the tree itself–but the way all the branches hang straight down I have to wonder whether it's a sign of this tree is old and tired. The broken branch could have just broken off, or it could indicate something more serious.
"Anyway, I didn't intend to talk about the branch; rather, I am asking for the kunja's cooperation in helping me to write. O big tree, you have seen so many years. You have stood here tolerantly with your big knotty arms and your all-accepting breast. You are a very plain creature, dumb and suffering, yet you generously provide shade for others. While you don't live in Vrndavana, your good fortune has brought you to be the property of the Hare Krishna temple, now you belong to Sri Sri Radha-Govinda-Madhava, and sometimes you function indirectly in the devotees' activities.
"I am here trying to write a letter while sitting close to you. Maybe you and I can help each other in some way. I playfully call you a kunja. Thoughts of you bring to mind Radha-Krishna's kunjas. Each time I sing nikunja-yuno-rati-keli-siddhyai or even I talk about a kunja, I think of you. Just as in the dictionary there is often a picture to illustrate a crossbow or an embroidery stitch or some strange or obscure thing, so in the dictionary of my mind a kunja looks like you—a big area created by a tree which provides privacy from the outer world, just as a house does. You have served me in that way. Thank you.
"But the fact is we don't have entrance to the kunjas in Vrndavana. We can walk around this one and draw a few comparisons, but it's not possible to enter into the Vrndavana kunjas. It might not even be possible in this lifetime.
"By the mercy of the Six Gosvamis we are allowed to read about Krishna's kunja pastimes. The guruvastakam says that the spiritual master is there assisting the gopis as a maidservant. For example, in the morning after Radha and Krishna's all-night pastimes, manjaris come in and sweep the kunja. The kunja may be strewn with crushed flowers and red kunkuma, broken bracelets and broken necklaces. The manjaris sweep all this up. At other times they decorate the kunjas, just as Vrnda-devi decorates all of Vrndavana. Similarly, the maidservants decorate the kunjas with garlands and aromatic incense. Sometimes it's so attractive that Radha and Krishna will remark, 'Who has decorated this kunja?'
"How fortunate is the tree who serves as a kunja! Most fortunate of all are those who serve the gopis, or who can at least hear about their service with spiritual greed.
"Dear old tree of New Mayapura dhama, I am just babbling at your roots, speaking in an unrealized way. I'm a dry and distant monk who chants alone, who cannot control his mind, and has no real access to the madhurya mysteries. I take it for granted that you have no access to them at all. So in that sense, we make a good team–we are both outsiders, you're a pretty good kunja, and I'm in an auspicious position because I can read and hear about kunja-lila. Yet we are both outsiders to the transcendental facts. Still, I yearn for the pastimes of Radha and Krishna. I am not satisfied to come here and swing back and forth on this rope like a child. By Prabhupada's grace I'm also liberated from wanting to do any kind of sinful activity in the kunja. Maybe I can only daydream about something that will take place millions of years in the future for both you and me, dear tree.
"I don't know how much longer you have to live, but at this present moment you are draped with garlands from the Deities and the devotees come here to chant the Hare Krishna mantra. It may be possible for you and me to meet in the near future as kunja-colleagues.
"When will the day come when we can relish and qualify to read the books of the Six Gosvamis? When will the day come when we will finally forget all mundane association with sexuality and become free enough to hear, without blushing, the love exchanges between the All-Attractive Boy and the All-Attractive Girl? When that day comes, all our austerities and good deeds will finally bear fruit.
"Let no one try to enter the kunja prematurely.
"(In Vrndavana, Lord Siva as Gopisvara prevents anyone from doing that.) Let no one dabble in these things for the wrong reason. But let us be aware of the goal and rid ourselves of mundane lust so that we can develop the adhikari (qualification) to hear about Radha-Krishna. Only then will we understand our relationship with our spiritual master, of whom Visvanatha Cakravarti says, 'He is always engaged in the kunjas of Vrndavana assisting the gopis, who are arranging for the conjugal pastimes of Radha-Krishna.'
Mukunda Datta das singing the bhajan "Jiv Jago" for Dallas' New Year's 24hr Kirtan.
Dallas, TX
2010-12-31 
Download:
2010-12-31 - 25 - 24hr Kirtan - Mukunda Datta das - Jiva Jago Jiva Jago.mp3
Looking for tiny pulls to outfit your tiny cabinets and drawers? Say no to knobs and yes to options! Read on…
Sunday May 22nd. (English/Hungarian)
Got knee pain? Drink some soy milk. Sore back? Eat salmon. The right foods can ease your aches: Recent research suggests that some pack as much pain-fighting power as common pain medications like ibuprofen. "What we eat has a dramatic impact on levels of pain in the body," says Beth Reardon, M.S., R.D., a nutritionist at Duke Integrative Medicine at Duke University Medical Center in Durham, North Carolina. Read on for the best pain remedies to put on your plate and try some delicious recipes.
See also: Berries for brain power.
Filed under:
Health
I've know Lynn since my Philly days–circa 2002. She's a hardcore devotee to good taste. Her newest venture–Scissors & Spice–has been up and running with great success for just the last few months. Lynn is an inspiration to me and I hope you enjoy the interview. And her impeccable use of the semicolon. She offers great tips on what to serve at vegetarian parties for kids (will now be referring all inquiries on that topic to this post), how to run a spic and span household yet still do things, and shares her favorite spots in both Delaware and on the web.
This is not your first blog, but I do feel this one encompasses your range of interest and gives you a space to show off your talents. What prompted you to register your URL and get Scissors & Spice up and running?
I had been wanting to start a blog that cataloged my everyday life. The food I cook, the design I like, the crafts I make, the thrifting I do; basically a blog about me without a care for how marketable it was or who was reading it. A repository of my mind. People are always calling me Martha and my husband is always encouraging me to foster my creative side more and to make recipes for my off the cuff dishes, so my blog of multiple topics, Scissors & Spice just happened. I wanted to start it a year or so prior, but couldn't settle on a name that I both liked and was also available as a url, so I procrastinated. Then, when you asked for my gluten-free chocolate chip recipe for your blog, I figured I should cash in on some site traffic and get the blog finally rolling.
Your cooking seems influenced by the restaurants you visit. What is the intersection? What's your eating/cooking style of the moment?
The biggest influences on my cooking style are time, past cooking experiences and health. I don't have much time to cook. Each meal has to be under 30-minutes from start to finish (that's about the time my children can entertain themselves without needing me to intervene). I cut my vegetarian cooking teeth preparing meals in an ashram setting, so Indian cooking has had a big influence on what I like to prepare, which is great, because it got me away from that notion that you need a meat substitute in a meal in order for it to be satisfying. Also, the more I mature and the more I know about nutrition, I have realized just because you can eat it, doesn't mean you should. Things I could eat and not gain weight dining on in my early 20s are a no-no in my mid-30s. I try to focus on whole foods while trying to avoid an overabundance of soy and/or wheat. I love one dish meals filled with a little bit of everything (give me five unrelated ingredients and I can make a one bowl meal out of it!). I am super into greens right now. They are so tasty and I feel great when I eat them.
Isa or terry?
Can't I love them both? I like Isa's sassiness and I like Terry's demure style. I like that they have a balance of healthy meals and fun food in their cookbooks. They are every cheffy girl's dream; to have a friend that you can cook and have a great time with, all the while making a name for yourself and a successful business based on that.
I get a lot of email asking for suggestions for kid friendly vegetarian food or what to serve at a vegetarian kid's birthday party. What are your recommendations?
First off, kids don't go to parties wondering what's on the menu. They want to play and then they want cake. Actually they don't want cake, they want to eat frosting in a flash and then zoom off again to play.
My most successfully catered kids' party just involved finger foods. Things they could eat quickly before they dashed off to play. For apps, I had fruit cut up into bite-sized pieces (pineapple, strawberries, grapes and kiwi), cheese and crackers, baby carrots and celery with dipping sauces and and a huge bowl of Pirate Booty with small tongs so they could serve themselves. The kids loved it.
For entreés, some fun ideas based on parties I have been to: tofu dogs in a blanket with honey mustard dipping sauce, baked mac and cheese with salad, calzones, make your own pizza, and PB&Js. Vegan Dad's vegan hot wings were a big hit at another kid party. The best advice is to ask the birthday boy or girl what they what at their party. It's for them after all!
You live in the magical state of Delaware, a small wonder to us all. What are some of the best kept secrets upping the cool factor of Delaware?
Aw, come on! You don't what me to give up my secrets do you?
First off, Delaware is awesome; I wish more people knew that, so more awesome people would move here and I'd have more awesomeness surrounding me. It's proximity to everything ups it cool factor. We're in Philadelphia's backyard. We're less than 2 hours form NYC and from DC. You get the joys of suburban life without having to deal with the literal and figurative messes of living in the city, but the city is at your beck and call if you need it. There are beaches and a wonderful state/county park system. There is so much land donated by the DuPont family that has been turned into beautiful public space. The other very cool thing about Delaware is that it is relatively cheap to live here! Home of tax free shopping!
There is a very strong yard sale presence here which is the very best place to find treasure. Tag sales too are always a great find. Some other great find in the First State are:
I know you run a very creative family. Your husband is a designer. Your daughter is a budding art director. Your son, I'm sure, is talented in his own way and you are always producing masterpieces in the kitchen, at the craft table and in the sewing room. How do you manage to keep a clean house amidst all this creativity?
Clean as you go! Cooking means cleaning! And all sort of things you parents tell you when you are a teenager. Really, I think that having 1) a great system of home organization (places for everything, lots of shelving, closets that are well organized) and 2) a morning a week set aside, when you stay off Facebook, and you just clean everything that you didn't have time for during the rest of the week. Honestly, I think the reasons my house is relatively clean and organized is I can't concentrate when there is clutter. It drives me crazy. Even when I was in high school, before I would work on a term paper, I would have to clean my room so I could focus. So, be crazy like me and your house will be spotless!
You and your husband exchange handmade cards. How did this sweet family tradition get started and where do you source your inspiration?
Back when we were in a long-distance romance, back in the days before email was not something you checked more than once a day, we would send letters and packages back and forth to one another and they were always decorated. Since I was child, I always delighted in drawing and making cards (I'm sure my mom still has some). Once I won an art award or two, I deemed myself a true artiste and decided that was the way to go. In high school, I was really into environmentalism and would make stationary sets for my friends out of used grocery bags (I would even make my own envelopes!). Then when I was in college, decorating the envelopes of letters to my friends, who were now scattered across the country, in the most creative way possible was probably one of my favorite ways to express my creativity. So, all this leads up to why I make cards for my husband, its just me. And he's a designer, so it's just what he does. We're meant to be!
My current source of inspiration is folk design from India, Scandanavia, Russia and the Pennsylvania Dutch and bold graphic prints, like Marimekko, Rex Ray and Vera Neumann. I also am not shy of cuteness. Put a bird on it!
Years ago I had the good fortune of visiting your lovely home. This was before you remodeled your kitchen. As I recall, you have a defined kitchen space as opposed to the increasingly popular open floorplan. How does that work for you? Was there ever any thought or desire to change that?
Yes, we have a very awkward kitchen with not much room to change anything about. That coupled with the fact that we have a very solid brick house lined with with cinder blocks did not leave much room in our budget to expand without it being a more than major redo. There are 4 doors and a window in about a 12×12 space. Not super tiny, but not very spacious.
There is much I would change about my kitchen now that I have the experience of going through a remodel, but I think overall, it works for what we had to work with. It's understated and clean. We maximized as much counter space as possible and were able to add an eat in nook that also doubles as counter space. This nook one of the most used surfaces in our house, so it was well worth sacrificing floor space. My favorite part of my kitchen is my super deep and wide sink. It make doing dishes and filling large pans so much easier.
How would you define your personal style?
Clean, modern, classic and comfortable with a little bit of flair/trend/kitsch/boho. I think this applies to both my interior choices and sense of fashion. It's always easy to update a couch with solid upholstery by dressing it up with pillows and a throw than it is to reupholster dated pattern. I know, that's a very safe way of looking at things, but it works. There should always be accessories of who you are in home design and in fashion. Pictures of family and friends, artwork that you create, always wearing a signature pair of sneakers; it all makes it your own. Trends are great for inspiration, but head-to-toe or front-to-back door trendiness makes you look like you or your home are in costume. Did that make sense? My kids are playing the loudest pretend game in the background right now and all I can think of is that the style I am about to give them is a badly needed nap.
I know you are an expert thrifter. Can you give some tips for mining tag sales and thrift shops in the age of Ebay? Are there any bargains or hidden traesures left out there?
Yard sales are really the last bastion of hope for finding treasure. Professionally run tag sales have people organizing them who know the worth of the house's contents. If you can find an old couple having a yard sale, they just want to clear out their houses before they move to Florida and don't care about that Dansk ice bucket. They just what it gone.
You have to be diligent; that really is key. Check your local newspapers for yard sale listings and make it your job to "go yard saling" early every Saturday morning. Go through boxes, you never know what will be on the bottom. Know what you are looking for and don't collect junk or things you are only half in love with!
Favorite collectibles?
I love collecting anything Scandinavian, mid-century modern, vintage fabric and linens from any era and vintage children's and craft books.
What blogs are you reading these days?
I'll admit, I am a blog whore and I love bloggers that update every day. Some of my favs, besides yours of course, are Vegan Crunk, Joy the Baker, Post Punk Kitchen, Have Cake Will Travel, I Still Love You, Twig and Thistle, House Industires, Photo Lettering, How About Orange, The Dieline, Creature Comforts, Bluebird and the biggies, Oh Happy Day!, Design Sponge and Apartment Therapy. There are so many more, but I don't what to be hoggish. I would read my husband's blog, Type and Lettering if he'd update it more! Hint, hint…
If you could have a lunch date with one blogger, who would it be and what would you cook?
I can't chose just one! Well, Isa and Terry, because they'd be fun and would probably bring something yummy. Joy the Baker because not only would she bring something good to eat, but that girl's mind works like mine and she cracks me up. And Melissa from I Still Love You because she seems like a sweetheart. I want to invite more, but that is probably enough because I don't want to overextend myself getting ready for my imaginary party. Wait, not sure if they blog, but could I invite Marty Moss-Coane, Tina Fey and Amy Pohler over too?
What would I serve? Something yummy and fun, like vegan Cubanos and fried plantains with a spicy dipping sauce. Some sort of fusion-style cilantro-y coleslaw type salad. For drinks, how about a mojito-style iced tea? And for dessert, churos con chocolate and fresh strawberries. This is making me hungry!
I know you spent a year perfecting your vegan baking. What are you working on mastering now?
Honestly, I have been perfecting my baking skills since right before my daughter was born, so for almost 6 years. I couldn't sleep past 4 am in the last month or so of my pregnancy, so I would wake up and teach myself to bake to entertain myself (this was long before you could log on to Facebook to see which of your friends were also having problems with insomnia). Since we are lacto vegetarians, when I bake at home, my creations are just eggless. Making for a crowd, I go vegan. I'm not doing so much baking right now, simply for the fact that I am trying my hardest to end up like a ton-o-lard (its true what they say, when you hit 30, your metabolism screeches to a halt), but when I do bake I have to say I am always searching for the best cookies. I still haven't found the best vegan chocolate chip cookie, so I am always trying new recipes.
You and your husband collaborated on the design of your blog header. It must be nice to have such a talent on call! Any plans for future collaborations?
The Scissors and Spice logo has brought so much traffic to my blog! It is really nice to have a designer at my beck and call! I make you dinner, you supply me with logos. Fair trade. I'm sure at some point, I will ask him for another one to keep things exciting on the blog front.
We do plan on doing some silk screening together, but I don't want to add more tote bags to a clogged up market, so possibly our own printed fabric. When our kids are in school full-time and are a bit more independent, I am sure we'll be putting lots of products out there for sale. Save your pennies now!
March 15 2001, Mumbai, India
Maharaja had accepted me as his aspiring disciple.  He asked what my plans were.  I told him that I was planning to go to Mayapur.  I left the Bhaktivedanta Hospital and took the train to Grant Road Station.  Looking out the train window at the dirty tracks and buildings, I realized that it is only by the mercy of the Vaishnavas that we can make any spiritual progress.
Gaura-Nitai looked very life-like during the next morning's darsana.  I couldn't stay for Bhagavatam class, however, because I had to buy my train ticket to Howrah.  The morning sunlight dazzled like liquid gold.  I saw a calf sucking on it's mother's udders from the bus window and remembered reading in Krsna Book that this was auspicious. This good omen must, in some way or other, be connected to my being accepted by my Spiritual Master.
I jumped off the bus at Churchgate Station, bought my ticket and danced through the crowd singing Hare Krishna.  Moving in this carefree spirit, I walked – or, rather, danced – into a young German couple leaning on their luggage at the foot of a large column.  The girl, Trinity, was about 25; and her companion, Kai, 35.  They were what you could call 'techno-hippies'.  It was their first visit to India.  They asked me if I knew of any good guesthouses in Mumbai.  I made some suggestions.  I somehow ended up talking about ISKCON Chowpatty.  Trinity and Kai were so intrigued by my descriptions of this special place that they asked me to take them there.
The three of us bundled into a cab.  The cabe wove its way through the Mumbai traffic to Radha-Gopinath Mandir.  I took them to the Gift Shop and  Kai bought an Introduction To Bhagavad-gita As It Is.   Kai was mesmerized by the Temple.  He took me aside and whispered:  'I have definitely been to India before'.  Gopijanavallabha prabhu, from the guest department, showed the couple the Temple Room.  Trinity gazed at Radha-Gopinath while Kai walked around the Temple Room looking at pictures of Krishna's pastimes.  Trinity covered her head with her scarf.  Gopijanavallabha looked at me and at her and said, 'She respects the Temple etiquette'.  When I looked again, I noticed that tears were streaming down her cheeks.  Gopijanavallabha offered them some prasada.  I chatted some more with them before they left.
I washed my cloth, shaved and showered.  It was difficult saying goodbye to my friends.  I met Sankirtan prabhu in the passage and said, 'Yes, absence makes the heart grow fonder.  I am going to miss you'.  He gently smiled and moved his head from side to side.  Dauji prabhu packed some prashadam for me.  I was now in a state.  I took darsana of Radha-Gopinatha, and packed my bags.  I felt hollow inside.  Had I really accomplished, as my Gurumaharaja had asked, what I had set out to achieve here in India?  I suddenly felt detached from everything.  Like a rich person must feel towards wealth.  I felt removed from this place.  Yes, I am leaving this address.  I am being transported.  Feelings of acute separation slowly entered my heart.
I rushed downstairs to fetch my prasada.  I placed my luggage near the front of the Temple and began to say goodbye to my friends from the asrama.  It suddenly dawned on me that I had forgotten to offer my obeisances to Maharaja. I wanted to run upstairs but the devotees said, 'There he is!'  Maharaja was walking by the Laxmi-Narayana Temple.  I offered my obeisances to him.  Maharaja asked, in a somewhat tentative manner, 'So, are you going now?'  'Yes.  I am taking the train to Howrah'.  Maharaja looked at Krishna-Balarama and the small group and said, 'This is not the first time we are saying goodbye'. 'Maharaja, please pray that I can always be steady', I entreated.  Maharaja said, 'Yes.  Always'.  Maharaja looked at Krishna Balarama and said, 'Give him your blessings'.  He began to ascend the metal staircase.
Krishna Balarama faced me and said, 'Blessings!  Blessings!  Blessings'.  I retorted light-heartedly, 'You are an empowered devotee.  Maharaja has empowered you to give me your blessings'.  We both laughed.  I watched Maharaja, for what seemed an eternity, walk up the staircase.  I was leaving Chowpatty once again.
Filed under:
A.C. Bhaktivedanta Swami Prabhupada
,
Chowpatty Temple
,
India
,
ISKCON
,
Journal
,
Realizations
,
Spiritual Life
Tagged:
Bhaktivedanta Hospital
,
chowpatty
,
chowpatty temple
,
grant road station
,
India
,
ISKCON Chowpatty
,
mukunda charan das
,
postaweek2011
,
Radhanath Maharaja
,
radhanath swami

Ljubljana, Slovenia

A career as a Spiritual Warrior provides intangible and tangible benefits. SWs work closely with their teammates to innovatively accomplish missions important to spreading of transcendental knowledge. They constantly learn and push their physical and mental limits, living unconventional and out-of-the-cubicle lifestyles.

Camaraderie

Every teammate on a SW Team brings his unique identity, personality, intelligence and talents to contribute to the SW's collective abilities to rapidly adapt and innovate on the battlefield. Each man who wears the SW sings has endured the same extreme mental and physical challenge thus making the SW Teams the ultimate brotherhood. Teammates do not let each other down, on or off the battlefield. The relationships and friendships formed within "The Teams" last a lifetime.

SW is a lifestyle rather than just a job or career. "The office" for a SW transcends not only the elements of the sea, air and land, but also international boundaries, the extremes of geography and the full spectrum of conflict. There is no "typical day at the office" for a SW. SWs constantly learn, improve and refine their skills while working with their teammates. For a SW, the only easy day was yesterday.

Learning

SWs constantly learn new skills, while improving and refining existing ones. The lives of their teammates and their mission success depend upon the individual and collective technical skills, tactical proficiency and attention to detail of each SW within his platoon or Team. For a SW, training is never complete. Qualified SWs can choose from hundreds of training courses that develop a SW's knowledge base and technical skills. The following are just some of the training available to SW's during their missions and careers:

- Self Care
- Success Partnerships
- Mutual Assistance
- Chanting School
- Positive Language Training
- Kirtan Jumpmaster Qualification
- Preaching Dive Qualification
- Maya Attack Defense
- Spiritual Intelligence Analysis
- Communications
- Preaching Performance
- Leadership Excellence
1966 April 28: "Last month there was a theft in my room, my typewriter and tape recorder and some books were stolen. The American people have every thing in ample and still there are thieves for want of character. That is the way of material nature."
Prabhupada Letters :: 1966
1969 April 28: "Develop the house into a students residence. At a fixed up time there should be lectures and kirtana. If the students take part, they will take Krishna consciousness up and if our prasadam program is also introduced, that will also be great impetus."
Prabhupada Letters :: 1969
1970 April 28: "Regarding their dogmatic insistence, everyone thinks like that, so if one is not prepared to advance more, it is better to avoid them. If one is limited by formulas only, he is described as an animal bound up by the master and unable to move beyond the length of the chain. So we are concerned only with people who are not chained by anything."
Prabhupada Letters :: 1970
1974 April 28: "Those who pretend they have already attained perfection are sahajiya, simply imitation. This early rising, holding classes, going out regularly for sankirtana, worshiping the deity, they are the very substance of our devotional life."
Prabhupada Letters :: 1974
1974 April 28: "I am very very proud of you both as you have given up everything and gone to a far away part of the world just on my order to carry out the will of Sri Caitanya Mahaprabhu, that the chanting of the Holy Name be heard in every town and village."
Prabhupada Letters :: 1974
1974 April 28: "As for political speaking, our main message is that people should elect pure God Conscious leaders. If anywhere they will take seriously the principles of Bhagavad gita As It Is, that will be America. We are getting good response and there is every prospect that we may capture some political post."
Prabhupada Letters :: 1974
1966 April 27: "I am holding classes thrice in a week and training some American youths in the matter of sankirtana and devotional service of the Lord. Some of them are taking the lessons very sincerely and in future they may be very good Vaisnavas according to rigid rituals."
Prabhupada Letters :: 1966
1967 April 27: "Rest assured in the discharge of Krishna conscious duties Krishna will always give us His protection. I have seen in you that Krishna has special mercy upon you so utilize this mercy fully so in this very life you can be elected as one of the associate of Krishna in His supreme abode Goloka Vrindaban."
Prabhupada Letters :: 1967
1967 April 27: "The amalgamation of the deity of Krsna dasa Kaviraja Goswami, Deity of Bhugarbha Goswami, the Deity of Jayadeva Goswami and the Deity of Jiva Goswami Prabhupada at one place is the beginning of this mismanagement culminating by selling the properties of the respective deities for personal sense gratification. This is a clear case of misappropriation and it is clear case of criminal breach of trust."
Prabhupada Letters :: 1967
1969 April 27: "I am traveling now in so many places - from Los Angeles to Hawaii, then to San Francisco, then again Los Angeles, then New York, then Buffalo, and now I am in Boston. From here I shall go to Columbus, then to North Carolina, then to New Vrindaban, and then I may go to London if required."
Prabhupada Letters :: 1969
1970 April 27: "The traveling Sankirtana Party was programmed long, long ago, even when I was in India. I used to say to my God-brothers that when I would begin preaching I shall take two trucks, one for Sankirtana Party and one for carrying requisites, and I would go from village to village throughout the whole world preaching Lord Caitanya's message. So the time has come as per my dream."
Prabhupada Letters :: 1970
1971 April 27: "We are the only institution which can receive foreigners and train them nicely in spiritual life. So the Indian government should help to get us a nice place for such work to go on. Try to convince him in this way. Yes, we are contemplating Indira Gandhi's presence while laying down the foundation stone in Mayapur. So you arrange like that."
Prabhupada Letters :: 1971
1973 April 27: "One who has no mother and who's wife is not obedient, such a home is as good as living in the desert. The steps you have taken are worthy of one who is my disciple. So please revive your old Krishna conscious activities and make your life successful. Do not spoil your life for a woman."
Prabhupada Letters :: 1973
Ever get the feeling that you just don't belong? Maybe the last time was during your teenage years where you walked into a social gathering knowing no one at all. We all long for a sense of belonging, a sense that "we fit in".

For some time now I feel that I just don't belong. I have wonderful friends, a loving family and so many well-wishers that one might suggest that my problem is due to the fact that I'm not grateful for the gifts that have been given to me. That's very true. I'll admit I'm not a grateful person and it's something I need to work on, but lately I feel as though it's something more.

Deep down I believe this sense of "not belonging" is due to a lack of permanency. Not only the lack of permanency in my own life but the constant change that is constantly surrounding everyone and everything I am associated to and with. I know many others I have spoken to have also shared that they experience this. The material world is said to be real yet impermanent. My realization is that it is hard "to belong" to anyone or anything when an expiration date is part of the package deal.

Relationships, situations, perspectives....they all change. I guess that's the lesson that Krsna is trying to teach me and that I don't want to accept. That despite whatever I am experiencing, He is the one permanent person that will never change, never leave and will always be there. Theoretically the concept is locked into my brain but on the basis of faith, I think I have a long way to go. Ultimately that is the lesson, isn't it?

So despite feeling as though I don't belong and I'm not connected, I aspire to embrace these feelings so that I can depend on Krsna more. On the most Krsna conscious perspective (which unfortunately is not the one I'm operating on :P) this is the greatest blessing. Most of the time our problem lies in the fact that we feel that the material world is our home and that all our pastimes here is what can sustain us. Although I feel like a small ship that is being tossed about in the rough seas and winds of change and upheaval, I pray that the steady anchor of Krsna's mercy will provide a safe haven keeping me safely enveloped in His merciful glance.
1974 April 27: "We can help them but the function has to be in connection with Krishna. We cannot divert our attention to such participation in so called Hindu religious functions. This has spoiled the Hindu religion into a hodgepodge pseudo religion. For advancement in Krishna Consciousness we should simply concentrate on Krishna."
Prabhupada Letters :: 1974
1968 April 26: "There are four things desirable in this material world but just like zero has no value, but when zero is placed on right side of one, the value of zero enhances to 10 times; similarly, our life, wealth, intelligence, and words become 100 X 100 greater and greater if they are employed in the service of the Lord."
Prabhupada Letters :: 1968
1968 April 26: "This gentleman is very much materially ambitious. He wants to utilize Krishna Consciousness for his material name and fame. He greatly offended our Guru Maharaja so instead of becoming a great preacher of Krishna Consciousness, this gentleman has artificially become head of an institution."
Prabhupada Letters :: 1968
1968 april 26: "You may know that he is not a liberated person, and therefore, he cannot initiate any person into Krishna Consciousness. That requires special spiritual benediction from higher authorities."
Prabhupada Letters :: 1968
1970 April 26: "Everyone is appreciating your Deity worship and Srimati Radharani is smiling, so it is a great credit for you, so continue this engagement. You are making advancement in Krishna Consciousness as it is scheduled. From the attachment platform, the next platform is ecstasy, and then pure love of God."
Prabhupada Letters :: 1970
1971 April 26: "Find out two or three such national distributors then we can distribute 10,000 books very easily. Now 5,000 KRSNA, vol. II and 10,000 KRSNA vol. I @ $8.00 per copy less 40%, or $4.80 x 15,000 = $72,000.00 which should be sent gradually to the Book Fund and again reprint. So we shall over flood the whole of Europe and America with KRSNA Book."
Prabhupada Letters :: 1971
1972 April 26: "Concentrate on book sales. The books are being sent to you free. Settle amongst yourselves on some program for distributing my books, I don't care at what price just sell, because all you can collect will go for building Vrindaban and Mayapur only."
Prabhupada Letters :: 1972
1972 April 26: "I want that our skyscraper should be looking like this. I do not like the round towers, they are too fanciful. Simply add Govindaji's temple onto this skyscraper then you will have the plan. Now we are here in Japan then we are going to Hawaii and then to Los Angeles."
Prabhupada Letters :: 1972
1972 April 26: "My godbrother in Jessore district is very much anxious for us to come there. Go with your party immediately. If possible see Sri Mujibur Rehman, President of Bangladesh, and show him evidence that Parsis, Jews, Christians, Muslims, all parties are participating in this Krishna Consciousness Movement - so why the Bangladesh Muslims should not join?"
Prabhupada Letters :: 1972
1972 April 25 : "Show him evidence that Parsis, Jews, Christians, Muslims, all parties are participating in this Krishna Consciousness Movement - so why the Bangladesh Muslims should not join?"
Prabhupada Letters :: 1972
1972 April 25 : "I have included one photograph of our proposed skyscraper in Los Angeles and so I want that our skyscraper in Juhu should also be looking like this. I do not like the round towers you have proposed, it is too fanciful."
Prabhupada Letters :: 1972
1966 April 25 :
"Sasthi. I went to see Mr. Bogart. Came back & settled to postpone return back to India."
Prabhupada Letters :: 1966
Our 40th Anniversary Festival was a remarkable success. So much to say, so many photos, so many films and so many stories, are yet to be shared with you. Daresay much is already posted on YouTube. The photo above was taken just after our Sydney Harbour Kirtan Cruise. Having over 80 Australian Disciples of Srila A.C. Bhaktivedanta Swami Prabhupada in one place at one time was an historic one-off. Hi-res versions of this photo and many others are available here. Lots already accessible via my facebook page.
Oh, and some photos of the Prabhupada Disciples' Dinner are here:
And some miscellaneous festival temple photos here:
Srimad Bhagavatam 12.7.14 - Srimad Bhagavatam is most dear to the Vaisnavas because it describes the pure and supreme knowledge of the paramahamsas (srimad-bhagavatam puranam amalam yad vaisnavanam priyam...).
For information about the school you can go to mayapurschool.com.
Click here to read the full article from the New York Times

START in Aisle 2, third shelf from the bottom: here is grape juice for your heart. Over to Aisle 4: there are frozen carrots for your eyes.
Push a cart through the D'Agostino store in Midtown Manhattan, or any supermarket anywhere in America, and you just might start believing in miracles — or at least in miracle foods.
In aisle after aisle, wonders beckon. Foods and drinks to help your heart, lower your cholesterol, trim your tummy, coddle your colon. Toss them into your cart and you might feel better. Heck, you might even live longer.
Or not. Because this, shoppers, is the question: Are all these products really healthy, or are some of them just hyped?
The answer to that question matters to millions of Americans who are wagering their money and their waistlines on hot new products in the grocery aisles called "functional foods."
Food giants like Dannon, Kellogg and General Mills don't claim these products actually prevent or cure diseases. Such declarations would run afoul of federal regulations. Nor do they sell them as medical foods, which are intended to be consumed under a doctor's supervision.
Rather, food companies market functional foods with health-promoting or wellness-maintaining properties. Such claims are perfectly legal, provided that they are backed up by some credible science.
All those heart-healthy red hearts on your box of Quaker Oats cereal or that can of Planters peanuts? That happy-colon yellow arrow on the tub of Activia yogurt? It's all part of the marketing of functional food.
Over the past decade, despite all those sales pitches for "natural," "organic" and "whole" foods, functional food has turned into a big business for Big Food. And more Americans are buying into the functional story. Sales of these foods and beverages totaled $37.3 billion in the United States in 2009, up from $28.2 billion in 2005, according to estimates from the Nutrition Business Journal, a market research firm.
But as sales soar, federal regulators worry that some packaged foods that scream healthy on their labels are in fact no healthier than many ordinary brands. Federal Trade Commission officials have been cracking down on products that, in their view, make dubious or exaggerated claims. Overwhelmed regulators concede that they are struggling to police this booming market, despite recent settlements with makers of brands like Kellogg's Rice Krispies and Dannon's Activia, which the authorities say oversold their health benefits.
Consumer advocates and some nutritionists are equally blunt. They say shoppers are being bamboozled by slick marketing. Many people grab products with healthy claims on the front of the package and overlook crucial nutritional information, like calorie counts, in the small print on the back.
"Functional foods, they are not about health," says Marion Nestle, a professor of nutrition, food studies and public health at New York University. "They are about marketing."
Walk through any supermarket, and you'll see what Ms. Nestle means.


Uddhava to Maitreya:"O sage, persons who because of their sinful activities are averse to the topics of Transcendence and thus ignorant of the purpose of the Bhagavad-gītā are pitied by the pitiable. I also pity them because I see how their duration of life is spoiled by eternal time while they involve themselves in presentations of philosophical speculation, theoretical ultimate goals of life, and different modes of ritual."



Srimad Bhagavatam - Canto 3 Chapter 5 Verse 14



Uddhava condemns all those who are not interested in learning from Bhagavad Gita.
Their Lordships Sri Sri Nitai Gaura-Hari
our sankirtan inspiration
May He who has broken open the store house of love of God and freely distributed it keep us engaged in His divine mission
The above darsan is from Srila Prabhupada's Iskcon in Johannesburg, South Africa on 8th May 2011, dressed while chanting of several songs of Srila Narottama Dasa Thakur _/\`o_

Hello dear devotees, Here is a beautiful prayer so our minds can engage properly in devotional service.

O my dear mind, in order to attain the direct service of Sri Sri Radha-Giridhari, who are always entranced by amorous desires, and the service of Their eternal associates, one should drink the pancamrita described by Srila Rupa Gosvamipada. This pancamrita is ambroasial nectar comprised by the following ingredients of service:

1) Arcana, worship of Sri Yugala
2) Sankirtana, chanting the glories of Their names, forms, qualities and pastimes
3) Dhyana, meditating upon Them
4) Pranams, offering loving obeisances to Them
5) Worship of Sri Govardhana daily in accordance with precepts of bhakti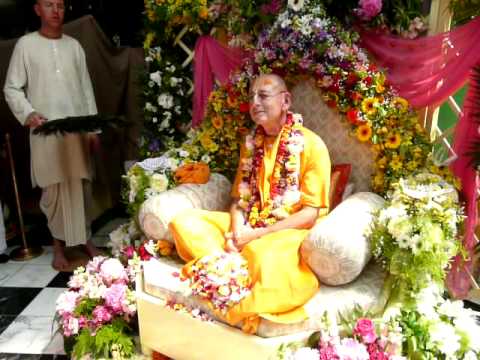 Appearance Day of Lord Nrsimhadeva kirtan

More Recent Articles