Welcome to Day Eighteen of Pump Up Your Book's October 2010 Authors on Virtual Book Tour! Follow along as these talented authors travel the blogosphere all month long to talk about their books, their lives and their future projects. Leave a comment at their blog stops and you could win a FREE virtual book tour if you're a published author with a recent release or a $50 Amazon gift certificate if you are not published. So, pick your favorites, follow their tours, and make sure you leave them a note to tell them you stopped by!
________________________________________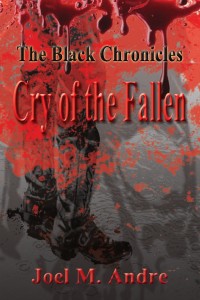 Joel M. Andre, author of the horror novel, The Black Chronicles: Cry of the Fallen, will be visiting Cuzin Logic! All around her Lauren Bruni is faced with destruction. Her marriage has ended, and her professional life is at the breaking point. For Lauren, this is only the beginning of her pain. In the small town of Cottonwood, AZ everything seems to be headed in the same direction. A serial killer is on the loose, and his trail of victims holds no connection. His rampage escalates and becomes far more brutal with each murder he commits. As Lauren attempts to prevent her own life from collapsing down around her she must stop a killer with supernatural strength. But there is something far more sinister in the works than she could ever imagine. In the end it is up to Lauren to make the ultimate sacrifice to save a community from the purest form of evil.
You can visit his website at www.joelmandre.com.
__________________________________________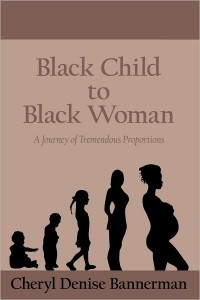 Cheryl Bannerman, author of the fiction novel, Black Child to Black Woman, will be visiting Book Bum!
Black Child to Black Woman is a 'live diary' experience that will grab your attention right from the start. Tara Walker speaks directly to the reader as she adds entry after entry into her Journal.
She documents her experiences, her family life, her triumphs, as well as her interpretation of life and the world as she saw it. Come discover life through the eyes of Tara as she grows from a black child to a black woman.
You can find Cheryl at www.bannermanbooks.com.
_________________________________________
Kathy Bell, author of the science fiction book, Regression: Book One of The Infinion Series, will be visiting Pump Up Your Book! Fourteen-year-old Adya Jordan swears that before her head injury she was a forty-year-old mother of six. Is she going crazy, or did she really live through an entirely different life? 1985 is nothing like she remembers, although her first day of high school certainly is! A typical girl with atypical genes, Adya tries to recapture her old life, hiding her growing conviction that she has done this before. Memories of the man she loved and a family she adored haunt her, even though her future husband doesn't even know she exists. Accidentally discovering the secretive Three Eleven Corporation might know more about her situation than she does, she is convinced the twenty-eight men heading up the company are responsible for the changes in her world.
You can visit Kathy and her Infinion Series at infinionseries.com or at northernsanctum.com.
_________________________________________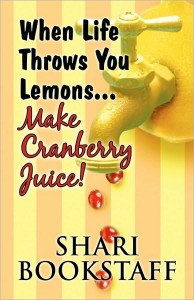 Shari Bookstaff, author of the memoir, When Life Throws You Lemons, Make Cranberry Juice, will be visiting Darlyn and Books! I was 42 years old when I was diagnosed with a benign, operable, brain tumor. Doctors predicted a short hospital stay followed by a speedy recovery. Complications arose, giving me unexpected life-long obstacles. My life since that fateful day has been focused on regaining basic human functions: breathing, swallowing, walking, etc. I am working again, and trying to be a good mother to my two beautiful, talented, wonderful children. Putting a positive spin on life's disasters doesn't always work, but looking for, and accepting, positive things in spite of life's disasters works. Instead of making lemonade out of lemons, I add life's sweet sugar and cranberries to my lemons. This makes life much more palatable.
Visit Sheri's website at www.wix.com/lemonsandcranberries/lemons.
________________________________________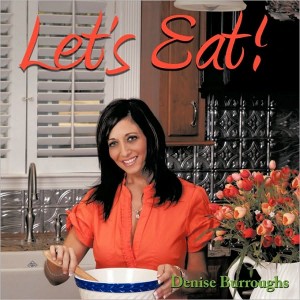 Denise Burroughs, author of the culinary book, Let's Eat, will be visiting (no stop today)!
Denise Burroughs combines her rich Italian heritage with years of southern tradition in Let's Eat!, her debut cookbook.
Her love for cooking shines through in this comprehensive book, suitable for all levels of cooking experience.
Let's Eat! provides readers with simple, inexpensive dishes. Recipes range from "Potato Flake Chicken" to "Chocolate Italian Cookies."
You can visit Denise at www.deniseburroughs.com.
________________________________________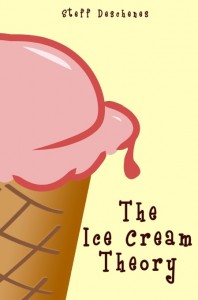 Steff Deschenes, author of the self-help book, The Ice Cream Theory, will be visiting You Have How Many Kids?! The Ice Cream Theory is ice-cream guru Steff Deschenes's charming exploration of the parallels between human personalities and ice-cream flavors, a tongue-in-cheek celebration of the variety inherent in a well-lived life. The Theory was hatched when Deschenes was trying to make sense of her first heartbreak. In the midst of that grief, she realized that, in the same way humans have ice-cream preferences, humans have people preferences. Like ice cream flavors, social preferences shift based on age, experience, even mood. There are exotic flavors that one craves when feeling daring, comforting flavors to fall back on, flavors long-enjoyed that eventually wear out their welcome, and those unique flavors that require an acquired taste. Like people, no ice cream flavor is perfect every single time . . . and it is in this realization that the crux of Deschenes's theory lies. Deschenes neatly brings together anecdotes from her own adventures with broader-reaching social commentary to help others recognize the wisdom and joy inherent in a beloved dessert. With its cheeky self-help slant, The Ice Cream Theory is an endearing and light-hearted addition to any bookshelf. It's a must read for anyone bruised by life's tough lessons and in need of a cheerful pick me up!
You can visit her website at www.steffdeschenes.com or www.theicecreamtheory.com.
_________________________________________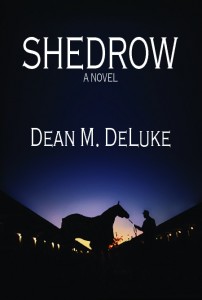 Dean DeLuke, author of the thriller novel, Shedrow, will be visiting Broowaha! In Lexington Kentucky, on the magnificent, perfectly manicured Midway Farm, a young multimillion dollar thoroughbred stallion dies mysteriously in the early morning hours. While the autopsy report initially points to the Equine Herpes Virus, something about that report doesn't mesh for associate veterinarian Dr. Steven Highet. When the vet begins to dig deeper, aided by an eager young pre-veterinary student working for the summer at Midway, Highet finds his own life and the lives of others suddenly endangered. Even more endangered is Dr. Anthony Gianni, the prominent Manhattan surgeon who became involved in a racing partnership as a diversion from a thriving surgical practice and an ailing marriage. Now he is unexpectedly thrust into a brush with organized crime that will threaten to destroy his professional career. Chester Pawlak is principal owner of the deceased stallion, and because of his checkered past, he also becomes one of the key suspects in the cryptic death of his prized horse. From rolling pastures in Lexington, KY to darkened alleyways in Newark, NJ, from Manhattan's posh '21′ Club to a peculiar and mysterious landfill in Eastern Kentucky, and from Saratoga Springs, NY to the tiny island of St. Lucia, Shedrow portrays a collision of characters from many divergent worlds. High society and the racing elite, medical and veterinary specialists, mob figures, and Kentucky hill folk become entangled in this unique twist on the medical thriller.
You can visit Dean's website at www.shedrow1.com.
________________________________________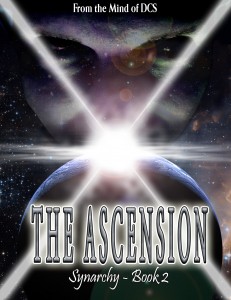 DCS, author of the science fiction thriller, Synarchy Book 2: The Ascension, will be visiting Plug Your book and Broowaha! A lifetime ago, Stefano Vasco Terenzio saw one way to maneuver his family into a game of betrayal against an unbeatable enemy; walking into a bullet. A generation later, what started with one man's ego will determine the fate of the whole word. For centuries The Brotherhood and their Gods, the Anunnaki have hidden in plain sight among us. For centuries they have lied, sacrificed man by the thousands, and manipulated humanity into their service. As the clock ticks closer to December 21st, 2012, they will stop at nothing to keep their control of planet Earth. In the thrilling sequel to Synarchy Book 1: The Awakening, the end is only the beginning. Secrets emerge that will challenge the core of everything you think you believe.
_________________________________________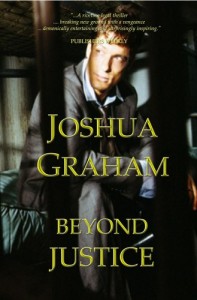 Joshua Graham, author of the thriller, Beyond Justice, will be visiting Psychotic Book Reviews! THE ROAD TO HELL IS NOT ALWAYS VERTICAL. Sam Hudson, a reputable San Diego attorney, learns this when the authorities wrongfully convict him of the brutal rape and murder of his wife and daughter, and sends him to death row. There he awaits execution by lethal injection. If he survives that long. In prison, Sam fights for his life while his attorney works frantically on his appeal. It is then that he embraces the faith of his departed wife and begins to manifest supernatural abilities. Abilities which help him save lives– his own, those of his unlikely allies–and uncover the true killer's identity, unlocking the door to his exoneration. Now a free man, Sam's newfound faith confronts him with the most insurmountable challenge yet. A challenge beyond vengeance, beyond rage, beyond anything Sam believes himself capable of: to forgive the very man who murdered his family, according to his faith. But this endeavor reveals darker secrets than either Sam or the killer could ever have imagined. Secrets that hurtle them into a fateful collision course. BEYOND JUSTICE, a tale of loss, redemption, and the power of faith.
You can visit his website at www.joshua-graham.com.
_________________________________________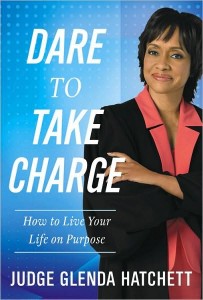 Judge Glenda Hatchett, author of the self-help book, Dare to Take Charge: How to Live Your Life on Purpose will be visiting (no stop today)! For nearly ten years, Judge Glenda Hatchett has delighted TV audiences with a brand of justice that turns the everyday into something eminently watchable. Her message can be distilled into the following two words: Dare Yourself. Whatever obstacles or fears one faces, Judge Hatchett's prescription implores readers to write their own story in this life. With care and conviction, Judge Hatchett uses real life stories from the courtroom and her personal life to counsel readers. Shows them how to find their true purpose and gifts, to be real about their reality and its potential outside of challenging circumstances, and to always be true to themselves. Interactive as well as inspirational, DARE TO TAKE CHARGE challenges the reader to ask self-reflective questions that lead to moments of self-discovery and a defined pathway to healing. Daring her audience to study the positive with the same interest and intensity that they study the negative, Judge Hatchett uncovers the potential for grace and success in lives that are now punctuated with despair and unfaithfulness.
You can visit her website at www.glendahatchett.com.
__________________________________________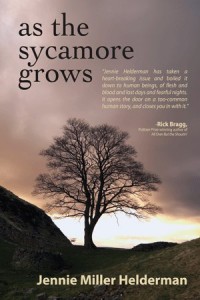 Jennie Helderman, author of the nonfiction book, As the Sycamore Grows, will be visiting As The Pages Turn! Imagine Foxfire living while Sleeping with the Enemy in the hills of Tennessee when the enemy totes a Bible and packs a .38. Mike shoved and slapped but his primary tools were isolation and economic abuse. Until he discovered the power of the Lord. As the Sycamore Grows is a nonfiction narrative about ending the legacy of abuse. Ginger McNeil was brought up to pray and obey, but she escaped the padlocked cabin in the woods where she lived off the land with no electricity or telephone. Today she's a court advocate in the domestic court system. A briefcase-carrying professional woman. Her husband Mike admits the abuse, holds no remorse and would do it all again. God made women to serve, he says. It's their job. Both Ginger and Mike speak, as do family, friends, ex-spouses and others. Thus Ginger is revealed as a flawed heroine who as a rebellious teenage bride abandoned her baby. Mike ran away from his father's fists but years later glimpsed himself in his father's casket. From south Texas to Tennessee the couple spiral down into poverty—by Mike's choice—and abuse enforced by religion and a pistol. Threading through the story is loss: the alienation of families, a spiritual void from betrayal by their church, and the death of the son Ginger had abandoned. It's this teenage boy's suicide, symbolized by a sycamore tree, which becomes the wedge that allows Ginger to break free and ultimately work to help batterers change. Will Mike change? Will the legacy of abuse end?
You can visit her website at www.jenniehelderman.com.
_________________________________________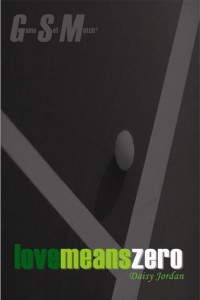 Daisy Jordan, author of the fiction/sports book, Love Means Zero, will be visiting Beyond the Books! A chance encounter in a Rome hotel, two tremendously damaging photographs, and Hilton Joliet's life is instantly altered. Previously working a dead-end job as an assistant in a portrait studio, she is now a freelance photographer for Game Set Match magazine, "the Us Weekly of tennis," as she calls it. Thrown rapidly into a jet-setting life of world-class tennis, the best seats at the best matches, and trailing the hottest young tennis stars and their model and actress girlfriends, Hilton, a former tennis player herself, can't imagine a more fun job or a better way to jump-start her career while her boyfriend Luke finishes law school. As Hilton spends more and more time away from home, grows closer and closer to Tanner Bruin—the world-ranked No. 3 player on whom she's always had a huge crush—and becomes more and more hated by Aubrey Gage—the actress girlfriend of world-ranked No. 6 player Haidin Bayliss—Luke keeps a secret from her that could drastically change their six-year relationship. It is through Hilton's discovery of that secret, her love for the tennis tour, and her front-row glimpse into its most high-profile relationships that she starts to see how love doesn't always mean near as much as she thought it did.
You can visit Daisy's website at www.daisyjordan.com.
_________________________________________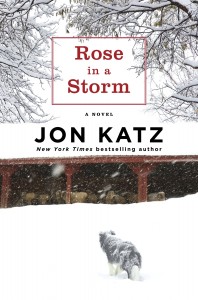 Jon Katz, author of the dramatic dog adventure novel, Rose in a Storm, will be visiting Examiner! From New York Times bestselling author Jon Katz comes a moving and powerful novel, the first one inspired by life on his celebrated Bedlam Farm—and perceptively told from the point of view of Rose, a dedicated working dog. Rose is determined and focused, keeping the sheep out of danger and protecting the other creatures on the farm she calls home. But of all those she's looked after since coming to the farm as a puppy, it is Sam, the farmer, whom she watches most carefully. Awoken one cold midwinter night during lambing season, Rose and Sam struggle into the snowy dark to do their work. The ever observant Rose has seen a change in her master of late, ever since Sam's wife disappeared one day. She senses something else in the air as well: A storm is coming, but not like any of the ones she's seen over the years. This storm feels different, bigger, more foreboding. When an epic blizzard hits the region, it will take all of Rose's resolve, resourcefulness, and courage to help Sam save the farm and the creatures who live there.
You can visit Jon Katz's site at www.bedlamfarm.com.
__________________________________________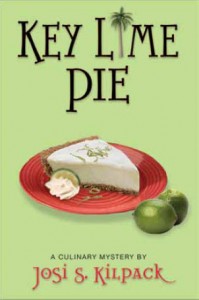 Josi Kilpack, author of the culinary mystery, Key Lime Pie, will be visiting Just One More Paragraph! When Sadie Hoffmiller's new friend, Eric Burton, receives word that his missing daughter's body may have been found in Florida, he immediately packs his bags, but Sadie is determined to stay home and prove to everyone that she is not a busybody. But when she senses Eric is hiding something, Sadie is compelled to take action. Before she knows it, she's in the heart of Miami, trying to piece together a trail littered with broken relationships, mysterious strangers, and forged documents that might just provide Eric the answers he's been desperately searching for—or reveal a truth he may not be ready to face. Sadie must also face a difficult question: Where is her heart leading her? Onward into Eric's adventurous arms? Or back home to the stable and steady Pete Cunningham? If only love was as easy as following a recipe.Once again, Sadie finds herself in the company of some colorful characters and on the hunt for some good old-fashioned southern cooking. But despite the drama and intrigue, all Sadie really wants is to go home . . . as soon as she does just one more thing.
You can visit her website at www.josiskilpack.com.
__________________________________________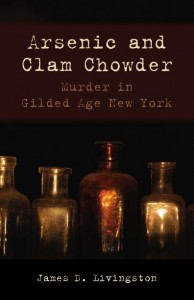 James Livingston, author of the historical true crime book, Arsenic and Clam Chowder, will be visiting Christy's Book Blog!
The book recounts the sensational 1896 murder trial of Mary Alice Livingston, who was accused of murdering her mother with an arsenic-laced pail of clam chowder and faced the possibility of becoming the first woman to be executed in New York's new-fangled electric chair.
Visit James online at www.jamesdlivingston.net
_________________________________________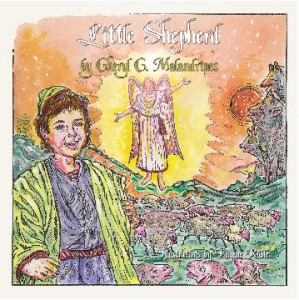 Cheryl C. Malandrinos, author of the Christian children's book, Little Shepherd, will be visiting Coffee and a Keyboard!
Obed is in the fields outside Bethlehem when the angels appear to announce the Savior's birth. Can he trust that the miracle of the first Christmas will keep his flock safe while he visits the newborn King? Electronic and print formats available. Please specify your preference.
You can find Cheryl online at http://ccmalandrino s.tripod. com/
_________________________________________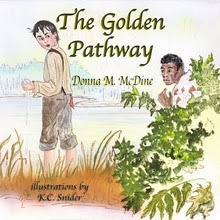 Donna McDine, author of the historical storybook, The Golden Pathway, will be visiting (no stop today)! Raised in a hostile environment where abuse occurs daily, David attempts to break the mold and befriends the slave, Jenkins, owned by his Pa. Fighting against extraordinary times and beliefs, David leads Jenkins to freedom with no regard for his own safety and possible consequences dealt out by his Pa.
Geared toward readers ages 8 – 12.
Find Donna online at www.donnamcdine. com
________________________________________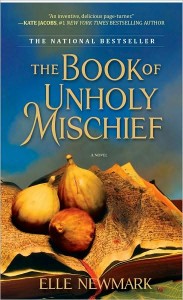 Elle Newmark, author of the Renaissance mystery novel, The Book of Unholy Mischief , will be visiting Daisy's Book Journal! It is 1498, the dawn of the Renaissance and Venice teems with rumors of an ancient book that hold the secrets of unimaginable power. Rich and poor alike speculate abouthe the long buried secred tht might be scrawled in its pages and where the book might be hidden in the labyrinthine city. While those who seek the book will stop at nothing to get it, those who know will die to protect it. As a storm of intrigue percolates in Her Most Serene Republic, Luciano, a penniless orphan, is plucked off the street by the doge's chef and taken in as the chef's apprentice. In the palace kitchen Luciano is initiated into the chef's rich and mysterious world where recipes are more than they seem. It is not long before Luciano is caught up in the madness. Torn between loyalty to his street friends and his passion for Francesca, a convent girl, Lucianco's worthiness is tested. Armed with a precicious mind and insatiable curiosity, Luciano embarks on a perilous journey to uncover the truth. What he discovers will swing open the shutters of his mind, inflame his deepest desires, and leave an indelible mark on his soul.
You can find out more about Elle at http://www.ellennewmark.com
________________________________________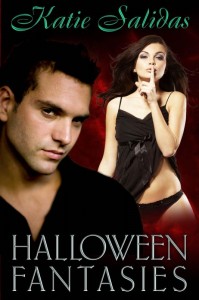 Katie Salidas, author of the paranormal novella, Halloween Fantasies, will be visiting Chrissy's World of Books! Touted as the sexiest party of the year, the annual Halloween Fantasy Ball is the one place a girl can let loose and succumb to her wildest fantasies. Disguised as a sexy vampire huntress, Sasha captures the attention of Dante, a real life creature of the night. For Sasha, meeting bona-fide vampire is enough to fulfill one of her life long fantasies. She's ready to go home a happy woman. But Dante has other plans. It is after all, a night of fantasies, and he has a few of his own to share.
You can visit Katie's blog at http://myimmortalstories.blogspot.com/.
_______________________________________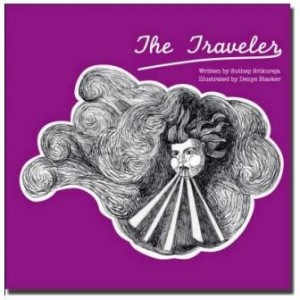 Suthep Srikureja, author of the children's spiritual novel, The Traveler, will be visiting (no stop today)!
Written by Suthep Srikureja while listening to the music of the waves and stunningly illustrated by Denys Blacker, The Traveler is about Dreams and Wishes…it's about Expressions and Wonder and about Hope and Trust.
It is a Story of the Stars and it seeks to inspire awe in our everyday existence and optimism about the future.
You can find out about Suthep and his book at http://www.mettavisions.com.
_______________________________________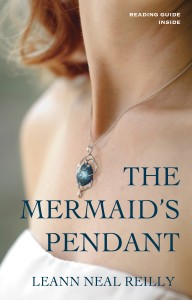 LeAnn Neal Reilly, author of the fiction novel, The Mermaid's Pendant, will be visiting The Cajun Book Lady! Inspired by the beloved classic The Little Mermaid, THE MERMAID'S PENDANT is a modern fairy tale about growing up and discovering who you are—and what you believe in. At times lyrical, this novel is a fantastic journey filled with magic, myth, romance, and adventure. Four years after John Wilkerson claims the mermaid Tamarind for his wife, they have an idyllic marriage that depends on a talisman that she crafted on their island paradise. But Tamarind learns a painful truth: it takes more than legs to live on land and more than magic to sustain a bond. When the talisman breaks, she and John are forced to rely on themselves instead of magic. Three wise women play key roles in the young lovers' journey to mature love. Ana, Tamarind's aging mentor, casts spells and performs seductions to keep the lovers apart. Valerie, an expat jewelry maker cum fairy godmother, works her own magic to bring them together. Lucy, their widowed neighbor, grounds the couple in the realities of marriage, parenting, and family. THE MERMAID'S PENDANT is a story for anyone who has ever believed in the transforming power of love.
You can visit her website at www.nealreilly.com.
________________________________________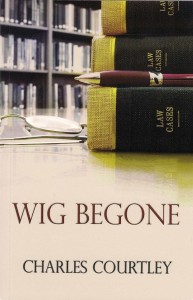 Robert Seymour (under the pseudonym of Charles Courtley), author of the humorous fiction, Wig Begone, will be visiting The Book Connection! Charles, a newly qualified lawyer without a penny to his name, plunges into the archaic world of the Bar as it was thirty-five years ago. After a stroke of beginners' luck – and a taste of good living – he soon becomes established in practice battling away in the criminal courts, conducting court-martials in Germany and on one horrifying occasion actually appearing in a commercial court, "winding up " companies of which he knows nothing! He encounters a wide range of clients including an Italian motorist charged with assault, who claims to have been savagely attacked by an elderly lollipop man wielding his road sign. On top of that, there are instructing solicitors who never pay him and even one who has departed this world altogether yet still manages to operate on a shadowy basis from the vicinity of Bow Road in East London. Court-martials take Charles abroad where he encounters a German policeman's dog whose canine expertise is deemed to be perfectly sound evidence and samples a night out on the other side of the infamous Berlin wall just making it back to the safety of the West. Wig Begone is an exhilarating tale of Charles' early career with disaster often lurking round the corner and culminating in his own appearance in front of England's most notorious judge!
240 pages
You can visit his website at http://courtleyprocedures.wordpress.com/wig-begone/.
___________________________________________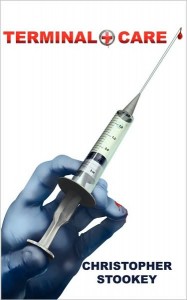 Christopher Stookey, author of the medical mystery thriller, Terminal Care, will be visiting Books R us! Phil Pescoe, the 37-year-old emergency physician at Deaconess Hospital in San Francisco, becomes alarmed by a dramatic increase in the number of deaths on the East Annex (the Alzheimer's Ward). The deaths coincide with the initiation of a new drug study on the annex where a team of neurologists have been administering "NAF"—an experimental and highly promising treatment for Alzheimer's disease—to half of the patients on the ward. Mysteriously, the hospital pushes forward with the study even though six patients have died since the start of the trial. Pescoe teams up with Clara Wong—a brilliant internist with a troubled past—to investigate the situation. Their inquiries lead them unwittingly into the cutthroat world of big-business pharmaceuticals, where they are threatened to be swept up and lost before they have the opportunity to discover the truth behind an elaborate cover-up.
You can visit his publisher's website at www.silverleafbooks.com.
___________________________________________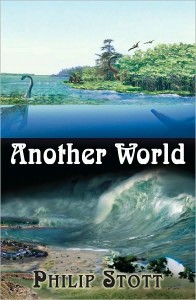 Phillip Stott, author of the Christian science fiction adventure novel, Another World, will be visiting My Favorite Things!
Scientist, educator, and author Philip Stott takes us on a harrowing journey back to the future. The time: a few thousand years ago. The place: a world we can barely imagine—and may not want to. Here there is much to amaze, but there is also much to appall. Here, all but a few have forgotten God; here, note but a few realize what is coming—terrifyingly—from above and beneath. To enter that world is to risk seeing our own. But enter it you should—the better to prepare yourself for another world that is soon to come.
Find out more about his book at http://nordskogpublishing.com/book-another-world.shtml.
__________________________________________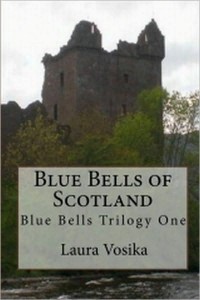 Laura Vosika, author of the historical fiction Blue Bells of Scotland: The Trilogy, will be visiting Review From Here and Teresas Reading corner! Shawn Kleiner has it all: money, fame, a skyrocketing career as an international musical phenomenon, his beautiful girlfriend Amy, and all the women he wants—until the night Amy has enough and leaves him stranded in a Scottish castle tower. He wakes up to find himself mistaken for Niall Campbell, medieval Highland warrior. Soon after, he is sent shimmying down a wind-torn castle wall into a dangerous cross country trek with Niall's tempting, but knife-wielding fiancee. They are pursued by English soldiers and a Scottish traitor who want Niall dead. Thrown forward in time, Niall learns history's horrifying account of his own death, and of the Scots' slaughter at Bannockburn. Undaunted, he navigates the roiled waters of Shawn's life—pregnant girlfriend, amorous fans, enemies, and gambling debts—seeking a way to leap back across time to save his people, especially his beloved Allene. His growing fondness for Shawn's life brings him face to face with his own weakness and teaches him the true meaning of faith. Blue Bells of Scotland is both a historical adventure and a tale of redemption that will be remembered long after the last page has been turned.
You can visit her website at www.bluebellstrilogy.com.
__________________________________________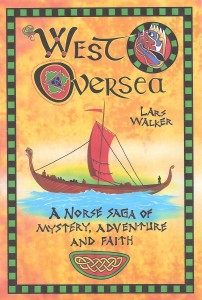 Lars Walker, author of the Christian Norse adventure novel, West Oversea: A Norse Saga of Mystery, Adventure and Faith, will be visiting (no stop today)! In this Viking adventure tale, Erling Skjalgsson valiantly relinquishes his power and lands rather than be dishonorable to his evil brother. Supported by a well-drawn cast of characters, Skjalgsson sets sail for uncharted vistas with Greenland as the ultimate destination. The first leg of their voyage takes them to a newly settled Iceland. A dangerous storm blows the adventurers off-course where they encounter new peril with the wild lands and peoples of North America. Meanwhile, Erling's Irish priest, Father Aillil, on a quest to rescue his enslaved sister, wrestles with a secret dark power that threatens to destroy them all. West Oversea is set against the historical and dramatic Eleventh century backdrop of a Norway in flux as pagan Norwegians are converted to Christianity—sometimes by force.
Visit his website at www.larswalker.com.
__________________________________________
Pamela Samuels Young, author of the legal thriller, Buying Time, will be visiting (no stop today)! Buying Time is a scandalous tale of blackmail, murder and betrayal, evoking John Grisham with a dash of Terry McMillan. Waverly Sloan is a down-on-his-luck lawyer. But just when he's about to hit rock bottom, he stumbles upon a business with the potential to solve all of his problems. In Waverly's new line of work, he comes to the aid of people in desperate need of cash. But there's a catch. His clients must be terminally ill and willing to sign over rights to their life insurance policies before they can collect a dime. Waverly then finds investors eager to advance them thousands of dollars—including a hefty broker's fee for himself—in exchange for a significant return on their investment once the clients take their last breath. The stakes get higher when Waverly brokers the policy of the cancer-stricken wife of Lawrence Erickson, a high-powered lawyer who's bucking to become the next U.S. Attorney General. When Waverly's clients start dying sooner than they should, both Waverly and Erickson—who has some skeletons of his own to hide—are unwittingly drawn into a perilous web of greed, blackmail and murder.
You can visit her online at www.pamelasamuelsyoung.com.

•
Email to a friend
•
Article Search
•
View comments
•
Track comments
•

•
More Recent Articles