---
WeVideo
is a collaborative, online video creation and editing tool that I've been quite excited about since last fall. In January they left beta and opened to the whole world. Their latest update was the launch of a
free Android app
.
The
WeVideo Android app
will allow you to capture images and videos then quickly add them to collaborative video projects in WeVideo. Before you upload your videos with the app you can trim them to save editing time when you're using WeVideo on the web. And just like when you use the web version of WeVideo, you can invite other WeVideo users to view your media and contribute to your projects.
While using the
WeVideo
online editor you can upload your own media clips or use stock media clips to produce your video. The video editor provides tools for trimming the length of display and or sound of each element you add to your video project. What makes WeVideo collaborative is that you can invite other people to create and edit with you.
Applications for Education
The
WeVideo Android app
could be a great application for students to use when working on video projects for your course. By using the app students working on group video projects can capture and share media for that project quickly and easily whenever they see something that can enhance their videos.

Infographics are all over the web these days. Now
Visual.ly
makes it easy to make your own Infographics from Twitter hashtags. To create an infographic with Visual.ly just sign-in with your Twitter ID, enter a hashtag that you want to see visualized, and select an infographic template. I created a simple infographic using the hashtag #edchat.
Applications for Education
Right now
Visual.ly
has limited application beyond visualizing hashtags, but hopefully they'll add more functionality in the future. In the meantime, Visual.ly could be a good way to visualize trends in current events for a social studies classroom. If your school uses Twitter to broadcast messages, like
Patrick Larkin's
school does, Visual.ly could be useful too.

Embed Plus
is a free service for clipping and annotating YouTube videos. I
wrote about the service
and included a demo of it last winter. This morning I learned from
Learn It In 5
that Embed Plus also provides a nice
service
for learning how to pronounce words and watch some examples of those words being used in a real-world context.
Embed Plus Dictionary allows you to search for a word, hear a pronunciation, and watch a video clip in which that word is used in a real-world context. The example that Embed Plus features is about the word "salmon." I've embedded their example below.
Applications for Education
Embed Plus Dictionary
could be a good resource for students of high school age or older. The video clips that I saw would not be terribly engaging for younger students. If you're looking for clips that would be appropriate for K-8 students, I recommend visiting
Wordia
.

Next week I will be speaking at the Teacher 2 Teacher conference in Bow Island, Alberta. One of my presentations next week is about student video projects. An element of that session is remixing media. On that topic there are always questions regarding copyright. As I was reminded the last time I was in Canada, copyright laws in Canada are different from those in the U.S.

In a stroke of good luck for me, David Wees published Copyright for Canadian Educators earlier this week. His short presentation is a good overview of copyright concerns that educators should be aware of. David is looking for feedback on the presentation so if you have thoughts to add, please visit David Wees's Copyright for Canadian Educators.

I have to admit that I don't always understand the appeal of SMARTBoards (or any other interactive whiteboard). That is probably because I often see them being used as nothing more than expensive LCD projectors. Then sometimes I see IWBs being used in a manner that makes me stop and say, "hmmm, now that is neat." If your thoughts about interactive whiteboards are like mine, you might benefit from reading Why Teachers Love SMARTBoards. The document was created by James Hollis who runs Teachers Love SMARTBoards a blog and training service.


Another good blog about resources for interactive whiteboards is Danny Nicholson's The Whiteboard Blog. I've mentioned Danny's blog before because I often find good IWB-specific resources in his blog posts.

Zopler
is an interesting free service for collaboratively writing stories. The basic idea behind Zopler is to enable the creation of community-crafted stories. Here's how it works; as a member of Zopler you can start a story with as little as one sentence or as much as 1000 words. Your story starter can include images too. Then you can make your story starter public or private. If you make it public, any Zopler member can add to it. If you make it private, only those people that you approve can add to your story. Contributions to stories can be voted up or down by other contributors to the same story.
The video below provides a short overview of
Zopler
.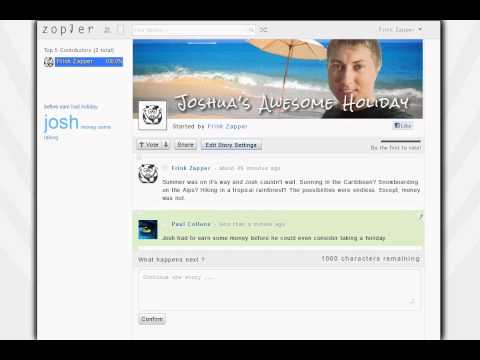 Applications for Education
Zopler
could be good way for students to collaborate on creative stories. You might have students write a collaborative story about a shared event like a field trip so that they can all get their version of events into one piece. One word of caution, if you use this with students make sure that the stories are marked as private so that random contributors don't post inappropriate comments on their stories.

More Recent Articles