---
Snapify
is a handy little Chrome extension that I've shown to live audiences twice in the last two days. Both times I showed how it works I heard some "oohs and ahs." Snapify allows you to highlight any word or phrase on a webpage and quickly find definitions, videos, Tweets, and webpages about that word or phrase. See it in action in the video below.
Applications for Education
Snapify
could be a great little tool for students to use when they're reading articles online. Anytime students come to a word or phrase that they don't understand they can simply highlight it and click "snap it" to find definition or explanation.
mySchoolNotebook
is a new service for taking, saving, and sharing notes online and offline. The basic purpose of mySchoolNotebook is to provide a place that students can take and organize notes from all of their courses. Students can create notebooks for each of their courses to which they add text and image notes.
To use
mySchoolNotebook
you do have to have a Facebook account. By signing into mySchoolNotebook with a Facebook account students are able to connect with and share notebooks with their friends taking the same courses that they are taking.
mySchoolNotebook is available to use on the web and as an
iPhone/iPad app
. Students can export their notebooks as PDFs if they need to have a paper copy of their notes.
Applications for Education
While I appreciate what
mySchoolNotebook
is trying to do by requiring a Facebook account to log-in, I do think that it will be a deterrent to some students and teachers. That said, the concept of mySchoolNotebook is solid and it has the potential to be a great place for students to record, organize, and share course notes.
3DTin
is a free web-based program for creating three dimensional models. 3DTin provides templates that you can use to develop models or you can build a model completely from scratch. The service is completely free to use as long as you allow your models to be labeled with a Creative Commons license and put in the 3DTin gallery. The gallery is a great place is to find examples of what can be created in 3DTin. Models that you create can be exported for use in other modeling software.
Before you rush to try
3DTin
you should know that you do have to be using a modern web browser that supports WebGL. For example, 3DTin will work with the latest versions of Chrome and Firefox but will not work with older versions of Firefox or Internet Explorer. 3DTin can be used as a
Chrome Web App
too.
The video below offers a short introduction to 3DTin, more tutorials are available on YouTube.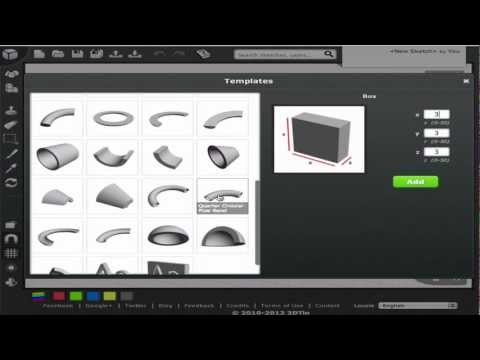 Applications for Education
3DTin could be a great web tool for an little engineering or architecture activity in which students develop and test various structure designs.
refDot
is a Google Chrome extension that could be very helpful for keeping track of and formatting references for use in bibliographies. Whenever you're viewing a website, an online book, an online journal, or a news article just click the refDot icon in your browser to open a window into which you enter all of information you need for a bibliography. For example if you were viewing a blog post on
Free Technology for Teachers
that you wanted to reference in a bibliography, click on refDot and the pop-up box will prompt you to enter the date of access, url, title, and year.
Applications for Education
refDot
could be a very useful Chrome extension for students to use when their performing research online. What I like about refDot is that you're reminded to record all of the important information you need for most bibliography formats.
Earlier this week The Adventure Blog posted a beautiful short video about Yellowstone National Park. The video is embedded below. Watching the video prompted me to dig into my archives for resources that you can use to develop and teach lessons about the US National Parks. Those materials are listed below the video.




50+ Games for Learning About National Parks
A Time Lapse Tour of Yosemite
The National Parks Digital Storytelling Modules
Create a National Parks Virtual Tour
A Great Way to Learn About National Parks
The Travel Film Archive
Nature - In the Valley of the Wolves
The Volcanoes of Yellowstone
An Immersive Virtual Tour of the Grand Canyon
Last evening I was Tweeting with a couple of my former students about how their spring semester is going. One of them mentioned that she had to write a paper on the Progressive Era and asked if I had any suggestions to get her started. While I certainly wasn't going to do the research for her, I did get her started and introduced her to
instaGrok
by sharing this
web of search terms and links associated with the term Progressive Era
.
Applications for Education
If you haven't tried
instaGrok
yet, I strongly encourage you to visit it right away. I think instaGrok is going to become a very useful and popular tool amongst educators and students. The basic idea behind instaGrok is to provide students with webs of search terms. Accompanying each web is a set of suggested links, videos, images, and key facts about their original search term. Students can pin their findings to a journal page inside their instaGrok accounts. Class accounts allow teachers to see what their students are searching and pinning.
Learn more about
instaGrok in my March 22 post about it
.
More Recent Articles