---
This afternoon The Adventure Blog had a good story about a new expedition to search for clues to solve the mystery of Amelia Earhart's disappearance in 1937. Reading the story reminded me of a Smithsonian resource that I tried out a few years back.

America by Air is a series of thirteen online activities that take students through the history of commercial aviation in the United States. Some of the activities that students can explore include examining air routes, pricing tickets, and dressing like a pilot or flight attendant.

Applications for Education
America by Air's thirteen online activities are good resources for elementary and middle school students to learn about the history of commercial aviation in the United States. As students return from summer vacations some may have stories about flying. Have students use try the activities in America by Air then compare their trip in 2009 to how their trip may have unfolded during an earlier era in commercial aviation.
Dear Readers,

I thought about using, "I don't support Scott Walker" as the title of this post, but that would be way too political for my liking. And while it would be a good SEO ploy, that's not what this post is about. It's about advertising that you see here on my blog.

I received an email today from a reader who was very concerned that I had accepted money from Scott Walker for an advertisement that she saw here on Free Technology for Teachers. First, I want to clarify that I do not support Scott Walker nor did I intentionally display that advertisement. That advertisement was a Google Adsense unit. I currently have two Adsense units on this blog. Adsense displays ads to viewers on an individual basis based on each individual's browsing and viewing history. I only receive a payment if someone clicks on one of those ads. If you want to opt out of Google's tracking I wrote about how to opt-out here. In short, I never saw the Scott Walker ad until it was pointed out to me because Google currently thinks that the best ads to display to me are about mountain biking, dogs, and airlines (they're actually pretty accurate too).

Where I messed up.
While Google Adsense does have filters for categories like "dating," "health," and other potentially PG-13 categories it does not have a filter for "political ads." It was my mistake not to foresee an ad campaign by Scott Walker and block the url for his campaign ads which is something I have done now.

What I'll do in the future.
The 2012 U.S. Presidential Election Campaigns will be in full swing this summer. In an effort to be as bi-partisan as possible, I will try to block urls from both campaigns.

Why don't you stop running ads?
I'm sure some people are wondering that. The short answer is, ads help me keep the lights on and feed my dog. Researching and writing content for this blog takes 50+ hours a week. While I never intended to start a small business, thanks to so many of you and your loyal readership, this blog did turn into a small business. For that, I am very very grateful. Thank you for reading my blog and sharing with others.

All the best,
Richard

P.S. If you do see an advertisement that is inappropriate please feel free to email to me the url of the ad and I will block it. My email is richardbyrne (at) freetech4teachers (dot) com
Drop Canvas
is a new service offering very simple file sharing. To share a file with someone just go to Dropcanvas.com and drag files from your desktop onto the Dropcanvas screen. You can drop multiple files onto the canvas if you want to. As soon as you have dropped files onto the canvas a url is created for your files or set of files. You can email that url, Tweet it, Facebook it, or post it on your blog. Anyone using that URL can view your shared files and download them.
Applications for Education
If you need to share files with students or colleagues and don't want to be bothered with email attachments, give
Drop Canvas
a try. One way that I might use Drop Canvas in a history course is to assemble a group of primary source documents on Drop Canvas then share the url for that bundle with my students that I want to read the documents.
Wistia
is a video hosting company that until today did not offer a free plan. They offer one now. Wistia is not like YouTube and similar video hosting services. It's purpose is to give you complete control over how your videos are found and seen by others. You can't search Wistia for funny cat videos. In fact, you can't search it at all. The way to share your videos is to embed them into your own website or blog. You can control who does or doesn't see your video even when it is embedded by requiring an email address for viewing.
Here's
Wistia's
video introducing their free plan. It's the best product introduction video I've seen in a long time.
Applications for Education
The new
Wistia free plan
is limited to three videos at a time. That's not much, but if you want to have complete control over the distribution of your videos, Wistia is an excellent option. If you have a pre-K or elementary school event that you want to record, but want to have control over the distribution, Wistia might be a good option for you.
H/T to Lee Lefever.
Google Earth isn't limited to just views of the Earth. You can also view Mars and the Moon in Google Earth. You can
take tours of Mars
and view panoramic imagery of Mars in Google Earth. But if you don't have Google Earth installed on your computer you're not excluded from viewing the panoramas. Recently, through
Google Maps Mania
, I learned about a site that is publishing panoramic imagery of Mars.
TripGeo
hosts some
panoramic imagery
that can be viewed online without having Google Earth installed on your computer. The imagery comes from various NASA missions to Mars. The coding was done by Keir Clarke (the blogger at Google Maps Mania) and Rob McMahon.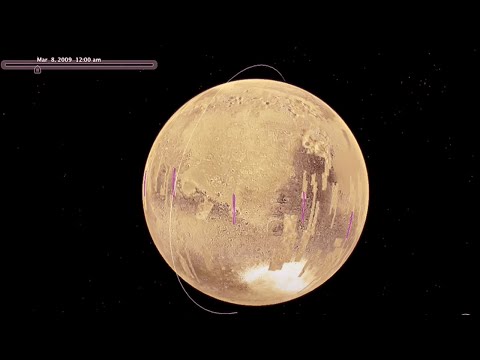 Subtext
is a great free iPad app that I recently learned about from my
Ed Tech Teacher
colleague
Greg Kulowiec
. The list of the things that you can do with Subtext is quite impressive, but the basic purpose is to provide a place for teachers and students to have digital book discussion.
These are some of the many things that you can do with
Subtext
: using Subtext you can read ebooks, annotate ebooks, create quizzes about ebooks, and write blog posts about the ebooks you read. You can create private and public book discussion groups and build bookshelves for your groups.
To add books to your
Subtext
bookshelves you can pull from Google Books (many free ebooks are available that way), buy ebooks from Subtext (volume pricing is available), or upload your own titles (Greg Kulowiec has posted directions
here
). To annotate a section of a book just highlight it then choose what you want to do with it. The text that you highlight can be annotated with your messages, you can assign a quiz question to that text, or label that section as a literary element like "personification" or "foreshadowing."
Applications for Education
For schools using iPads in a 1:1 environment, Subtext could be a great app for book discussions. If you're interested in using Subtext, I encourage you to read
Greg Kulowiec's detailed blog post
about setting it up for classroom use.
Yesterday, I shared
Flocabulary's
latest video
18 Years in Rap
. In writing that post I learned that was incorrect in my belief that all of Flocabulary's videos required a paid subscription. Flocabulary does offer some of their collection for free viewing on their website and on their
YouTube channel
. You can access the transcripts for all of the free videos on their website too. I've included their Industrial Revolution video below.
Applications for Education
If you're not willing to or not able to pay for a Flocabulary subscription their free videos do offer some good content to use in review lessons in language arts, social studies, and science.
I posted a link to this on the
Free Technology for Teachers Facebook page
yesterday, but I want to let folks who aren't Facebook users see it too. Canadian artist
Baba Brinkman
has produced two rap versions of
The Canterbury Tales
for your listening enjoyment.
The Rap Canterbury Tales
was his Brinkman's first effort which is broken into 13 tracks.
The Canterbury Tales Remixed
was Brinkman's second effort broken into 10 tracks. The albums are available on "pay what you want" model. You can also just listen to the tracks online.
Applications for Education
You will want to preview the tracks before you play them in your classroom as some of lyrics would get a PG-13 rating. Aside from that,
The Rap Canterbury Tales
and
The Canterbury Tales Remixed
could be useful for helping students get the messages Chaucer was trying to convey.
More Recent Articles