Click here to read this mailing online.


Here are the latest updates for you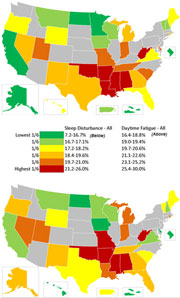 h state has the worst sleeping problems? Me neither. But a group of researchers at the University of Pennsylvania's Center for Sleep and Circadian Neurobiology apparently did. A Penn
news release
reports that they evaluated state-based prevalence of self-reported sleep disturbance and daytime fatigue across 36 U.S. states/ territories using data from 157,319 people.  The news? Southern states– Oklahoma, Arkansas, Mississippi, Alabama and West Virginia– had the highest rates of sleep disturbance and daytime fatigue. North Dakota, followed by California, sleep best. Next on the researchers' list to things to do: figure out why.
Read more from the University of Pennsylvania.

•
Email to a friend
•
Article Search
•
View comments
•
Track comments
•

•
More Recent Articles
---
Click here to safely unsubscribe from "SportsGeezer." Click here to view mailing archives, here to change your preferences, or here to subscribe • Privacy

---
---
Your requested content delivery powered by FeedBlitz, LLC, 9 Thoreau Way, Sudbury, MA 01776, USA. +1.978.776.9498