---
Hurry! Enter to win a Breaking Dawn Part 2 Prize Package that includes a $400.00 dinner, 4 Movie Tickets and some really cool Twilight merchandise! Refer your friends for more chances to win – for every friend you refer, you will receive an additional entry in the sweepstakes.
Do we have any vampire lovers in the house? This prize package is pretty killer even if you aren't!
The entry was SUPER easy and you don't have to sign up for any other offers to get in on the giveaway!
Dates: November 5 – November 14
Prize: Four (4) movie tickets to Breaking Dawn Part 2
$400 for dinner for four (4)
Twilight Prize Package:
Breaking Dawn Part 2 Soundtrack $9.99 (Releases Nov 13)
Breaking Dawn Part 2 Movie Poster $6.99
Twilight Saga Four Pack DVD Set $39.99
The Twilight Saga Book Collection $53.30
Breaking Dawn Part 2 T-shirt $22.50
This Giveaway is NOT sponsored by I Heart the Mart
Who needs an excuse for Hot Fudge smothered all over your favorite ice cream.   A new coupons just came out to make this Monday sweet!  What is your favorite Ice Cream and Topping combination?
Smuckers Ice Cream Topping: $1.98
$0.75 off any Smucker's Toppings product
Total: $1.23

$0.55 off any 1 Sargento Natural Cheese Snack. We love to snack on cheese and our kids think it is hilarious to chew on Mickey's ear. I don't know if I should laugh or be concerned, the dog is in one piece so I think we are good. Walmart carries the Disney Sargento Natural cheese snacks for $1.82. Photo Credit: Couponing it  Up!
Disney Sargneo Cheese Snacks: $1.82
$0.55 off any 1 Sargento Natural Cheese Snack
Total: $1.27
Today's Walmart Gift of the Day is the HP 14″ G4-2149se Butterfly Blossom Design Laptop PC for only $399.99.  Featuring the HP innovations you expect and an attractive, multi-dimensional design, the HP Pavilion g4 Butterfly Blossom Special Edition Laptop gives you everything you need for everyday computing — in a colorful, eye-catching package. This beautifully-crafted laptop is embellished with a refreshing design of colorful, dancing butterflies and blossoming spring flowers. It's perfect for business, homework or casual surfing, and will easily brighten any environment with its playful butterfly theme. Apart from its good looks, the HP Pavilion g4 Butterfly Blossom Special Edition Laptop lets you keep up with your social networks, chat face-to-face, share photos, watch videos and more.
HP 14.0″ g4-2149se Laptop PC:
Key Features and Benefits:
AMD A6-4400M accelerated processor
2.70GHz, 1MB L2 Cache
4GB DDR3 SDRAM system memory
Gives you the power to handle most power-hungry applications and tons of multimedia work
500GB SATA hard drive
Store 333,000 photos, 142,000 songs or 263 hours of HD video and more
SuperMulti DVD Burner
Watch movies, and read and write CDs and DVDs in multiple formats
10/100Base-T Ethernet, 802.11b/g/n Wireless LAN
Connect to a broadband modem with wired Ethernet or wirelessly connect to a WiFi signal or hotspot with the 802.11b/g/n connection built into your PC
14.0″ HD BrightView LED-backlit display
AMD Radeon HD 7520G Discrete-Class graphics and up to 2036MB total graphics memory
Additional Features:
Built-in HP webcam
5-in-1 memory card reader
2 x USB 3.0 ports, 1 x USB 2.0 port, 1 x headphone jack, 1 x microphone-in, 1 x RJ-45 Ethernet port, 1 x VGA port, 1 x HDMI port
6-cell lithium-ion battery, up to 5 h 30 min of battery life
Software:
Genuine Microsoft Windows 7 Home Premium 64-Bit Edition
Microsoft Office Starter 2010: Includes reduced functionality versions of Microsoft Word and Excel, with advertising. PowerPoint and Outlook are NOT included. Purchase Office 2010 today and get the most out of your new PC.
Norton Internet Security 2012 (60-day subscription)
HP Recovery Manager
Today only, subscribe to Seventeen Magazine for only $4.50 per year (57% off)! You can order up to 3 years at this price! Just enter coupon code HEARTTHEMART.
Subscribe to Seventeen Magazine:
1 year subscription for $4.50 (54% off) with code HEARTTHEMART
2 year subscription for $9.00 (54% off) with code HEARTTHEMART
3 year subscription for $13.50 (54% off) with code HEARTTHEMART
4 year subscription for $18.00 (54% off) with code HEARTTHEMART
5 year subscription for $22.50 (54% off) with code HEARTTHEMART
This offer expires at Monday 11/05/12 11:59 PM EST
See another magazine you'd like to purchase? You can always use coupon code HEARTTHEMART to save an additional 20% off of any other DiscountMags.com magazine subscription. You can purchase this as a new subscription for yourself, as a gift subscriptions for others, and you can also use this to renew an existing subscription.
From Tiffany:
I will be posting many magazine deals coming up, because they are so cheap and are such a good gift to give! Plus, the person that you gave it to will think about you all year long as they get the magazine each month!
I go out and buy the current issue of the magazine that I am giving. In this case it was Taste of Home. Funny, a single edition cost as much as the entire year!
Then I tied it up with a bow and added the spatula and wisk to go along with the cooking theme. Now, you could just put it in a cute bag like this depending on who you are giving it to. This one if for a close friend and so I spent a little more money and bought a cook book to go along with it.
I am wrapping up The Pioneer Woman Cookbook with the Taste of Home Magazine, wisk and spatula, I am including a note that says they are getting the subscription and it will start coming in January. This entire gift cost UNDER $20!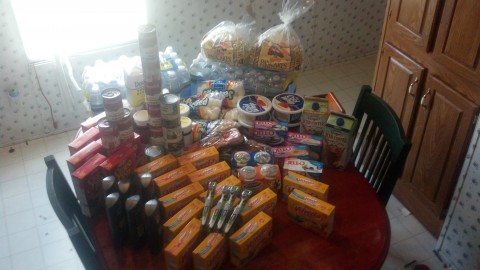 I got the BEST email yesterday from Heather R. who went to the conference this weekend. She and her family had an AMAZING trip to Kroger and I wanted to post it for you! Thanks Heather!
With the Help from your site, and the class yesterday….. ALSO the influence from Paul that my Husband Brandon got yesterday. We made a list and went to Kroger today with all 4 kids in tow. IT WENT PERFECTLY…. The kids enjoyed getting things off the shelf and understanding why we picked certain items over others and we walked out with a 73% savings.… My total bill before the kroger card was about $165 after the kroger card and coupons we paid $45.89.
Heather had such a great trip, but I want to point out that you can get the SAME deals by price matching the Koger ad to Walmart! Kroger has a few catalina deals running right now, which you will not get at Walmart, however, what you see Heather did today you can do at Walmart!! 
Here is a photo and our list:
8 Boxes of Stove Top Stuffing – $.75 each
Used 4 $1.00 off two KRAFT STOVE TOP Stuffing Mix
14 Boxes of Velveeta Shells and Cheese – $1.49 each
Used $1.00 off two VELVEETA Shells & Cheese Dinners
4 Cans of Green Giant Green Beans
9 Cans of Campbells Cream of Mushroom – $.50 each
Used 3 $0.40 off any THREE Campbell's Condensed Soups
4 Cool Whip – $.89 each
Used $1.00 off two KRAFT COOL WHIP Whipped Toppings
4 Reach toothbrushes – $1.49 each
Used 2 $2.00 off any two (2) REACH Toothbrushes
3 Domino Sugar 4lb – $1.99 each
Used 3 $.50/1 todays inserts
6 Dove Men + Care Bodywashes – $2.99 each
Used 6 $2.00 off Dove Men+Care body wash, bar or tool
4 Jello Puddings – $1.49 each
Used 2 $1.00 off 2 JELL-O Pudding or Gelatin Snacks, 4pk
2 Diamond Kosher Salt – $1
Used 2 Printable coupons (use zip 77477)
2 Diamond Salt Sense – $1
Used 2 printable coupons (use zip 77477)
4 Jet Puffed Marshmellows – $.75 each
Used 2 $0.50 off two KRAFT JET-PUFFED Marshmallows
Then we picked up the Free water, Pancakes, Iced Coffee and Yogurt that we got coupons for in Your AWSOME class!
AWESOME Trip Heather!!! 
Zaycon is back, and has opened their ground beef, ham and hickory smoked bacon event to many parts of the country! To see if your area is included, go HERE  login and click on "events".
There are a TON of cities that have events going on, don't assume that yours is excluded, CHECK AND SEE IF YOUR CITY IS INCLUDED! 
Fresh 93/7 Ground Beef~ $3.29 /lb.

Fresh, Premium, Fine Grind 93/7 Lean Ground Beef. No chemicals, additive or water added to meat during processing. Cattle are grass fed up to 700 pounds and supplemented with grain until processed.
Orders come in a 40-lb case with four 10-lb chubs per case
Go
HERE
to check out the videos and more information on these products! If you are new, just sign up for an account and you will be able to see your area by your zip code.
The Carve Master Old Fashioned Ham~ $3.29 / lb.
This Ham is made from fresh outside muscles only, for excellent flavor and texture, slow smoked with real apple wood to give the ham a unique true smoked flavor.
With less than 10g of fat per 100g the USDA has approved this ham as LEAN, with this specialcure there is no MSG, this ham is completely boneless, meaning higher yields and easily carve.
 The Ham is packaged by the case this includes two 10lb hams that are individually vacuum sealed and has guaranteed freshness up to 100 days.
Fresh Hickory Smoked Bacon~ $3.29 /lb. 
This bacon has had the same award winning cure since 1959, cured for a minimum of 24 hours, and hickory smoked for at least 7.5 hours, the smoking process includes only actual hardwood chips burned in the stocker, this creates the color and flavor that makes this cure so special, in addition to color and taste our bacon has been carefully hand trimmed from each belly for consistent sizing.
Bacon is packaged in two 15lb boxes bringing the case total to 30lbs.
** If you would like to split a case with someone. please leave a comment by clicking on the comment button. I know many people who want to split a case. Leave your first name, area you live in and how much you want. 
$0.55 off any Hungry Jack Pancake Mix or Syrup. I am not sure why breakfast isn't served for all 3 meals of the day. This coupon can be used for the Pancake mix or the Hungry Jack Syrup. I am personally a Boysenberry syrup guy so I am going with the Hungry Jack Pancake mix! You will find the 32 oz box from $1.62- $1.98 at Walmart stores around the country.
Hungry Jack Pancake Mix: $1.62-$1.98
$0.55 off any Hungry Jack Pancake Mix or Syrup
Total: as low as $1.07

$0.50 off any Eagle Brand Sweetened Condensed Milk. The Thanksgiving Holiday Coupons are in full force! This morning the coupon fairies have brought us the always popular Eagle Sweetened Condensed Milk coupon. This one is great because the sweetened condensed milk is something you should stock up on now because it last for a long time!
Eagle Brand Sweetened Condensed Milk: $1.92
$0.50 off any Eagle Brand Sweetened Condensed Milk
Total: $1.42
There are some more new coupons this morning! That is a nice surprise. Everyone of these coupons are really great, print the Eagle Brand though as they are not that common. Plus if you can  stock up on the cans now, they don't expire for a year!
The Smuckers will make for some cheap toppings at Walmart:
Buy Smuckers Toppings $1.98
Total: $1.23