---
This post was contributed by Network for Good's VP of Partnerships, Stacie Mann.
Lady Gaga has partnered with New York's Robin Hood Foundation to identify five programs serving at-risk youth and wants you to cast your vote to determine how her $1M contribution will be split between the five nonprofits. Her Fans (there are 32M little monsters on Lady Gaga's Facebook page!) can vote for which charity most deserves Gaga's money. The results will be tiered, with the winner receiving $500,000, the organization in second place receiving $250,000 and so on. It is a crowdsourced way for Gaga's fans to tell her where she should donate.
Network for Good was thrilled to talk to the campaign organizers about how to make this a positive experience for participants and a great source of support for the nonprofits involved. We're also happy to see our partner Causes' platform included in the campaign so people can take steps beyond just voting for a cause.

If you're thinking of a campaign like this, it's helpful to keep these principles in mind:
Make the campaign call to action easy and fun; "Learn more and cast your vote".
Work with trusted partners to vet the recipient organizations so there is a clear promise that every dollar will go towards the campaign's social impact goal.

Clearly define the rules and voting process for the campaign; it is always important to have clearly defined rules with a code of conduct. For large campaigns, it can help to enlist a third party to evaluate the voting results. This can mitigate conflicts and gaming.
Keep the timeline short; it's hard to sustain long periods of activism around a campaign and taking the time to rally supporters around voting takes time away from other core project or fundraising work (especially for a small nonprofit).
Train the nonprofits on social media best practices; the recipient nonprofits will be getting a huge burst of interest in what they do over a short period of time.

Incorporate real-time updates and leaderboards; people love to see who else has donated (via status updates) and also the overall impact. Chase Community Giving does a great job with this and so does Causes through their fundraising projects.
You can read more advice on creating a compelling cause marketing campaigns in our eGuide Cause Marketing Through Social Media: 5 Steps to Successful Online Campaigns.

In 2004, Dell and Goodwill Industries teamed up to start an electronics recycling program in Austin, TX. Since then, the partnership has evolved and the Dell Reconnect program now spans multiple markets and recycles a host of electronics from computers to Xbox consoles. The collaboration works well because each partner provides complementary resources and expertise: Goodwill has a network of donation centers and experience will repurposing gently-used goods, while Dell has a proven track record in offering consumer recycling programs that "meet the highest standards of workplace and environmental safety." Together, the organizations provide a free and convenient recycling program through a cause partnership that truly benefits both entities.
There are many such examples of symbiotic corporate-cause partnerships. There are just as many, if not more, examples of partnerships that fall short of their potential or completely miss the mark in terms of tangible social impact. Mashable recently featured a post by Michele Cuthbert, the principal of branding firm Baker Creative, who provides some guidelines for selecting the right cause partner and structuring a thoughtful partnership.
As a precursor to selecting a cause partner, Cuthbert advises companies to first evaluate their values and stakeholder expectations. Knowing where a cause partnership fits within your business mission and goals will inform what type of cause partnership you should cultivate. Understanding what your consumers and employees care about will ensure that your partnership has the interest and resources to get off the ground.
With the background work done, companies can now turn to the cause selection process. Here some tips based on Cuthbert's advice for picking the right partner:
Define selection criteria: factors to consider include: size, budget, program areas, geographic focus, organization age, impact track record, board participation etc…
Target your list: use charity databases like GuideStar or Charity Navigator to search for charities that meet your criteria.
Compare mission statements: when you have a handful or candidates, look for ways your missions complement or reinforce one another. Mission compatibility will help ensure your partnership moves in the right direction.
Do your due diligence: make sure the charity is registered with the IRS and/or GuideStar and check its standing with the Better Business Bureau, Charity Navigator, Great Nonprofits or other charity rating groups. You should also review the organization's financial filings and reports on project impact. Just as in the corporate world, trustworthy organizations are open about their finances and practices.
Listen to your gut: if you don't feel right about the partnership, don't proceed. You must have confidence in the partnership if you are going to put the weight of your brand behind it.
Try a pilot: relationships deepen over time. Give your new partnership the opportunity to go through its growing pains on a small scale before rolling it out in a national campaign. This will also give you time to continue your due diligence as you get to know the charity better.

If you spend any time on social networks, you've probably noticed that today is Earth Day. There's been much made of this year's Earth Day, especially as it falls in the same week as the anniversary of the Gulf oil spill and in the wake of rising gas prices across the country. In addition, the latest New York Times/CBS News poll indicates that Americans are more pessimistic about the economy and the nation's general direction than they have been since Obama took office in the midst of the Great Recession. Further, the economic downturn has dampened mainstream consumer demand for green products. For example, sales of Clorox Green Works have fallen to about $60 million a year, from a high of over $100 million in 2008.
When attitudes and outlooks are bleak, what's a cause marketer to do? Make a rap video of course!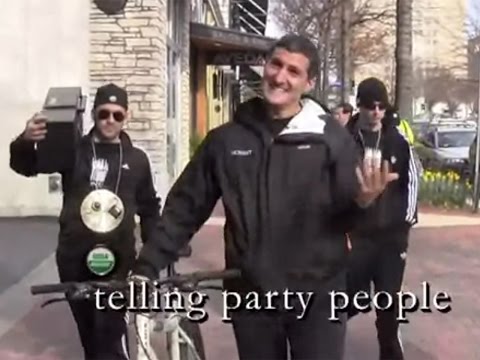 The CEOs of organic brands Stonyfield Farm and Honest Tea launched a video campaign to celebrate Earth Month 2011, mixing education on organics and food politics with entertainment and user-generated content to spur social sharing and build awareness.
Said Honest Tea CEO Seth Goldman to Marketing Daily, "We're hoping that the great message (well-timed with Earth Month) and the fun nature of the video will encourage viewers to pass it along to their friends and networks."
The tone of the videos may be fun, but the campaign demonstrates the 4 essentials of cause marketing:
Suitability: As organic brands, the content of the videos and the message to choose organic for health and environmental reasons rings true.
Authenticity: Who better to embody the cause connection than the CEO? These CEOs are passionate about their social missions and make CSR core to what they do. We may question their rapping abilities, but not their dedication to the cause.
Transparency: Both Stonyfield Farm and Honest Tea are transparent about their sustainability practices and commitment to environmental impact. That commitment provides the backbone of the brands.
Selling Point: Stonyfield Farms and Honest Tea may be social enterprises, but they are also consumer brands. The fact that their products are organic and embody what the cause campaign is all about, gives these brands unique value propositions: they are the solution to the social problem the cause campaign exposes.
Learn more about the campaign at JustDrinkOrganic.com

David Neff, COO of Network for Good's partner HelpAttack!, has co-written a new book on nonprofit success in the digital age. While the primary audience is nonprofits, in the spirit of cross-sector collaborative problem solving, the lessons are applicable to any organization trying to balance core business priorities and investment in innovation and emerging technologies – especially any organization with a triple bottom line mindset.
The following is a guest post from Katya Andresen, Network for Good's COO and author of Robin Hood Marketing. You can follow her nonprofit marketing insights at NonprofitMarketingBlog.com.
David Neff and Randal Moss have a new book out called the Future of Nonprofits: Innovate and Thrive in the Digital Age. (You can order it here.)
Since they just wrote an entire book on how we can create a new, more flexible, innovative organization in a digital age, I asked them what advice they could provide us. Here's my Q&A with David Neff.
Q: What's the biggest way the nonprofit landscape is going to change this decade?
A: I think the biggest change the nonprofit sector is going to see this decade has to do with how we track, score and analyze individual people in our organization. This could be anything from adding social media information to the fields in your donor database to changing the way we set expectations for our employees. Of course, nonprofits have to want to change for this to happen.
Q: If you were ED of a typical nonprofit, what two things should you do to prepare?
A: Invest money in technology. I know this is a very scary thing for most organizations, but it needs to be done. You can't reply on that Access Database when the other nonprofits you are competing with have Salesforce for nonprofits. Also you don't have the same excuses you used to. Organizations like NTEN and TechSoup are here to help you discover what you need and when you need it. Use them! The second big change is that Awareness is dead. No one is watching your PSA at 3am. You need to switch to advertising your nonprofit. And you need to budget (even small amounts) to make that advertising happen.
Q: What's the biggest failure you cite in the book and how can we learn from it?
The demise of my personal sanity while writing it. : ) Just kidding! The biggest failure is staff turnover and how the industry treats new staff. We hire all these people in their 20's and 30's and then say no to all their big ideas. In our minds we simply don't have time or resources to let them experiment. Even though we know those experiments could be home runs or just singles. The book is how to say yes to those big ideas.

More Recent Articles